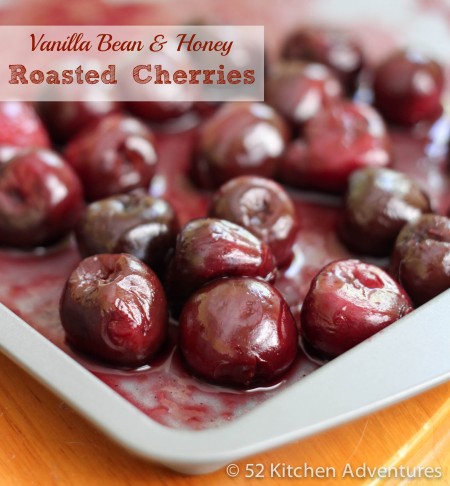 Vanilla Bean & Honey Roasted Cherries
It's not much of a secret that I have a big sweet tooth. Usually when I get my hands on fresh, ripe fruit, it disappears pretty quickly before I get a chance to make anything with it. This summer, I've tried to be more disciplined, which was easy with the 10 pound cherry challenge. I ate my fair share of the luscious cherries, but I barely made a dent. This summer I keep hearing about grilling and roasting fruit and how amazing it is (Steph over at Girl Versus Dough made roasted blueberry malted milkshakes and grilled peach pizza!). I've tried grilled peaches in the past, but that's it. Now that I had so many extra cherries, I knew what I had to do.
Although roasting them plain would be delicious, I wanted to give them a special twist. I found a lot of recipes for roasted cherries with balsamic vinegar, but I was craving something sweeter. I consulted my favorite resource, The Flavor Bible, which told me tons of things go with cherries, including honey and vanilla. Sold.
I coated them with vanilla bean paste and honey, and roasted until they were plump and juicy. They would go perfectly on top of a bowl of ice cream or even with something savory like pork or duck. Or eaten by themselves with a spoon 🙂
Honey Vanilla Roasted Cherries
Ingredients
Instructions
Preheat oven to 400°F. Line a baking pan with aluminum foil.
Combine cherries, honey, and vanilla in a medium bowl. Toss everything together until all the cherries are coated.
Pour cherries into pan and roast for around 15 minutes, until cherries soften and begin to release their juices.
http://www.52kitchenadventures.com/2013/08/08/vanilla-honey-roasted-cherries/
Check out the other 10 Pound Cherry Challenge participants to see what they did with their cherries:
For more on the challenge, make sure to check out OXO (Facebook, Twitter,  Pinterest, Instagram) and the Northwest Cherry Growers (Facebook, Twitter, Pinterest, Instagram). For the ultimate guide to cherry dishes, follow the project-specific Pinterest board.
Northwest Cherry Growers provided me with the 10 pounds of fresh sweet cherries and OXO provided me with the tools needed (Cherry/Olive Pitter, 9 Piece Nesting Bowls and Colanders set, and Food Scale) for the challenge, but as always all opinions and text are my own.
More recipes you'll love: