This is a sponsored post written by me on behalf of PAM Cooking Spray.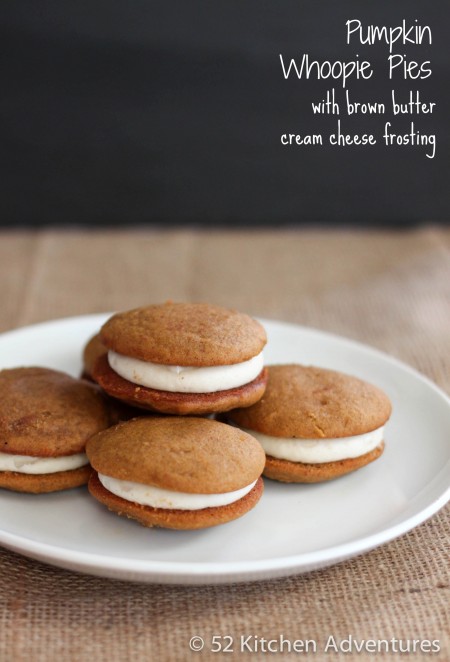 It's the most wonderful time of the year…the holiday baking season! It's time for cookies, fudge, pies, cakes, and more.
Lots of you will be taking to your kitchens to whip up Christmas cookies and other desserts soon, and the last thing anyone wants during this season is added stress from baking flops. I've had the most baking disasters around holidays, when I'm rushed, don't always have time to try out recipes beforehand, and have the added pressure of baking for family or friends. I put together some tips and tricks on how to avoid sticky baking situations:
Read the entire recipe before you begin baking. Always. No matter what. I know this sounds so simple, but it's so easy to skim a recipe and miss that you need to refrigerate the dough for several hours (always when you're in a time crunch) or need an additional ingredient (which you of course don't have on hand).
Use tried and true recipes (or test recipes out before the big event). Sometimes you really want to try out something new, which can be worth the risk, but if you're on a time crunch and have to serve a roomful of people, think twice or have a backup. I've had to run to the store on Thanksgiving morning when a new gluten-free pie crust recipe failed at the last minute.
Give yourself extra time. If you're bringing dessert to Christmas dinner, don't wait until Christmas afternoon to bake it. If you make it ahead of time, you'll have more time to fix any mistakes, and you won't be rushing so it's less likely that you'll even make mistakes. Plus, you'll have more time to spend with your family and enjoy the holiday.
Follow directions carefully. Baking is a science. With cooking, you can play around a lot and change out ingredients, but baking ingredients and directions have to be followed or very carefully and deliberately changed.
Line your baking pans with PAM Cooking Spray. It saves you time and stress over trying to pull things like cakes or brownies out of a pan with out breaking them. Plus, it makes clean up so much easier, because PAM Cooking Spray now leaves 99% less residue buildup than margarine or bargain brand-cooking sprays. (Bonus: the PAM Baking Spray smells amazing.) I also love to line baking sheets with parchment paper sprayed with PAM Baking Spray – these whoopie pies slid right off and the clean-up was so easy!
I hope you learn from my mistakes and have a smooth, stress-free baking season! To set you up for even more holiday baking success, scroll to the bottom of the post to learn how to enter my giveaway for a Le Creuset Pie Dish and PAM Cooking Spray!
While we're talking baking, I have an incredible recipe for you. These cookies may use pumpkin, but they're so good they transcend autumn baking and can (and should) absolutely be made for the holidays.
See, first you make pumpkin whoopie pies – soft, moist, cake-like cookies filled with pumpkin and pumpkin spice flavors.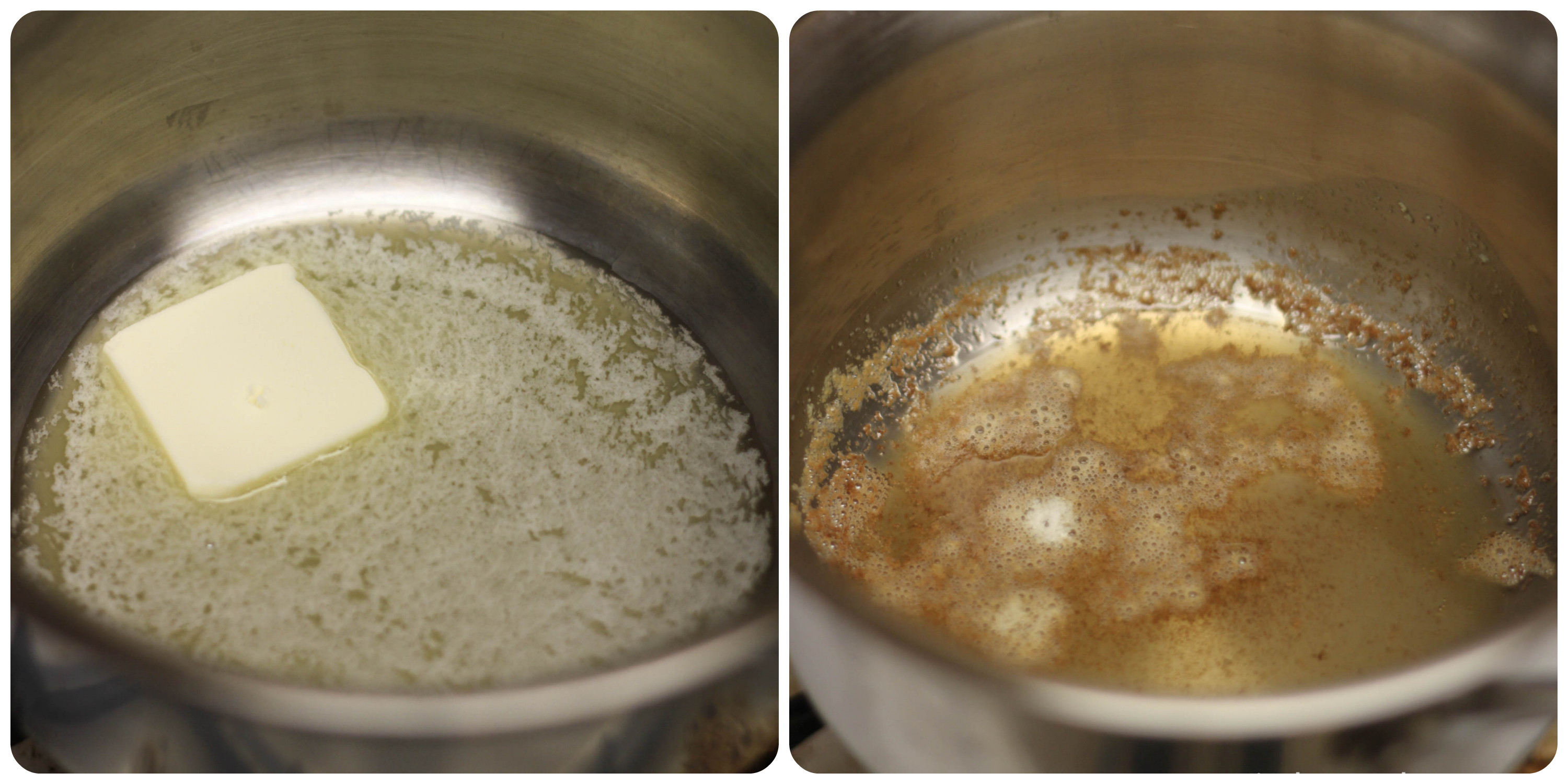 Then you make brown butter. Have you ever had brown butter? It's really easy to make – you just cook butter until it turns brown, but it creates a nutty, deeper flavor.
Add brown butter to cream cheese and powdered sugar to create a creamy frosting and fill the whoopie pies.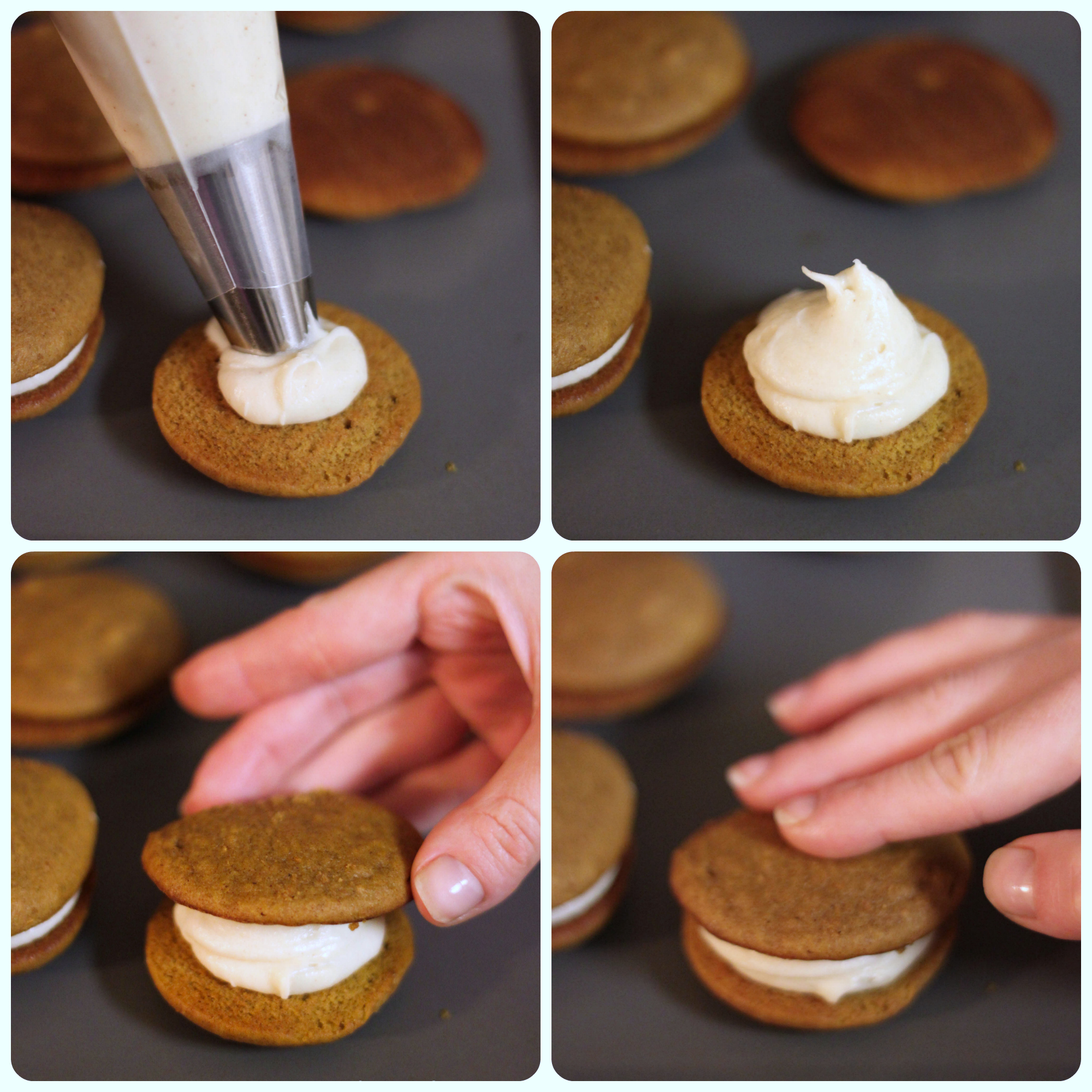 Yum. I was able to share these with lots of different people, and every single one of them raved about how good they are. Seriously, all of them. This one is a winner!
Ingredients
Pumpkin Whoopie Pies

:
3 cups all purpose flour
1 teaspoon baking powder
1 teaspoon baking soda
1 tablespoon pumpkin pie spice
2 1/2 teaspoons cinnamon
1/2 teaspoon salt
1 cup unsalted butter, room temperature
2 cups light brown sugar
2 large eggs, room temperature
1 teaspoon vanilla extract
15 ounces pumpkin puree

Brown Butter Cream Cheese Frosting

:
1/2 cup unsalted butter to make brown butter
1/2 cup unsalted butter, room temperature
4 tablespoons brown butter
8 ounces cream cheese
2 teaspoons vanilla extract
3-4 cups powdered sugar
Instructions
Make the whoopie pies:

preheat oven to 350°F. Coat baking sheets with PAM Baking Spray.
In a large bowl, combine flour, baking powder, baking soda, pumpkin pie spice, cinnamon, and salt.
In a separate large bowl, beat butter and sugar until light and fluffy. Add eggs, one at a time, stirring to combine after each addition. Add pumpkin and vanilla, then mix until incorporated.
Add flour mixture to wet ingredients, then stir until just combined.
Drop tablespoons of dough onto prepared baking sheets, spacing 2 inches apart. Bake 10-12 minutes, or until cookies spring back when lightly touched.

Make the frosting:

heat 1/2 cup of butter in a small saucepan over medium-low until lightly browned (around 8-10 minutes). Let cool (I poured it into my cold stand mixer bowl to speed the cooling process).
Add the remaining 1/2 cup butter, cream cheese, and vanilla to the bowl with cooled brown butter. Beat on medium speed for 2 minutes, until smooth and creamy. Gradually add the powdered sugar and mix until frosting is thick and spreadable.

Assemble whoopie pies:

Pair up cookies of similar shapes and sizes.
Spread or pipe frosting onto one cookie and then put it's match on top, pressing them together gently. Enjoy immediately or store covered in the fridge.
http://www.52kitchenadventures.com/2013/12/04/pumpkin-whoopie-pies/
Giveaway:
Win a gorgeous Le Creuset Pie Dish and a full size sample of PAM Cooking Spray (valued at $50)!
​Edited 12/10/13: Congratulations to giveaway winner Sandy H.!
To enter: simply leave a comment on this post telling me either what you would bake in the Le Creuset Pie Dish OR a baking tip you'd like to share.
BONUS entries: Follow me on Facebook, Pinterest, Twitter, or Instagram. Leave a comment for each account you followed.
BONUS BONUS entries: share this post on any social media site. Leave a comment with the link to your post.
Giveaway ends on 12/9/13 at midnight PST. One winner will be chosen at random on 12/10/13.  All entrants must be 18 years+ and reside in the continental U.S. See full terms and conditions of this giveaway.
This is a sponsored post written by me on behalf of PAM Cooking Spray.
 For more information, visit http://www.pamcookingspray.com