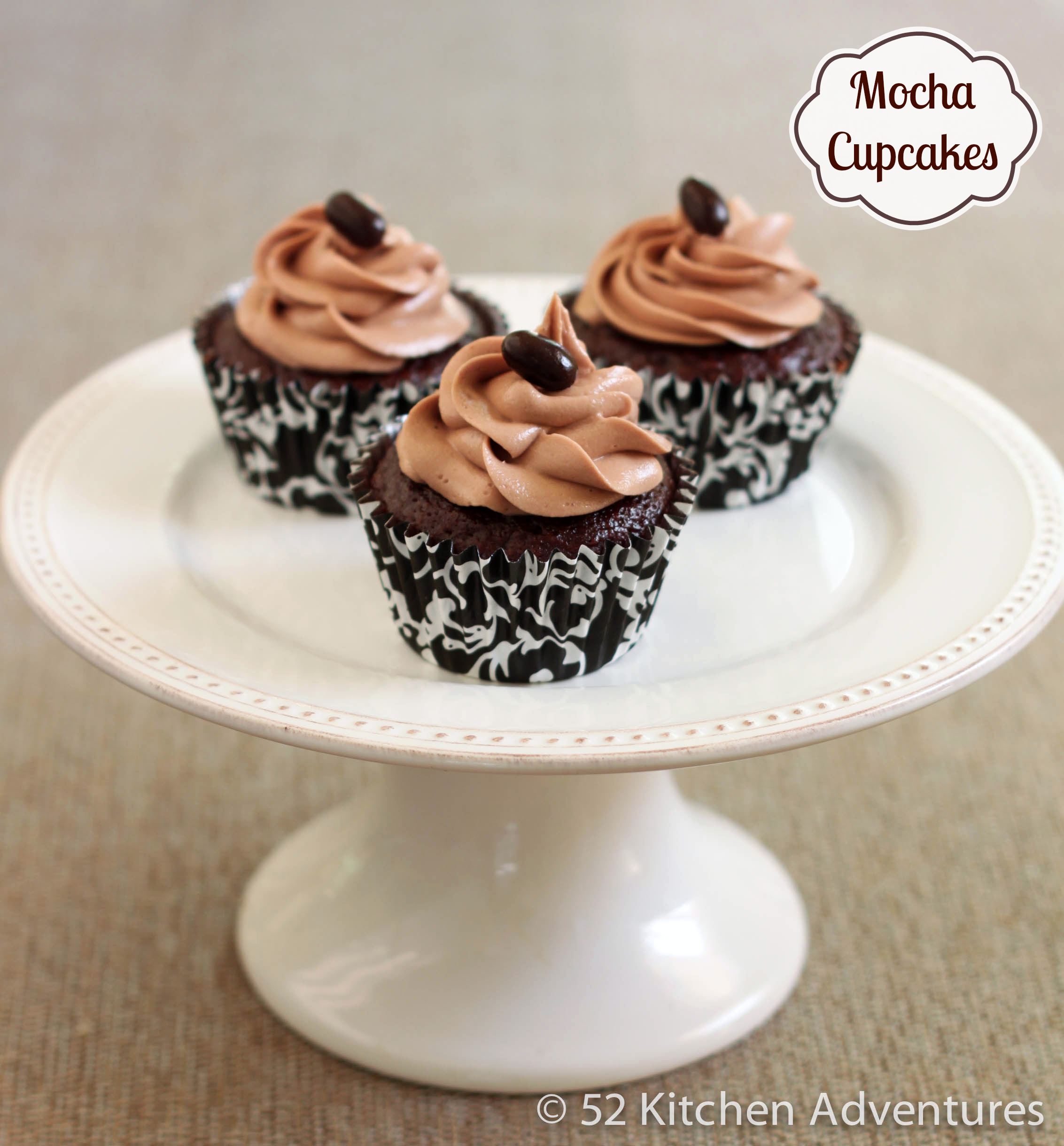 Helloooo blog friends! You might have noticed that it's been kind of quiet around here the last few months. Blogging became a bit of a slog for me (catchy phrase stolen from the New York Times 😉 ) and I've been having a hard time getting myself to sit down and write blog posts. It's been a combo of a lot of things – I've been eating healthier (so baking less), needing a break from the computer when I get home from work, and spending lots of time with my new husband and friends.
I'm not sure what I'm going to do long-term, but for now I'm committing to at least a couple posts a month, and I'll try to make some really good healthy desserts too. I have too many good things to share with you all…I looked through my photos and realized I have several yummy recipes I haven't shared yet!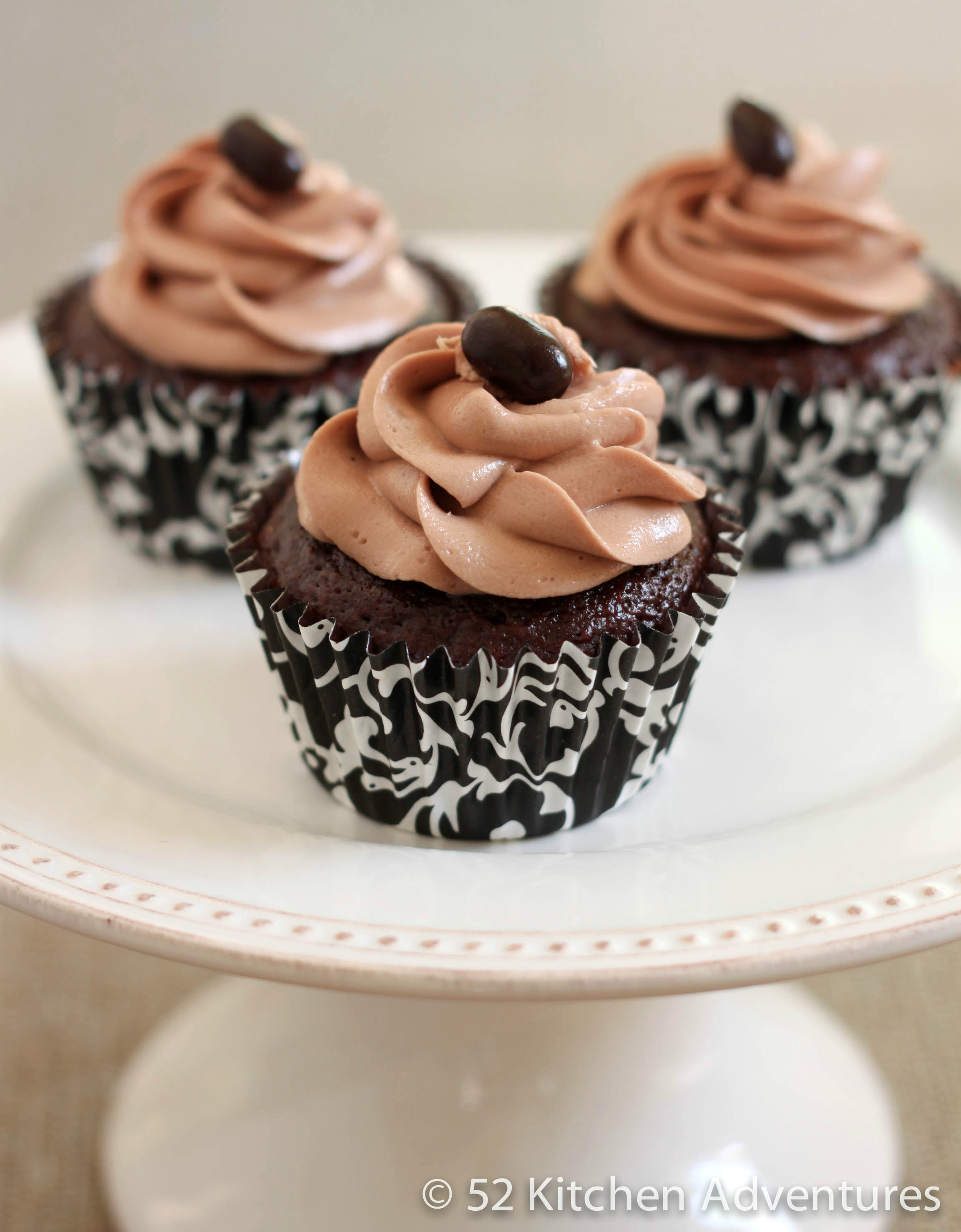 These cupcakes are one of those recipes. They came about a couple of months ago for my amazing summer interns at work. They knew I was a baker and one of them was secretly (well, she mentioned it to my coworker) hoping I'd bake cupcakes for their last day. I sent each a text with one simple question: what's your favorite flavor? I got back coffee from one, and chocolate from the other…so add them together – mocha cupcakes it was!
I used this cinnamon chocolate cupcake recipe that I've always loved (chocolate + cinnamon is a great flavor combo!), reducing the cinnamon a bit. This time, I topped with a creamy coffee buttercream instead of Nutella frosting for the perfect mocha cupcake. The little bean you see on top is a chocolate covered coffee bean, which is both a cute decoration and a nice way to kick off the mocha cupcake experience.
Ingredients
Mocha Cupcakes

1 1/3 cups flour
3/4 cups unsweetened cocoa powder
1 teaspoon ground cinnamon
3/4 teaspoons baking powder
3/4 teaspoons salt
1/2 teaspoon baking soda
1 3/4 cups sugar
1/2 + 1/8 cups freshly brewed coffee, cooled to room temperature
1/2 + 1/8 cups buttermilk
1/4 + 1/8 cup vegetable oil
1 large eggs
1 large egg yolks
1/2 tablespoon vanilla extract

Coffee Buttercream Frosting

1 1/2 cups powdered sugar
1 tablespoon unsweetened cocoa powder
1/3 cup butter, softened
1 tablespoon strong brewed coffee
Instructions
Prepare the cupcakes:

Preheat oven to 325°F. Line a muffin tin with paper liners.
In a large bowl, combine all ingredients from flour through baking soda.
In a separate large bowl, beat eggs and sugar until thoroughly combined. Add coffee, buttermilk, oil and vanilla, and beat until blended. Turn mixer speed to low and slowly pour in dry ingredients. Mix until just combined.
Pour batter into prepared pan until each cup is 3/4 full. Bake 20 minutes, until the center springs back a bit when lightly touched. Remove from oven and cool on a rack.

Prepare frosting:

Mix together the powdered sugar and cocoa powder in a small bowl and set aside.
In a large bowl, beat the butter until creamy.
Gradually mix in the sugar mixture. Add coffee and beat until frosting reaches the desired consistency.
Pipe or spread frosting onto cooled cupcakes.
Notes
http://www.52kitchenadventures.com/2014/10/06/mocha-cupcakes/