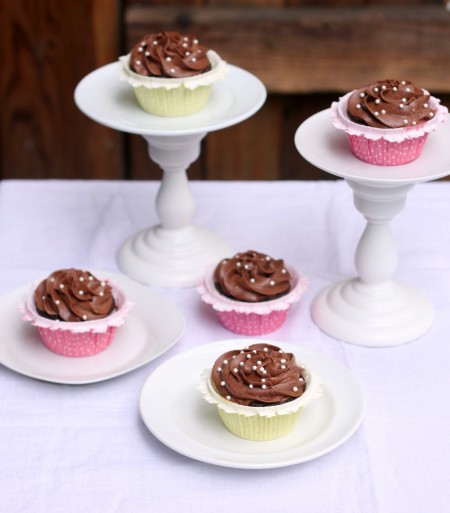 Happy first day of spring! We've had a pretty mild winter here in northern California, but I'm still ready for full-on spring: sunshine, blooming flowers, skirts and flip-flops. When I saw these cupcake liners at Michael's in January, I couldn't resist buying a box. They're too cute with little ruffles, tiny polka dots and pastel colors…I knew they'd be perfect for a spring cupcake.
When I was brainstorming spring cupcakes, I got this idea in my head that I wanted to make bunny shaped cupcakes – but not just the cute white bunnies that keep cropping up on Pinterest. You see, I have a brown lop-eared rabbit and I wanted to make cupcakes that looked like her: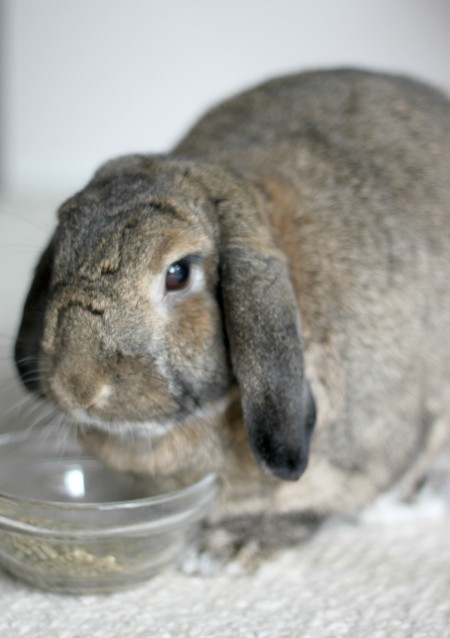 Her name is Cinnamon (she was the color of my favorite spice when we first adopted her) so I made some cinnamon chocolate cupcakes and topped them with my most popular frosting, Nutella buttercream. But when I tried to make the cupcakes look like my bunny, things went downhill fast. I put ear-shaped sugar cookies on top of the frosting, but they didn't lay right and just looked weird.
She sets the bar pretty high for cuteness, so weird looking cupcakes really wouldn't do her justice. For instance, here is Cinnamon adorably and delicately washing her face: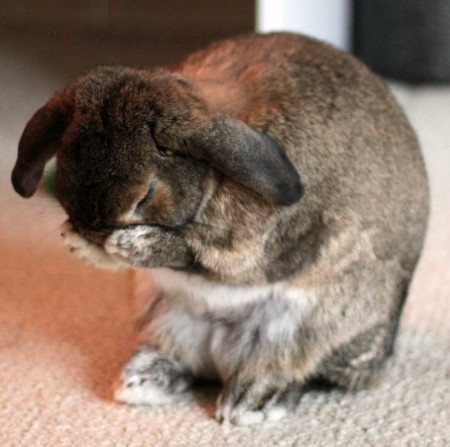 As it turns out, the cupcakes looked a whole lot prettier with nicely piped frosting and a few sugar pearls sprinkled on top. At least the flavor still honors her, and the cupcakes tasted amazing! The warm cinnamon flavor went perfectly with the rich chocolate in the cake, and you can't beat Nutella frosting. Really, if you like the flavor of cinnamon at all, I wholeheartedly recommend these cupcakes. Russ tasted one without knowing the flavor. His reaction? "Woah! These are really good."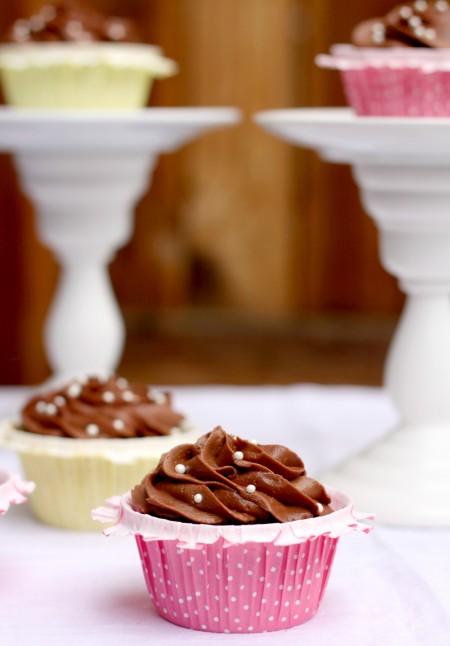 Although my dreams of a bunny cupcake to represent my lop-ear were dashed, I'm so glad that I tried this cinnamon chocolate flavor combination. And, of course, I don't give up that easily – I already have ideas for bunny cake pops and bunny marshmallows dancing in my head…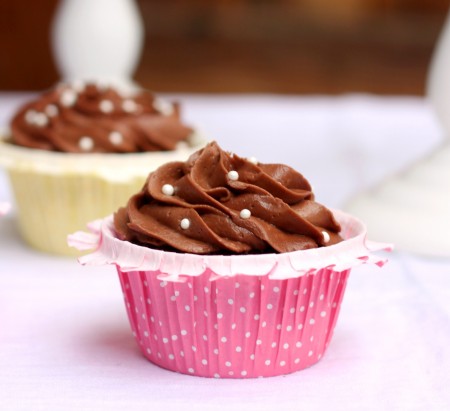 I couldn't resist sharing one more cute photo of Cinnamon – here she is channeling her inner (and sleepy) Cadbury bunny: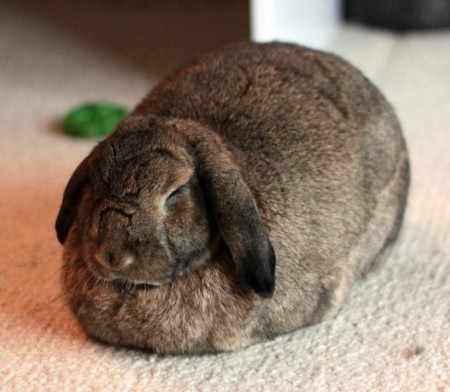 She's too cute for her own good. How about you – do you have any pets? Have you ever baked anything that looks like them (or baked for them, like dog treats)?
Recipe:
Chocolate Cinnamon Cupcakes
Yields: 18-19 cupcakes
Adapted from Epicurious.com
1 1/3 cups flour
3/4 cups unsweetened cocoa powder
1/2 tablespoon ground cinnamon
3/4 teaspoons baking powder
3/4 teaspoons salt
1/2 teaspoon baking soda
1 3/4 cups sugar
1/2 + 1/8 cups freshly brewed coffee, cooled to room temperature
1/2 + 1/8 cups buttermilk
1/4 + 1/8 cup vegetable oil
1 large eggs
1 large egg yolks
1/2 tablespoon vanilla extract
Preheat oven to 325°F. Line a muffin tin with paper liners.
In a large bowl, combine all ingredients from flour through baking soda.
In a separate large bowl, beat eggs and sugar until thoroughly combined. Add coffee, buttermilk, oil and vanilla, and beat until blended. Turn mixer speed to low and slowly pour in dry ingredients. Mix until just combined.
Pour batter into prepared pan until each cup is 3/4 full. Bake 20 minutes, until the center springs back a bit when lightly touched. Remove from oven and cool on a rack.
Nutella Buttercream
You may need to double this if you like a lot of frosting on your cupcakes.
1/2 C butter, room temperature
1 C Nutella
1 C powdered sugar, sifted
1 teaspoon vanilla extract
1-2 T milk
Beat butter until smooth. Add Nutella and beat together until thoroughly combined. Slowly add powdered sugar, mixing until combined. Add vanilla and 1 tablespoon of milk. Add additional milk or powdered sugar as needed to reach desired consistency. Pipe or spread onto completely cooled cupcakes.