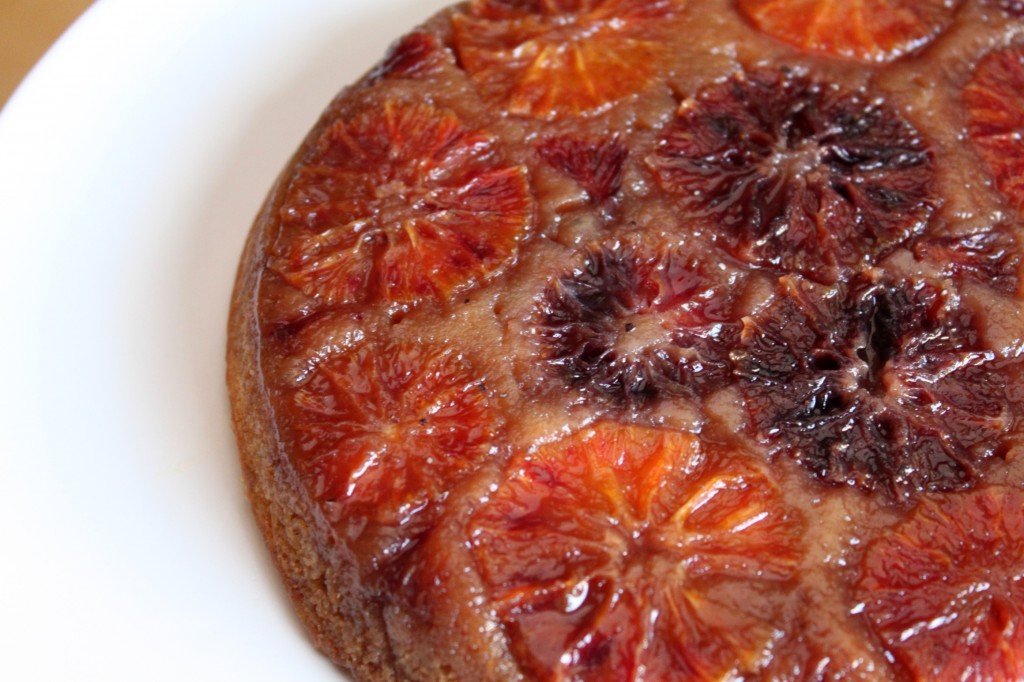 I recently discovered an amazing deal at Trader Joe's: 2 pounds of blood oranges for $1.99! These go for over $6/lb. at other stores, so  I was quick to snatch up a bag (and went back for more) when I saw the price tag. I already made a salad with a blood orange vinaigrette, as well as cupcakes with candied blood oranges, and I wanted to do something new that would utilize the bold and beautiful colors of this citrus.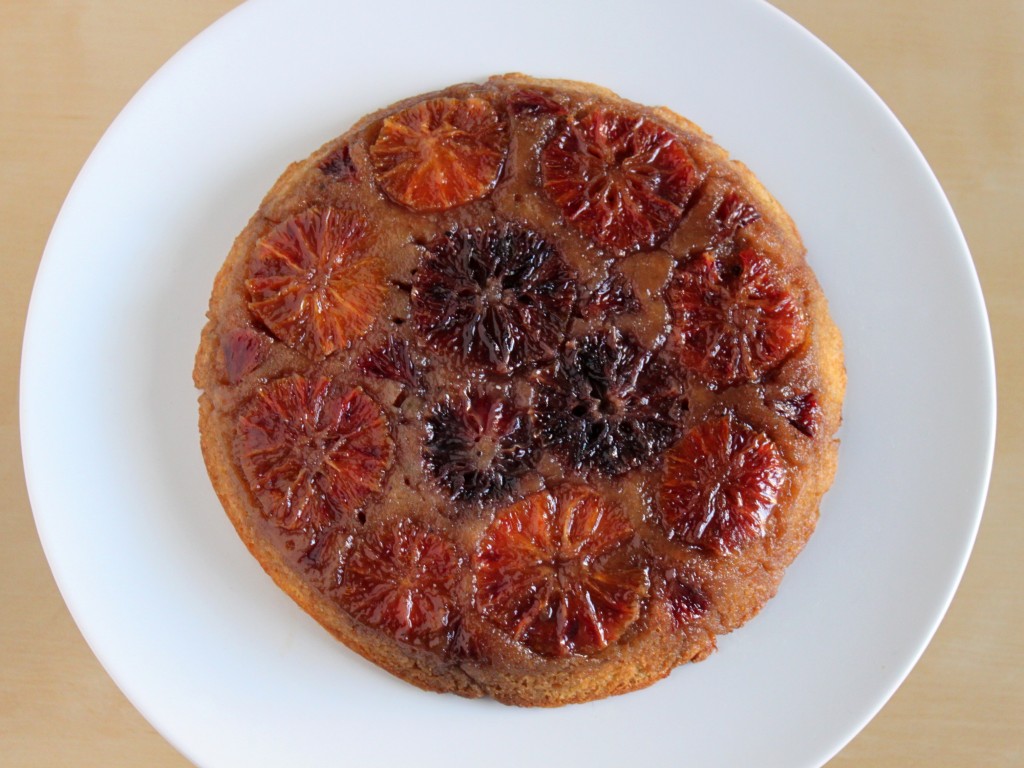 Making an upside down cake seemed like the perfect opportunity to show off slices of blood oranges. Mine varied in color, as they often do, so I put the darkest red/purple slices in the middle and orange/red on the outer row. You can definitely get creative with this recipe and try other citrus if blood oranges aren't readily available. Try grapefruit or oranges, or branch out of citrus altogether and use pretty much any other fruit (peaches, apricots, nectarines, berries, etc…).
The other reason I was excited for this recipe is that the cake is made in a cast iron skillet, which I use constantly for cooking but I've never had a chance to use for baking. The original recipe called for a 10 inch cast iron skillet, but I only have 8 and 12 inch ones, so I adjusted the recipe to use on a smaller scale. Besides orange, the other prominent flavor in the cake is cardamom, which compliments the blood oranges nicely. It is a very moist and dense cake and best enjoyed within a few days of baking (otherwise freeze it for later).
What's the best deal you've seen at the store lately?
Recipe:
Blood Orange and Cardamom Upside Down Cake
Adapted from David Lebovitz
Makes 1 8-inch cake
Topping:
1.5 tablespoons unsalted butter
1/2 C firmly packed light brown sugar
1/4 t ground cardamom, optional
1 or 2 blood oranges, peeled and sliced 1/4-inch thick
 Cake Batter:
3/4 C all-purpose flour
1/4 t salt
3/4 t baking powder
3/4 t ground cardamom
3 T unsalted butter, softened
1/2 C sugar
1 large egg
1/4 C milk (I used 2% but the original recipe called for whole)
1 t vanilla extract
Zest of 1 orange, grated
Preheat oven to 350°F and position rack in center of oven.
In an 8 inch cast iron skillet, combine butter, brown sugar and ground cardamom (if using) over low heat. Once butter has melted, remove from heat and let cool for 10 minutes or so. Once cooled, lay the orange slices on top of the brown sugar mixture in your preferred design.
To make the cake batter, combine the flour, salt, baking powder and ground cardamom in a small bowl. In a separate bowl,  combine the milk, vanilla extract and orange zest. In a large bowl, beat the softened butter with the sugar until light and fluffy. Add the egg and mix until thoroughly combined. Stir in half of the dry ingredients, then all of the milk mixture. Add the remaining dry ingredients and stir until just combined. Pour the batter over the orange slices and even out if needed using a knife or spatula. Bake for around 30 minutes or until the top is firm to the touch and a toothpick inserted in the middle comes out clean. Let cool for at least 15 minutes (be careful – that skillet will be very hot!). Carefully flip over a plate. It should slide out easily.
Serve warm or at room temperature. Garnish with fresh whipped cream if desired (I left that out – the cake was great on it's own). You can store the cake covered on the counter, but it won't keep more than a few days (if you want to keep it for longer, try freezing and then reheating it).
More recipes you'll love: