Goji berries, also known as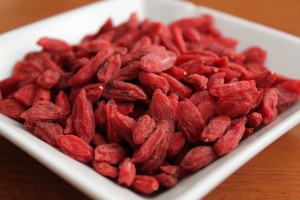 wolfberries, originate in Asia and southeastern Europe. They have been used in Chinese cuisine for hundreds of years, often put in broths, savory dishes and steeped in hot water to make teas. In the past several years they've made a splash in Europe and the U.S. amid spectacular health claims. Goji berries contain high levels of antioxidants, with many different vitamins, amino acids, minerals and polysaccharides, and have been claimed to prevent cancer.
Goji berries are rarely found fresh outside of the areas where they grow. You can often find them in dried form in health food stores where they can be extremely expensive. Be wary of finding cheaper versions in Asian markets that may have added sugar, red dye and a lot of pesticides.
They have a surprising taste and texture. The dried berries are chewier than they appear (they look and feel hard until you bite into them) and have a savory, slightly bitter taste. Eating them plain takes a little getting used to as they aren't sweet like most dried fruit. Here I've placed them in oatmeal cookies along with a hint of Chinese five-spice, which encompasses sweet, sour, bitter, pungent, and salty flavors. These spice cookies are lightly sweetened and are fairly "healthy" as far as cookies go, similar to the Pumpkin Oatmeal Cookies from a couple of weeks ago.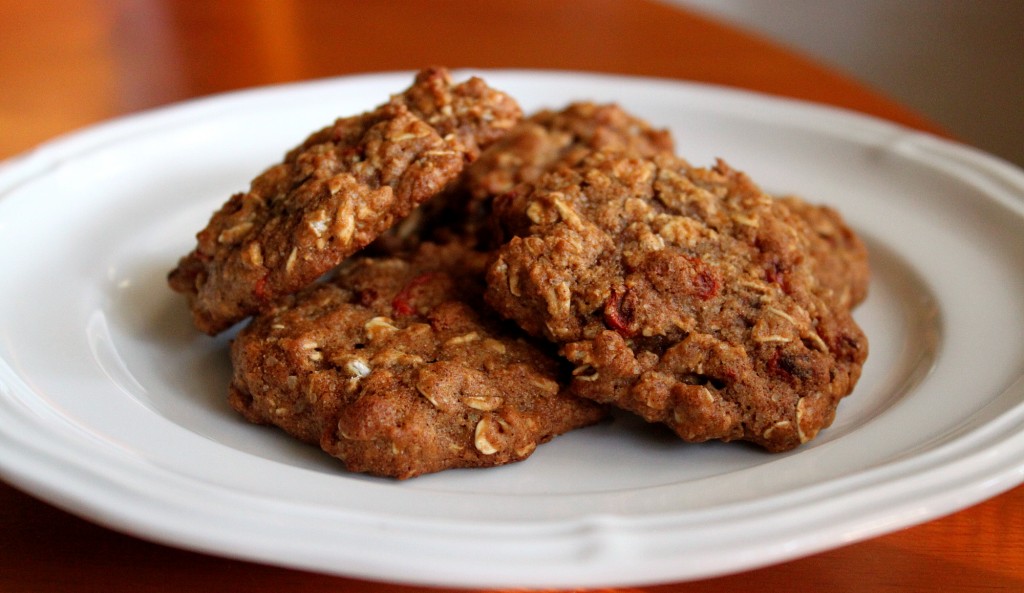 Oatmeal Spice Cookies with Goji Berries

Adapted from Su Good Sweet's Asian Oatmeal Cookies
1/2 C whole wheat flour
1/2 C all purpose flour
1 t baking powder
1/2 t baking soda
1/2 t salt
2 1/2 t Chinese five-spice powder
2 T unsalted butter, room temperature
1/2 C granulated sugar
1/2 C light brown sugar, packed
1 large egg
1/4 C unsweetened applesauce
1 t vanilla extract
1 1/3 C rolled oats
1/2 C goji berries
Preheat oven to 375°F.
Combine whole wheat flour, AP flour, baking powder, baking soda, salt and Chinese five spice powder in a medium bowl.
In a large bowl, beat butter and sugar together until smooth. Beat in brown sugar, egg, applesauce and vanilla. Once wet ingredients are combined, stir in dry ingredients.
Fold in oats and dried goji berries. On a greased baking sheet, drop rounded teaspoons of dough an inch apart and flatten gently using the bottom of a glass. Bake for 8-10 minutes, rotating pan halfway through, until cookies are lightly browned.