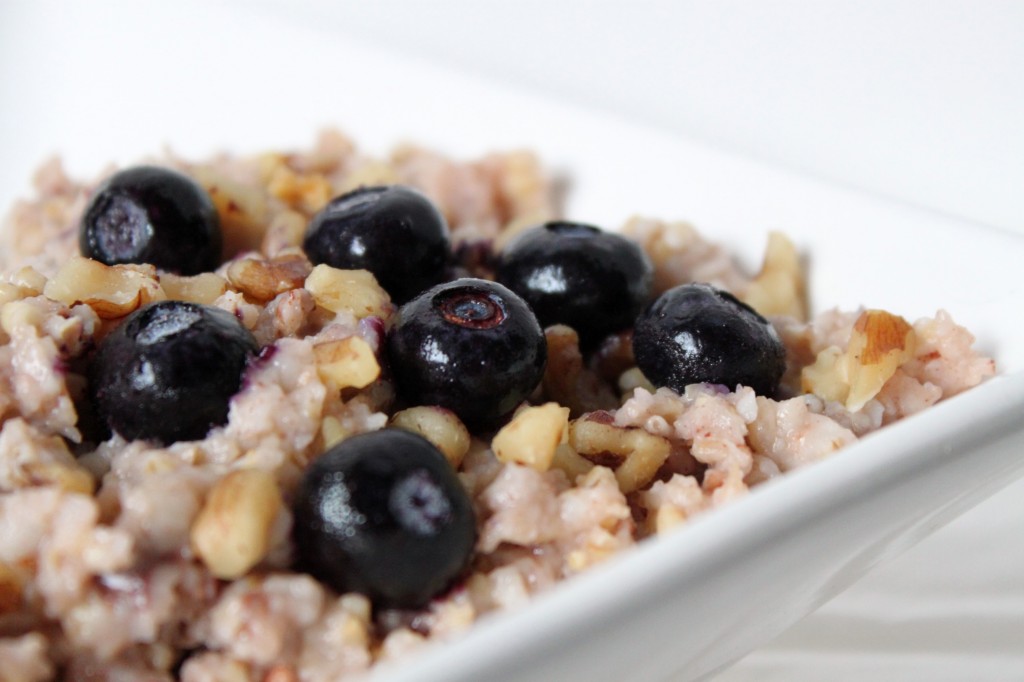 I've always heard great things about steel-cut oatmeal. It's less processed than rolled oats so it's healthier, has great texture and a nuttier taste than your typical Quaker oats. But the first time I tried it, it was awful. I cooked it on the stove for 10 or 15 minutes and the oatmeal was tough and hard. The bag has since sat in my fridge untouched, until I recalled that a lot of the people raving about steel-cut oatmeal used a slow cooker. Duh. Time to try it again!
Most cook it overnight, but I actually set it in the afternoon for 3 hours and had it for dinner ("brinner" is one of my favorite meals and I will have post about it sometime!). Walking into the house filled with the aroma of warm cinnamon is a special treat, and waking up to it in the morning would be amazing, especially on a dark, cold winter morning.
Cooked in a slow cooker, steel-cut oatmeal is soft, creamy, and a very filling and satisfying meal. If you want to add in dried fruit, put it in at the beginning of cooking time with all the other ingredients. Otherwise, stir in fresh or frozen fruit when you're ready to eat. Add a handful of chopped nuts and you'll have a very healthy meal any time of the day!
What are your favorite oatmeal toppings?
Recipe:
Slow Cooker Oatmeal
Makes 3-4 servings
1 C steel-cut oatmeal
4 C water
1/2 t kosher salt
1 t ground cinnamon
Optional additions: chopped nuts, fresh/frozen/dried fruit, honey, milk
Lightly coat the interior of your slow cooker with non-stick spray. Combine all ingredients inside, stirring to combine. Cook on low for at least 3 hours and up to 8 hours overnight.