"Did you use a different type of sugar…?"
No…
"…is the salt different…?"
No…
"…what about the flour? Did you use something different, like buckwheat flour…?"
No…
My BFF Hannah is no stranger to food. She and I bonded as college roommates with an unusually packed pantry, unlike our neighbors, who bought cheap spaghetti in bulk and not much else. In contrast, our kitchen was chock-full of a variety of eats at all times. One summer, we had a roommate who couldn't believe how much food we had and made fun of us for it. But we ate it all!
After college, Hannah took her Exercise Biology degree to the bay area and became an elite personal trainer. Food was never far from her mind though, and she returned to school to get her culinary degree a few years later. Now, we text each other when we find something new at Whole Foods and go on girls weekends where we basically eat nonstop.
This will all become relevant in a second – this background info on Hannah, her passion for food and her qualifications are all important to know for why I chose her to taste test these cookies.
But let's talk cookies for a moment. If you read my blog regularly or follow me on Instagram or Facebook, you've probably seen a lot about chocolate chip cookies lately. A couple of years ago, I developed my perfect chocolate chip cookies recipe based on the New York Times recipe. Recently, I adapted that recipe into a DIY jar cookie mix that is perfect for gift giving.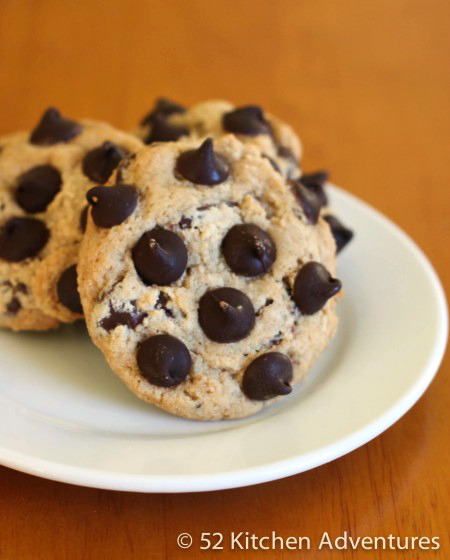 After baking (and eating) several batches of cookies to make the perfect cookie mix ratio, I thought I was done with perfect chocolate chip cookies for a while. What else could I do with that recipe anyway? Nothing, I thought…until it occurred to me that I'd never had a perfect gluten-free chocolate chip cookie!
I don't take the name "perfect" chocolate chip cookies lightly though – to be perfect, they have to be, well, perfect; soft on the inside, with a slight crunch to the exterior, and all the flavors you expect in a classic chocolate chip cookie. I wasn't prepared to give the title to just any gluten-free chocolate chip cookie.
That's where Hannah comes in. I made these cookies and thought they tasted pretty darn perfect for any chocolate chip cookie, not just a gluten-free one, but I needed a second opinion. I figured the best way to do so was a blind taste test. Of course, I can't keep a secret, so I did let slip that there was something different about these, but she had no clue what it was.
She started guessing different ingredients that I might have changed (the conversation at the beginning is an excerpt of her guessing) but a lack of gluten didn't come up for several minutes. She did think the texture was slightly different, which I thought too – but it's a very subtle difference.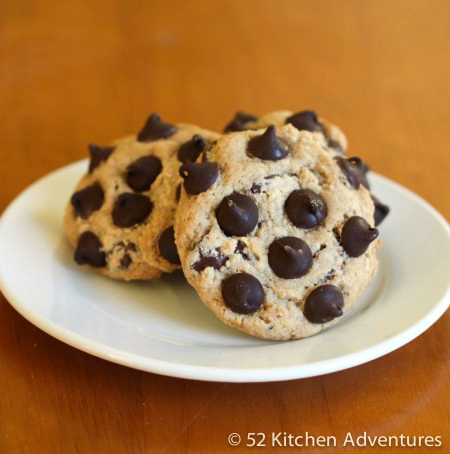 I've done a bit of gluten-free baking before, with mixed results. There are a ton of gluten-free flour blends out there, but usually you have to add something (like a little xanthan gum) to make them work in baked goods, and even then the results aren't nearly the same as wheat flour. For these cookies, I used Bob's Red Mill Gluten Free 1-to-1 Baking Flour, which is formulated to replace wheat flour in any recipe, with no additional ingredients needed.
I used another Bob's Red Mill gluten-free flour blend in the past (in these gluten-free chocolate cupcakes for one) with added xanthan gum and had great results, so I was excited to try this new blend. It didn't disappoint! I love that I can use it to replace all-purpose flour in any baking recipe. It already has a little xanthan gum in it (along with a blend of bunch of gluten-free flours), so it gives your gluten-free baked goods a great taste and texture. Plus, the protein in it from sorghum flour helps with browning and making the texture more like wheat.
If you're doing any gluten-free baking this holiday season, I recommend giving this Bob's Red Mill Gluten Free 1-to-1 Baking Flour a try to replace the flour in your favorite cookie or other baked good recipe. As you're getting ready for holiday baking, stock up and click here to download a $1 off coupon for any Bob's Red Mill product!
Perfect Gluten-Free Chocolate Chip Cookies
Ingredients
Instructions
In a large bowl, combine flour with baking soda, baking powder and salt, and set aside.
Using a stand mixer with a paddle attachment, cream butter and both types of sugar together on low/medium speed for around 5 minutes (until mixture is very pale in color).
Add egg and mix on low until combined. Mix in vanilla. On the lowest speed, add dry ingredients and mix until just combined (5 to 10 seconds).
Add chocolate chips and stir briefly until they are distributed throughout dough.
Cover the bowl with plastic wrap, pressing it against the top of the dough. Refrigerate for 24 to 36 hours.
When ready to bake, preheat oven 350°F and line a baking sheet with a silicone mat or parchment paper.
Scoop dough in rounded tablespoons and place an inch apart on prepared baking sheet. Sprinkle with a dash of salt.

Optional:

Press several chocolate chips onto top for a picture-perfect cookie.
Bake 12-14 minutes, until edges are golden brown. Place cookie sheet onto a wire rack for 10 minutes to cool.
Notes
Dough will keep for up to 72 hours from when it was prepared.
http://www.52kitchenadventures.com/2014/11/13/perfect-gluten-free-chocolate-chip-cookies/
I was selected for this opportunity as a member of Clever Girls Collective and the content and opinions expressed here are all my own.