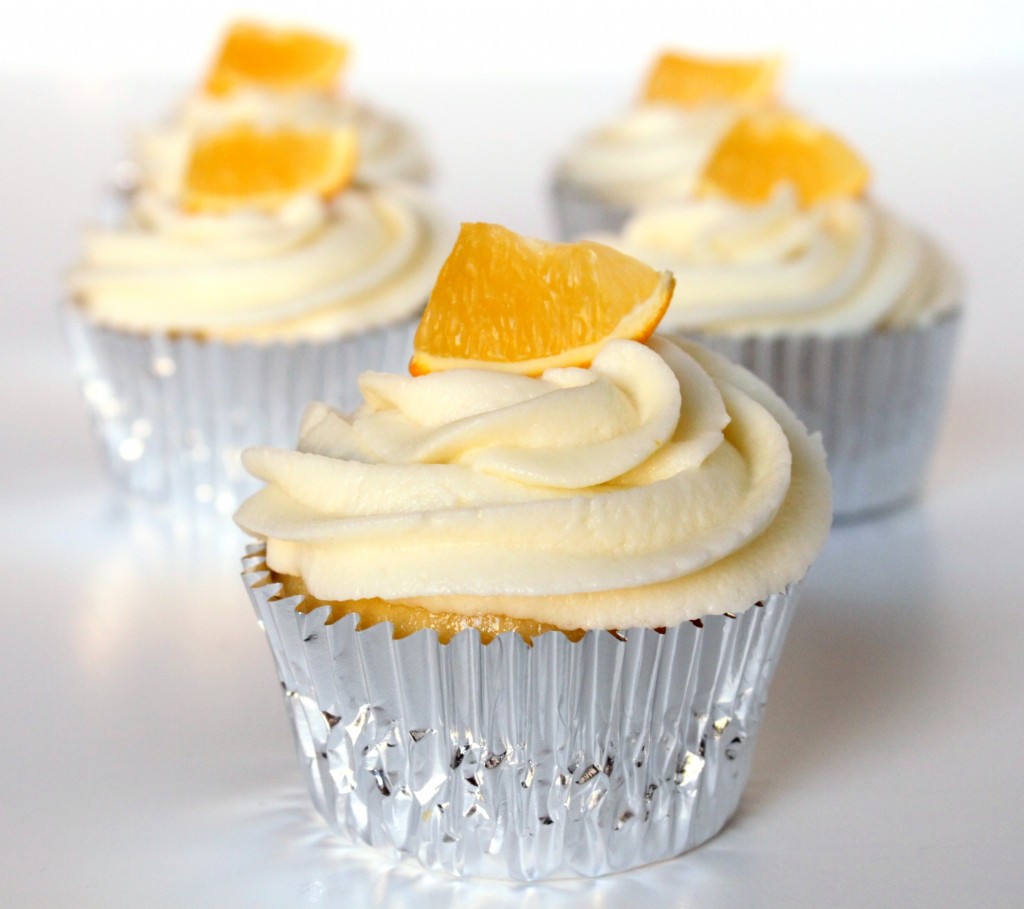 After my recent adventure making homemade limoncello out of Buddha's hand citron, I was left with a large bottle of limoncello and wondering what to do with it. I'm not a big drinker but I love baking, so of course my first thought was, "what can I bake with this?" My second thought was that February was quickly disappearing and I had yet to make a cupcake of the month. And so, the limoncello cupcake idea was born!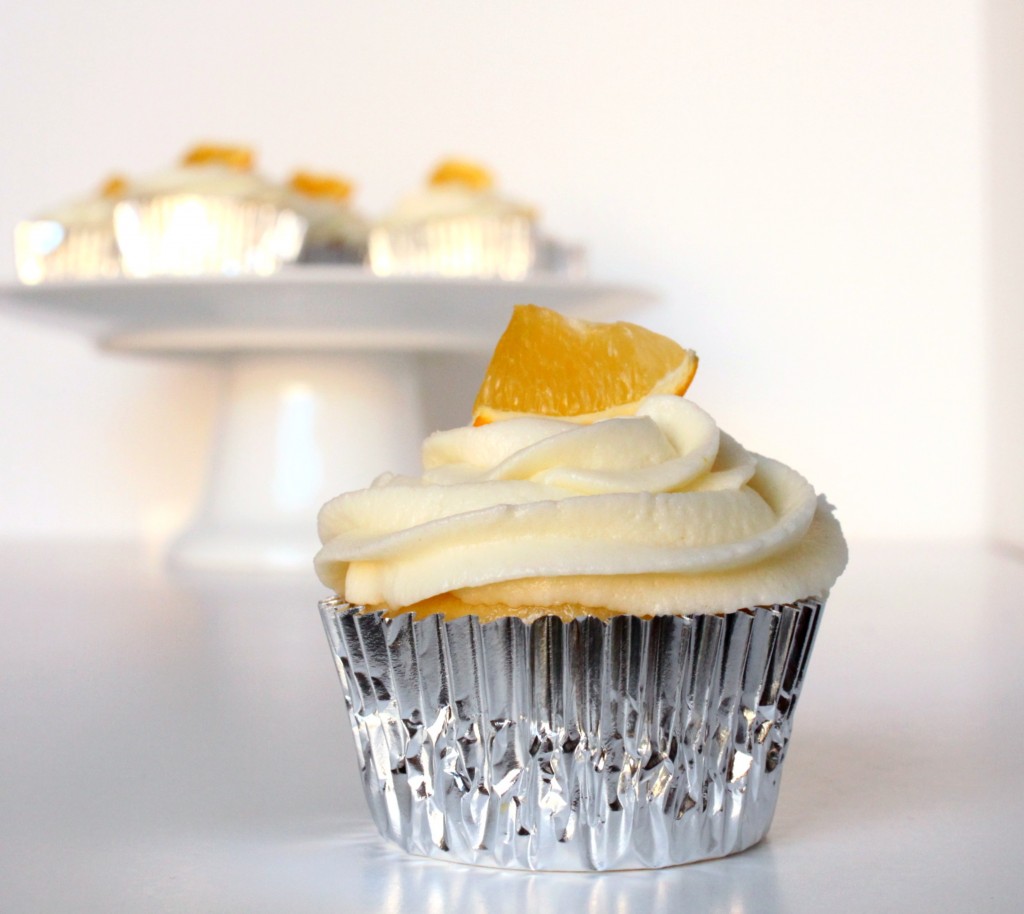 A quick Google search led me to one recipe that several bloggers tried out. It adds the wonderful flavor of sweet Meyer lemons to the limoncello to make a great lemon cupcake. It seems that it originated from Tartlette (if you like food pictures, check it out – she is an amazing photographer!) so I'm giving her credit, although I did change the recipe a tad. The cupcakes are a bit denser than I usually like, but after filling them with an amazing Meyer lemon curd and topping with a light cream cheese lemon frosting, I really can't complain.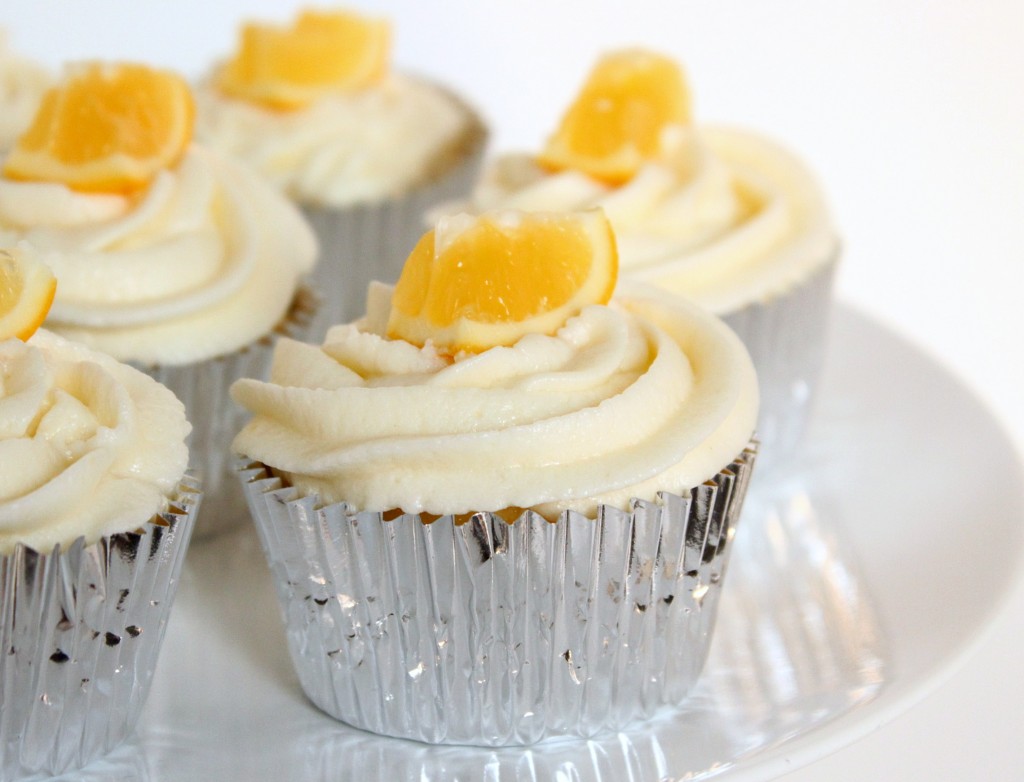 I'd actually never filled a cupcake before, although it turns out it's ridiculously easy (cut a hole, fill it in, top with frosting – see pictures at the end of the recipe). Now I want to make lots of filled cupcakes – with caramel, ganache, etc., the possibilities are endless!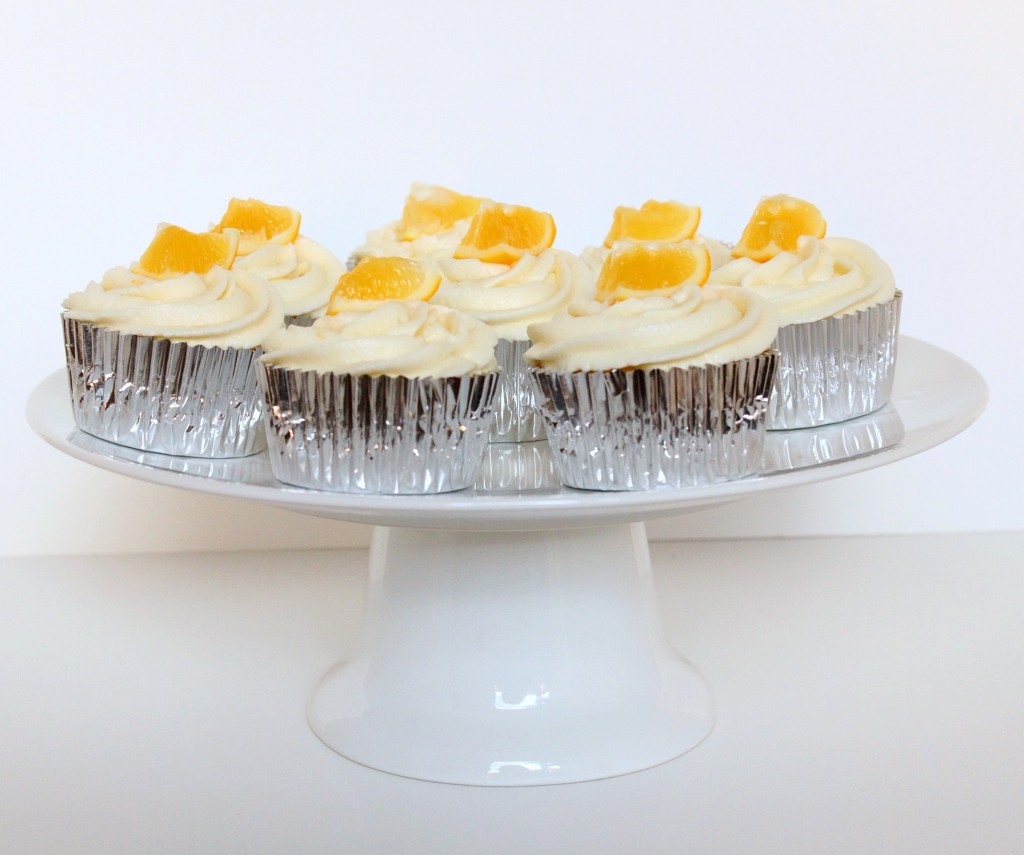 Plus, I was able to try out my new cake stand that I randomly bought at Target. Ah, the dangers of being a food blogger; splurging on good food and kitchen accessories. Have you splurged on anything lately?
Recipe:
Limoncello & Meyer Lemon Cupcakes
Adapted from Tartelette
Makes 12 cupcakes
For the cupcakes:
2 oz unsalted butter, softened
2 oz  cream cheese, softened
1 C sugar
3 large eggs
2 T limoncello (see how I made it here)
1½ C unbleached all purpose flour
1 t baking powder
½ t salt
½ cup buttermilk
1/4 C Meyer lemon juice
Zest of one Meyer lemon
For the Meyer lemon curd:
Zest of 2 Meyer lemons
1 egg + 1 egg yolk
1/2 C Meyer lemon juice
1/4 C sugar
For the lemon cream cheese frosting:
2 oz unsalted butter, softened
4 oz cream cheese, softened
1 T  limoncello
1/2 t Meyer lemon juice
1/8 t Meyer lemon zest
1 1/8-1 1/2 c powdered sugar, sifted
Prepare the cupcakes:
Preheat oven to 350°F. Position a rack in the center of the oven and line a cupcake tin with liners.
Beat the butter, cream cheese and sugar together at medium speed until light and creamy. Add the eggs one at a time, beating to incorporate between each one. Add limoncello and mix for one more minute.
In a medium bowl, mix together flour, baking powder and salt. In alternating increments, add flour mixture and buttermilk to the butter mixture, beginning and ending with flour mixture. Mix in lemon juice and zest. Fill cupcake liners 3/4 full and bake for around 20 minutes or until a toothpick inserted in the middle comes out clean. Let cool.
Prepare the Meyer lemon curd:
While cupcakes cool, prepare curd. In a small bowl, lightly beat the egg and additional egg yolk. In a medium saucepan over medium heat, combine Meyer lemon zest, juice and sugar. Bring to a simmer and beat a little of lemon mixture into the eggs to temper them. Pour the egg mixture into the saucepan. Cook for around 5 minutes until thickened, stirring constantly. Remove from heat and let cool.
(Note: if the egg does curdle a little, simply press finished curd through a fine mesh sieve to remove egg.)
Prepare the cream cheese frsoting:
On medium speed, beat the butter and cream cheese until light and creamy. Add limoncello, Meyer lemon juice and zest and beat for another minute. Reduce speed to low and slowly add the powdered sugar a little at a time. Beat until everything is incorporated and frosting is smooth. Add more powdered sugar to taste  and to increase volume.
(Note: I used 1 1/8 cup powdered sugar and was only able to frost 9 cupcakes with it. I didn't use an exorbinant amount of frosting, so if you want more, I suggest using more sugar or increasing all ingredients by a little.)
To assemble: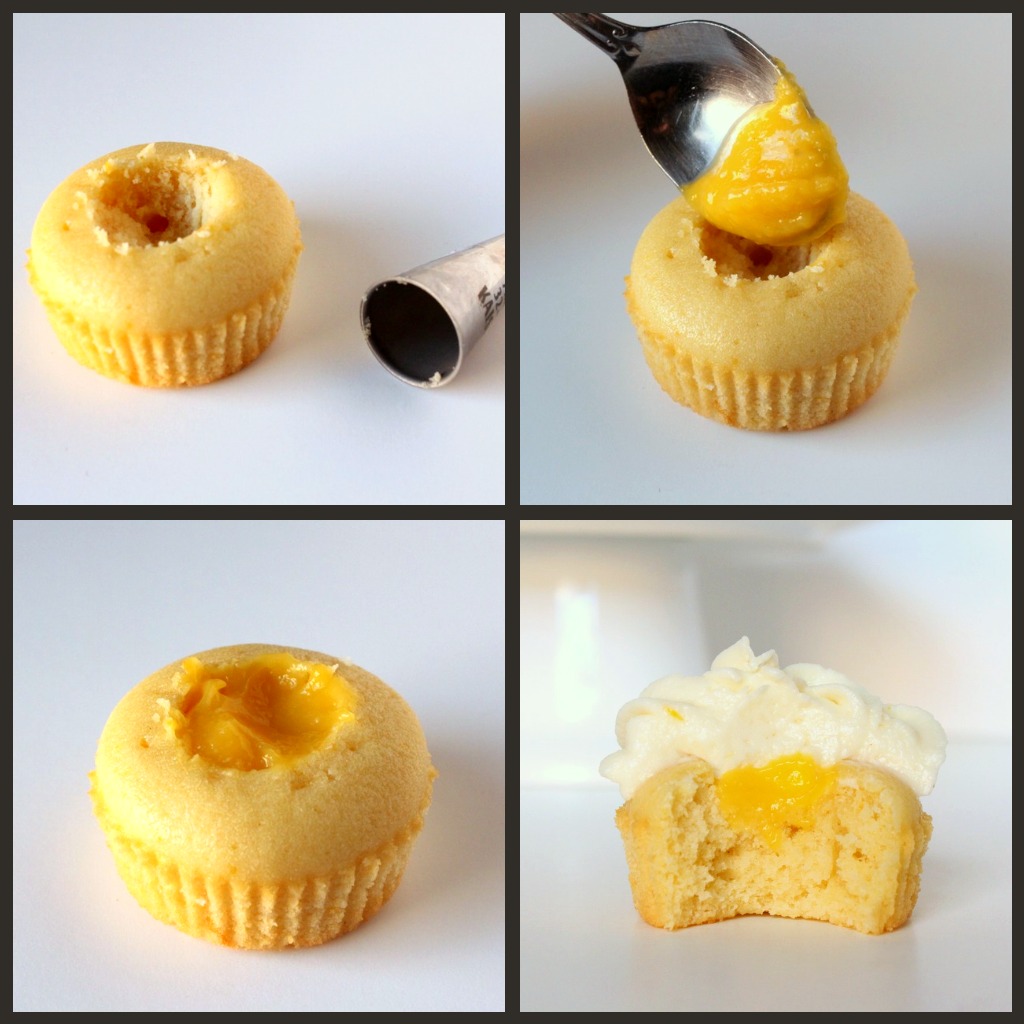 Using a large pastry tip or a small melon baller, cut a hole into each cupcake. Fill with Meyer lemon curd, then top with frosting (I used a Wilton 1m star tip).