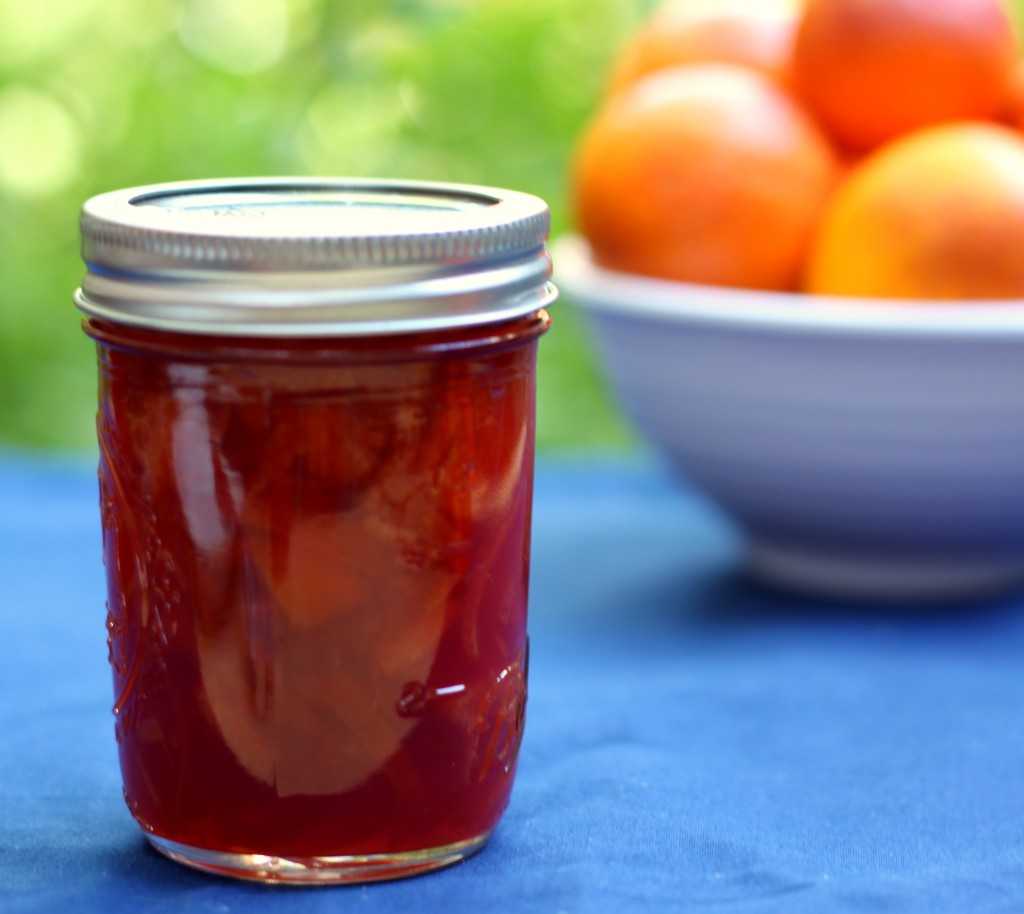 This is my second attempt at canning. The first was strawberry jam last year. Both times, I've found the whole process to be a lot of effort for a smaller result than I was expecting (3 or 4 8-oz. jars each time). I'm determined not to hate preserving, because I think it's a wonderful way to enjoy seasonal produce year-round, so I will keep trying. And even though this didn't end up yielding as many jars as I had hoped, now that I'm a week removed from the disasterous 3 hour stint in my kitchen, I can say that I've really enjoyed the marmalade and I think it was truly worth the effort and injury.
I've had amazing luck this year with blood oranges. First, I found them for a great deal at the store, so I made salad with blood orange vinaigrette, a homemade soda, and a wonderful upside down cake with cardamom. Then last week I was given a huge bag full of ripe blood oranges from a friend's tree. I attempted to make marmalade in my slow cooker, which totally failed and I ended up transferring it to the stove top to reduce (Crock Pots just can't get hot enough to make marmalade). It ended up being overcooked, giving it an unappetizing brown color.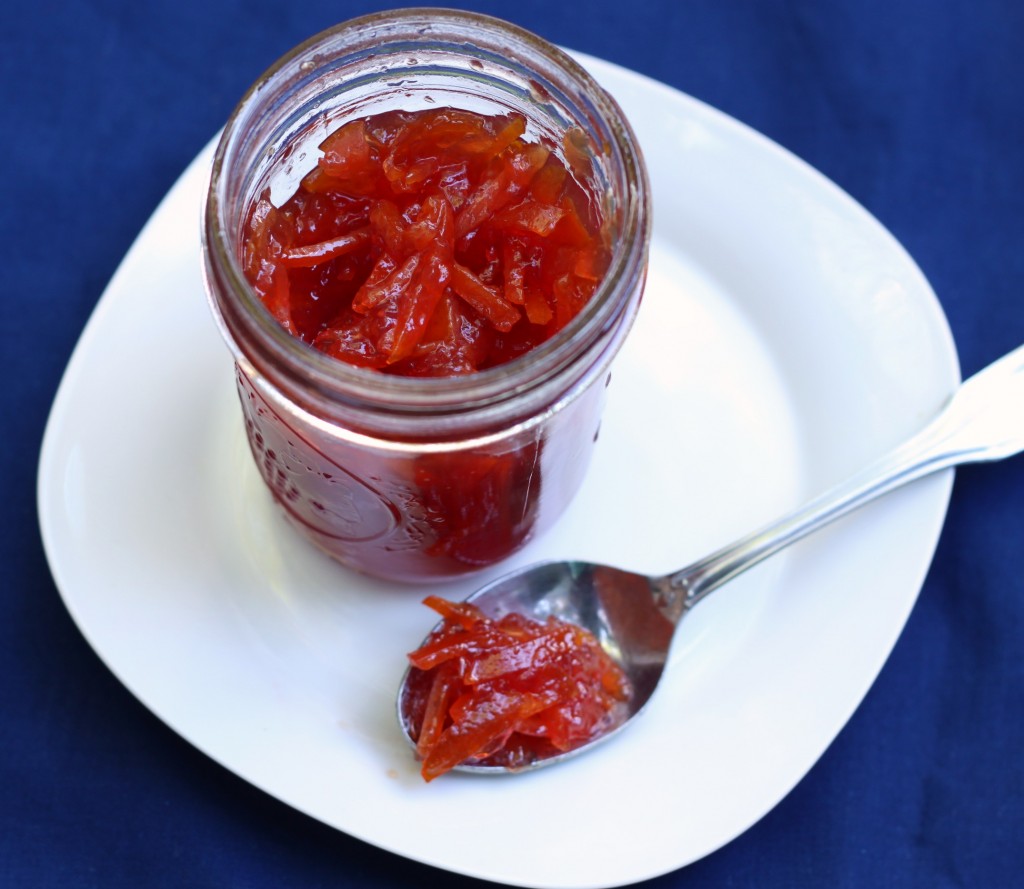 The next day I took the tips from Simply Recipe's Seville orange marmalade to make a much better blood orange marmalade. I reduced the sugar since blood oranges are sweeter than Seville oranges and added storebought pectin instead of making it from seeds and membranes (blood oranges have few seeds compared to Seville oranges).
One injured finger (vegetable peelers can be dangerous – be careful!), a small fire, and hours of prep and cooking later, I had 4 gorgeous jars of blood orange marmalade. It was my first injury from a peeler and my first kitchen fire. I wasn't too hurt, just missing a few layers of skin, and the fire was put out immediately, but it was an eventful afternoon.
What was your worst kitchen disaster?
Recipe:
Blood Orange Marmalade
Makes 4-5 8-oz. jars
3.5-4 lbs. blood oranges
1 Meyer lemon
Juice of 1 regular lemon
4 C water
1 packet of liquid pectin
2-3 C sugar
First, place several small plates into your freezer for checking if the marmalade has set.
1. Remove and julienne peels: Wash and scrub oranges. Using a vegetable peeler, carefully remove the top layer of the orange peels and set oranges aside. Julienne the peels until you have 4 cups.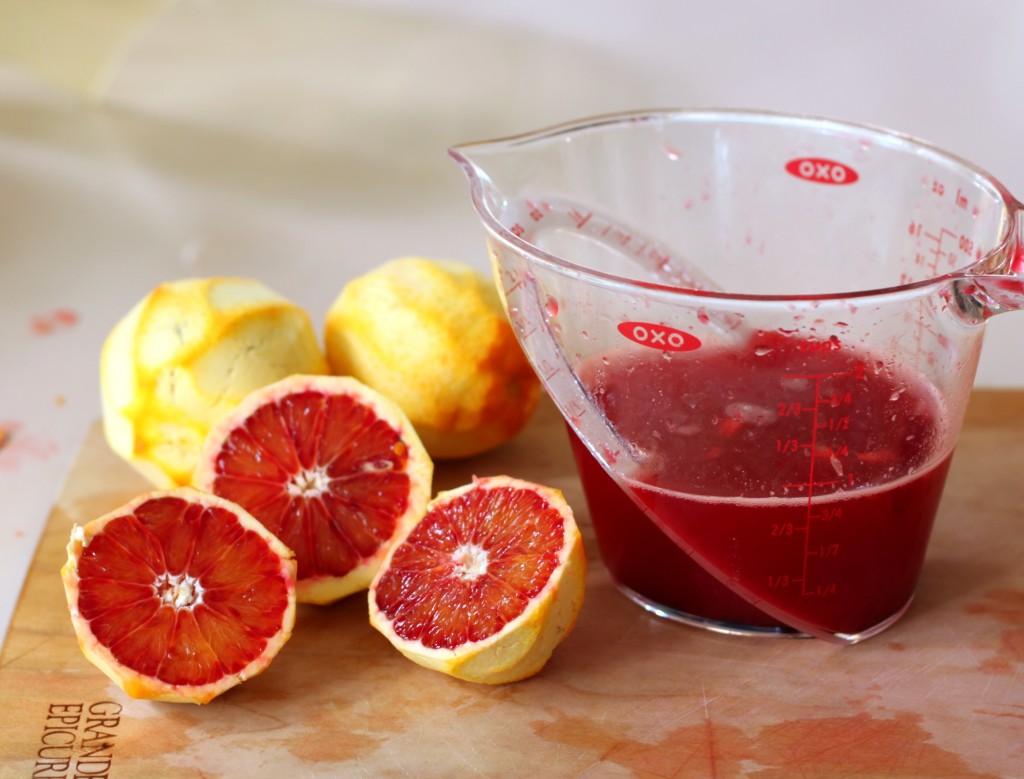 2. Juice oranges: Slice peeled oranges in half, remove seeds and juice until you have 2 cups.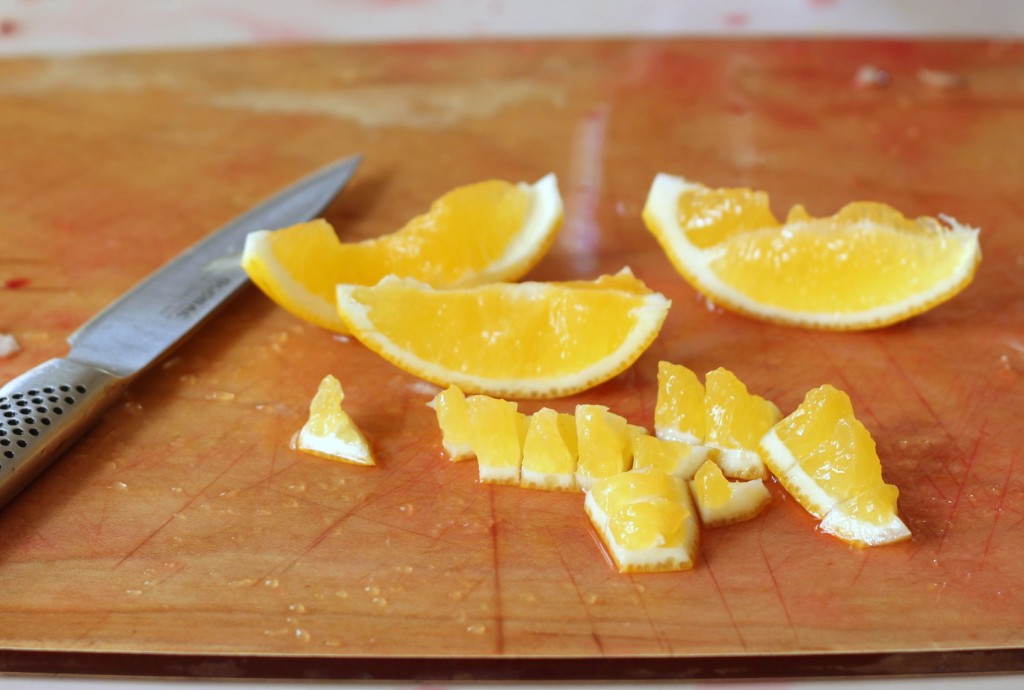 3. Prep Meyer lemon: Cut lemon into eight pieces, lengthwise. Remove seeds and inner membrane that comes off easily. Cut each slice into several small triangular pieces.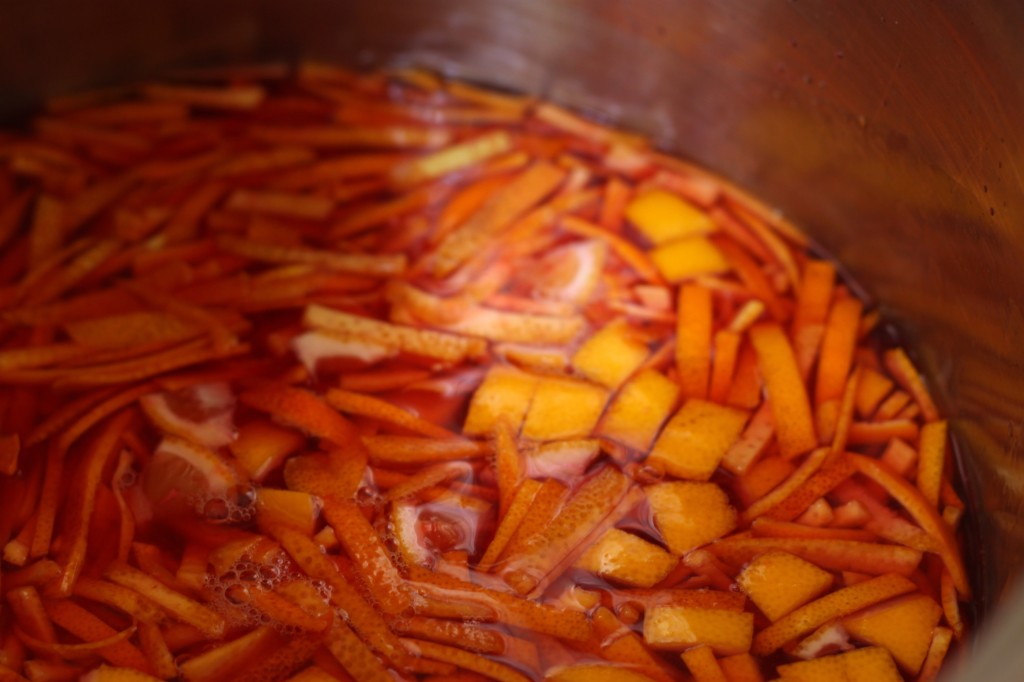 4. First cooking stage: In a large stockpot, combine prepared orange peels, blood orange juice, prepared Meyer lemon with the juice of 1 regular lemon, water and liquid pectin. Bring to a boil and let boil uncovered until the peels are soft and cooked through (around 30 minutes). Remove from heat.
5. Add sugar: Add sugar 1 cup at a time, stirring until dissolved and tasting in between. Add more to taste, keeping in mind that the mixture will reduce further, which will intensify the sweetness and flavor of the marmalade. (I used 3 cups for mine and it's fairly sweet.)
6. Second cooking stage: Bring mixture back to a rapid boil, securing a candy thermometer to the pot. Stir occassionally to prevent sticking to the bottom of the pot. After 10-15 minutes, begin checking to see if it is set (it should be 220-222°F – 8-10°F above the boiling point at your altitude). To check, remove a chilled plate from your freezer. Spoon a little marmalade onto the plate and let sit for 30 seconds. If it holds its shape a bit, try pressing it with your finger. If it wrinkles at all, the marmalade is set. If not, continue cooking and test often until it wrinkles. Once it is set, remove from heat and immediately pour into sterilized jars. Leave 1/4 inch head space at the top of the jars, wipe the rims clean and seal with lids quickly. You can process the jars in boiling water for 5 minutes if desired.
For more information on canning and pictures of the marmalade wrinkle test, check out the end of the Seville orange marmalade recipe.
More recipes you'll love: