Update: I made blueberry lavender butter with frozen berries too.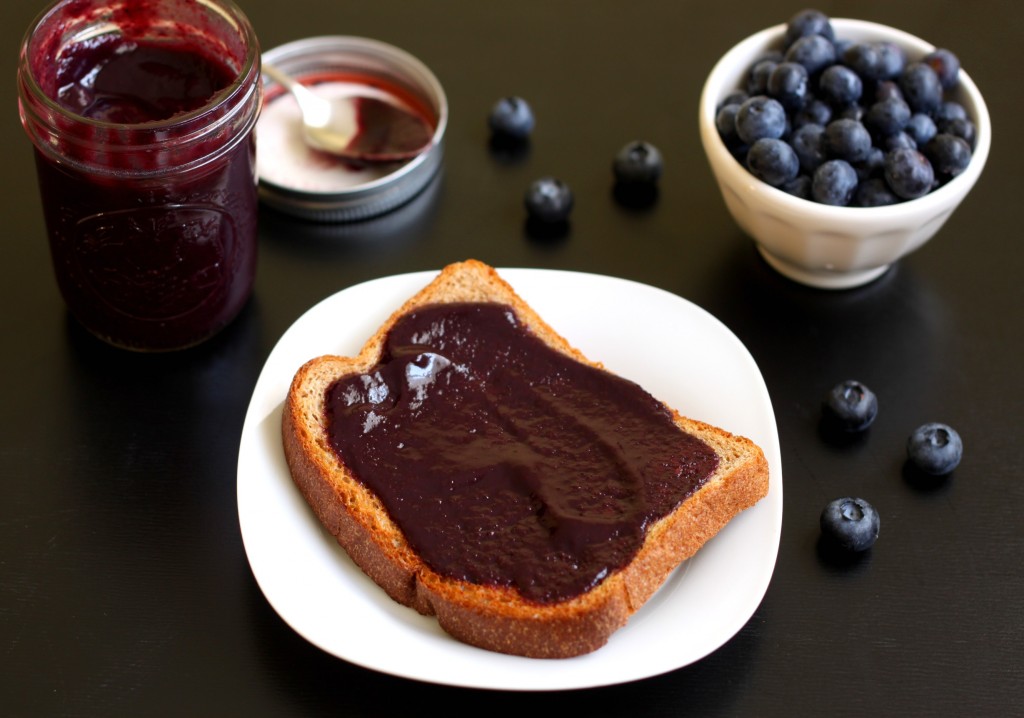 Summer is my favorite food time of year. I can do without the crazy heat, but I love all the amazing produce that it brings. Northern California is an especially wonderful place for fresh fruits and veggies. While browsing the farmer's market last Saturday, I found a nearly endless supply of cherries mixed in with all kinds of berries, peaches and some vegetables too I'm sure (I recall seeing broccoli and daikon, but honestly I am way more excited about the awesome fruit selection at this time of year).
In particular, blueberries are one of my favorite fruits and I love eating fresh, plain blueberries right out of the box. Last week, however, I sacrificed 2 entire large boxes of blueberries and pureed them in my blender (it was kind of painful – I wanted so badly just to eat them all!). This fruit butter is actually totally worth the sacrifice. I adapted a recipe from Food in Jars and added lavender to the blueberry puree, which is a fantastic flavor combination. The texture is lovely – velvety, smooth and creamy, this thick butter is the perfect addition to your breakfast table.
This recipe is also very simple and easy to make. Don't let canning or the use of a slow cooker dissuade you from trying this blueberry lavender butter. Imagine slathering it on warm toast, fresh scones, or mixing it into thick Greek yogurt…mmm!
How do you enjoy your favorite summer fruit?
Recipe:
Slow Cooker Blueberry Lavender Butter
8 cups pureed fresh blueberries
1 T dried lavender
Zest of 1 lemon
1 1/2 – 2 C sugar
1 bouquet garni bag (like these or use cheesecloth and string to make your own)
Place pureed blueberries in slow cooker and turn to low. Fill bouquet garni bag with lavender and tie shut. After 1 hour stir blueberry puree and add bag of lavender. Prop open lid with a spatula or wooden spoon and continue cooking on low, stirring occasionally. After 4 more hours, add lemon zest and sugar to taste. Remove lid and cook on high for 1 hour. Remove bouquet garni bag of lavender and discard. Place butter in food processor or blender and process to desired consistency. Pour into sterilized jars, leaving 1/2 inch of head space, wipe rims and screw on lids. Process in boiling water canner for 10 minutes. Store jars in cool, dark place.