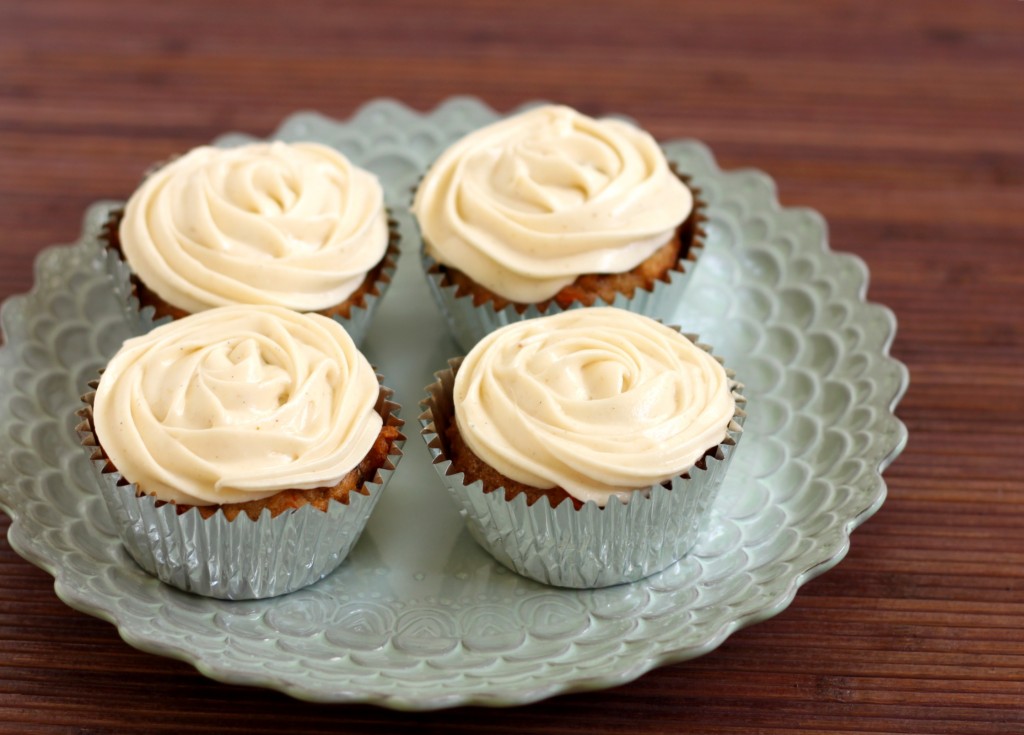 3 kinds of cupcakes in less than 2 weeks?! Good thing I made them all for other people, otherwise I'd be 10 pounds heavier by now. I feel like I should just start taking orders – anyone want some cupcakes?
These were made along with the "Better than Sex" Chocolate Cupcakes for my friend Jen's birthday party. One of her favorite cake flavors is carrot cake, so I wanted to make sure I did them right for her. I headed over to one of my favorite blogs, Cupcake Project, which always has fantastic cupcake recipes. This one was labeled "unforgettably moist" so I knew I was on the right track. Plus, cardamom cream cheese frosting sounded like a great twist on classic flavors.
I have been waiting for an excuse to buy coconut oil (any other recipe suggestions for it?) so this finally prompted me to get some. That, along with the other more typical carrot cake ingredients, does keep the cake incredibly moist. The hint of cardamom in the frosting keeps things interesting and adds a subtle flavor that compliments the cream cheese and carrot cake. This carrot cake recipe is definitely a keeper!
Recipe:
Carrot Cake Cupcakes
Adapted from Cupcake Project

Yields 12 cupcakes
1/2 C sugar
3/4 t baking soda
1 t baking powder
1/2 t salt
1/2 t cinnamon
1/2 t ground cardamom
1 C finely chopped carrot (about 1 large carrot) – It's easiest to do this in a food processor. If you use organic carrots and scrub them well, you don't even have to peel them first.
1 C crushed pineapple, drained
1 C coconut flakes
3 handfuls of raisins (optional)
1/2 C nuts (optional)
1/4 C coconut oil
1/4 C unsalted butter, room temperature
2 eggs
1 C flour
Preheat oven to 350°F. Line cupcake tin with liners or grease.
In a large bowl, combine all ingredients except coconut oil, butter, eggs and flour. Add oil and butter and mix until combined. Add eggs, one at a time, stirring after each until well combined. Add half of flour and stir until just combined. Add rest of flour and mix until just combined. Pour batter into prepared tin, dividing evenly among liners.
Bake for 25 minutes or until a toothpick inserted in the middle of a cupcake comes out dry. Let cool and prepare the frosting in the meantime.
Cardamom Cream Cheese Frosting Recipe
8 oz cream cheese, room temperature
1/4 C unsalted butter, room temperature
3 C powdered sugar, sifted
1/2 – 1 t ground cardamom
1 t vanilla extract
In a large bowl, beat cream cheese and butter until light and creamy. Mix in powdered sugar one cup at a time, until you reach your desired consistency. Stir in 1/2 teaspoon cardamom and vanilla. Taste and add additional cardamom to taste. Spread or pipe onto cooled cupcakes.