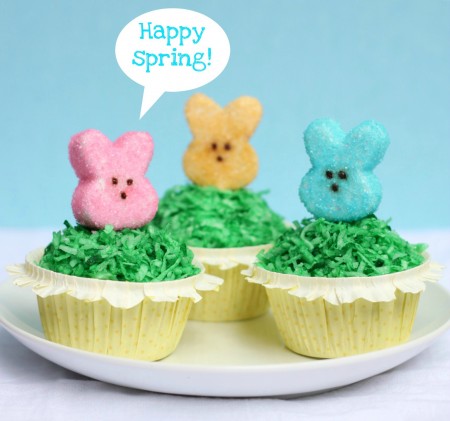 When Frigidaire asked me to create a springtime recipe, I have to admit that my first thought was bunnies. A normal person would probably have thought of seasonal ingredients, but I went straight to a bunny cupcake. I wanted to make one that looked like my lop-eared bunny, but if you read my post last week, you'll know that that idea was a flop (I did end up with some delicious cinnamon chocolate cupcakes with Nutella frosting though). I was still set on doing something bunny related, but my bunny shaped cake pops were also a flop, as was my first batch of homemade marshmallow Peeps.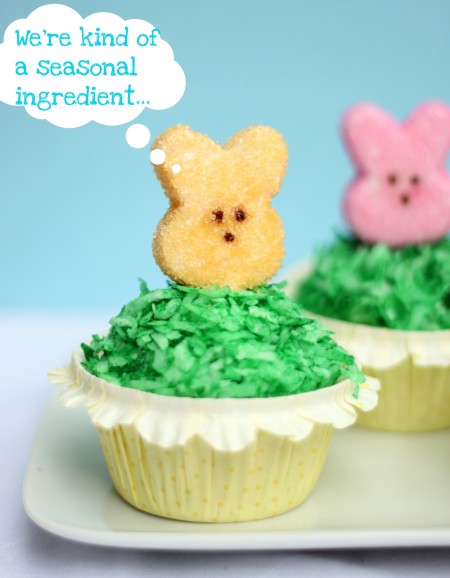 I didn't give up and my persistance paid off: I adjusted the recipe and my second batch of homemade Peeps came out perfectly. I dyed some shredded coconut to make "grass" for the Peep bunnies and put it all on top of a carrot cake cupcake (you know, cause bunnies like carrots). Although they don't look like real rabbits, they're so cute it doesn't really matter.
I posted a photo of these to my Facebook page and got some fantastic names for them: Peepcakes, Hoppy Cakes, Peepcups, Peep-a-boo, and "What's Up, Doc?" Alexandrea came up with the winner: Peepcakes is the perfect combination of cute and descriptive. It's such a clever name! In the same comment thread, Lalita suggested adding a piece of licorice to make it into a mini Easter basket. As soon as I read that, I literally hopped in the car, found some yellow Twizzlers at the store, came back and made this: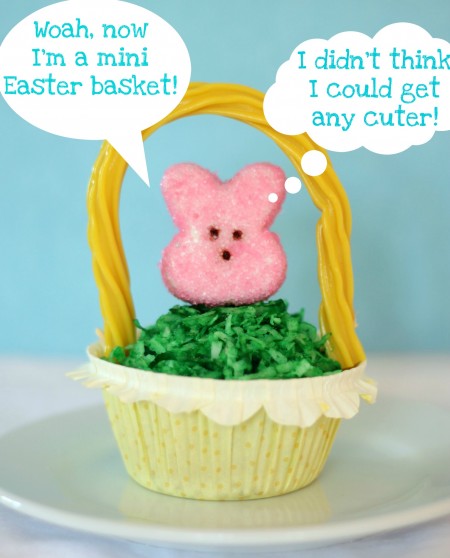 Now these are the ultimate Easter cupcakes – oops, I mean Peepcakes!  Plus, the Peepcakes are bunny approved (especially because she got to eat the leftover carrot from the cake):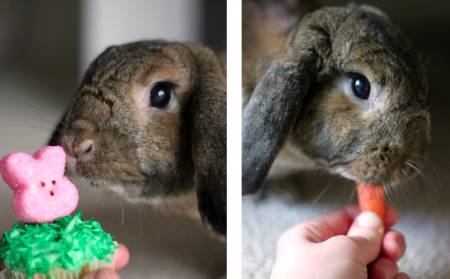 Happy Spring (and Easter) from me and Cinnamon the bunny!
Here's how to make Peepcakes: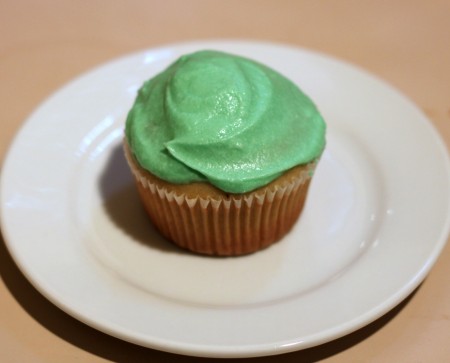 Make some cupcakes (I used this really moist carrot cake cupcakes recipe) and top them with green frosting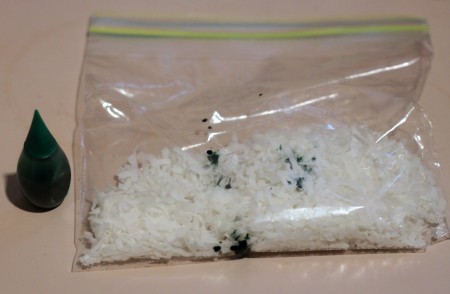 Put shredded coconut in a plastic bag with green food dye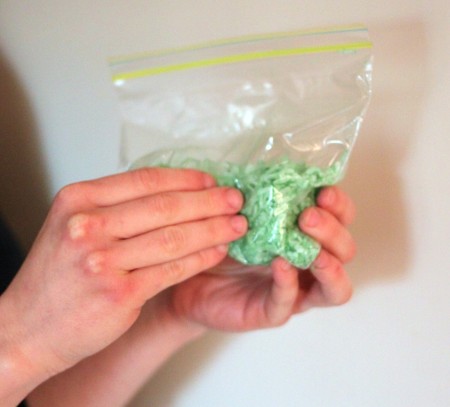 Mash up the coconut and dye until it's a uniform shade of green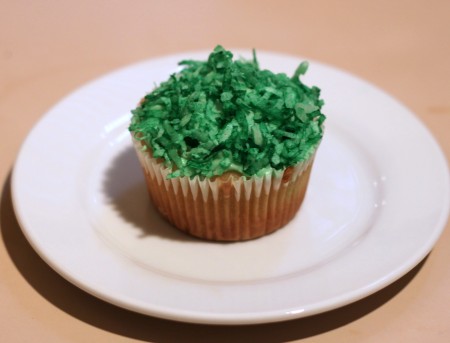 Add green coconut to the top of the cupcakes, covering the frosting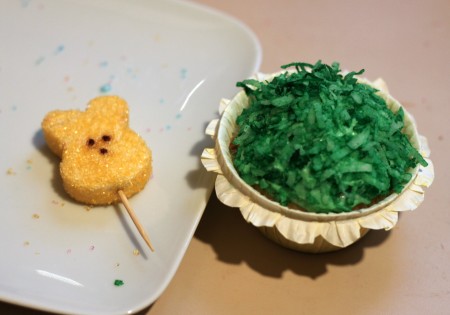 Impale a homemade marshmallow Peep (or a store bought Peep) with a toothpick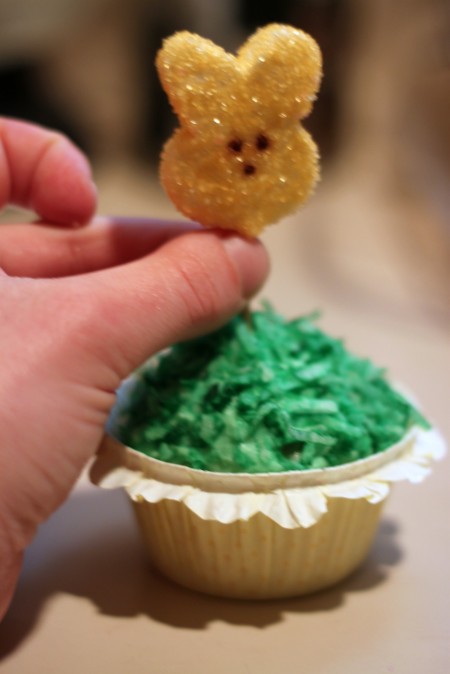 Push the impaled Peep straight down into the cupcake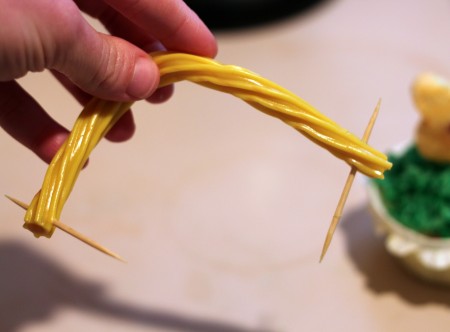 To make mini Easter baskets, insert 2 toothpicks into a piece of licorice (I used a Twizzler)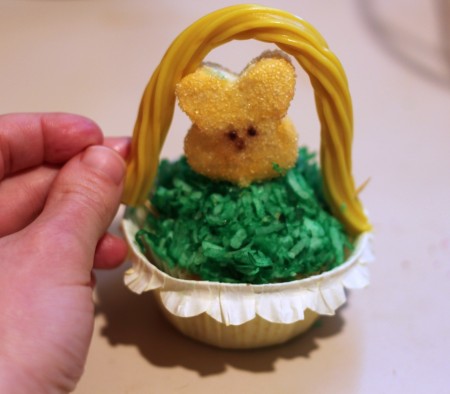 Insert the toothpicks into either side of the Peepcake as shown above and below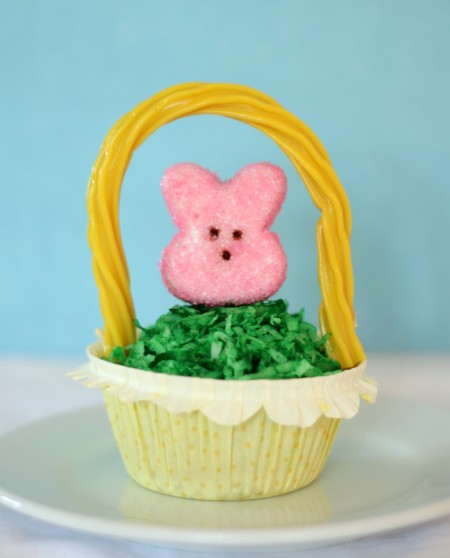 You can leave out the licorice step and still have adorable Peepcakes too:
Recipe:
Peepcakes
You'll need:
Cupcakes
Frosting
Green dye
Shredded coconut
Homemade Peeps (or store bought Peeps)
Licorice (to make mini Easter baskets)
Carrot Cake Cupcakes
Adapted from Carrot Cake Cupcakes
Yields 12 cupcakes
1/2 C sugar
3/4 t baking soda
1 t baking powder
1/2 t salt
1/2 t cinnamon
1/2 t ground cardamom
1 C finely chopped carrot (about 1 large carrot) – It's easiest to do this in a food processor. If you use organic carrots and scrub them well, you don't even have to peel them first.
1 C crushed pineapple, drained
1 C coconut flakes
1/2 C unsalted butter, room temperature
2 eggs
1 C flour
Preheat oven to 350°F. Line a cupcake pan with paper or foil liners.
In a large bowl, combine all ingredients except butter, eggs and flour. Add butter and mix until combined. Add eggs, one at a time, stirring after each until well combined. Add half of flour and stir until just combined. Add rest of flour and mix until just combined. Pour batter into prepared tin, dividing evenly among liners.
Bake for 25 minutes or until a toothpick inserted in the middle of a cupcake comes out dry. Let cool completely before frosting.
Cream Cheese Frosting Recipe
8 oz cream cheese, room temperature
1/4 C unsalted butter, room temperature
3 C powdered sugar, sifted
1 t vanilla extract
Green food dye
In a large bowl, beat cream cheese and butter until light and creamy. Mix in powdered sugar one cup at a time, until you reach your desired consistency. Stir in vanilla and green dye. Spread onto cooled cupcakes. Top with shredded, green coconut, a Peep, and a piece of licorice as pictured above.
This post was sponsored by Frigidaire. When you check out Suzanne Goin's springtime recipes at http://www.maketimeforchange.com, Frigidaire will donate $1 to Save the Children's U.S. programs. Plus, you'll be entered for a chance to win the new Frigidaire Range with SymmetryTM Double Ovens – featuring two large ovens (that can each fit up to a 28 pound turkey!), providing the flexibility to cook multiple dishes at the same time at different temperatures, so you can get more on the table at the same time.
More recipes you'll love: