Edited to add: I forgot to mention that you can make these in a muffin (or mini muffin) tin if you don't have a doughnut pan. Everyone can enjoy an almost healthy doughnut!
…Yes, you read that title right. These chocolate doughnuts are practically good for you (especially compared to a regular doughnut). They're baked (not fried) and made with whole wheat flour, a reasonable amount of sugar and no butter, just a little coconut oil. This means no trans fat, only 2 grams of saturated fat, 6 grams of sugar, plus they have whole grains, fiber and come in under 100 calories each!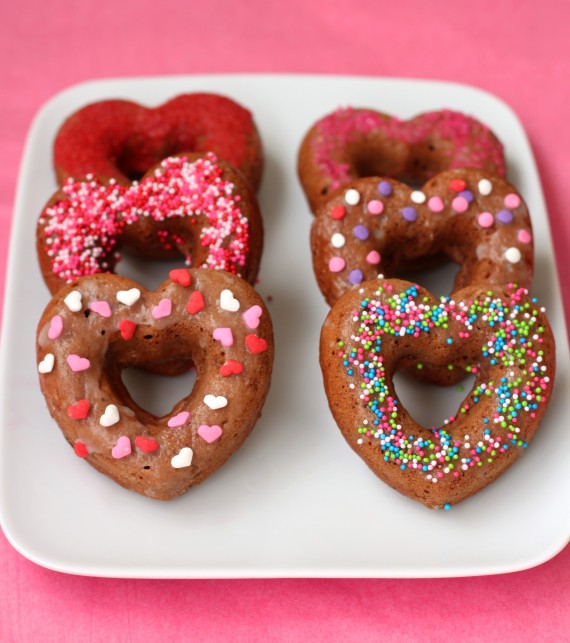 Of course, none of that really matters if they taste like cardboard. But they don't! I've been exploring different flours lately, in an effort to make my excessive baking not quite so unhealthy, and bought white whole wheat flour. It has the same nutritional benefits of whole wheat flour, without the "healthy" taste or texture. So these doughnuts actually just taste like chocolate cake doughnuts. I made a simple sugar glaze to go on top, but they don't even need it. It did make them a little more moist, but really I just wanted it to stick some sprinkles on them.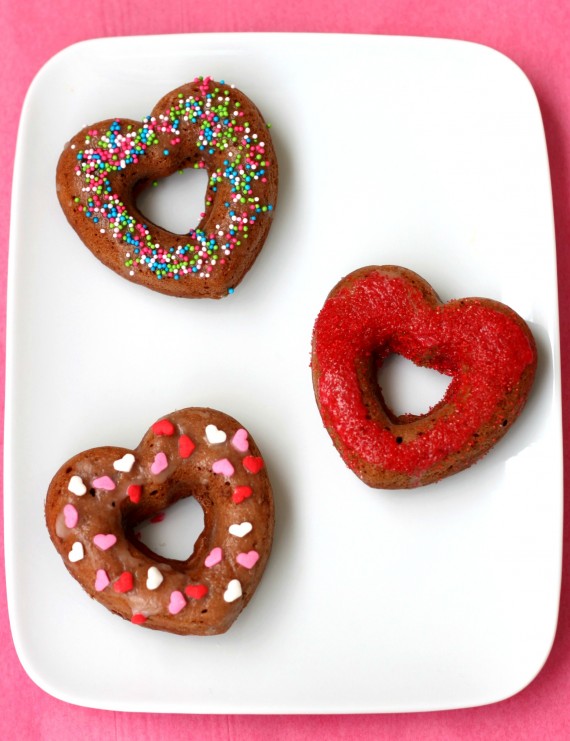 I couldn't resist going to Target the day after Valentine's Day and checking out the 50% off sale. I scored a heart doughnut pan for $5! These doughnuts are actually kind of heart healthy, so it seems pretty apropros. Plus, I got to use my leftover sprinkles from my heart shaped sugar cookies.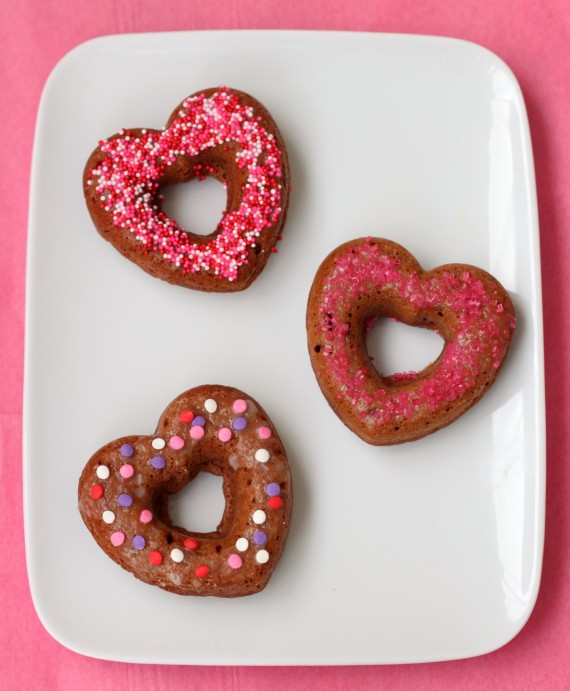 I can't wait to make more doughnuts in my new pan! What other doughnut flavors should I try? 
P.S. Looking for more recipes like this? Check out my recipe index for almost healthy desserts!


Recipe:
Almost Healthy Chocolate Doughnuts
Adapted from Lara Ferroni
Makes 12-15 small doughnuts
130 grams white whole wheat flour  (a little more than 1 cup)
2 tablespoons natural cocoa powder
1 teaspoon baking powder
1/4 teaspoon baking soda
75 grams sugar (a little less than 1/2 cup)
1/2 teaspoon freshly ground nutmeg*
1/2 teaspoon salt
2 tablespoons coconut oil
1/4 cup buttermilk (I used 1/4 cup 1% milk mixed with 1 teaspoon of lemon juice)
1/4 cup low-fat yogurt
1 teaspoon vanilla extract
1 large egg
Optional: glaze (see below), powdered sugar or your favorite frosting, sprinkles
Lightly coat a doughnut tin (or muffin tin) with non-stick spray. Preheat oven to 350℉.
In a large bowl, combine flour, cocoa, baking powder, baking soda. Whisk in sugar, nutmeg and salt. Add in the coconut oil and use your fingers to rub it into the dry ingredients until it becomes coarse crumbs.
In a separate bowl, mix together buttermilk, yogurt, vanilla and egg. Pour the wet ingredients into the flour mixture and mix until just combined (be careful not to overmix). Use a spoon or piping bag (an easy cheat: use a small ziplock bag and cut a hole in the corner for a makeshift piping bag) to fill each doughnut cup 1/2 to 3/4 full.
Bake until doughnuts spring back when touched (between 6-10 minutes, depending on the size of your doughnut pan). Let cool before frosting.
*Nutmeg is the key to a recognizable doughnut flavor. You can leave it out, but your doughnuts may taste more like chocolate cake.
Simple Glaze
In a small bowl, add around 1 cup of powdered sugar and 1 teaspoon of milk. Mix with a spoon until it becomes a thick paste. Add 1/4 teaspoon of milk at a time, breaking up any clumps with the back of the spoon, until it reaches the consistency of a thin glaze. (If you add a lot of milk all at once, it will be hard to break up the clumps.)