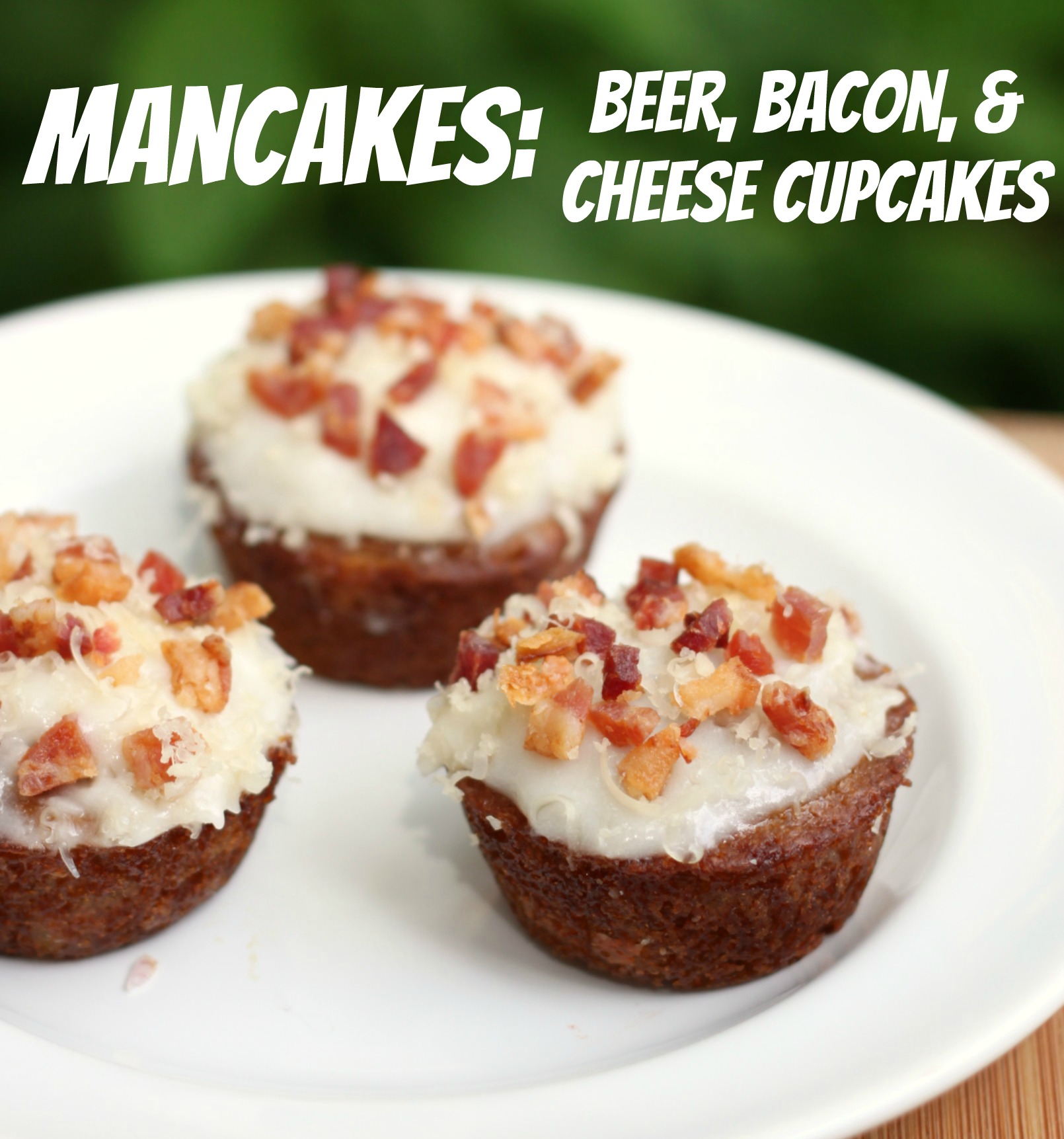 In my recap post about Eat, Write, Retreat, a food blogging conference I attended a few weeks ago, I mentioned that we participated in a cooking competition. Everyone at the conference was divided into teams of 3 or 4 and tasked with creating a dish in 1 hour that included as many of the secret ingredients (fresh mushrooms, Jarlsberg cheese, and watermelon) as possible.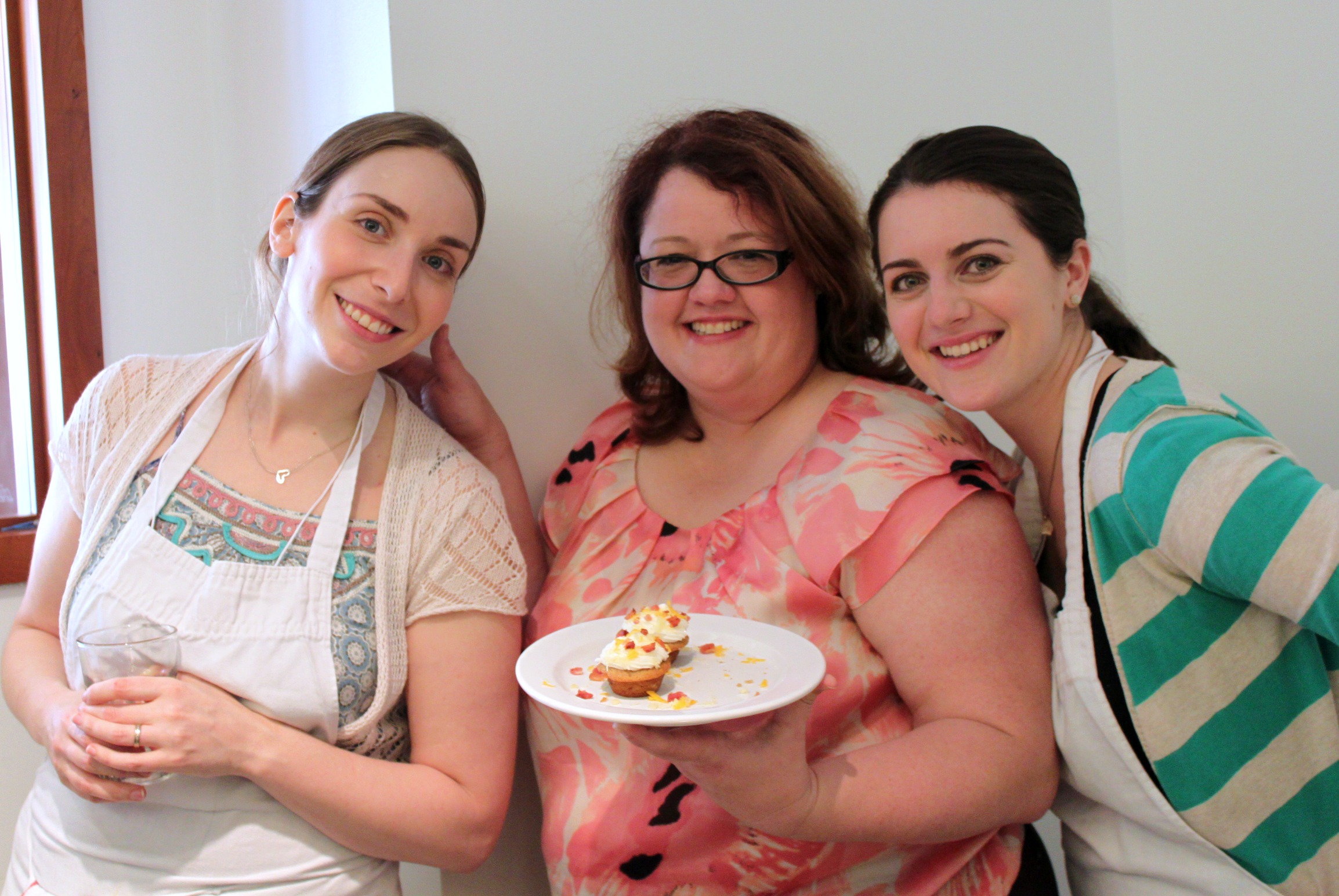 I was assigned to team 9, along with Jennifer from Savory Simple and Stephanie from CopyKat Recipes. We emailed back and forth quite a bit, trying to come up with a creative way to use mushrooms, watermelon and Jarlsberg (not an easy task!). In the end, we settled on cupcakes, much to my relief. As you can probably tell from my dessert based blog, I love baking – and I don't particularly love cooking. Plus, the idea of using bacon in a cupcake isn't new to me (chocolate bacon cupcakes anyone?) and while it can be controversial, who doesn't love bacon?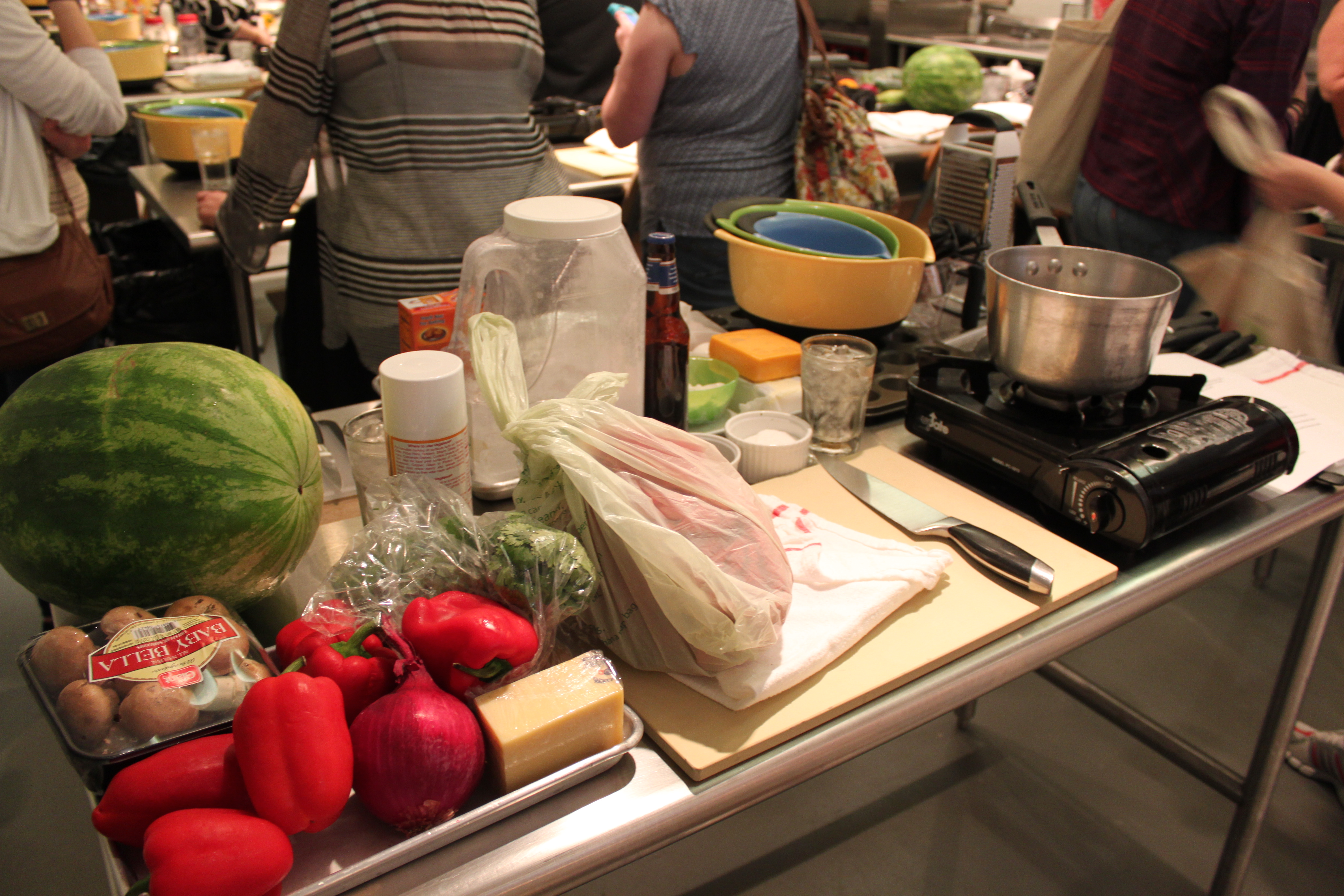 We arrived to CulinAerie, a culinary school in Washington, D.C., to find our stations set up and ready to go.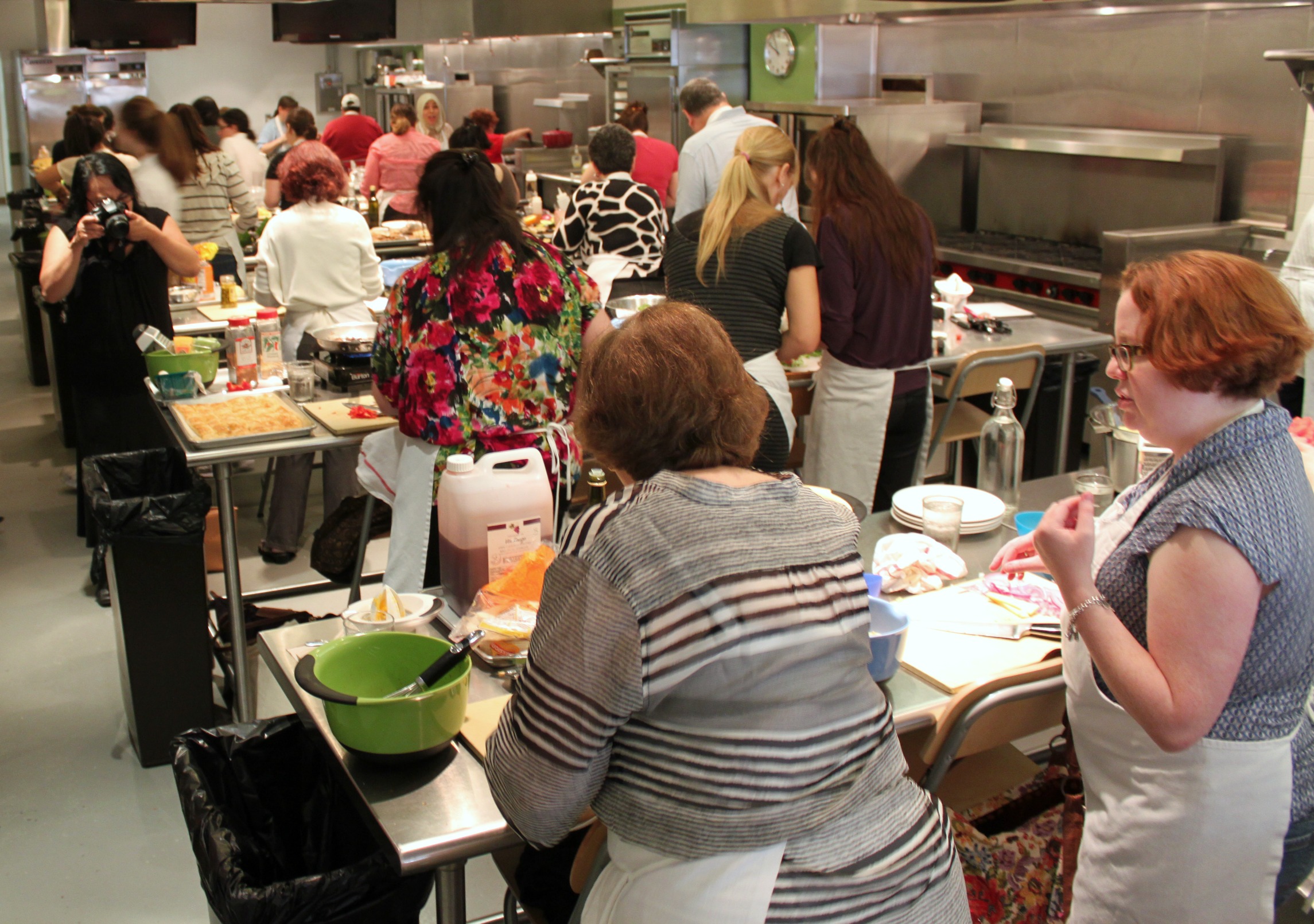 CulinAerie was fully equipped with everything you could need for a cooking or baking challenge. This is the view from our station in the back – we had all the other teams in front of us. Every other team chose to make a savory dish incorporating more of the secret ingredients than we did, which was a bit nerve wracking, since each secret ingredient gave you an extra point.
The other stressful element was the time limit. I tested the recipe at home and realized there was no way we could make in under an hour with regular sized cupcakes, so we switched to minis. With the culinary school's convection ovens, we actually ended up with plenty of extra time.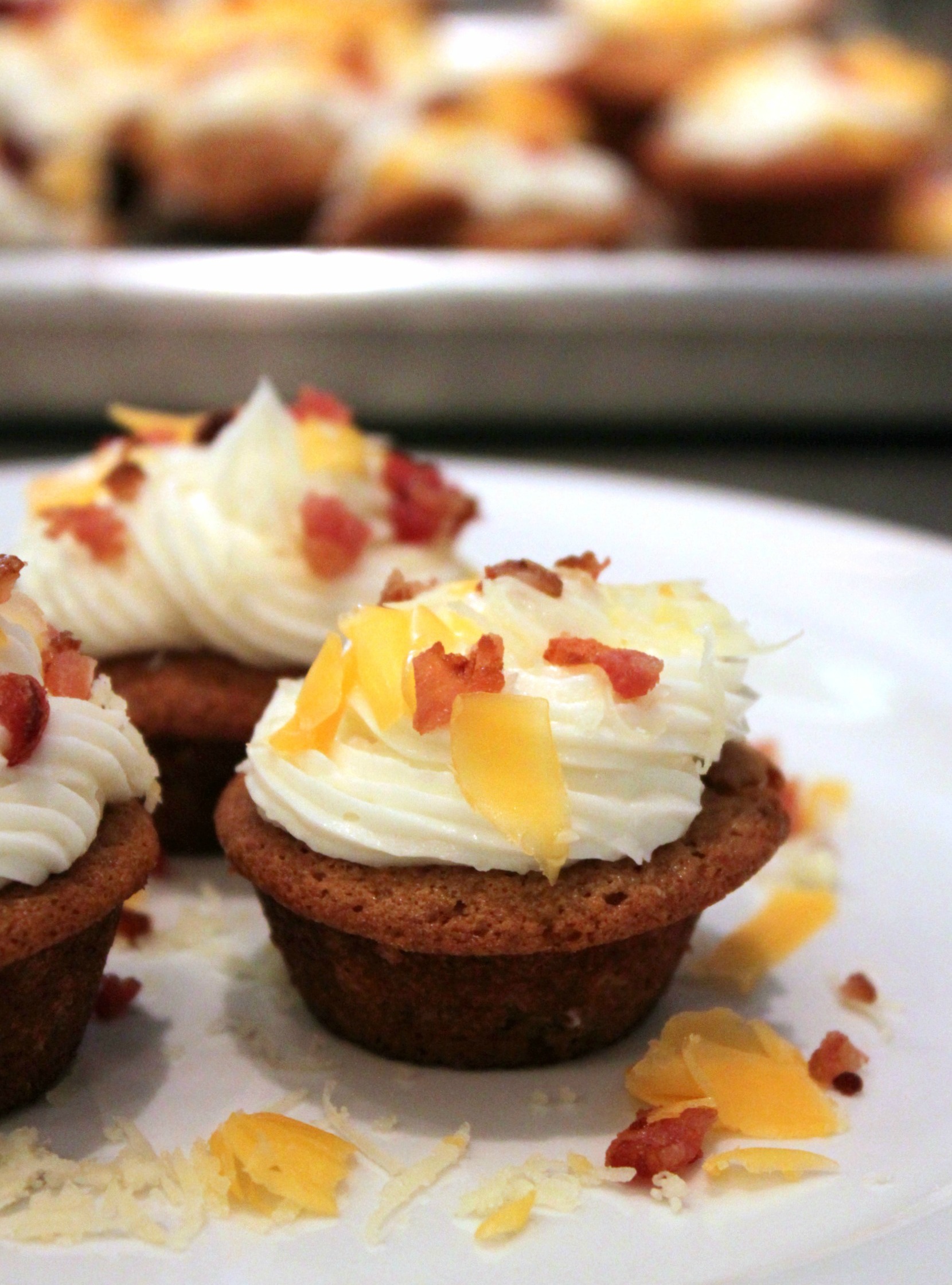 As we were plating the cupcakes, many people started coming around to check out the competition, including CulinAerie's co-founder. She commented that in her experience, desserts always win in competitions. That gave our team some hope, until the judges came by once, took a bite and moved on. They didn't revisit our station, as they did with others, so we thought we were out of luck. And then the announced the top 3 teams….1, 4, and 9! We had to wait a couple of more hours to find out who the winner was, but if you read my recap you already know: our mancakes won!
These would be a fun cupcake to make for Father's Day in a few weeks. The beer comes through as a strong (but not overpowering) flavor and they're chock-full of bacon bits. The cake part is very moist and the frosting is surprisingly sweet – I recommend only putting a little on each one. What do you think – does bacon belong in cupcakes?
Check out my teammates' posts about our winning cupcakes: Stephanie from CopyKat Recipes and Jennifer from Savory Simple.
Recipe:
Beer, Bacon & Cheese Mini Cupcakes
Yields around 2 dozen mini cupcakes
Ingredients for cupcakes:
6 strips bacon
1/2 cup dark beer (I recommend Shinerbock, an Ocktoberfest, or Märzen)
4.5 Tbsp butter
1/4 cup grated Jarlsberg
1/4 cup grated sharp cheddar
1 cup dark brown sugar
1/4 + 1/8 cup sour cream
1 egg
1 cup flour
1 1/4 tsp baking soda
Ingredients for frosting:
4oz cream cheese, room temperature
1/8 cup unsalted butter, room temperature
2 cups powdered sugar
Finely grated Jarlsberg, for garnish
Grated sharp cheddar cheese, for garnish
Chopped bacon, for garnish
To make cupcakes:
1. Preheat oven to 350°F. Coat a mini muffin tin with non-stick spray.
2. Cook bacon until crispy, then remove from oven and finely chop.
3. Heat beer and butter in a large saucepan on medium-high heat until butter is melted. Add Jarlsberg and cheddar and stir until cheese slightly melts. Remove from heat, and whisk in the sugar.
4. In a separate bowl, whisk the sour cream with the egg. Mix the sour cream mixture into the beer mixture.
5. In a separate bowl, sift together the flour and baking soda. Fold flour mixture into the batter. Stir in 1/2 cup of finely chopped bacon.
6. Fill cups in prepared tin almost full. Bake for 12 minutes, or until inserted cake tester comes out clean.
To make frosting:
1. Beat cream cheese and butter until creamy.
2. Slowly mix in powdered sugar.
3. Spread or pipe onto cooled cupcakes.
4. Garnish with finely grated Jarlsberg and cheddar and chopped bacon.
More recipes you'll love: