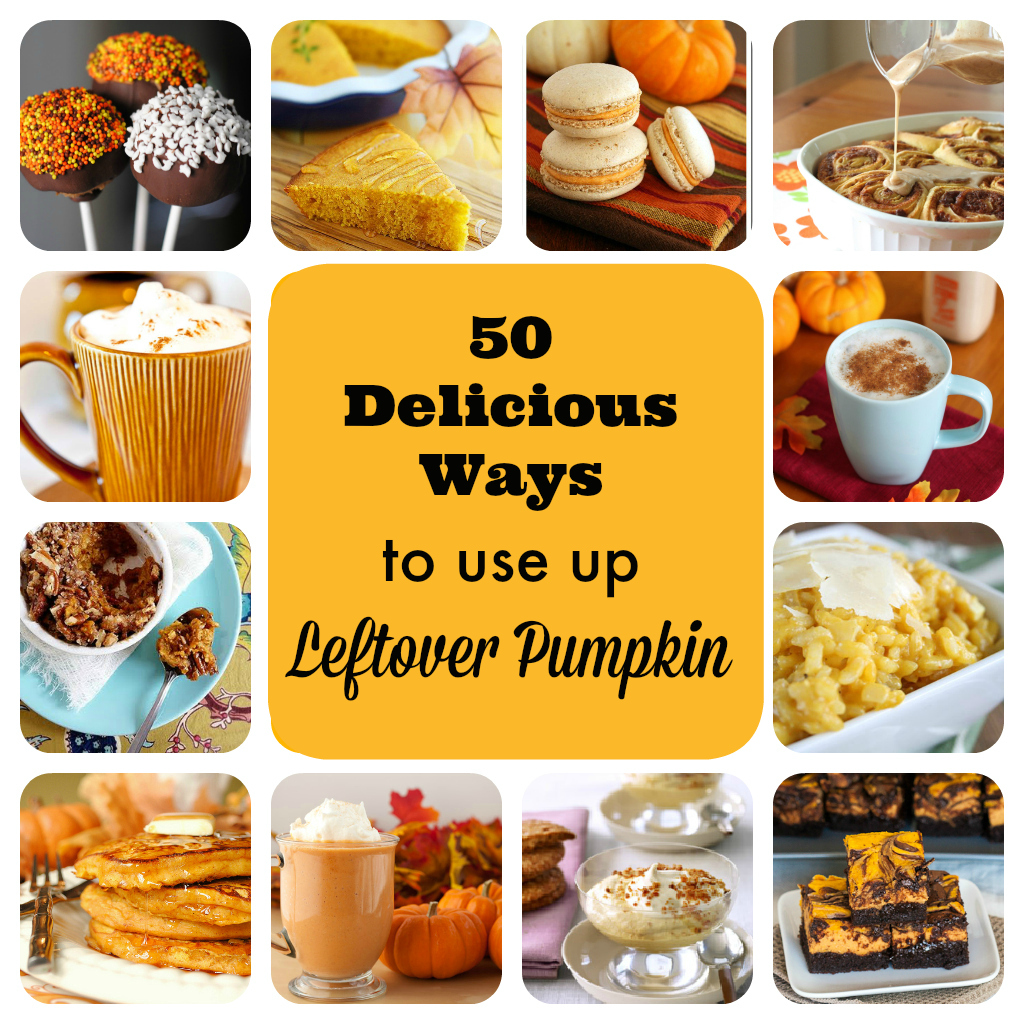 Does this happen to you – you open up a can of pumpkin, bake something with it, and then end up with a little leftover? Every time I bake with pumpkin, I seem to have a little bit left. Sometimes it's a few tablespoons from a 15-oz. can, sometimes it's much more from one of those huge cans or when I roast my own pumpkin. I hate to throw away any of this delicious squash, especially when there are so many yummy things you can make with it.
I've gathered 50 (yes, fifty!) delicious solutions to this problem so none of us have to throw away any pumpkin ever again! Recipes range from 1 tablespoon to 2 cups of leftover pumpkin, with a special emphasis on a small amount of leftovers, since that happens so often with those small cans of pumpkin puree.
There are sweet and savory recipes included, and each has the amount of pumpkin listed so you can pick out exactly what you need without clicking through to each recipe. I can't wait to try some of these – some are truly unique (like DIY pumpkin liqueur), some sound amazingly delicious (pumpkin cinnamon streusel pancakes anyone?), and some will definitely come in handy (such as a single-serving pumpkin muffin).

A Little Leftover Pumpkin:
1. Frozen pumpkin cubes from Crunchy Creamy Sweet (1+ tablespoons)
2. Single-serving pumpkin muffin from Happy Herbivore (2 tablespoons)
3. Pumpkin spice cocktail from Yumsugar (2 tablespoons)
4. Pumpkin pie-tini from Blisstree (2 tablespoons)
5. Pumpkin pie milkshake from A Cozy Kitchen (2 tablespoons)
6. Pumpkin granola from The Wannabe Chef (2 tablespoons)
7. Pumpkin pie cocoa from Pass the Sushi (3 tablespoons)
8. Pumpkin spice macarons from The Marvelous Misadventures of a Foodie (3 tablespoons)
9. DIY pumpkin liqueur from Serious Eats (3 tablespoons)
10. Pumpkin pie creamer from 52 Kitchen Adventures (3 tablespoons)
11. Pumpkin spice syrup from Doo Wacka Doodles (3 tablespoons)
12. Pumpkin mocha latte from Fast Paleo (1/4 cup)
13. Pumpkin gingerbread cookies from Ben Starr (1/4 cup)
14. Pumpkin biscotti from Dessert for Two (1/4 cup)
15. Pumpkin chai tea latte from Fast Paleo (1/4 cup)
16. Pumpkin spice latte from Love Veggies and Yoga (1/4 cup)
17. Pumpkin honey cornbread from The Comfort of Cooking (1/4 cup)
18. Pumpkin pie sugar scrub from Sugar and Charm Blog (1/4 cup)
19. Spicy chocolate pumpkin milkshake from Serious Eats (1/4 cup + 1 tablespoon)
20. Pumpkin pancakes from How To: Simplify (1/4 cup + 2 tablespoons)
21. Pumpkin cinnamon rolls with pumpkin spice glaze from Knead to Cook (1/2 cup)
22. Pumpkin brownies from Blog Chef (1/2 cup)
23. Pumpkin smoothie from Healthful Pursuit (1/2 cup)
24. Pumpkin spice cake pops from the CSI Project (1/2 cup)
25. Pumpkin cinnamon streusel pancakes from Two Peas and their Pod (1/2 cup)
27. Pumpkin pie fudge from Family Bites (1/2 cup)
28. Pumpkin pie margarita from Pittsburgh Post-Gazette (1/2 cup)
29. Chocolate pumpkin cheesecake brownies from Jo Cooks (1/2 cup)
30. Pumpkin mousse with crunchy gingersnaps and maple crème fraîche from Oprah (1/2 cup plus 2 tablespoons)
31. Pumpkin cream cheese from Better Homes and Gardens (1/2 cup)
32. Pumpkin risotto from Lauren's Latest (1/2 cup)
33. Pumpkin garlic knots from Handle the Heat (1/2 cup)
34. Healthy bacon and pumpkin pasta from Pinch of Yum (1/2 cup)
35. Spicy pumpkin hummus from Once Upon a Cutting Board (1/2 cup)
36. Pumpkin body butter from Care2 (1/2 cup)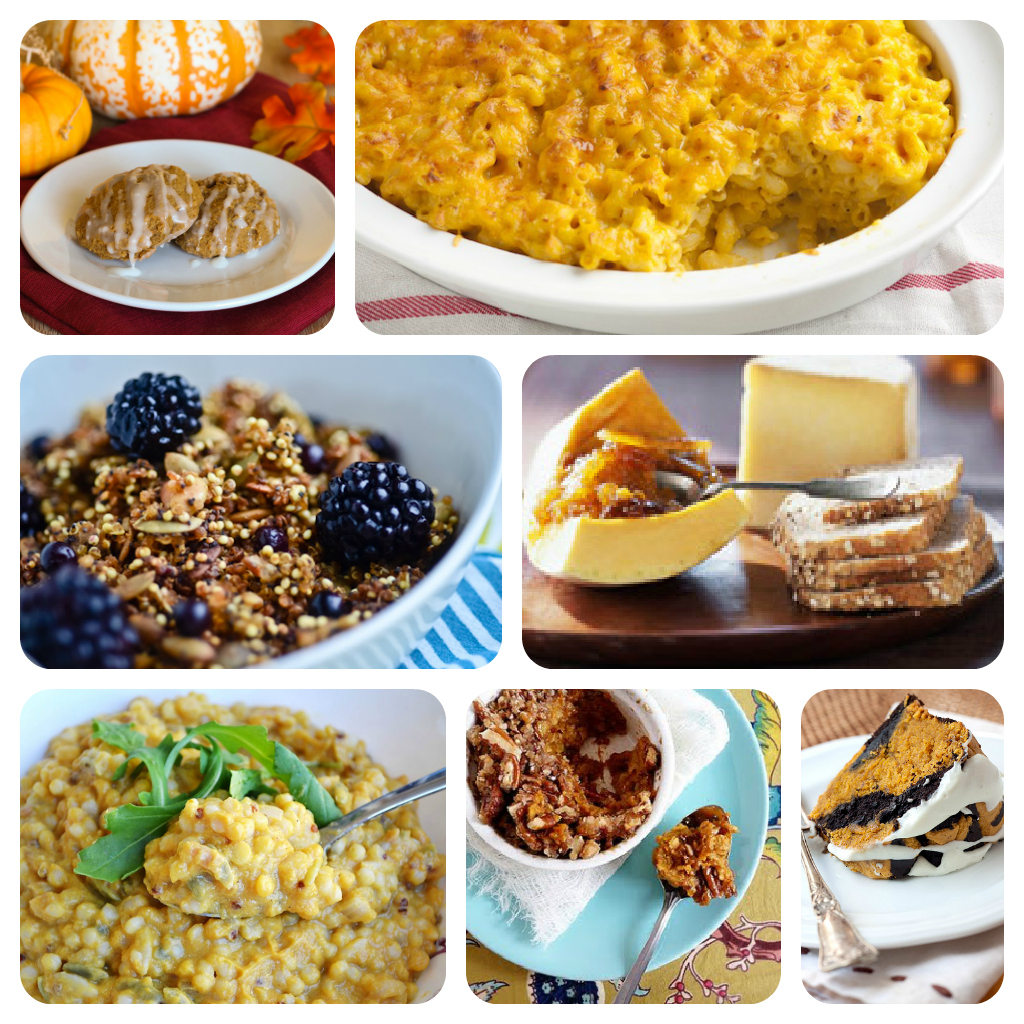 A Lot of Leftover Pumpkin:
37. Pumpkin pie oatmeal from Good Life Eats (3/4 cup)
38. Pumpkin bread from Simply Recipes (1 cup)
39. Pumpkin bars from Heavenly Homemakers (1 cup)
40. Pumpkin flan from Bitchin' Camero (1 cup)
41. Soft pumpkin spice cookies from 52 Kitchen Adventures (1 cup)
42. Pumpkin spice cake from Joy of Baking (1 cup)
43. Crunchy pumpkin quinoa cereal from Blissful (1 cup)
44. Pumpkin mac and cheese from Inspired Taste (1 cup)
45. Pumpkin apple walnut harvest rice from Healthy Happy Life (1 cup)
46. Savory pumpkin pizza dough from The Cooking Photographer (1 cup)
47. Pumpkin pomegranate couscous from Little Bitty Bakes (1 cup)
48. Chocolate pumpkin marble cake from Back to the Cutting Board (1 1/4 cup)
49. Pumpkin marmalade from Better Homes and Gardens (2 cups)
50. Pumpkin Spice Cupcakes with Browned Butter Frosting from 52 Kitchen Adventures (2 cups)