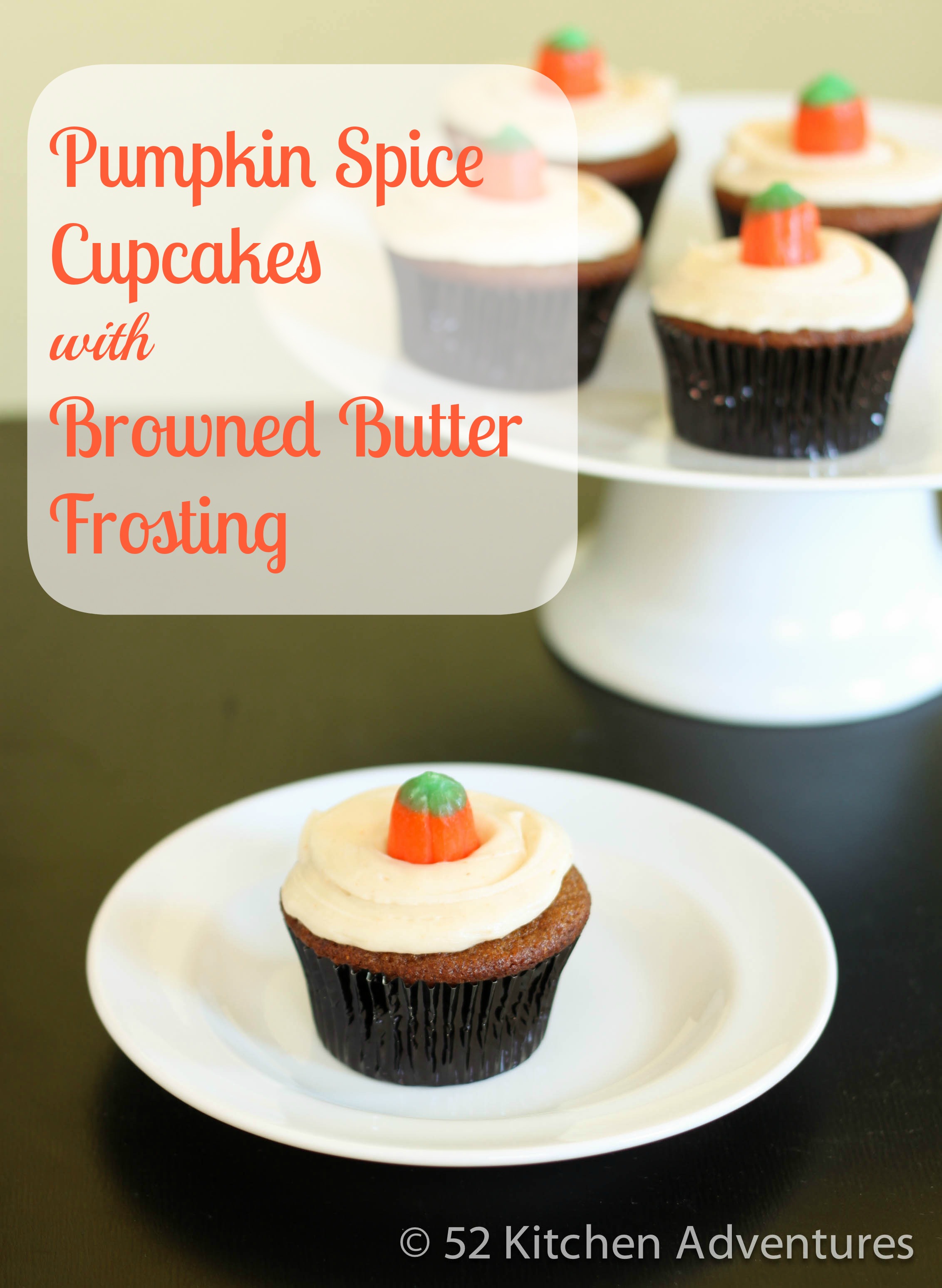 I've made my fair share of amazing cupcakes. As we all know, frosting is the best part of a cupcake*, and I have fallen in love with several over the years. (Nutella buttercream, salted caramel frosting, and vanilla bean buttercream to name just a few.) However, this frosting may trump them all. It's a buttercream that looks all innocent and unassuming in plain white. Before you take a bite, you would probably assume it's vanilla or maybe a cream cheese frosting…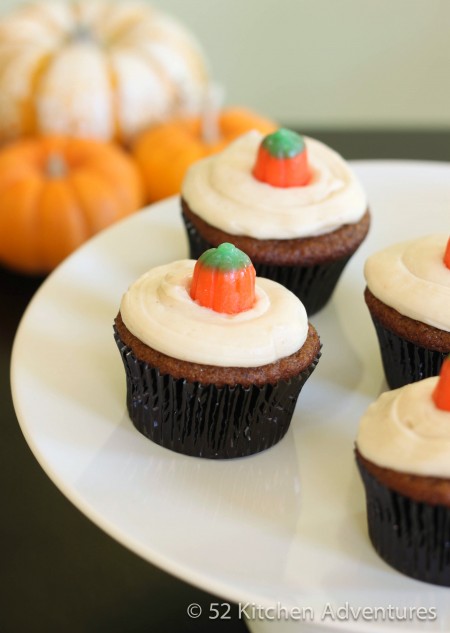 But no! It's creamy, rich and filled with the nutty, flavorful tones of browned butter. I seriously couldn't believe how good this frosting was. It is going into my regular repertoire. Plus, it compliments the pumpkin spice cupcakes really well and adds another layer of fall flavor to them.
By the way, these cupcakes are wonderful on their own – they are incredibly moist and full of pumpkin spice. If you want more pumpkin and less spice, I would actually reduce the pumpkin pie spice to 1 tablespoon. And don't forget – if you find yourself out of pumpkin pie spice, make your own out of spices you probably already have in your pantry.
If you want to dress these up a little more, add a candy corn pumpkin. I also used them to model my DIY Halloween cupcake wrappers, which are the perfect way to dress up cupcakes for your Halloween celebration.
Pumpkin Spice Cupcakes with Browned Butter Frosting
I cut the recipe in half with great success, so if you only need a dozen just reduce the ingredients by half.
Ingredients
Cupcakes:

2 cups all-purpose flour
2 Tablespoons pumpkin pie spice
3 teaspoons baking powder
2 teaspoons baking soda
1/4 teaspoon salt
2 cups granulated sugar
3/4 cup canola oil
1/2 cup unsweetened applesauce
1 tablespoon pure vanilla extract
2 cups canned pumpkin
4 large eggs

Frosting:

Brown Butter Buttercream:
1 cup unsalted butter, room temperature, divided in half
4 cups powdered sugar
2 teaspoons vanilla extract
3-6 tablespoons milk
Instructions
Preheat the oven to 350°F. Line 2 cupcake pans with liners.
Combine the flour, pumpkin pie spice, baking powder, baking soda, and salt in a large bowl.
In a separate large bowl, combine sugar, oil, applesauce, vanilla, and pumpkin.
Add the eggs, one at a time, to the wet ingredients. Mix until everything is well combined.
Add the dry ingredients to the wet ingredients and mix until just combined.
Pour batter into prepared cupcake pans, filling each 3/4 full. Bake for 15-18 minutes, or until cupcakes spring back when lightly touched.
To make the frosting, heat 1/2 cup of butter in a small saucepan over medium-low until lightly browned (around 8-10 minutes). Let cool (I poured it into my stand mixer bowl to speed the cooling process).
Add the remaining 1/2 cup butter to the bowl. Beat on medium speed for 2 minutes. Add the powdered sugar and vanilla and beat until well combined. Add the milk, 1 tablespoon at a time, until frosting reaches desired consistency.
Spread or pipe frosting onto cooled cupcakes.
Notes
http://www.52kitchenadventures.com/2012/10/19/pumpkin-spice-cupcakes-browned-butter-frosting/
*Wait, you don't think that frosting is the best part? Maybe you're in the wrong place… 😉