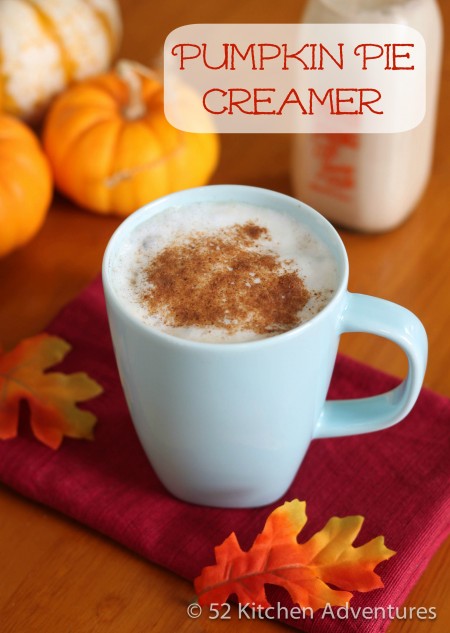 How do you take your coffee? I love mine with a little cream and sugar. There are tons of flavored creamers in yummy flavors like pumpkin spice and peppermint mocha, but most have some questionable, unpronounceable ingredients. Instead I usually opt for plain old half and half or milk, but every once in a while it's fun to try something new and different.
I've seen homemade creamer recipes around Pinterest for a while, and finally decided to make my own in one of the best fall flavors: pumpkin spice. It's incredibly easy – you just take 4 all natural ingredients, heat them all up and then strain them. That's it! Pour it into a container, pop it in your fridge, and use it every morning for a sweet start to the day. It tastes like pumpkin pie (how can you beat that?) and makes the morning routine a little more delicious.
I can't wait to try making other flavored creamers. Peppermint mocha is definitely on my short list (that is another flavor I wish was available year round!). What is your favorite creamer flavor?
Ingredients
2 cups half and half (or 1 cup half and half + 1 cup of milk)
4 tablespoons pumpkin puree
3-5 tablespoons maple syrup
1 1/2 teaspoons pumpkin pie spice
Instructions
In a medium saucepan over medium heat, whisk all the ingredients together.
Heat until the mixture begins to steam, stirring occasionally, then remove from heat.
Pour the creamer through a fine mesh strainer.
Let it cool, then store in an air-tight container in the fridge.
http://www.52kitchenadventures.com/2012/10/24/homemade-pumpkin-pie-creamer/