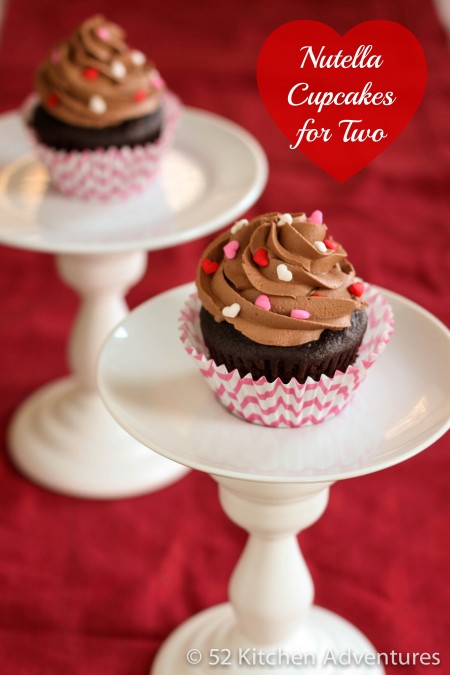 I have discovered a very dangerous thing. A one bowl chocolate cupcake recipe for two. Yes, it makes a perfect serving of two cupcakes. You could whip these up anytime you have a sweet craving. How dangerous is that?!
They're especially perfect if you want to treat yourself and your sweetie to a special dessert on Valentine's Day. Even if you don't have someone special to celebrate with, you should treat yourself. We all know that the best thing about Valentine's, besides celebrating love and those special people in our lives, is enjoying some chocolate goodness.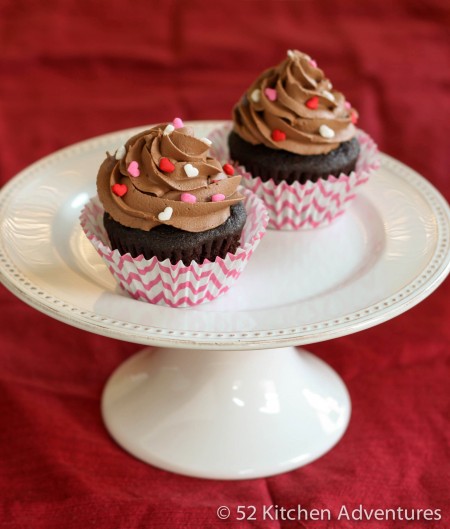 You know one of my favorite ways to enjoy chocolate is with Nutella, so what better way to top these moist chocolate cupcakes than with my popular Nutella buttercream? It's rich, creamy, and so good. And even better-you'll have a little leftover, which gives you the perfect excuse to taste test the frosting.
Let's take a look at just how easy these one bowl, 3 step cupcakes are to make: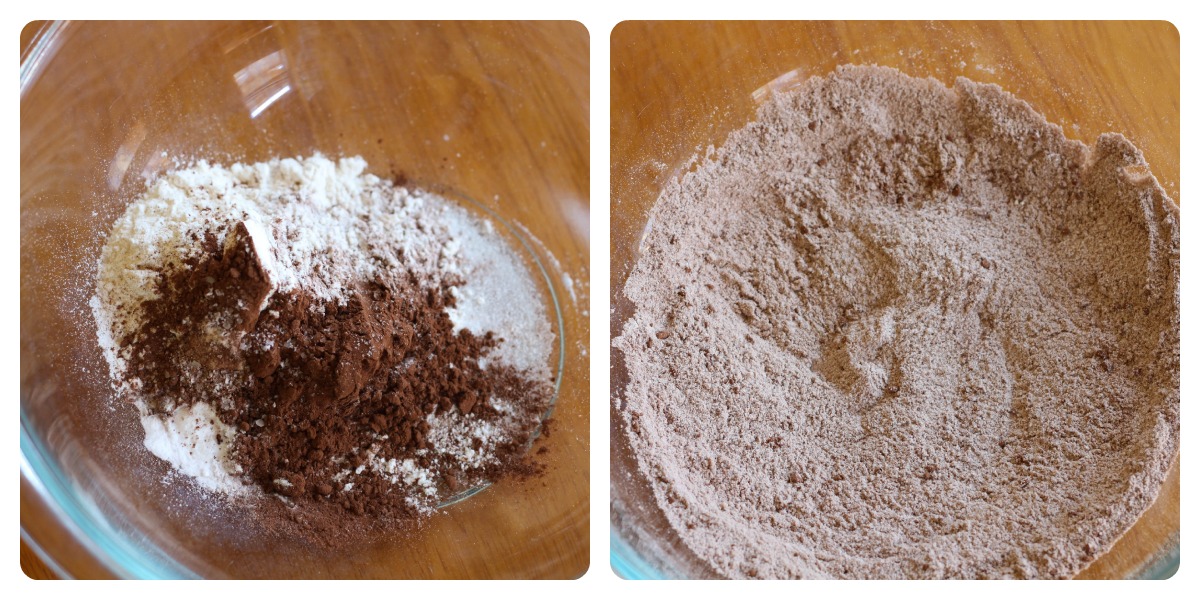 1. Place all dry ingredients in medium bowl and whisk until combined.
 2. Add wet ingredients to bowl and whisk until just combined.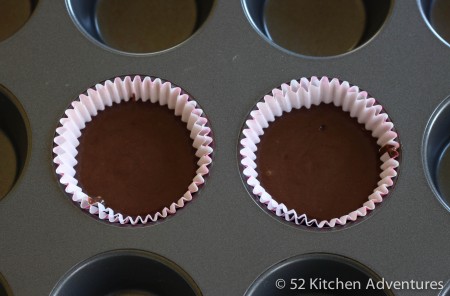 3. Divide batter into 2 lined cupcake wells and bake at 350°F for 20-22 minutes.
Pretty simple, right? I need to forget I ever learned this, or I might be eating cupcakes on a daily basis…
If you don't want a lot of frosting, try reducing the recipe in half. Also, 1/16 teaspoon is about the same as a pinch.
Ingredients
Two Chocolate Cupcakes

3 tablespoons all-purpose flour
2 tablespoons sugar
1 tablespoon natural unsweetened cocoa powder (not Dutch-processed)
1/8 teaspoon + 1/16 teaspoon baking soda
1/16 teaspoon salt
1/16 teaspoon instant coffee powder (optional, but recommended)
3 tablespoon milk
1 tablespoon canola oil
1/2 teaspoon pure vanilla extract

Nutella Frosting

2 tablespoons unsalted butter, at room temperature
1/4 cup Nutella
1/4 cup powdered sugar
1/4 teaspoon vanilla extract
1/2-1 teaspoon milk
Instructions
Prepare the cupcakes:

Preheat oven to 350°F and line a cupcake pan with 2 paper liners.
In a medium bowl, whisk the flour, sugar, cocoa powder, baking soda, salt, and instant coffee together.
Add milk, oil, and vanilla and whisk until just combined.
Evenly divide the batter into the 2 lined cupcake wells (mine were almost 3/4 full).
Bake for 20-22 minutes, or until a toothpick inserted in the center comes out clean.
Set aside to cool.

Prepare the Nutella Frosting:

Beat butter and Nutella until smooth.
Add powdered sugar and mix until combined.
Add vanilla and 1/2 teaspoon of milk, then mix until incorporated. Add additional milk if necessary to achieve desired consistency.
Spread or pipe onto cooled cupcakes.
Notes
Cupcake recipe adapted from An Edible Mosaic.
http://www.52kitchenadventures.com/2013/01/29/nutella-cupcakes-for-two/
More recipes you'll love: