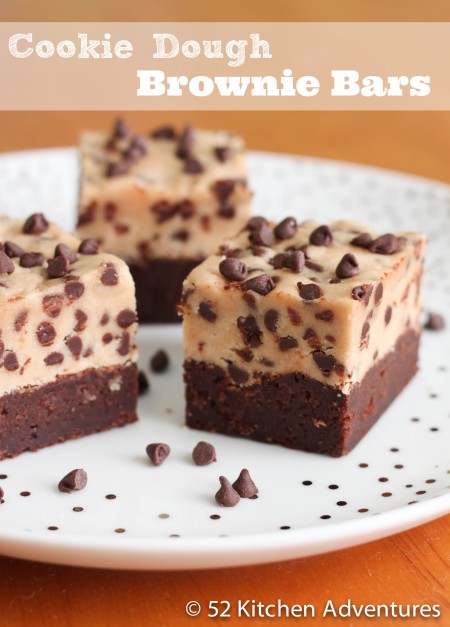 I promise this is the last post about brownies for a while. These bad boys were actually what started my brief obsession with fudgy brownies a few weeks ago, but they came about kind of randomly. Let me explain – my Facebook fan page hit a big milestone (10,000 fans!) and I celebrated by offering to bake something special for my 10,000th fan, Allison, who I happen to know in real life. (In fact, I got to watch as she and another gal fought over being my 10,000th fan, each clicking madly to hit "like" first – it was pretty funny.)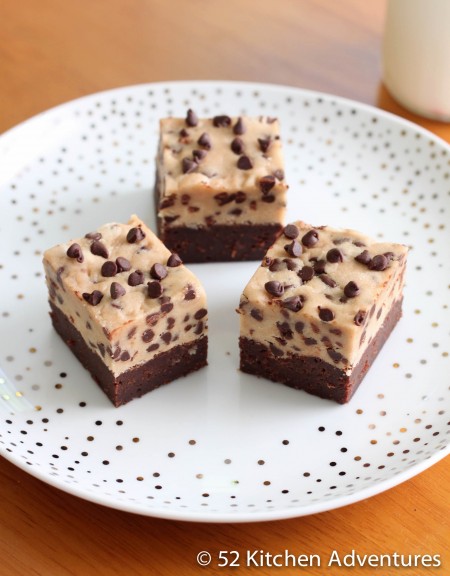 I told Allison to give me a few hints, like favorite flavors and types of dessert, and I'd come up with something good, like I did with my 300th fan a couple of years ago. Her answer? "I like pretty much everything!" After grilling her with some pretty tough questions (e.g. cupcakes vs. brownies vs. cookies – which is your fave?), she gave me a couple of little hints: brownies and cookies over cupcakes (but she likes those too) and she likes chocolate and caramel. And mint and fruit. And soft and chewy textures, and cookie dough, and slightly undercooked things.
Hm.
This wasn't going to be easy.
And then it hit me.
She likes it all and she's indecisive. So combine as many of her favorite things as possible in 1 dessert! Out 9 of the things she mentioned, I was able to include 7. Undercooked, soft, chewy, cookies, chocolate, brownies, AND cookie dough. All in one. Not bad, right? I gotta take care of my fans! 😉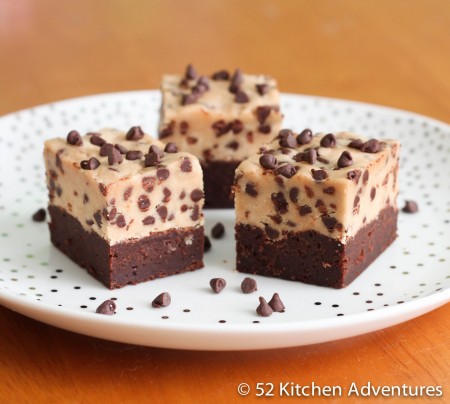 So we ended up with super fudgy brownies (Allison actually wasn't sure if these were fudge or brownies – when they're refrigerated they really get fudgy) topped with cookie dough. I almost integrated mint and caramel by putting 1 extra flavor in each layer, but I didn't want to get TOO crazy. These cookie dough brownie bars are sublime just as they are.
I'd love to bake each and every one of you something special, but that would be a pretty tall order. So instead, I joined forces with some fabulous food bloggers to bring you a BIG ol' giveaway!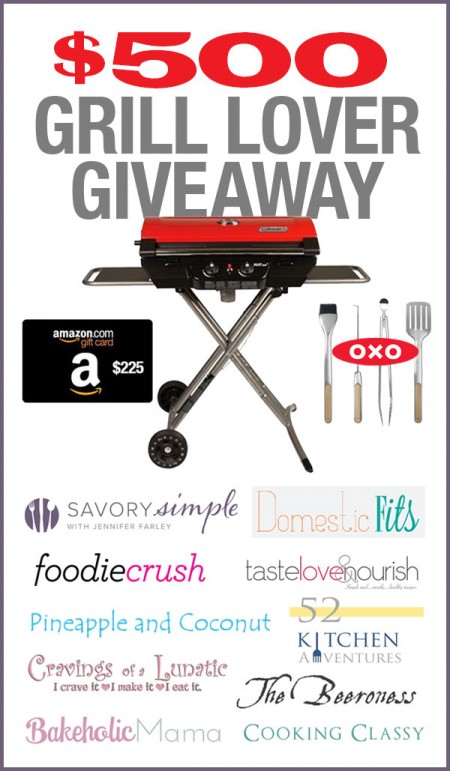 YES, you can enter to win a $500 prize pack! The winner gets a $225 gift card to Amazon, a Coleman NXT 200 Grill, AND an OXO grilling set! You could use the gift card to get grilling accessories or something special off your wish list (how 'bout a classic KitchenAid stand mixer?).
And don't forget to check out these awesome food bloggers who are making this giveaway happen: Savory Simple, Domestic Fits, Foodie Crush, Taste, Love & Nourish, Pineapple and Coconut, Cravings of a Lunatic, Bakeholic Mama, The Beeroness, and Cooking Classy.
Cookie Dough Brownie Bars
Ingredients
1 batch of fudgy brownies

Cookie dough:

3/4 cup (1 1/2 sticks) unsalted butter, softened
1 cup granulated sugar
3/4 cup packed light brown sugar
1/4 teaspoon salt
2 tablespoons milk
1 1/2 teaspoons vanilla
1 1/2 cup all-purpose flour
1 cup miniature chocolate chips
Instructions
Prepare fudgy brownies and store in fridge while you make the cookie dough layer.
Prepare cookie dough: In a large bowl, beat the butter, both types of sugar, and salt together until creamy.
Add milk and vanilla, then mix until combined.
Add flour and mix until just combined.
Stir in mini chocolate chips.
Assemble bars: scoop cookie dough on top of chilled brownies, using your clean, damp hands to spread it in an even layer on top.
Optional: sprinkle extra mini chocolate chips on top.
Cover and chill firm (1-2 hours and up to 2 days). Use a sharp knife to slice into squares, wiping it off in between slices. Keep refrigerated until ready to serve.
Notes
Cookie dough layer from Recipe Girl
http://www.52kitchenadventures.com/2013/08/05/cookie-dough-brownie-bars/