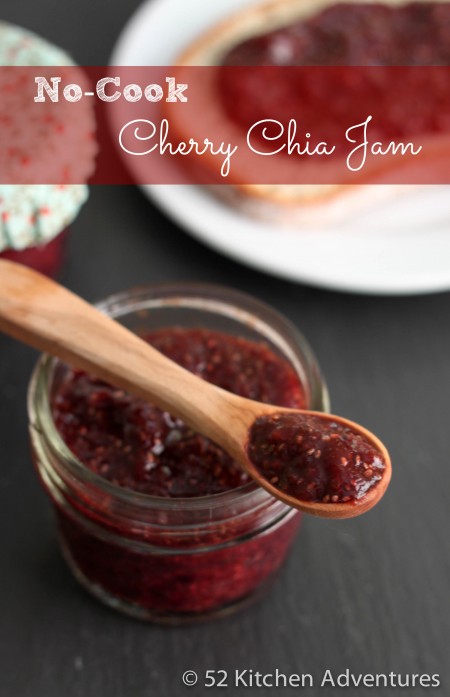 My 3rd and final attempt at the 10 pound cherry challenge: jam! This isn't just any cherry jam though. This is a no-cook, no-fuss, super easy, quick, and nutritious jam! It's just 2 ingredients and 3 steps. Can it get any better?
After making mini black forest cheesecakes and vanilla bean & honey roasted cherries, I realized I need to up my game if I was going to make much of a dent in that 10 pound box of cherries that Northwest Cherry Growers sent me. I thought jam would be a great way to use up a ton of cherries, but the thought of sterilizing jars, cooking fruit, and processing finished jars on a weekday night in an already warm kitchen was simply overwhelming. Add that to the fact that I discovered I would need to go out and buy more jar lids and it clearly wasn't going to happen.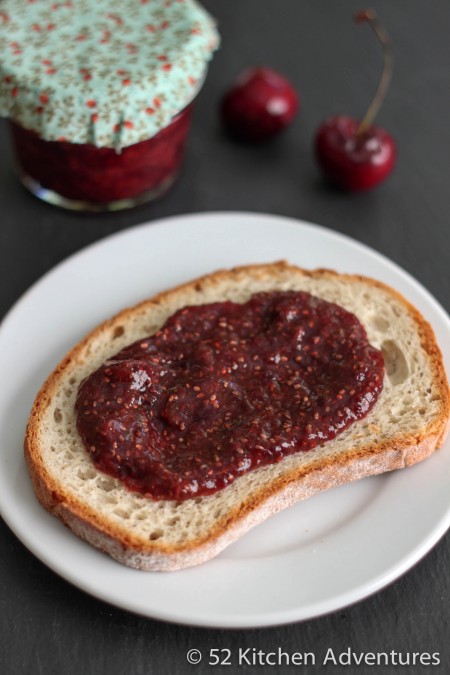 Then I discovered the amazing world of chia jam. Do you know anything about these magical little seeds? Yes, they are the same seeds as in those awesome Ch-Ch-Ch-Chia Pets/Heads. I can't believe we were wasting them on novelty gifts for so many years. Chia seed was a staple in the diets of ancient Mayans and Aztecs – the word chia is derived from the Mayan language, meaning "strength." Warriors relied on chia to boot energy and increase stamina.
These tiny seeds pack a nutritional punch, including 5 grams of fiber in 1 tablespoon of seed. That fiber causes chia to swell when immersed in water, creating chia gel. In this case, the chia gel turns pureed fruit into a jam consistency. You can also use chia gel to replace eggs in recipes (I'll be trying that soon and reporting back) or in drinks.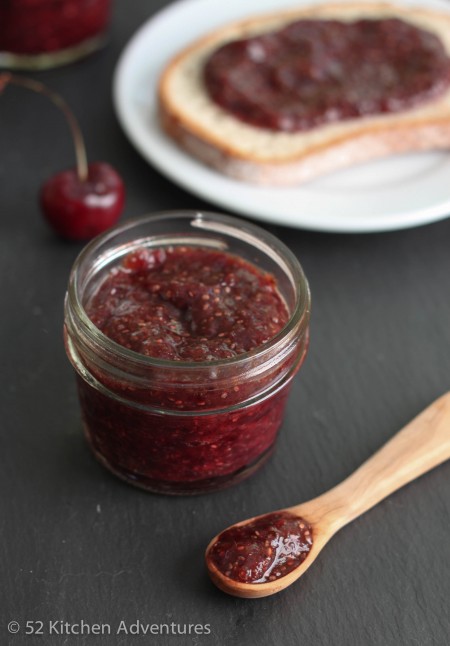 This cherry chia jam is as tasty as it is good for you. It has a texture similar to raspberry or strawberry jam, but since chia seeds don't really taste like anything, the flavor is pure cherry. If you don't like the crunchy seed texture, you can put it back in the blender after it sits in the fridge to reduce the crunchiness. I tried it both ways and personally preferred it the way it is naturally, nice and hearty.
Check out the other 10 Pound Cherry Challenge participants to see what they did with their cherries:
For more on the challenge, make sure to check out OXO (Facebook, Twitter,  Pinterest, Instagram) and the Northwest Cherry Growers (Facebook, Twitter, Pinterest, Instagram). For the ultimate guide to cherry dishes, follow the project-specific Pinterest board.
Northwest Cherry Growers provided me with the 10 pounds of fresh sweet cherries and OXO provided me with the tools needed (Cherry/Olive Pitter, 9 Piece Nesting Bowls and Colanders set, and Food Scale) for the challenge, but as always all opinions and text are my own.