Welcome to #IceCreamWeek! Kim of Cravings of a Lunatic and Jen of Juanita's Cocina have teamed up with more than 20 of their blog friends to bring you a week full of ice cream treats, including a special ice cream giveaway! Prepare to have your taste buds tempted with some of the best ice cream treats around! Make sure you enter the giveaway for a Cuisinart Ice Cream Maker and two fabulous ice cream cookbooks so that you can join in on the ice cream fun!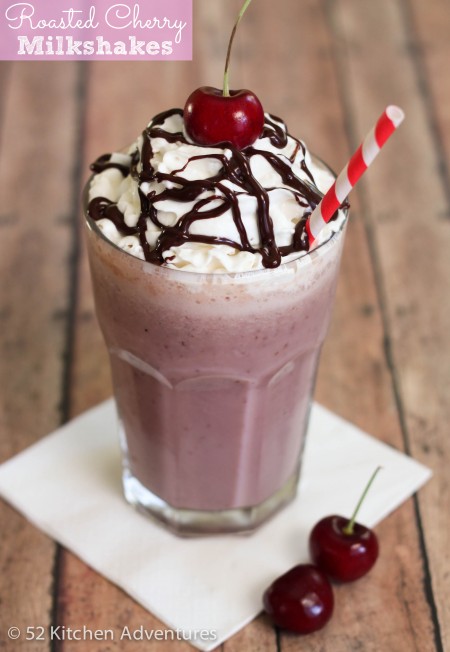 Remember those vanilla bean and honey roasted cherries that I made last week? Here's a photo to jog your memory: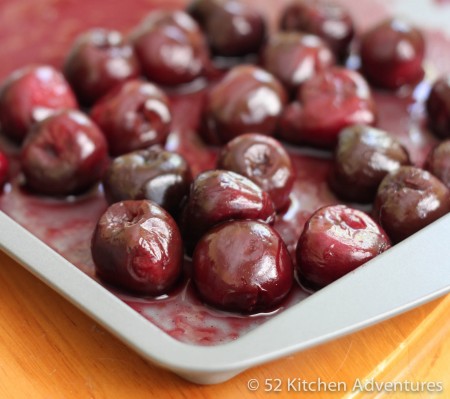 Honestly, I ate most of these with a spoon – they're that good. Before I devoured them all though, I had a great idea. I'd been wanting to make a milkshake  for Ice Cream Week and this seemed like the perfect opportunity to make a new flavor. I threw some cherries in the blender with some vanilla ice cream and poof! Delicious milkshake. I didn't even need any milk to thin it out – it was the perfect creamy drink.
I hope you've been enjoying Ice Cream Week! Check out all the other amazing ice cream recipes going up today – the links are after the recipe below.
Roasted Cherry Milkshakes
Ingredients
2 scoops vanilla ice cream
Instructions
Place roasted cherries and ice cream into a blender and blend until smooth and creamy.
Optional: Taste milkshake and add more cherries if preferred, then blend until incorporated. Or, if too thick, add some milk and blend until smooth.
Enjoy immediately, with a drizzle of chocolate syrup and/or whipped cream.
http://www.52kitchenadventures.com/2013/08/16/roasted-cherry-milkshakes/
If you'd like to check out today's #IceCreamWeek recipes, drool over the blogs below: