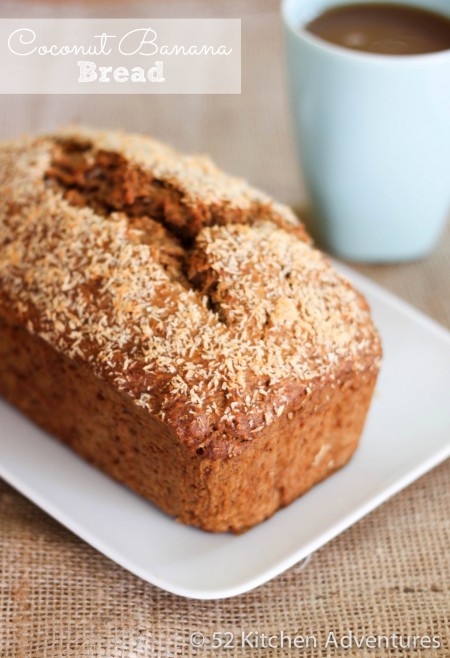 "This is the best thing you've made in a while!"
 "It sounds like summer vacation!" 
Scene: Three quickly browning bananas on the counter. One baker who wants to test out chia egg replacer. No butter or milk in sight. Some quick thinking leads to even more delicious replacements: coconut oil and coconut milk. Toss in shredded coconut to bring out the coconut flavor and a little crunch to the outside.
And so, vegan coconut banana bread was born.
I can't find the words to truly explain this bread – it's incredibly moist and flavorful, tasting of tropical coconut with a hint of banana. The chia egg replacer worked perfectly in this recipe and no one could tell the difference from a banana bread with egg.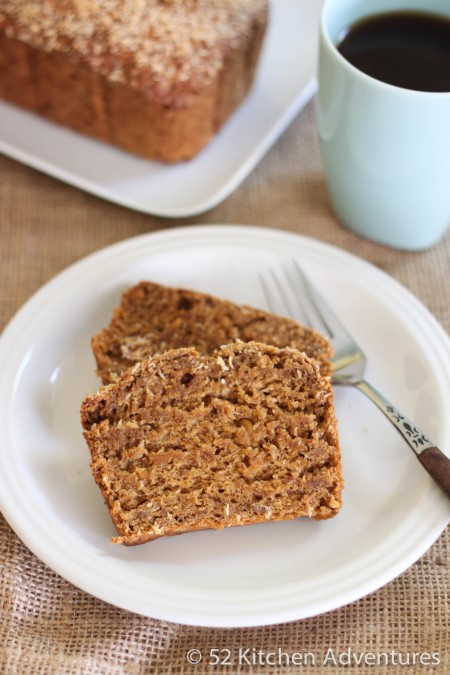 Part of the reason I've been so into chia seeds lately (I made chocolate pudding too) is this awesome set of ancient grains that Bob's Red Mill sent me: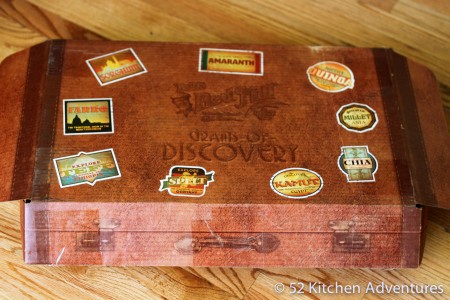 They challenged me to try out the chia seeds and see what I could make with them. On Wednesday, September 11th, I'll be joining 4 other bloggers for a Google+ Hangout to chat about what we've discovered about chia seeds and answer your questions about them.
Even better, Bob's Red Mill is giving a Grains of Discovery set to one of you! It includes 9 ancient grains: farro, teff, spelt, sorghum, millet, chia seeds, amaranth, kamut, and quinoa. They have a gluten-free version of the set if you need one too. It's a great sampler to try out a bunch of nutritious grains. Enter below and don't forget to join us for the chia seed Hangout!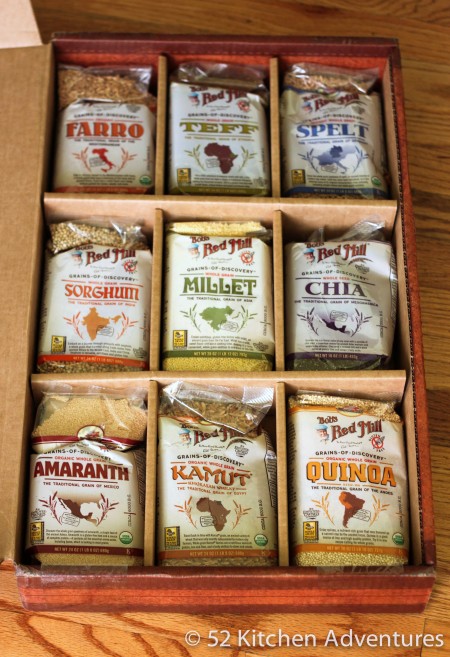 Vegan Coconut Banana Bread
Replacements: you can use butter instead of coconut oil and any kind of milk instead of coconut milk (it will be less coconut-y though). Also, 1 egg can be used in place of chia seeds, but then it won't be vegan.
Ingredients
2 cups all purpose flour
1 cup coconut sugar
1 teaspoon baking powder
1/2 teaspoon baking soda
1/2 teaspoon salt
1 serving of chia seed egg replacer
3 super ripe bananas, mashed
1/2 cup coconut milk (from a carton, not a can)
1/2 cup unrefined virgin coconut oil
1 teaspoon vanilla extract
1/2 cup unsweetened shredded coconut, plus extra to sprinkle on top
Instructions
Preheat oven to 350°F. Grease a loaf pan (I used coconut oil).
In a medium bowl, combine flour, sugar, baking powder, baking soda, and salt.
In a large bowl, combine chia seed egg replacer, mashed bananas, coconut milk, coconut oil, and vanilla.
Add dry ingredients to wet ingredients and mix until combined. Add shredded coconut to batter and stir to combine.
Pour batter into prepared pan. Sprinkle additional shredded coconut on top.
Bake for around 1 hour, until top is golden brown and a toothpick inserted in the center comes out clean.
Notes
http://www.52kitchenadventures.com/2013/09/10/vegan-coconut-banana-bread/