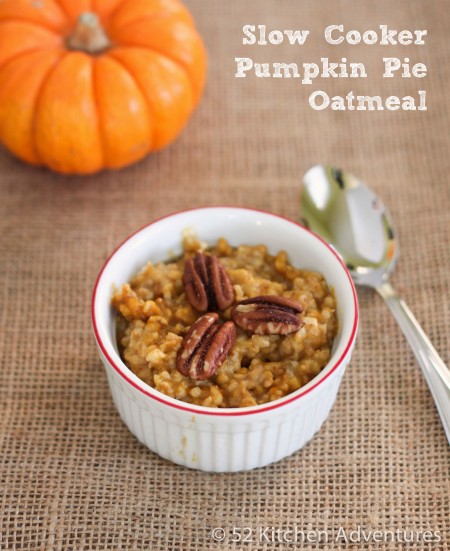 A few months back, I switched from PM workouts to AM workouts, which has been mostly awesome. Getting a workout done in the early morning before you go to work (heck, before most people get out of bed) gives you a real sense of accomplishment. Not to mention, you're done with working out before 7am. I'm always good at talking myself out of doing things after work – going home and watching TV or writing a blog post always sounds better, so PM workouts often get skipped.
I said mostly awesome for a reason, though. Now that we're heading into winter, it's dark and downright cold when I get out of bed. I've taken to sleeping in my workout clothes, because it's getting harder to get out of my warm bed and change out of warm PJs (it's kind of pathetic, but this trick works!). What helps even more is knowing I'll come back to a warm meal ready to eat.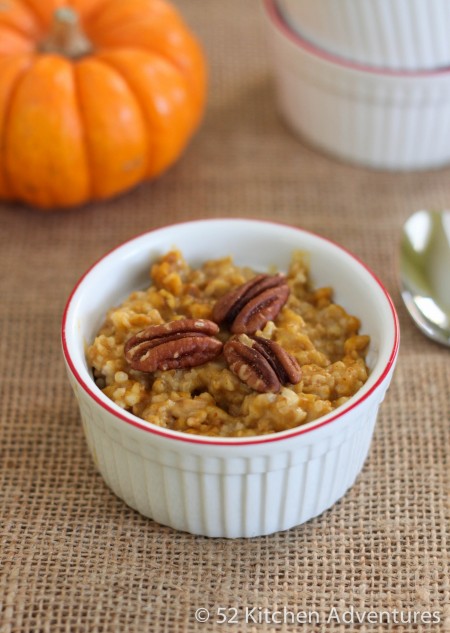 I love, love, love using my slow cooker. It's magical to come home after a long day to find a warm, homemade dinner waiting for you. But do you know what's even better? Waking up to a warm meal on a cold winter morning. Imagine your house smelling like cinnamon and pumpkin, and scooping up a bowl of perfectly cooked oatmeal to start your day.
This slow cooker steel cut oatmeal (aka the best oatmeal ever) is a recipe I've come back to over and over again, but I love this new slow cooker pumpkin pie oatmeal even more! By adding pureed pumpkin, spices, and a tiny bit of maple syrup to steel cut oats, it comes out tasting almost like a pumpkin pie. I throw in a few nuts and my breakfast is good to go! This keeps well in the fridge too, so you can portion it out and zap it in the microwave for a quick breakfast.
Slow Cooker Pumpkin Pie Oatmeal
Ingredients
1 cup steel cut oats
3-1/2 cups water
1 cup pumpkin puree
1 teaspoon vanilla extract
1/4 teaspoon salt
1 teaspoon pumpkin pie spice
2 tablespoons maple syrup (optional*)
Instructions
Lightly coat the interior of your slow cooker with non-stick spray. Pour oatmeal in.
In a large bowl, combine remaining ingredients, stirring together. Pour on top of oatmeal.
Cook on low for 8 hours.
Notes
*I found this to be just the right amount of sweetness for me (it's just barely sweet). You can add more if you want it sweeter, or skip this ingredient and add sweetener to taste into each bowl.
http://www.52kitchenadventures.com/2013/11/20/slow-cooker-pumpkin-pie-oatmeal/