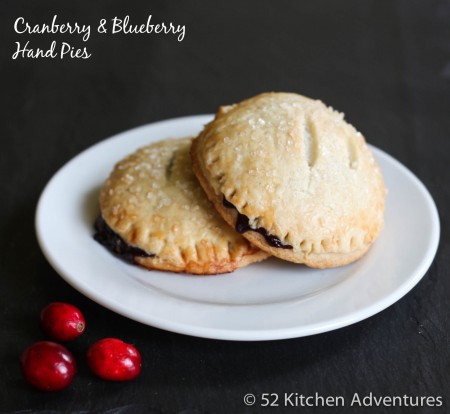 Cake or pie? I believe most people fall into one camp or the other. Me – I'm a well documented cake person. Just take a look at my dessert recipes: tons of cupcakes, cookies, cake pops, etc…and not even a section for pie. My husband, on the other hand, is a decided pie fan. The holidays are traditionally a time for pie, so every year I think, "I need to try making a pie." And something conveniently distracts me, like Cinnamon Roll Cupcakes or Irresistible Cranberry Orange Cookies.
This year, something clicked. I love cranberries and always make homemade cranberry sauce for Thanksgiving (it is so easy and better than canned – add it to your menu this year!). I was dreaming of ways to make it differently and realized I'd never heard of a cranberry pie. But why not? Homemade cranberry sauce is similar to pie filling consistency. I did a little research and found Nantucket Cranberry Pie/Cake, but I really wanted a berry pie that used cranberries.
Fast forward to discovering this Cranberry and Wild Blueberry Pie from Bon Appetit – yes, please! Making pie crust still intimidates me, so I picked up my favorite frozen dough from Trader Joe's. I love it because it has all normal ingredients I can pronounce and would use myself. And while there are lots of reasons to make hand pies (they're adorable, portable, and everyone get their own dessert to name a few), I have to be honest and admit I made them partially because I'm also intimidated by making an entire pie.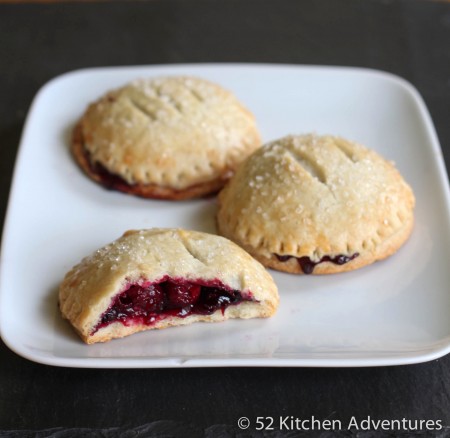 Side note: I think I may have found my new year's resolution. I really need to try making a pie from scratch all by myself!
Anyway, this filling totally hit the spot! It is a perfect balance of tart and sweet. The cranberries add a tangy zing and prevent the whole thing from being super sweet, while the blueberries bring a wonderful flavor and sweetness to balance out the tart crans. Although I made them hand pies partially out of fear, I don't regret it one bit. They're fun to eat and pretty darn cute!
Russ was the final vote. Not only did he polish one of these off after a large brunch, he even wanted to eat the extra filling out of the bowl (not something he normally does). That's 2 thumbs up from the pie lover, which is good enough for me. I recommend trying out these cranberry & blueberry hand pies as a fun twist on the traditional Thanksgiving or Christmas pie…or anytime you want a fun dessert this winter! 😉
Here are step by step instructions on how to make hand pies: 
Cranberry Blueberry Hand Pies
Ingredients
Filling

8 ounces (1 3/4 cups) frozen blueberries – get wild blueberries if you can find them (do not thaw)
6 ounces (1 1/2 cups) fresh or frozen cranberries (do not thaw if frozen)
1/2 + 1/8 cup sugar
1 1/2 tablespoons cornstarch
1 cinnamon stick
1/2 tablespoon fresh lemon juice
1/4 teaspoon grated lemon peel

Crust

1 package of Trader Joe's frozen pie dough (thawed) or your favorite pie dough recipe (enough to make two 10″ pies)

Garnish

1 egg + 1 tablespoon of water for egg wash
Sanding sugar (optional)
Instructions
Place all filling ingredients in a medium saucepan and stir to combine. Cook over low-medium heat, stirring occasionally, until it thickens and reaches a boil. Boil for 2 minutes, stirring constantly.
Remove from heat and set aside (pour into bowl, cover and refrigerate if not using immediately).
Roll out thawed dough to 1/8″ thick and use a 3″ glass to cut out circles. Combine scraps of dough, roll out, cut circles, and repeat until all dough is used.
Place dough circles onto a cookie sheet lined with parchment paper or silicone baking mat. Spoon a heaping tablespoon of filling into the middle of each one. Spreading the filling out, leaving a small empty space around the edge of the dough.
Lightly whisk together the egg and water in a small bowl. Lightly brush the egg wash around the edge of each circle. Place another circle of dough on top and pinch the edges together. Use a fork to crimp the edges.
Brush egg wash across the top of each sealed hand pie. Use a small, sharp knife to cut 2-3 lines in the middle of the top.
Optional: sprinkle with sanding sugar.
Bake at 400°F for 15-18 minutes, until golden brown.
Notes
You can make the filling up to 3 days ahead of time.
Adapted from Bon Appetit.
http://www.52kitchenadventures.com/2014/11/23/cranberry-blueberry-hand-pies/