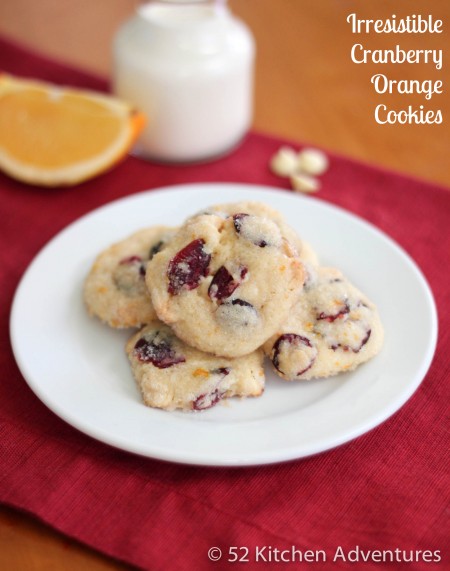 It's the holiday season, AKA cookie season, which also means time for the Great Food Blogger Cookie Swap! This was my first year participating and I'm so proud to be a part of a huge group of food bloggers (and awesome brand partners OXO, Dixie Crystals, Gold Medal Flour, and Grandma's Molasses) that came together to raise $13,778.40 for Cookies for Kids' Cancer!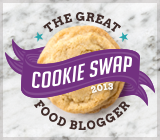 For the cookie swap, I had to bake 3 dozen cookies and ship them to 3 other food bloggers around the country. In exchange, 3 other random food bloggers sent me 1 dozen cookies each. After asking you all what holiday flavor combos are your favorites on Facebook, I was inspired to try out a cranberry-orange cookie. I usually go for peppermint-chocolate during the holidays and this sounded like a fresh take on holiday flavors. And WOW, they did not disappoint!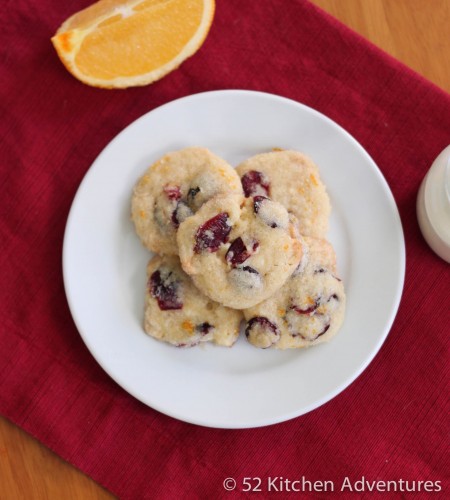 I'm not kidding when I saw these are irresistible cranberry orange cookies. My hubby, who gets to eat delicious goodies all the time, says these are one of his all-time faves out of everything I've baked in the last decade! (His other fave were these mini salted caramel mocha cheesecakes, in case you're wondering.)
These cookies are filled with the good stuff: butter and sugar, dotted with orange zest, dried cranberries, and white chocolate chips. Then, they're rolled in orange sugar coating, which makes the orange flavor really pop and adds a nice crunch to the cookie crust. They're very small cookies cooked at a very high heat, which gives them crunchy outside and soft inside.
So, to sum up:
Perfect soft/crunchy cookie texture
Bright citrus and cranberry flavors, balanced with sweet white chocolate
You can even add in toasted pecans if you want too. I definitely recommend adding this one to your Christmas cookie plate!
Irresistible Cranberry Orange Cookies
Ingredients
Orange Sugar Coating

1/2 cup sugar
1/2 teaspoon freshly grated orange zest

Cookie Dough

1/2 cup (8 tablespoons) butter, softened
3/4 cup sugar
Freshly grated zest of 1 large orange (minus 1/2 teaspoon for coating)
1 teaspoon vanilla extract
1/4 teaspoon baking powder
1/2 teaspoon salt
1 large egg
1 1/2 cups flour
1 cup dried cranberries
3/4 cup white chocolate chips (optional – you could add more dried cranberries or chopped pecans in place)
Instructions
Prepare orange sugar coating:

Place sugar and orange zest in a small bowl and whisk until combined. Set aside.

Prepare cookie dough:

Preheat the oven to 425°F. Line 2 baking sheets with parchment paper (or lightly grease them).
Beat butter and sugar together in large bowl. Add orange zest, vanilla, baking powder, and salt and mix until combined. Add egg and mix – it may look slightly curdled (don't worry).
Add flour and mix until just incorporated. Stir in cranberries and white chocolate chips.
Scoop a teaspoonful of dough and roll into ball with your hands. Roll in orange sugar coating and place on prepared baking sheets, leaving around 1.5 inches in between cookies. Take a glass with a flat bottom, dip into orange sugar, and flatten each dough ball to about 1/2 inch thick.
Bake cookies for 6-7 minutes, until they're light golden brown around the edges and barely set.
Notes
Adapted from King Arthur Flour
http://www.52kitchenadventures.com/2013/12/11/irresistible-cranberry-orange-cookies/
More recipes you'll love: