It's the most wonderful time of the yeaaar…no, it's not Christmas – it's Girl Scouts cookie season! Like most people, I can't resist a box of Thin Mints. And there's only one thing better than a plain Thin Mint: a Thin Mints s'more. It's one of those desserts that's so simple to make yet SO delicious.
While keeping it simple is fun, I wanted to take Thin Mints s'mores to the next level. I put them together with my favorite chocolate cupcakes and s'mores cupcakes to come up with these epic Thin Mints S'mores Cupcakes.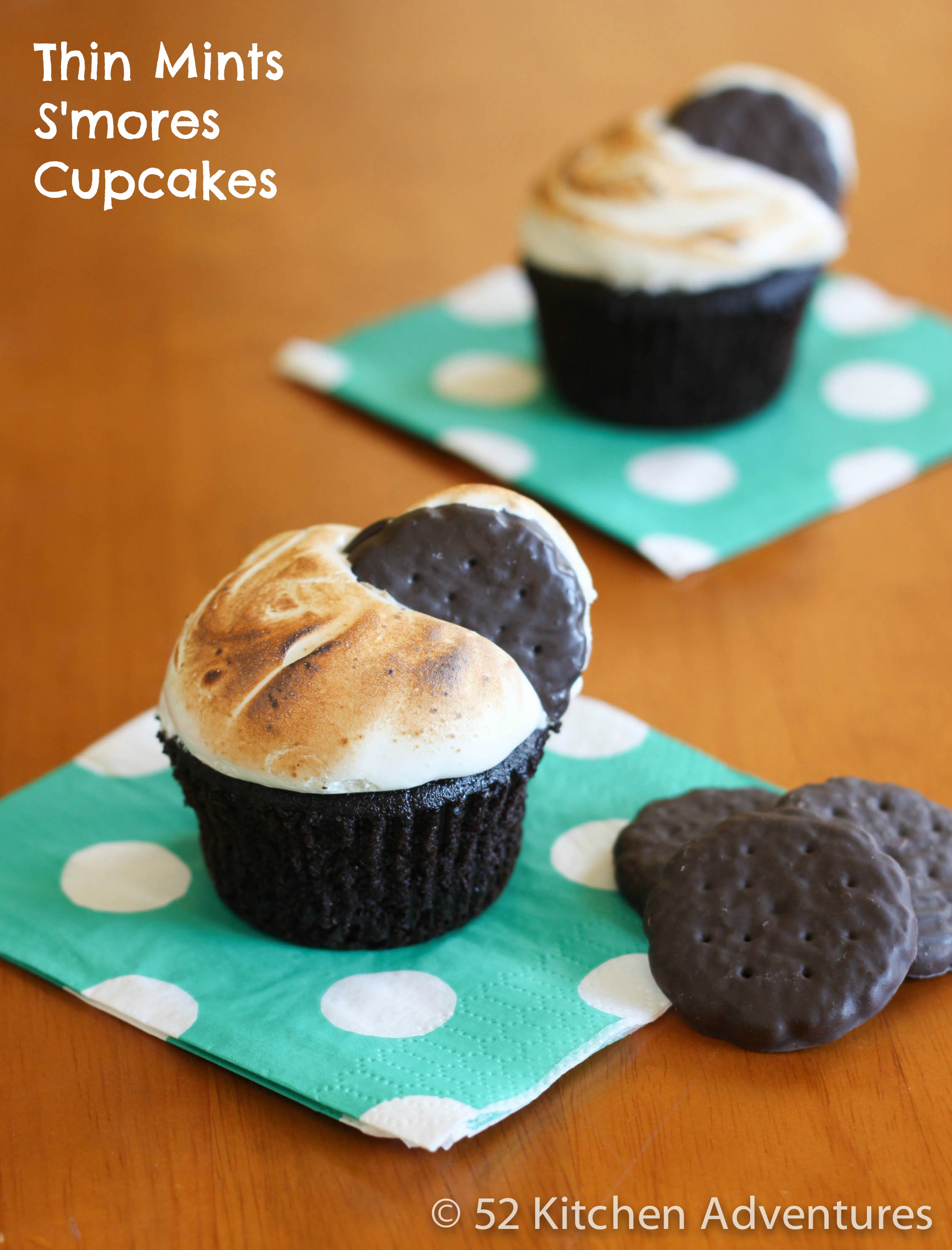 They have a Thin Mints cookie crust (to mimic a s'mores crust) at the bottom of a mint chocolate cupcake, which is topped with homemade marshmallow fluff. Before you toast the marshmallow, top them off with a Thin Mint cut in half and made into a mini s'mores for the perfect topping. Thin Mints s'mores on top of Thin Mints s'mores! 😀
Here's how to make Thin Mints S'mores Cupcakes: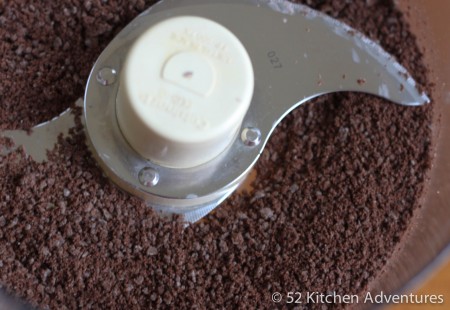 1. Crush Thin Mints in a food processor or blender (or put them in a plastic bag and crush them by hand).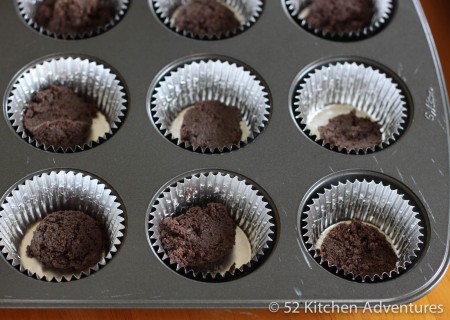 2. Mix the crushed Thin Mints with butter and a dash of salt, then place at the bottom of foil cupcake liners.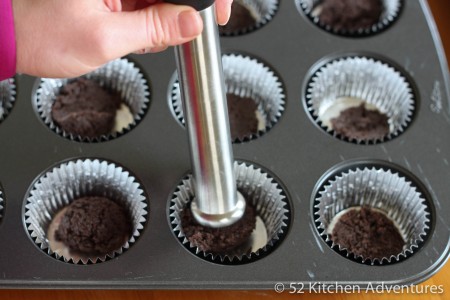 3. Flatten the Thin Mints cookie crust into an even layer until it looks like this (don't worry if there are cracks):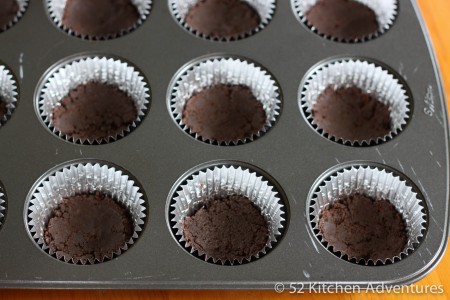 4. Bake at 350°F for 5 minutes until they look like this: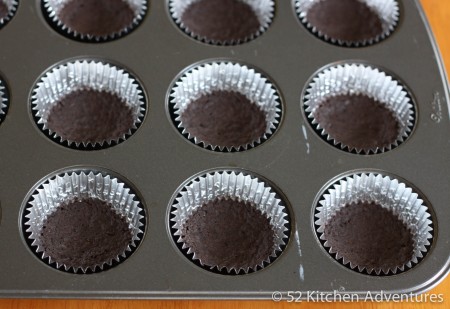 5. Prepare the cupcake batter.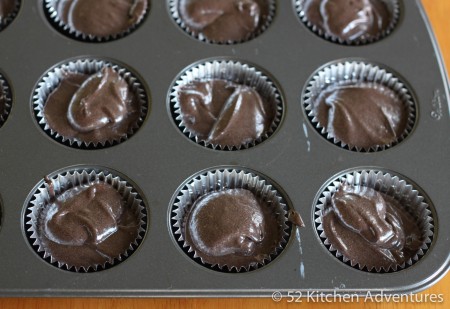 6. Evenly distribute the cupcake batter, until the liners are about full. While they bake, prepare the marshmallow frosting.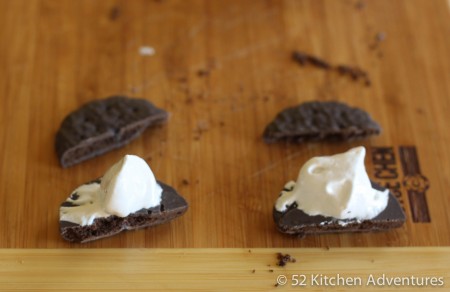 7. To make the mini Thin Mints s'mores, cut a Thin Mints in half and place a dollop of homemade marshmallow fluff on top.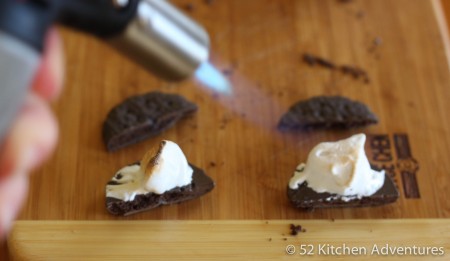 8. Toast the marshmallow briefly.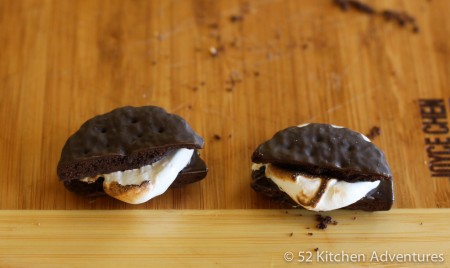 9. Place the other half of the cookie on top.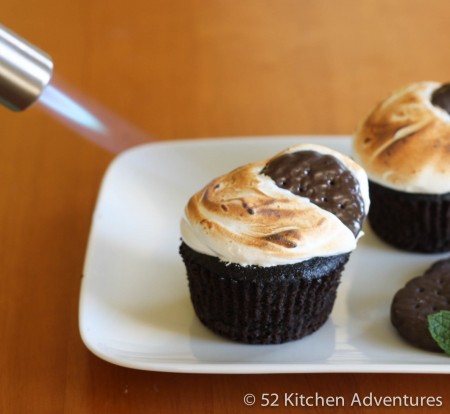 10. Top the cooled cupcakes with some of the homemade marshmallow fluff and a mini Thin Mints s'more. Toast with a kitchen torch, then enjoy! 🙂
Thin Mints S'mores Cupcakes

Print recipe
Ingredients
Topping
Marshmallow Frosting
3 Large egg whites
2 tablespoons sugar
3/4 cups light corn syrup
2/3 cups sugar
1 teaspoon vanilla extract
Thin Mint Cupcakes
1/2 cup Dutch-processed cocoa powder
1 cup boiling water
1 1/3 cup all purpose flour
2 teaspoons baking powder
1/4 teaspoon salt
1/2 cup unsalted butter (room temperature)
1 cup sugar
2 Large eggs
1/2 teaspoon vanilla extract
1 1/2 teaspoon peppermint extract
Thin Mints Cookie Crust
1 1/2 cup Thin Mints (23 cookies)
4 tablespoons unsalted butter
1 pinch salt
Directions

Thin Mints Cookie Crust
Step 1
Line 2 cupcake tins with 16 foil cupcake liners. Preheat oven to 350°F.
Step 2
In a small bowl, mix together crushed Thin Mints, melted butter and salt with a fork.
Step 3

Drop about 1 tablespoon of the mixture into each cupcake liner and press down firmly.

Step 4

Bake for 5 minutes, then remove from oven and set aside. Increase oven temp to 375° F.

Thin Mint Cupcakes
Step 5
In a small bowl, stir together cocoa powder and boiling water until smooth. Set aside to cool.
Step 6
In a medium bowl, stir together flour, baking powder, and salt. Set aside.
Step 7
In a large bowl, beat butter and sugar together until light and fluffy. Add eggs, one at a time, beating in between until incorporated. Stir in vanilla.
Step 8
Add flour mixture to butter mixture and beat until just combined. Add cooled cocoa mixture and mix until incorporated.
Step 9

Distribute cupcake batter evenly on top of prepared Thin Mint crusts (the liners will be almost full). Bake around 20-22 minutes, until tops spring back when lightly touched (or a toothpick inserted in the middle comes out clean). Let cool completely before frosting.

Marshmallow Frosting
Step 10
In the meantime, prepare the frosting: Place egg whites in a large mixing bowl. Using an electric mixer with a whisk attachment, beat the egg whites until light and frothy. Keep the mixer running and slowly pour in 2 tablespoons of sugar. Continue to beat until soft peaks form.
Step 11
In a medium saucepan, combine 1/3 cup water, corn syrup, and remaining 2/3 cup sugar over medium heat. Bring to a boil and continue to cook, stirring occasionally, until it reaches 240°F (around 10-15 minutes). Turn mixer on to low and slowly pour syrup down the side of the bowl into the egg white mixture.
Step 12
Increase speed to high and beat mixture for 4 minutes, until thickened. Pour vanilla into mixture and beat on high for around another minute, until mixture looks like glossy, thick marshmallow fluff.
Assemble the Cupcakes
Step 13

When ready to serve, top cupcakes with a large dollop of marshmallow fluff frosting. Slice a Thin Mint in half, add some frosting in between the halves, and place on top. Use a small kitchen torch to lightly brown the frosting, then serve immediately.
More recipes you'll love: