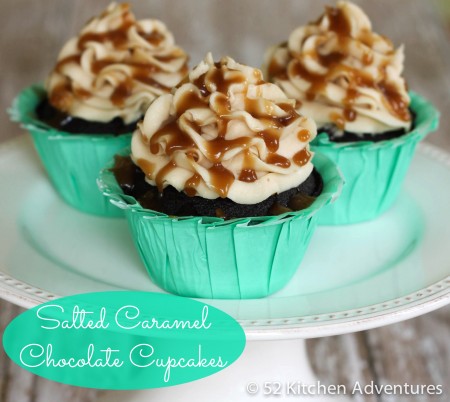 Have you or anyone you know been hit with the awful flu that's been going around? I was sick for a solid 2 weeks and spent 4 long days with a fever. After being out of commission for so long, I've spent the last week and a half playing catch-up with work, life, emails…but I'm feeling very thankful that I finally feel better and have my health back! I was back to work in time for Valentine's Day, so I wanted to make something special for all of my co-workers who helped cover my responsibilities while I was out.
Cupcakes were an easy choice, and I couldn't help but incorporate salted caramel. I know the salted caramel craze has been going for some time, but I can't get enough. It's sweet, creamy, buttery, with just a hint of salty that just makes the sweet all that much better. Once I discovered this easy 7 minute caramel sauce, I knew I'd be in trouble. It's just too easy to make!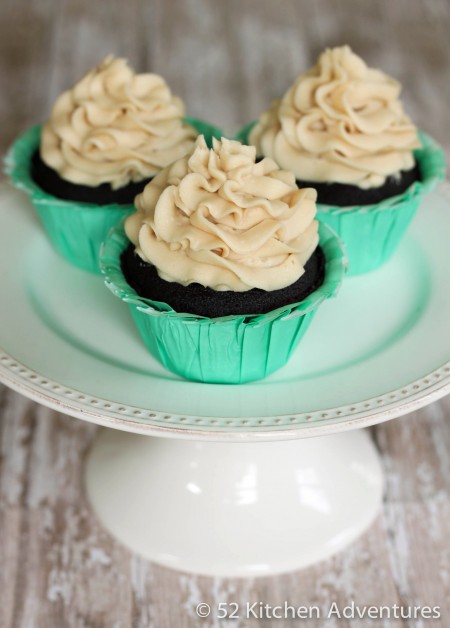 Of course, you can leave the cupcakes with just frosting on top…
I tried pouring it on top of brownie bites, which was delicious, but a little messy. This time, it's incorporated into a buttercream frosting, which is oh so buttery and decadent, with just the right amount of saltiness. I used the buttercream to top some moist chocolate cupcakes, which was a great combo.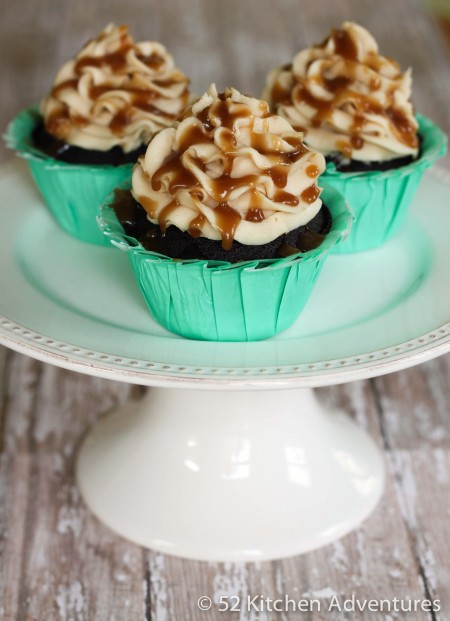 Or you can drizzle them with a generous serving of leftover salted caramel sauce. There's no such thing as too much caramel here!
A couple of years ago, I made salted caramel cupcakes that were brown sugar cupcakes filled with caramel and topped with a more complicated salted caramel buttercream. Those were one of my favorite cupcakes I've ever made, but besides the fact that these are 100 times easier to make, I really enjoyed the chocolate/salted caramel combination. They came together to make an intensely rich, irresistible dessert.
Salted Caramel Chocolate Cupcakes
Ingredients
Chocolate Cupcakes

1/2 cup Dutch-processed cocoa powder
1 cup boiling water
1 1/3 cups all purpose flour
2 teaspoons baking powder
1/4 teaspoon salt
1/2 cup (1 stick) unsalted butter, room temperature
1 cup sugar
2 large eggs
2 teaspoons pure vanilla extract

Salted Caramel Buttercream

1 cup (2 sticks) unsalted butter, room temperature
2 teaspoons pure vanilla extract
1 teaspoon salt
1/3 cup caramel sauce (plus more for drizzling)
3 1/2 cups powdered sugar
Instructions
Prepare chocolate cupcakes:

Preheat oven to 375°F. Line cupcake tin with paper liners.
In a small bowl, stir together cocoa powder and boiling water until smooth. Set aside to cool.
In a medium bowl, stir together flour, baking powder, and salt. Set aside.
In a large bowl, beat butter and sugar together until light and fluffy. Add eggs, one at a time, beating in between until incorporated. Stir in vanilla.
Add flour mixture to butter mixture and beat until just combined. Add cooled cocoa mixture and mix until incorporated.
Fill each lined cupcake well 2/3 full. Bake around 18-20 minutes, until tops spring back when lightly touched (or a toothpick inserted in the middle comes out clean). Let cool completely before frosting.

Prepare salted caramel buttercream:

beat butter until smooth and light. Add vanilla, salt, and caramel, then beat until combined. Add powdered sugar, 1 cup at a time, mixing in between. Pipe or spread onto cooled cupcakes.
http://www.52kitchenadventures.com/2013/02/20/salted-caramel-chocolate-cupcakes/
More recipes you'll love: