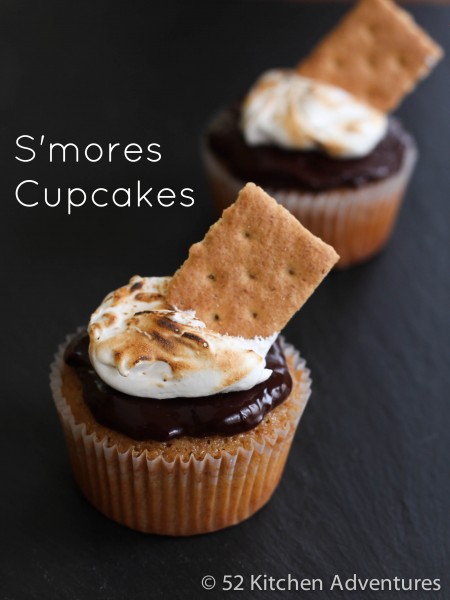 Homemade S'mores Cupcakes
We're heading into Memorial Day Weekend, which I see as the kick-off for summer. It's time for BBQs, camping, going to the lake, and laying pool side. I actually went to my first BBQ a couple of months ago (hello, lovely California weather!), and when I was asked to bring a dessert, I wanted to come up with something BBQ friendly. Sure, there's peach cobblers and another summer fruit desserts, but besides the fact that none of that was in season yet, I also gravitate towards chocolate and cupcakes.
And then it suddenly hit me: S'mores! What's more summer-y and BBQ appropriate than s'mores? Of course, I couldn't just leave it at that. To take it to the next level of yumminess, I decided on s'mores cupcakes.
Now, this isn't the first time I've attempted a s'mores flavored dessert – it's not even my first or second s'mores cupcake. I've made s'mores cupcakes and s'mores ice cream cupcake sandwiches (they're a real mouthful ;)). (And don't miss my s'mores popsicles – made with easy homemade marshmallow ice cream and super easy homemade hard shell chocolate sauce!)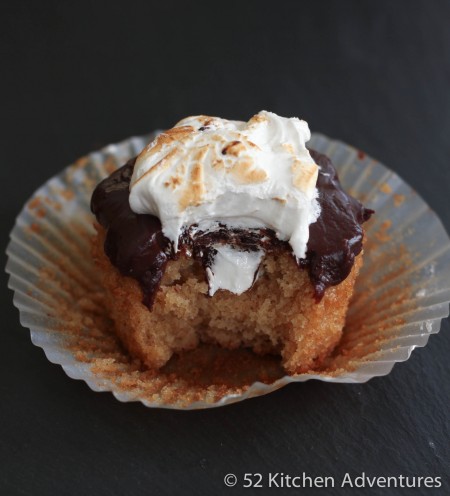 Doesn't that look irresistible?
This time, I wanted to do an original take on s'mores cupcakes and utilize my homemade marshmallow fluff for the topping. Before, I've always done chocolate cake with ground up graham cracker crust, so I mixed it up with a graham cracker cake topped with a rich chocolate ganache. It's a more literal translation from s'mores to cupcake, since the ganache better imitates a chocolate bar and the graham cracker is a dominating part of a s'more.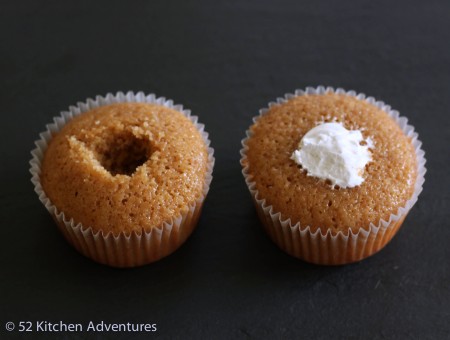 Plus, to make sure there is some marshmallow-y goodness in every bite, you can go the extra mile to fill the cupcakes with some of the marshmallow fluff (note: if you're short on time or patience, feel free to skip this step).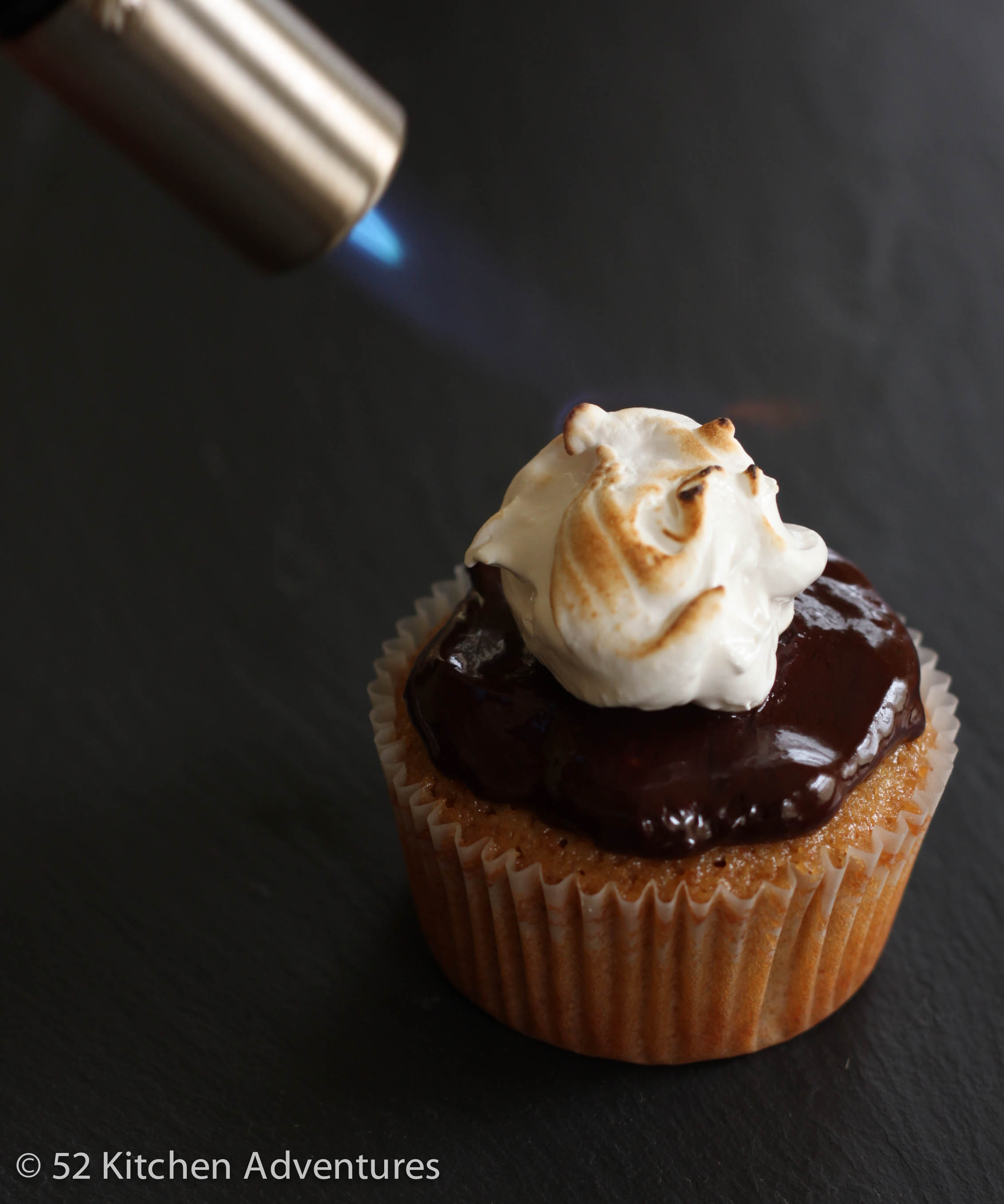 And the best part? If you have a creme brulee torch, your friends get to toast their own marshmallow!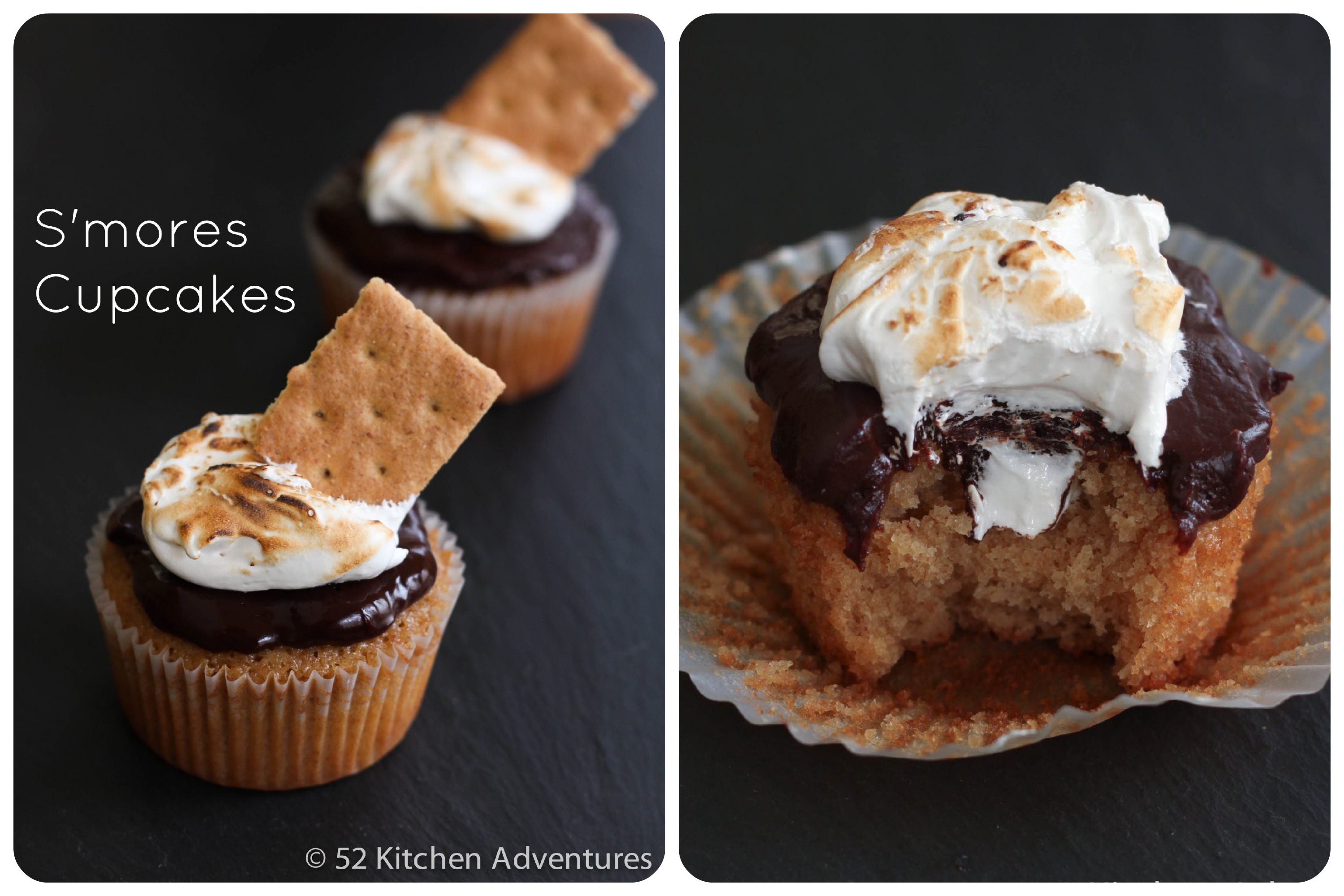 Ingredients
Graham cracker cupcakes

:
1 1/2 cups graham cracker crumbs (about 15 whole crackers ground in processor)
1/2 cup all purpose flour
2 1/2 teaspoons baking powder
1/2 cup (1 stick) unsalted butter, room temperature
3/4 cups sugar
2 large eggs
1 teaspoon vanilla extract
3/4 cup whole milk

Chocolate ganache

:
8 ounces bittersweet chocolate, chopped
1/2 cup heavy whipping cream
Instructions
Make cupcakes:

Preheat oven to 350°F and line a muffin tin with paper liners.
In a medium bowl, mix together graham cracker crumbs, flour, baking powder, and a pinch of salt.
In a separate large bowl, beat butter and sugar together until light and fluffy. Add 1 egg at a time, mixing in between each one. Add vanilla and stir until combined.
Add 1/3 of graham cracker mixture to butter mixture, then add 1/2 of milk. Continue to alternate additions, mixing in between, beginning and ending with graham cracker mix.
Pour batter into prepared tins until about 3/4 full (it should make a dozen). Bake around 20-22 minutes, until a toothpick inserted in the middle comes out clean. Remove from oven and let cool on wire rack.

Make chocolate ganache:

Place chocolate in a medium bowl and set aside.
In a small saucepan, bring cream just to a boil, then pout it over the chocolate. Let sit for 1 minute, then stir until smooth. Set aside to cool until ganache is lukewarm.

Prepare cupcakes:

Spoon around 3/4 cup of marshmallow fluff into a piping bag or small plastic bag with 1/2 inch cut off corner.
Using a small paring knife or apple corer, cut a circle about 1 inch deep into the middle of each cupcake and remove cake, leaving a small hole.
Pipe marshmallow fluff into the middle of the cupcakes, then spread 3-4 teaspoons of ganache on top.
When ready to eat, spoon or pipe dollops of marshmallow fluff onto ganache. Use a small kitchen torch or place until broiler until lightly browned (1-2 minutes).
Notes
http://www.52kitchenadventures.com/2013/05/23/homemade-smores-cupcakes/
More recipes you'll love: