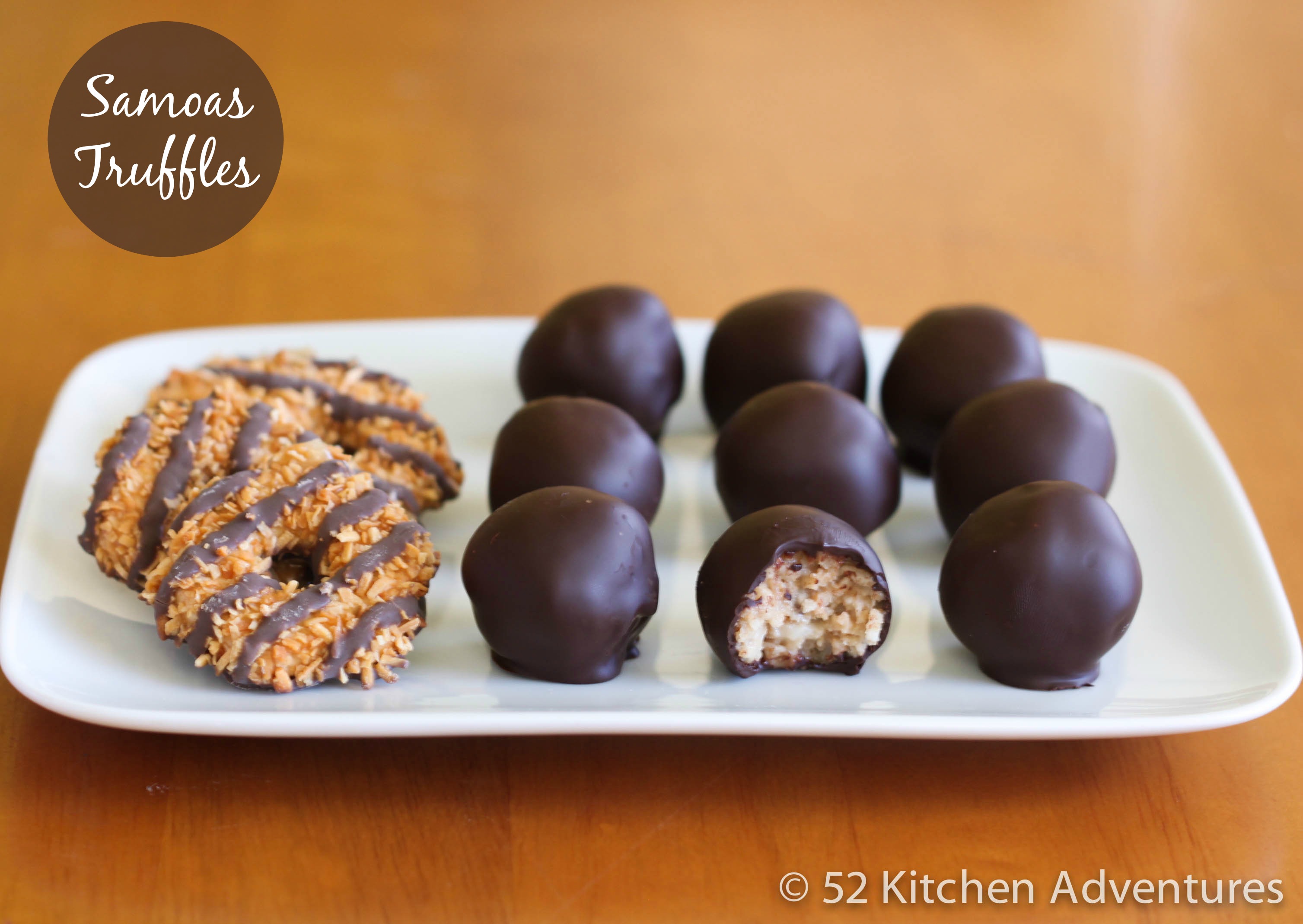 After Thin Mints, Samoas (they're actually called Caramel deLites here now, but I'm so used to saying Samoas!) are my favorite flavor of Girl Scouts cookie. After I made these Thin Mints S'mores Cupcakes, I wanted to honor this slightly less popular, but still awesome cookie.
Last year, I made Samoas Macaroons, which were inspired by most of the flavors in the cookie: caramel, coconut, and a drizzle of chocolate. This year, I went for an even more authentic Samoas treat: toasted coconut, caramel, and even some shortbread turned into a truffle. The only major flavor difference between these and the cookies is that these are chewy and smothered in dark chocolate, which I think is an upgrade from the chocolate drizzle on the cookies.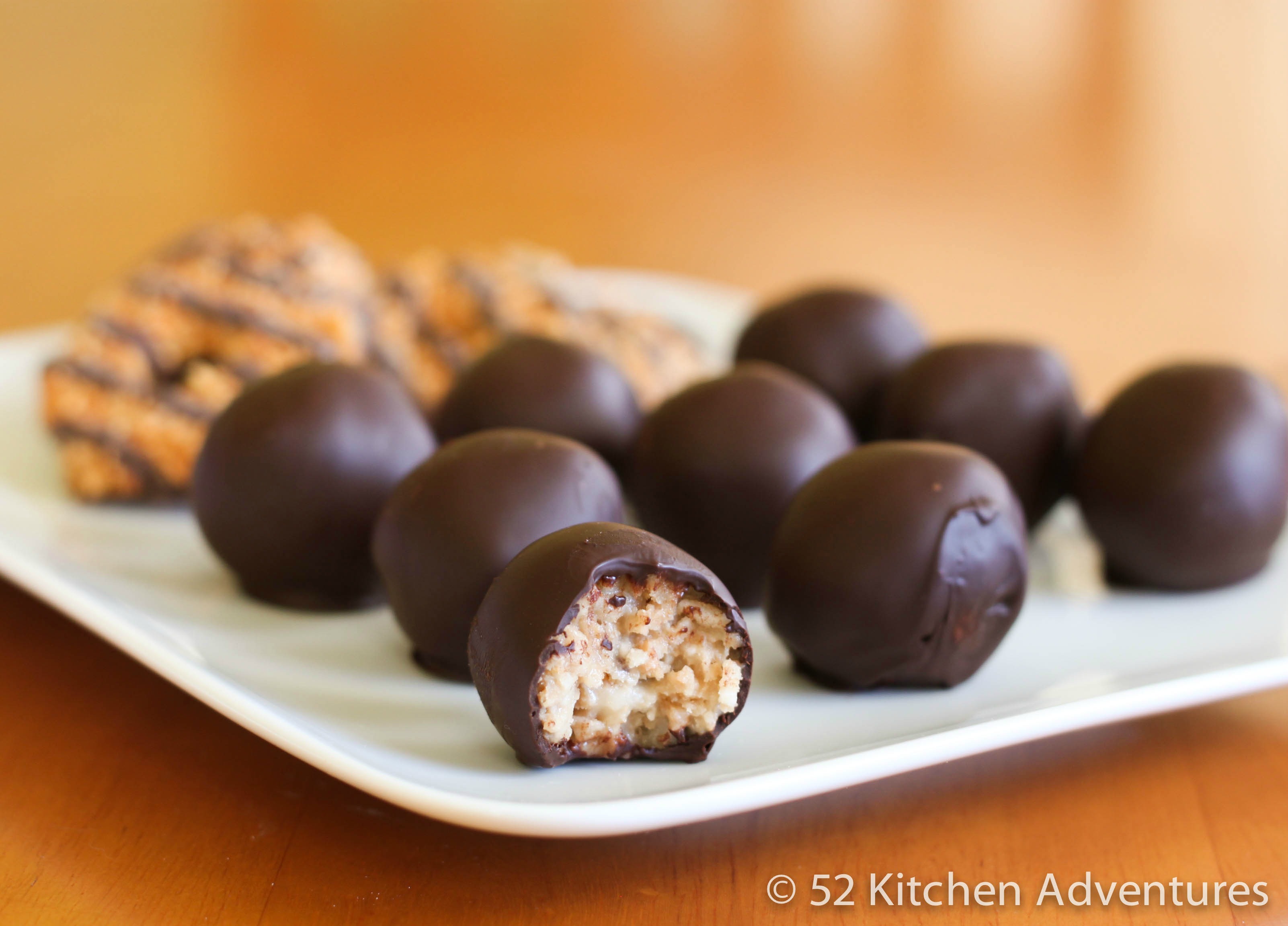 I call them the "grown up" version of Samoas. The flavors are a little more developed, the dark chocolate gives them a slightly less sweet edge, and they are a perfect chewy little bite of caramel, toasted coconut, and chocolate.
While they're a little time consuming, they're not difficult to make. First, you stir together all of the ingredients, then roll them into balls: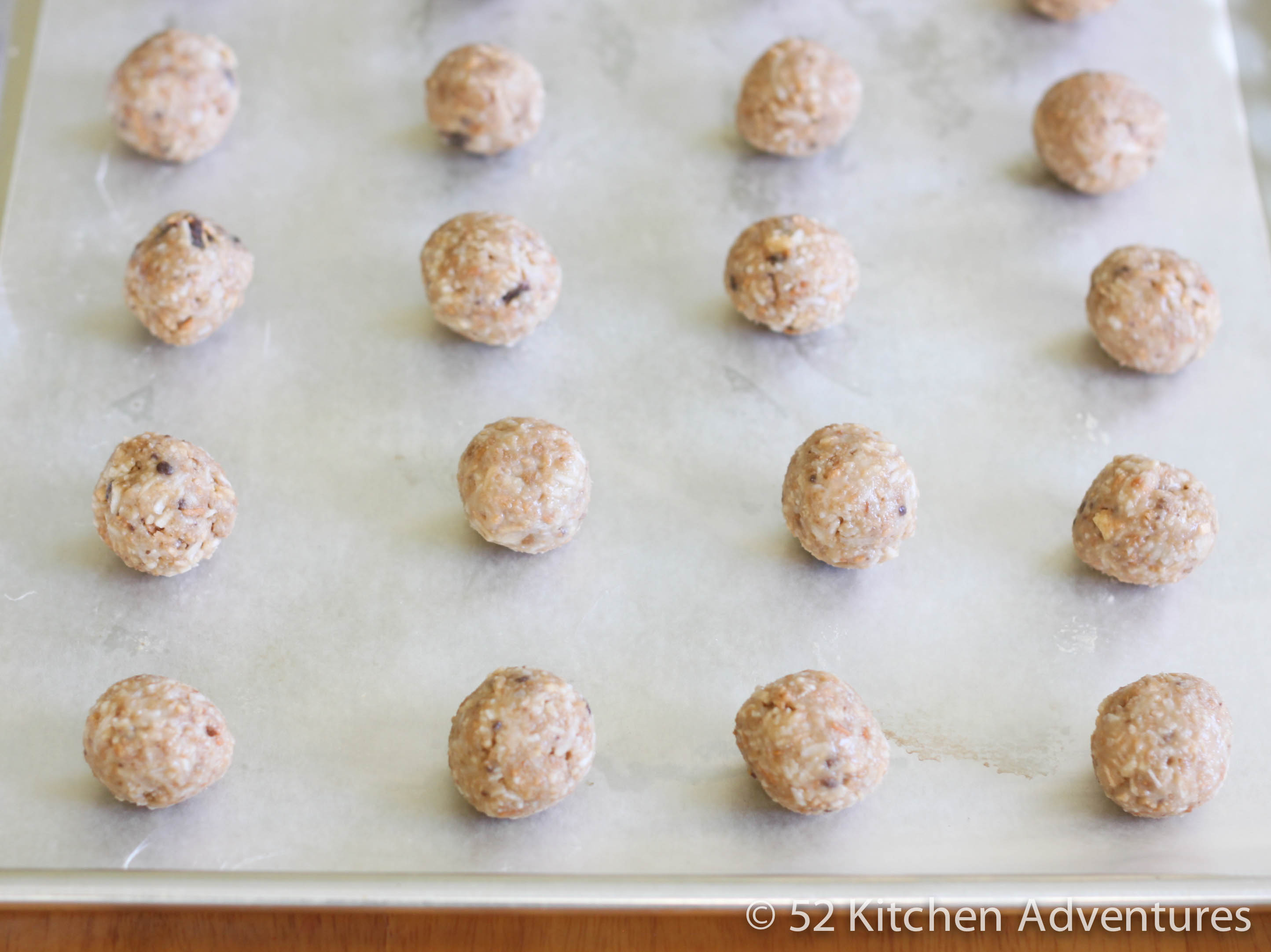 Then dip them into melted chocolate: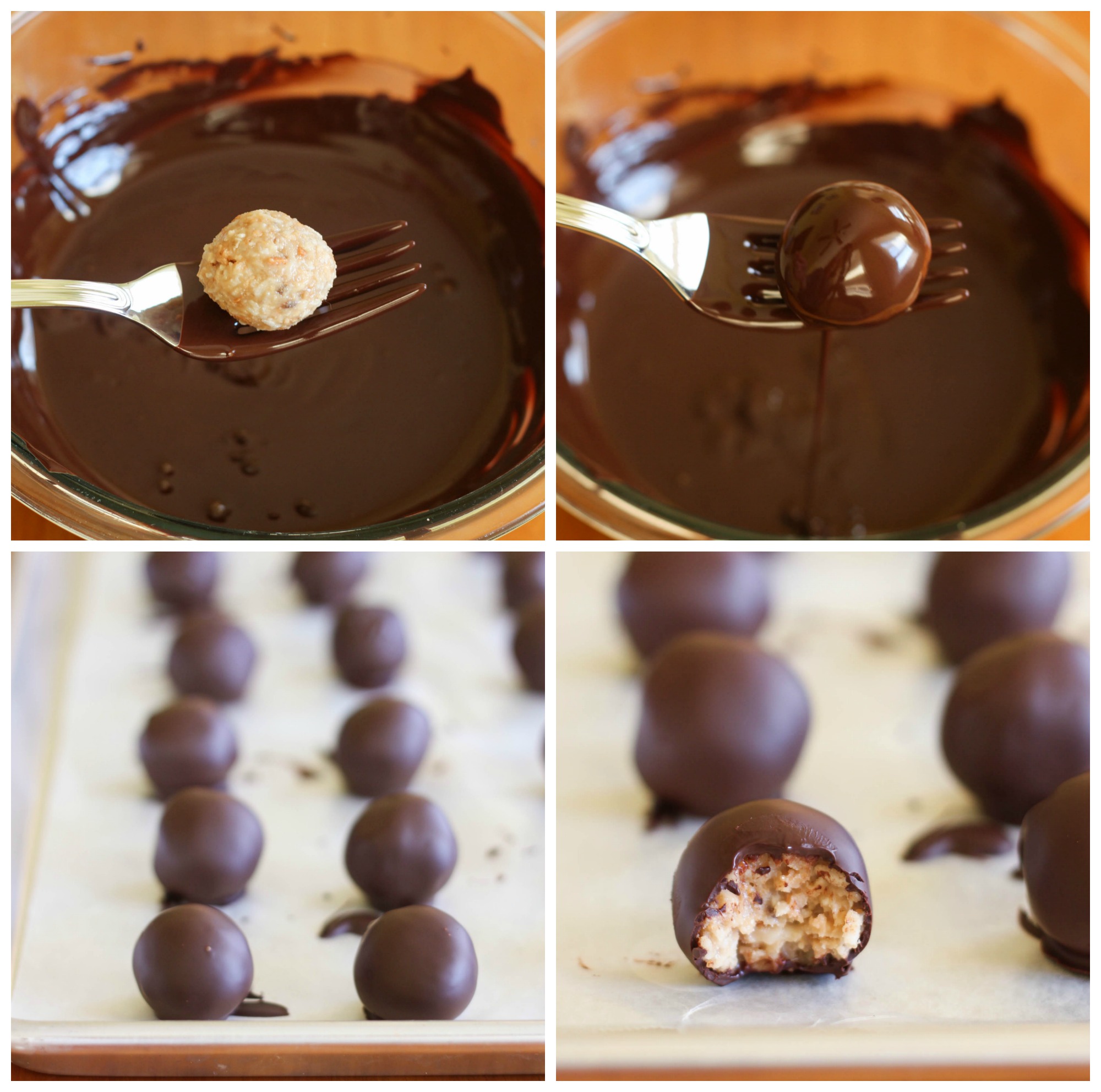 And you get this: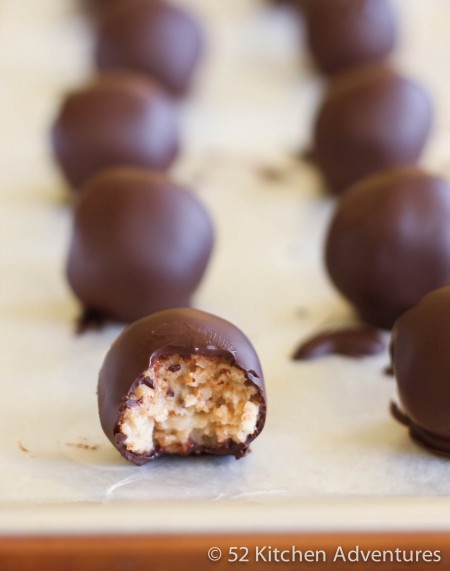 Not bad, right?!
Samoas Truffles

Print recipe
Ingredients
Samoas Truffles
3 cups sweetened, shredded coconut
1/2 cup powdered sugar
1/2 cup homemade caramel from recipe above (or store-bought)
1/2 cup sweetened condensed milk
1/4 cup coconut oil (melted)
1/2 cup Girl Scouts Samoas or Caramel deLights (crushed)
12oz dark chocolate
Homemade Caramel
4 tablespoons unsalted butter
1 cup brown sugar
1/2 cup heavy whipping cream
1/2 teaspoon Kosher salt
1 tablespoon vanilla extract
Directions

Homemade Caramel
Step 1

In a medium saucepan over medium heat, whisk together butter, brown sugar, heavy whipping cream, and salt.

Step 2

Bring to a boil and reduce heat. Simmer for 6 minutes, whisking occasionally.

Step 3
Whisk in vanilla (be careful, it will bubble up) and cook 1 more minute. Set aside and let cool.
Samoas Truffles
Step 4
In the meantime, toast the coconut: preheat oven to 350°F. Spread coconut flakes on a baking sheet in a thin layer and bake until lightly browned, around 5-10 minutes. Stir the coconut after a few minutes to help it toast evenly. Let cool for a few minutes.
Step 5
In a large bowl, mix together toasted coconut and powdered sugar. Add caramel, sweetened condensed milk, coconut oil, and crushed Samoas. Stir constantly until it becomes a gooey, sticky filling that can hold a shape.
Step 6

Line a cookie sheet with wax paper. Scoop out 1 tablespoon of filling at a time, rolling it in your hands to form a ball. Set coconut balls on wax paper and place in the refrigerator to chill while you prepare the chocolate.

Step 7

Melt chocolate in microwave in 30 second bursts, stirring in between until fully melted. Remove coconut balls from fridge and immediately dip in chocolate, coating the entire ball and then placing back on the wax paper. Let sit until chocolate has hardened (you can speed this up by placing in refrigerator), then serve.
What's your favorite Girl Scouts cookie?