I'm so excited to share this healthy strawberry rhubarb crumble recipe – it's sweetened with honey instead of refined sugar, made with coconut oil instead of butter, and it's full of other healthy ingredients.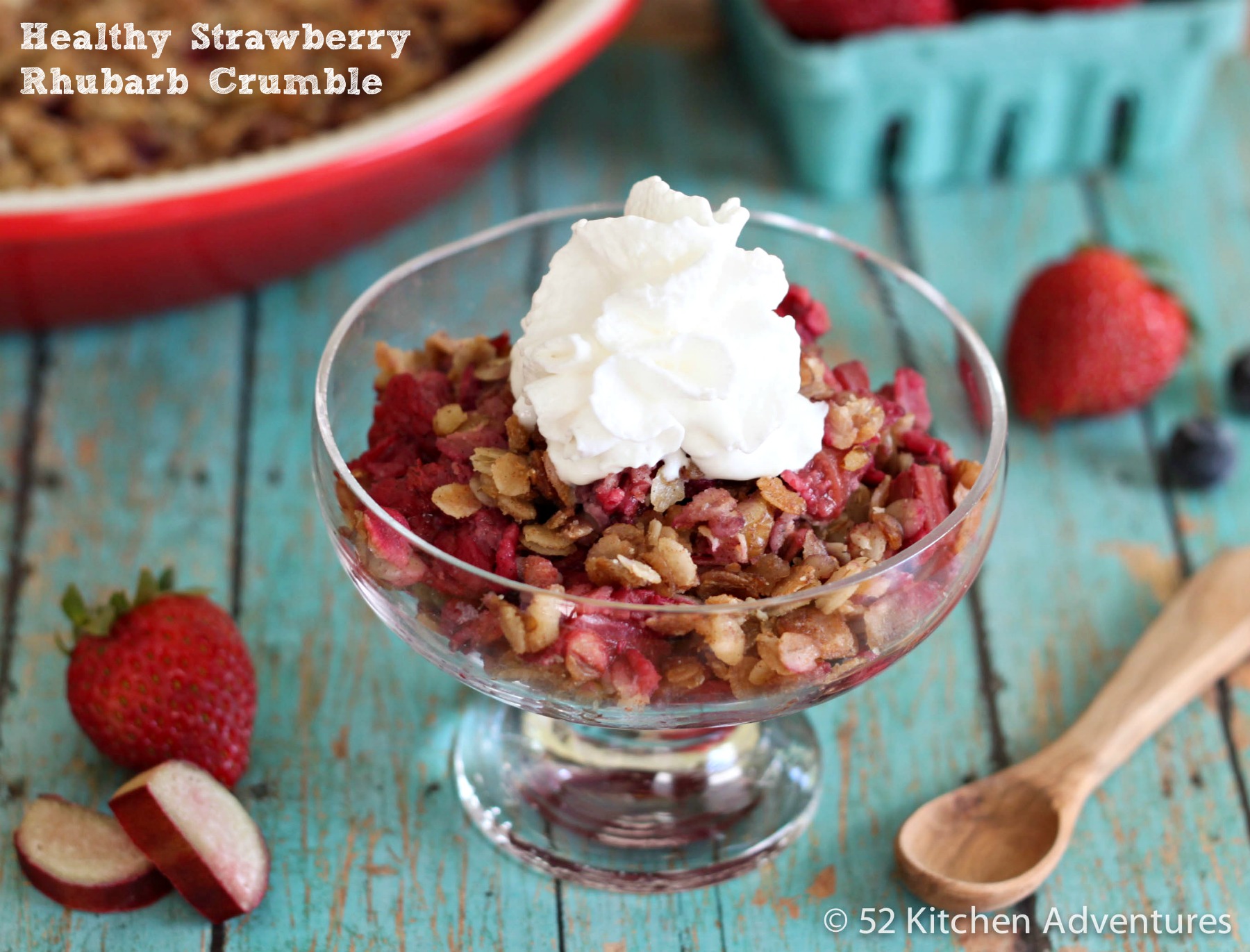 Rhubarb + strawberry – it's a classic combo, but not one I've really experienced much, surprisingly. So when OXO and Melissa's Produce teamed up to let some food bloggers test out the new GreenSavers, I jumped at the chance to try out OXO's newest product and a bunch of rhubarb.

At first, I tried pairing the rhubarb with blueberries which I thought was delicious…until I tried the same recipe with strawberry and rhubarb. It was like a cartoon lightbulb went off over my head and I finally knew why strawberries and rhubarb get put together so much. Something about the flavor and sweetness of strawberries balances out perfectly with the tart rhubarb.
Besides the awesome strawberry and rhubarb flavor, the best thing about this crumble is it's actually pretty healthy! There's no refined sugar, no refined flour, and no butter. Choose your favorite oats (I used a multigrain oats blend from Trader Joe's), add in some chopped nuts, coconut oil, almond flour, and honey. Spread it over some fruit mixed with a little honey and lemon juice, and you've got yourself an awesome crumble!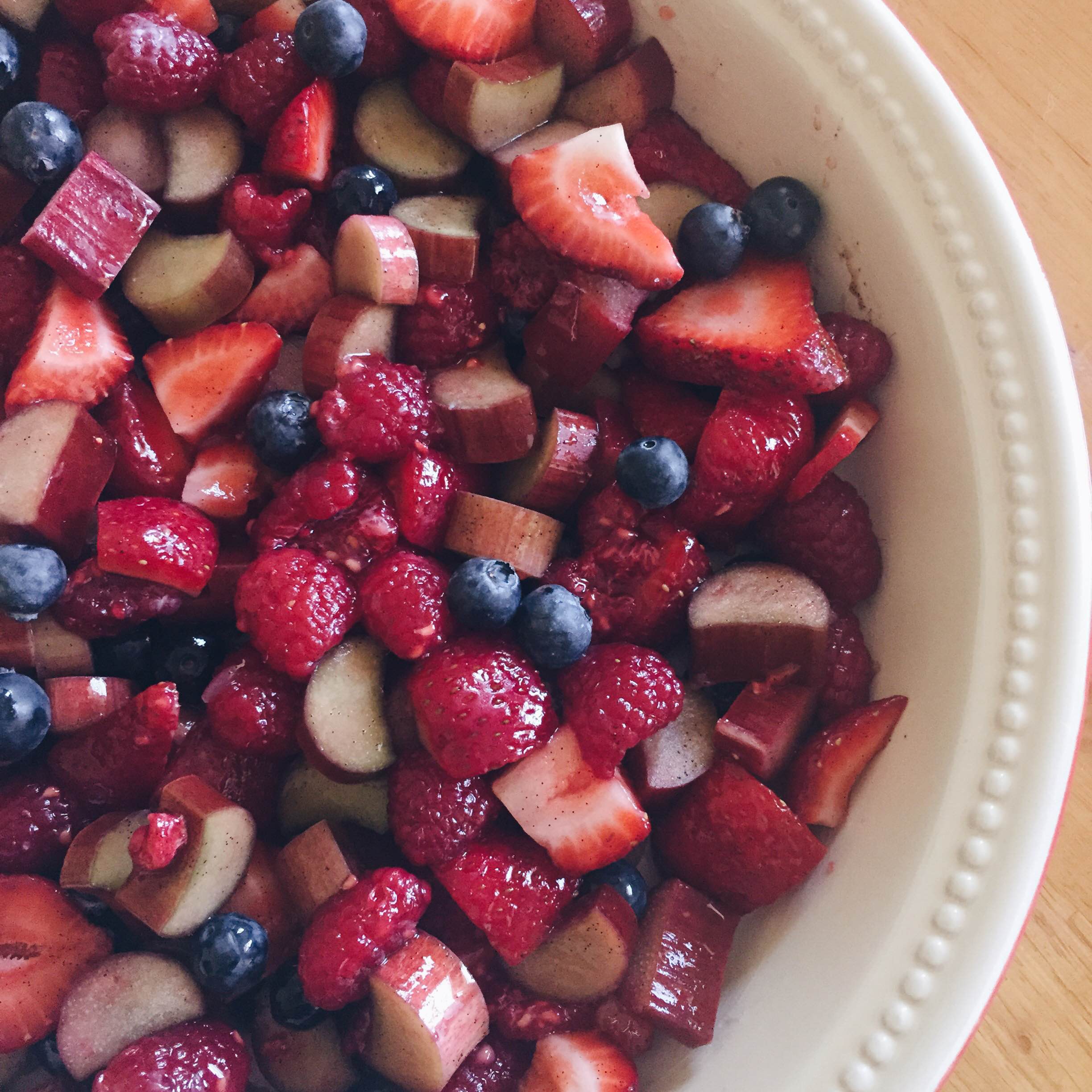 In one batch, I threw in some raspberries and blueberries for good measure. That's another great thing about this recipe – you can use whatever fruit is in season interchangeably with the strawberries. Add more or less honey based on how sweet your fruit is.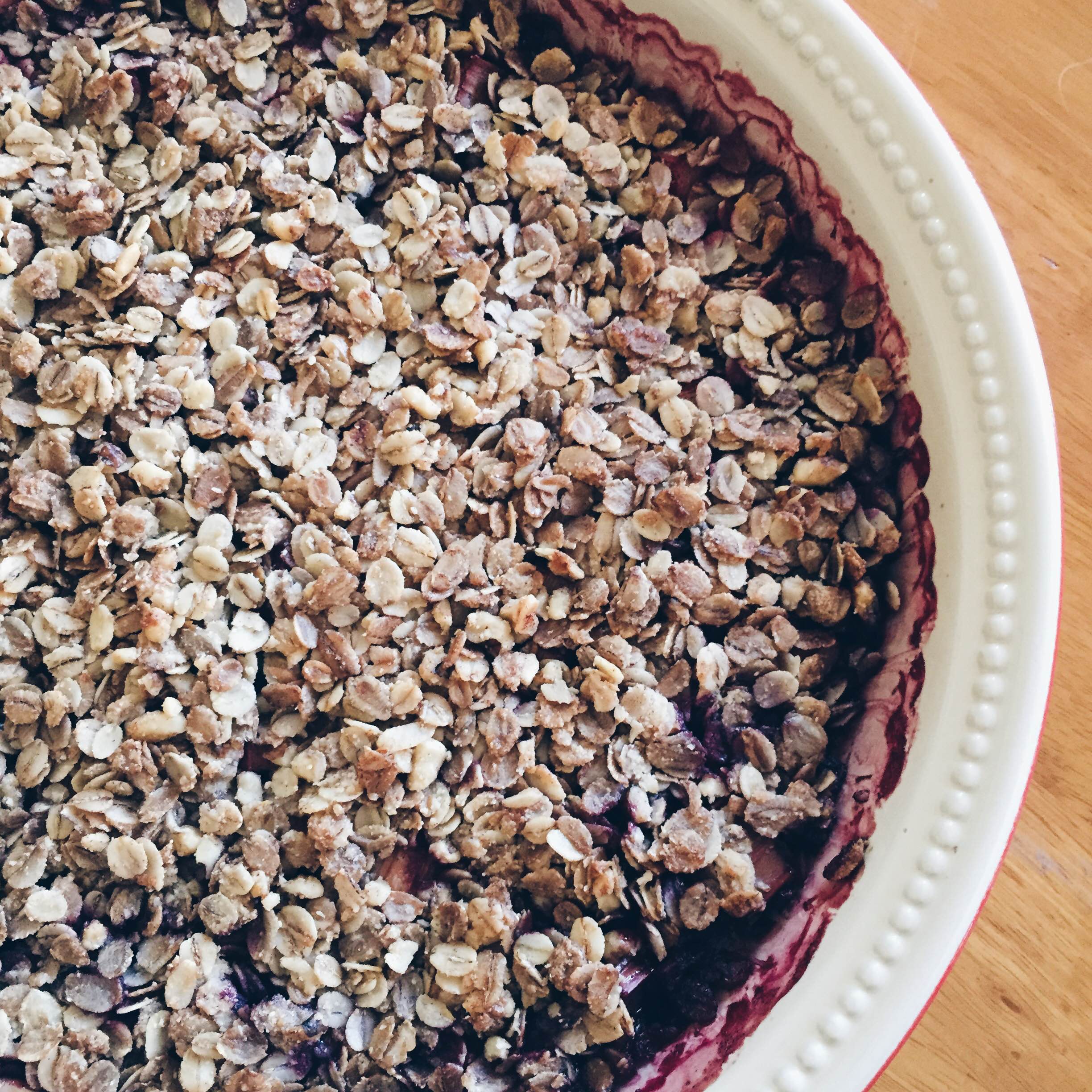 Top it with the crumble part and bake. Then eat it for dessert, as a snack, even for breakfast. Not that I would judge you with any other dessert, but this one is especially good and definitely acceptable for breakfast 😀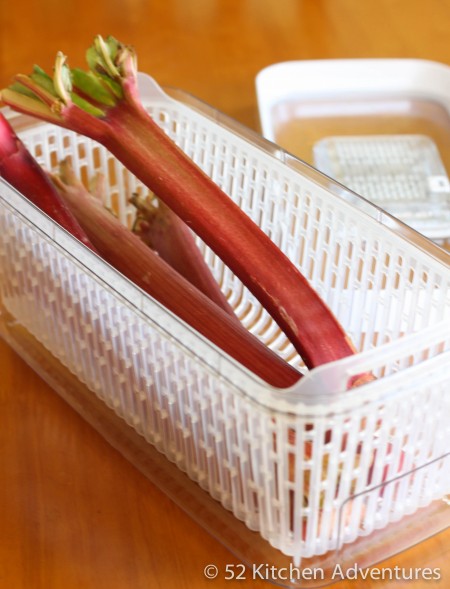 The OXO GreenSavers were great for storing the rhubarb and keeping it fresh until I had time to make the crumble. These storage bins battle the 3 causes of produce spoilage: ethylene gas, improper airflow, and humidity. They have a carbon filter to absorb the gas given off by the produce, a basket inside which helps with airflow, and a vent to control humidity. I'm testing out the GreenSaver with carrots next – they always seem to get floppy a couple of days after I pick them up at the farmer's market, but hopefully not this time!
Strawberry Rhubarb Crumble
Ingredients
2 cups rhubarb, sliced (around 3 stalks)
4 cups strawberries, sliced
Juice of half a lemon
1-2 tablespoons of honey, depending on the sweetness of the fruit
1 tablespoon vanilla bean paste (optional)
1½ cups oats
¼ cup almond flour
¼ cup walnuts, chopped
Dash of salt
½ teaspoon cinnamon (optional)
6 tablespoons coconut oil, room temperature
1½ tablespoons honey
Instructions
Preheat oven to 350°F. In a 9″ square or round pie pan, lightly coat with coconut oil to prevent sticking.
In a large bowl, combine rhubarb, strawberries, lemon, honey, and vanilla bean paste. Stir until everything is coated and then pour into prepared pan, spreading into an even layer.
In another large bowl, combine oats, almond flour, walnuts, salt, and cinnamon.
Add coconut and honey, stirring until everything is well combined. Pour over fruit mixture in pan, then spread into an even layer, covering most of the fruit.
Bake for around 30 minutes, until filling is bubbling around the edges and the top layer is slightly browned.
OXO and Melissa's Produced provided me with a GreenSaver and the rhubarb to try out. As always, all opinions are my own.