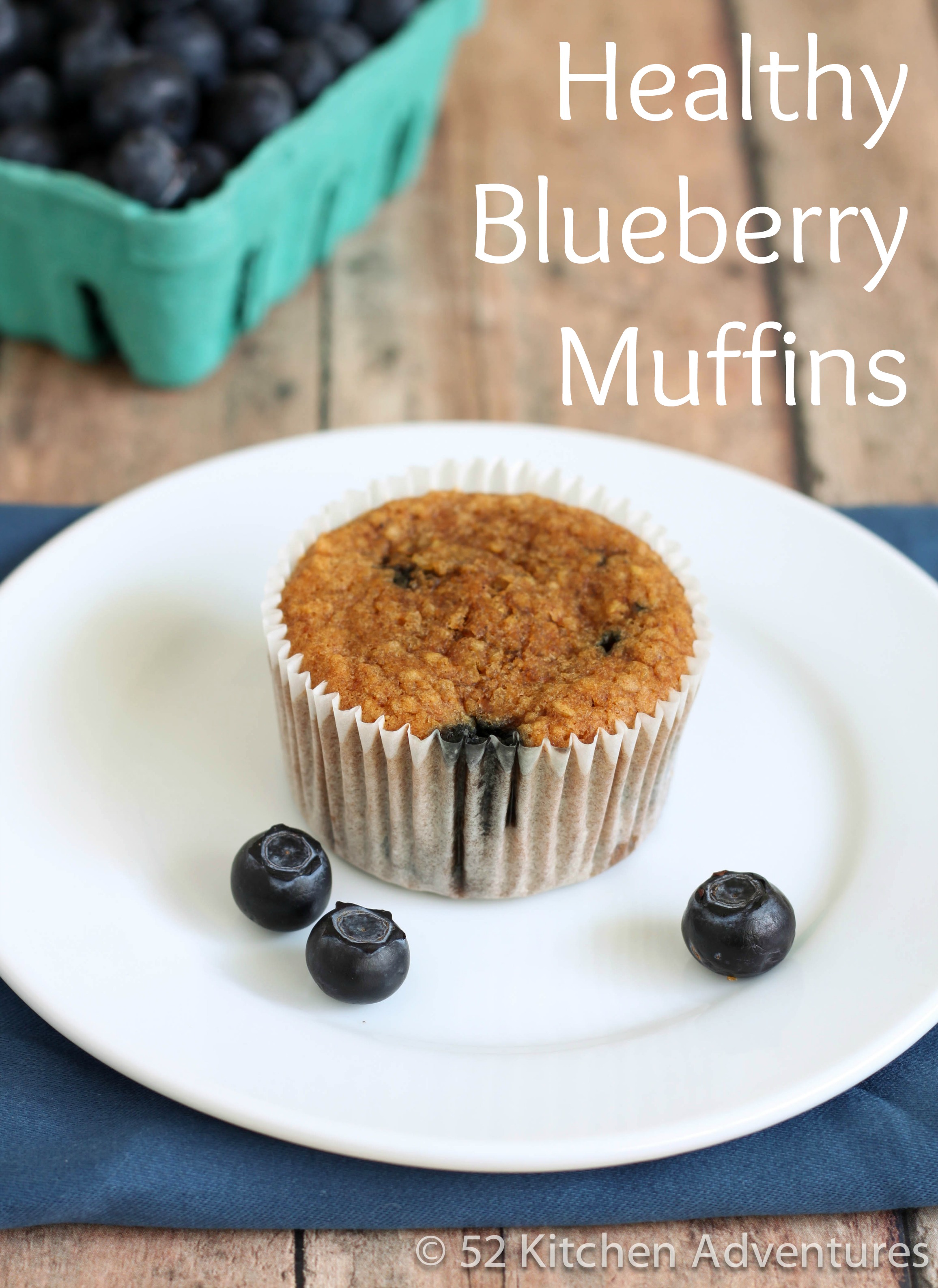 I tried to come up with a catchy name for these muffins. "Oatmeal," "healthy," and "whole wheat" don't really sound that appealing, even though they're accurate descriptors.
When I hear "oatmeal muffin," I think of a somewhat dry muffin with a chewy texture and small chunks of oatmeal. For these blueberry muffins, you give oats a quick spin through the food processor and then soak them in milk before adding them to the batter. That makes the muffins really moist and disguises the oatmeal completely. I used white whole wheat flour (for the added nutrition without compromising taste) and doubled the amount of blueberries in the original recipe, which made for an incredibly moist and soft muffin.
The muffins were so full of blueberries that they almost fell apart when pulling them apart, so I'd probably reduce the amount a bit next time. But if you love blueberries, go for it! The beauty of these is that they're pretty healthy (not too much sugar, filled with healthy whole grains, fiber, blueberries, etc.) and still taste great.
That was a long explanation when I all needed to really say is: I made these for my boss, who ate more than half the batch in one sitting. That's a pretty good endorsement if I ever heard one!
Regular readers, you may have noticed this already, but I just realized I've been in a fruit rut. I've made blueberry butter, blueberry pomegranate popsicles, and blueberry lemon ginger cupcakes. Blueberries are my favorite fruit, but I feel like I'm missing out on summer's bounty. What fruit (or veggie) should I bake with next?
Recipe:
Whole Grain Blueberry Muffins
Adapted from Skinny Taste
Yields: 17 muffins
1 1/2 cups quick oatmeal
1 cup milk
1/2 cup brown sugar, packed
2 tbsp honey or agave
1/2 cup unsweetened applesauce
2 egg whites
1 tbsp oil
1 tsp vanilla extract
1/2 cup white whole wheat flour
1 tsp baking powder
1/2 tsp baking soda
1/2 tsp cinnamon
1/2 tsp salt
2 cups fresh blueberries*
1. Preheat oven to 400°F. Line a muffin tin with paper liners.
2. Pulse oats in a food processor a few times. Pour into a small bowl and add milk. Let soak for about 30 minutes.
3. Combine brown sugar, honey or agave, applesauce, vanilla, egg whites and oil in a medium bowl. Stir until well combined.
4. Add the milk-soaked oats to the sugar and applesauce mixture.
5. In a separate medium bowl, whisk together the flour, salt, baking powder, baking soda, cinnamon, and salt.
6. Slowly add dry ingredients to wet ingredients and stir until just combined. Carefully stir in blueberries.
7. Pour batter into prepared muffin tin cups until 3/4 full. Bake for 15-17 minutes, until a tester comes out clean.
*This is a lot of blueberries – it makes the muffins very moist but you can add as little as 1 cup and they're still good. It all depends on your fruit:muffin preference.