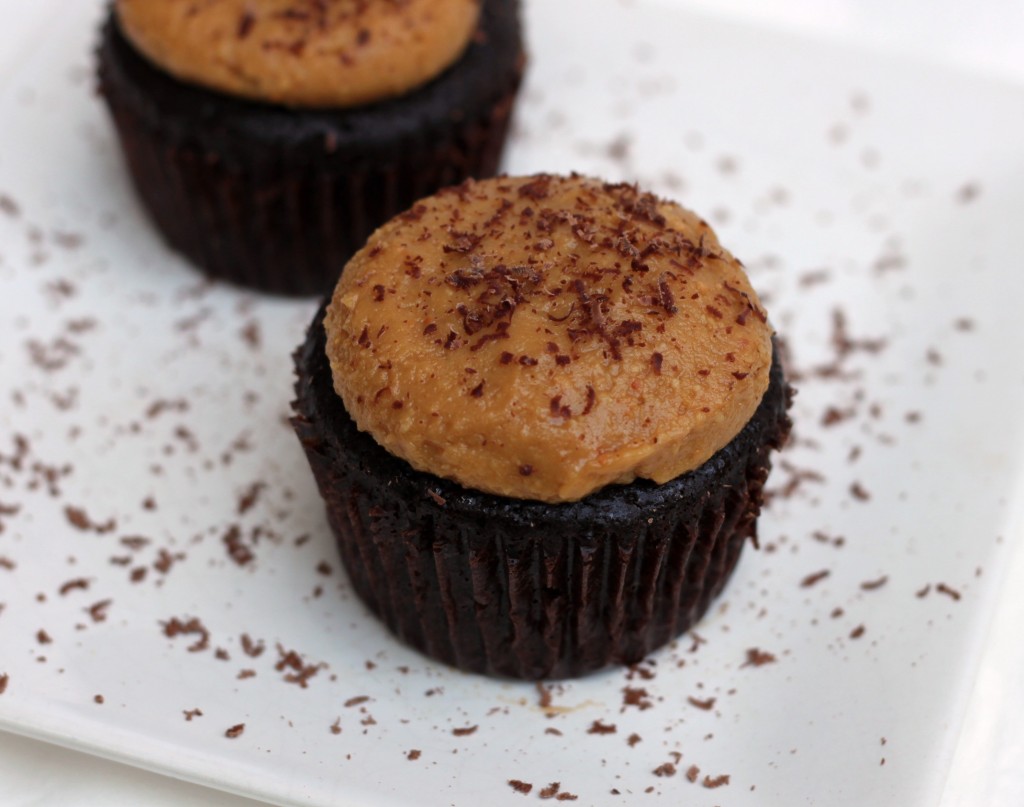 Since finishing the weekly unusual Kitchen Adventures, I felt the need to add some structure to blogging so I wouldn't fizzle out. I'm happy to announce that in addition to Slow Cooker Mondays, every month I will be posting a special cupcake of the month.
This month was a tad restricted by my abstaining from refined sugars, but you may remember the chocolate chickpea cake I shared recently. It was so good that I had to make it again, and this time I baked it in a cupcake tin and omitted the nuts. The result? Moist chocolate cupcakes that are actually pretty good for you. They were too plain and healthy to be called a cupcake, so I followed Andrea's suggestion from the cake post and made some rich peanut butter frosting. That really put them over the top as a delicious dessert – definitely the best dessert I had all month. Plus, I still think these are pretty healthy, especially compared to typical cupcakes (there's no refined sugar or butter in the cupcake or frosting).
Requests and suggestions are always great! What's your favorite cupcake flavor?
Recipe:
Chocolate Chickpea Cupcakes
Makes 15 cupcakes

1 15-oz. can chickpeas, drained
2/3 C orange juice
4 eggs
2/3 C honey or agave nectar
2/3 C cocoa
1/2 t of baking powder
1/4 t of baking soda
1 t vanilla extract
Preheat oven to 350°F. Line a cupcake tin with liners.
Blend chickpeas and orange juice in food processor until smooth. Add in eggs, 1 at a time, blending in between. Combine remaining ingredients in large bowl. Mix in chickpea mixture. Fill each cupcake liner around 3/4 full and bake 15-18 minutes, until toothpick inserted in middle comes out clean.
Peanut Butter Frosting
1 C all-natural peanut butter
1/2 C AP flour
1/2 C honey
Place peanut butter and flour in a large bowl. Bring honey to boil in a small saucepan. Pour honey over peanut butter and flour and mix until thoroughly combined. If frosting is too thick, you can add milk until it reaches the desired consistency.
Note: this frosting is thick and rich – have a glass of milk nearby, you'll need it!
More recipes you'll love: