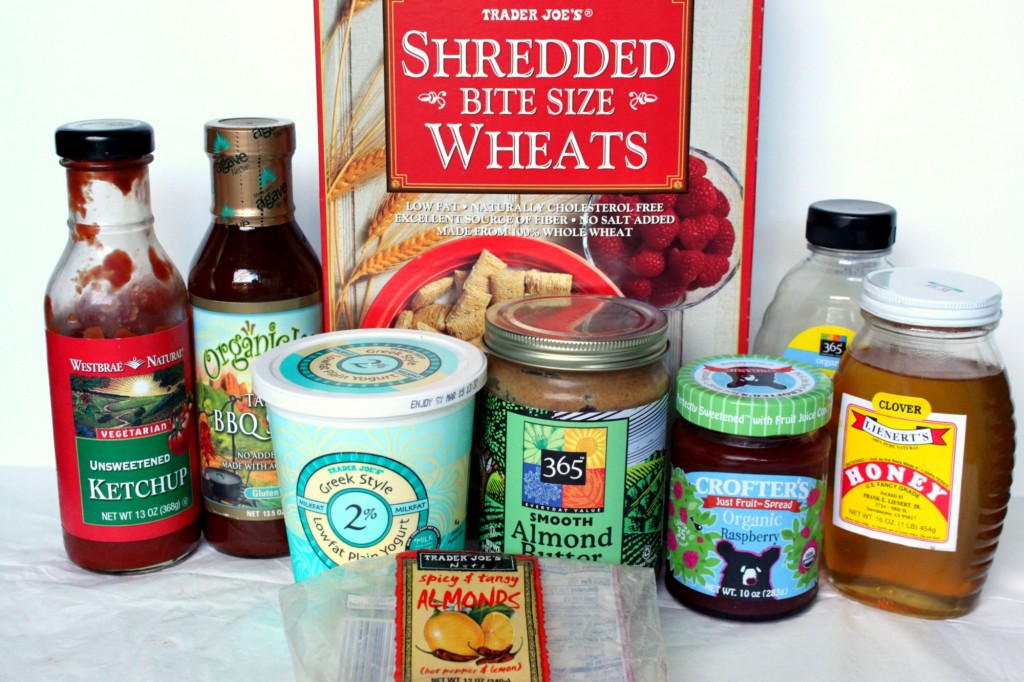 Foods with no added sugar – not sure what I would have done without them!
For the month of January, I didn't eat refined sugar. It wasn't easy at first, but once I located foods that didn't contain refined sugar (it was sadly difficult to do so), it wasn't too bad. The hardest part was satisfying chocolate cravings (done, done and done) and refusing dessert when others were eating it. (Honestly, I did end up cheating: the 2nd to last day of the month I went out to a nice dinner with good friends and everyone ordered dessert. It seemed silly to not taste them – while it was argued that I shouldn't give up so close to the end, I did it for 30 days and I didn't want to miss out on goat cheese cheesecake when I felt like I'd reached the goals I wanted.)
Here's what I learned:
Sugar is in everything, from mayo to peanut butter, cereal to potato chips.
In fact, I think almost all condiments have sugar – the only ones I was able to use were an unsweetened ketchup (not quite like the real thing, but ok) and Dijon mustard.
I found one cereal without sugar or other sweeteners (only one!) – a shredded wheat cereal at Trader Joe's (ingredients: wheat & vitamin E). Wish I'd discovered slow cooker steel-cut oatmeal earlier.
Frozen raspberries and blueberries make a great snack/dessert.
Almonds are a filling snack (and spicy almonds are interesting enough that I don't get bored of them).
Greek yogurt is a decadent sugar-free snack (can you tell I needed to replace my snacking choices?).
Dates are pretty delicious (already knew that).
Chickpeas + chocolate = a surprisingly great dessert!
Black coffee tastes good! (I never thought this before. Not even close. Change taste buds? Done!).
You can live without refined sugar, but it ain't easy. Considering that it's in things like mayo, I probably accidentally ate some when I ate out a couple times over the month. To completely avoid it at all costs would be tricky.
So, did I reach my goals? According to my first post of the new year, I set out to: "1) see if I can do it; 2) improve my diet; 3) hopefully change my taste buds so I don't sweeten things like tea and coffee so much and can appreciate things like wine more."
1) Yes! (Minus 2 days, but as my friend said, if I'd chosen February I would have done it!)
2) Yes, I think so. And I've tried to mostly keep it up and eat sugar very much in moderation since the end. (Big exception: chocolate covered marshmallows. But they were worth it!)
3) Yes!!! Definitely. Now drinking coffee and tea without any sweeteners whatsoever (huge change) and appreciating wine a bit more. Still not my favorite, but I will get there. Slowly bringing my palate into adulthood, one step at a time…
Apparently you're supposed to take up a new habit for 60 days to make it stick. That would be quite a challenge for this! I'm happy with my results. I wasn't trying to radically change my diet, but to do a little experiment to make it a little healthier. I'm really glad that I was able to change my taste buds. No more gross fake sugar in my coffee!
Have you kept up with your New Year's resolutions?