I have to admit that this week's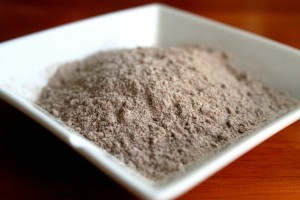 unusual ingredient caught my eye because it could have been named after me. Working with small children and having a long name has caused me to accumulate a myriad of nicknames from little ones who can't quite get out all 3 syllables of Stephanie. "Teff" was one of the first things I was called when I told a toddler my name was Steph. Digression aside, I've always been curious about the large selection of flours at my local food co-op. Forget all-purpose – there are many more nutritious alternatives. But what the heck is teff?
Teff is an ancient grain, believed to have originated in Ethiopia between 4000-1000 BC. If you've ever eaten Ethiopian food, you've probably had teff – injera, a flat bread that is common in Ethiopian food, is traditionally made with teff. Teff is gluten-free and because the grains are very small, the bulk of it consists of the bran and germ, making it nutrient dense. It is high in fiber, protein, carbohydrates, iron, calcium and several other minerals. According to Bob's Red Mill, you can substitute teff "for about a fourth of the all-purpose flour called for in your favorite baked goods recipe to add an appealing taste and added nutrition."
This week is a 2-for-1: gluten-free banana bread and pancakes! I had 4 extremely ripe bananas I needed to use but I couldn't resist trying a new pancake recipe (I love breakfast foods, especially for dinner).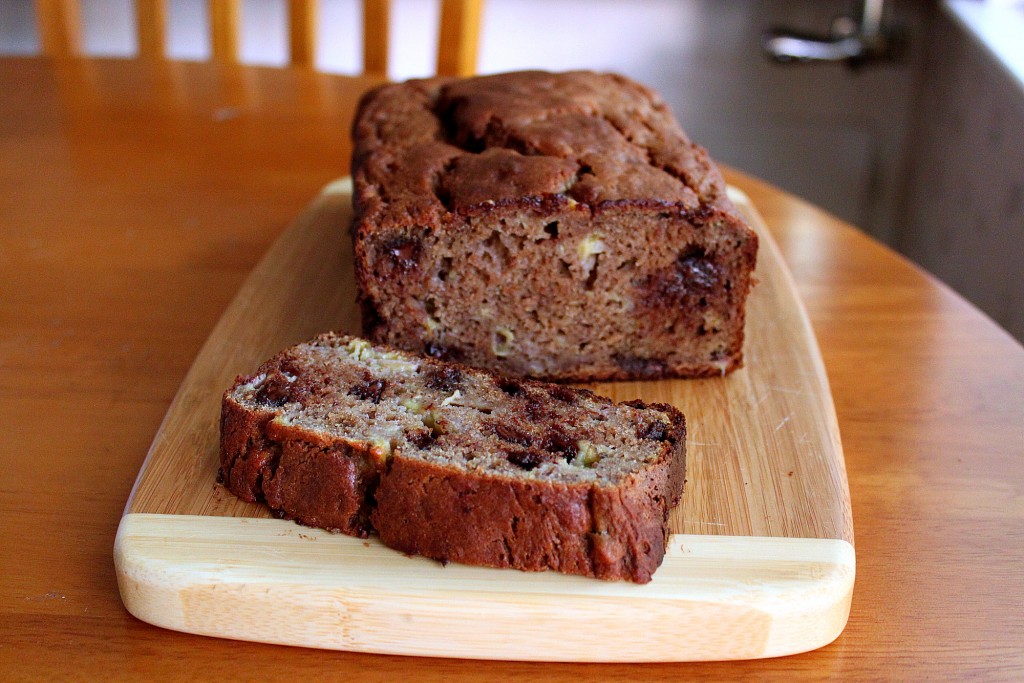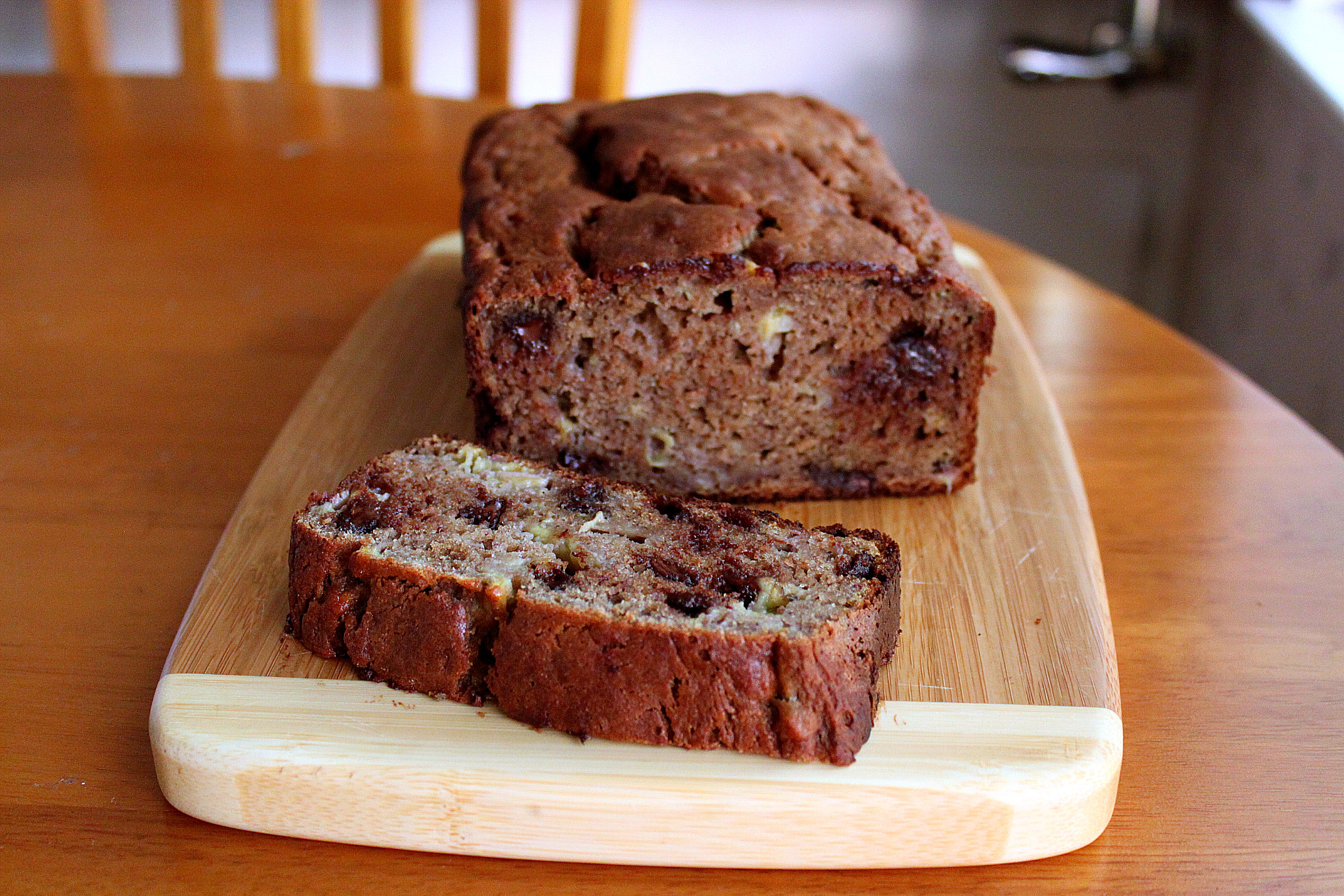 Despite being both gluten-free and dairy-free, this banana bread is moist and delicious. I only mashed the bananas lightly, so there are some small, extra moist pieces in the bread, and the added chocolate chips make the bread even better.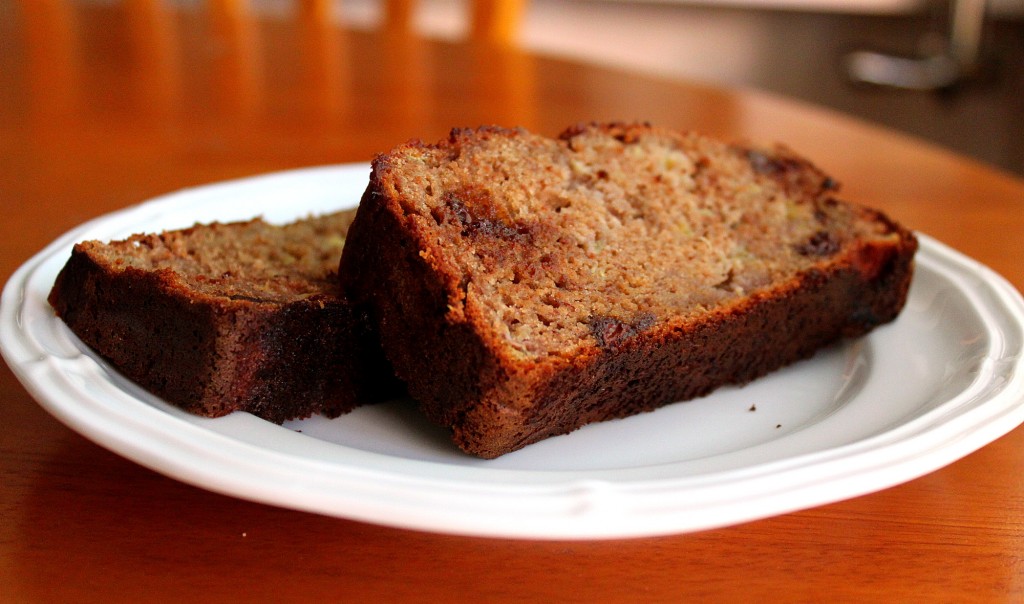 The teff pancakes are not like your typical fluffy pancake made with all purpose flour. I added chocolate chips to mine (I was out of my usual favorite pancake ingredient, blueberries) and they ended up looking a lot like giant chocolate chip cookies. They can become slightly dry, especially around the edges, and taste a bit "healthy" (nutty and somewhat like whole wheat flour) but the chocolate chips add a nice sweetness and decadence to them. If I had to omit gluten from my diet, these would be added into my brunch and brinner (breakfast for dinner) repertoire.
Gluten- & Dairy-free Banana Bread
1 C teff flour
1 C gluten-free flour blend (if you don't need gluten free, you can use AP flour or 1/2 AP and 1/2 whole wheat flours instead)
1 1/2 t baking powder
1/2 t baking soda
1/4 t salt
1/2 t ground cinnamon
1/4 t ground nutmeg
2 eggs, lightly beaten
4 ripe bananas, mashed
1 C sugar
1/4 C vegetable oil
1/4 C applesauce
1 t vanilla extract
1/2 C nuts, raisins or chocolate chips (optional)
Preheat oven to 350°F and grease a bread pan or line with parchment paper.
In a large bowl, combine dry ingredients and make a well in the center. Add eggs, banana, sugar, and oil to the center and combine them before folding into the rest of the dry ingredients. Fold in nuts, raisins or chocolate chips if using. Pour batter into prepared pan.
Bake for 50-60 minutes or until a toothpick inserted in the middle of the loaf comes out clean. Allow bread to cool for a few minutes before removing from pan. Place on a wire rack until completely cooled.
Gluten-free Pancakes
Adapted from Bob's Red Mill
Makes 12 pancakes
2 C teff flour
4 t baking powder
1/2 t sea salt
2 C water
2 T vegetable oil
1/4 C berries or chocolate chips (optional)
Heat a griddle or large saucepan over medium-high heat.
Combine teff flour, baking powder and salt in a large bowl. Whisk in water and vegetable oil. Once everything is combined, fold in berries or chocolate chips if using.
Ladle around 1/4 C of batter for each pancake onto preheated pan, a couple of inches apart. Cook until the edges seem dry, then flip over and cook until done.
The batter may thicken as it stands – add a tablespoon or 2 of water if needed.
More recipes you'll love: