Congrats to Liz for winning the cupcake decorating kit recipe giveaway!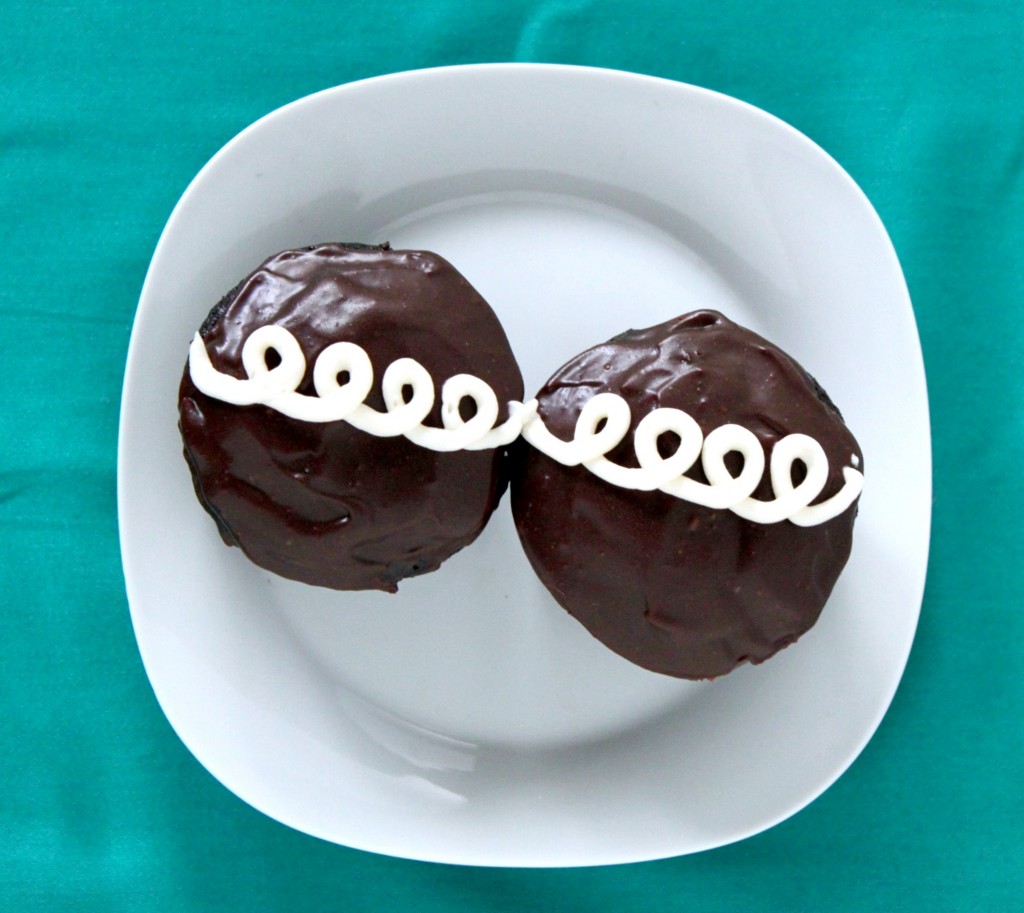 A few weeks ago I offered to make cupcakes for a staff lunch. I was met with a challenge: make an adult version of Hostess cupcakes. I didn't have much time, so I made s'mores cupcakes then but kept the challenge in the back of my mind. At the end of spring break I tackled it, with a few bumps along the way. The results were worth the trial and error: a rich chocolate cupcake with a fluffy white filling, topped with a layer of decadent chocolate ganache and the classic white curlicues. I was told that the ganache in particular was a perfect replica, and all in all the cupcakes were met with rave reviews. In fact, the woman who originally requested them (someone who is in love with the store bought Hostess cupcake) was so happy that it made her day. Which, in turn, made my day!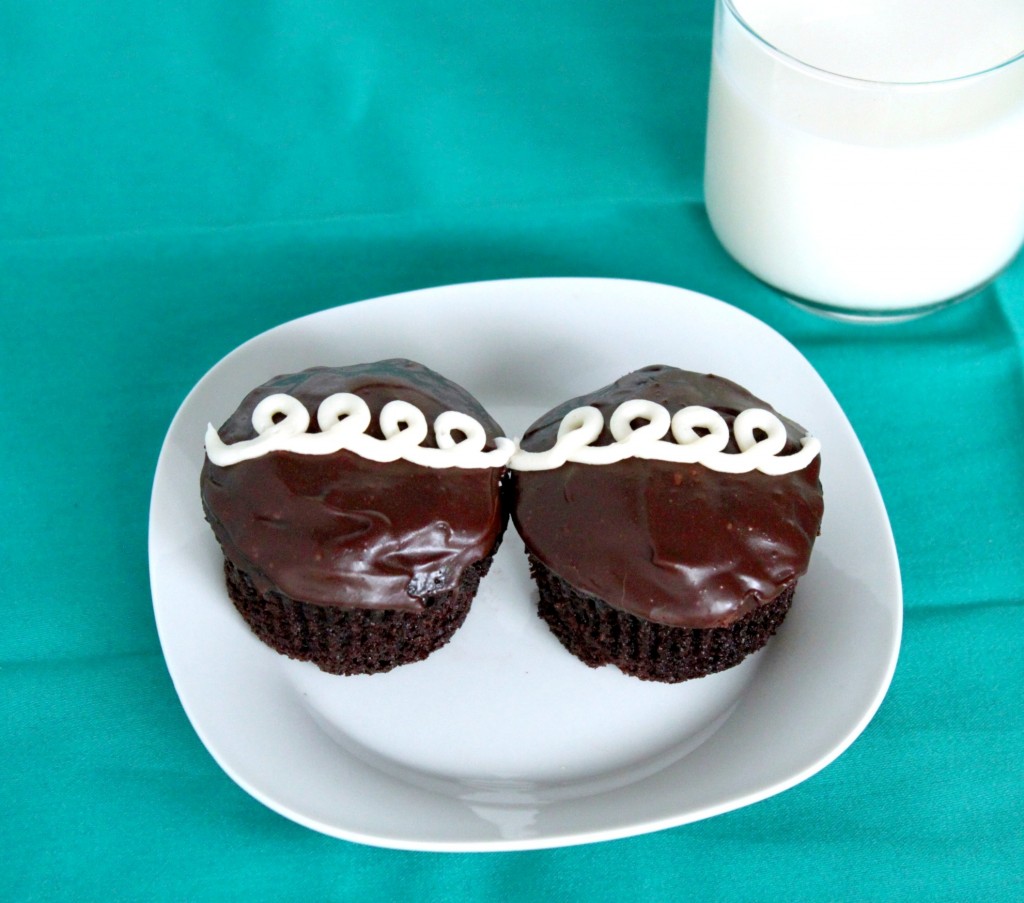 The recipes I found online all called for a filling that was basically a buttercream with some store bought marshmallow creme (AKA marshmallow fluff) mixed in. Initially, I wanted to make it all the way from scratch, but with already having to make 4 recipes for 1 cupcake, I decided to just go with it and buy marshamllow creme. The marshmallow creme alone was fine – it was close to the texture of the original Hostess filling, but a little too fluffy. However, mixing it together with buttercream was pretty awful; I ended up with a sickeningly sweet and thick buttercream filling. That's not even close to a Hostess cupcake filling!
I ran back to the store and bought another jar of marshmallow creme. I tried adding more to the buttercream mixture, but it was just too heavy from the butter and too sweet from the powdered sugar. Instead, I ended up taking a lot of marshmallow creme and mixing in just a little buttercream. Because I figured it out on the fly, I can't promise that the filling reicpe is perfect, but I will try it again soon and edit it if needed. If you try it, please let me know what you think!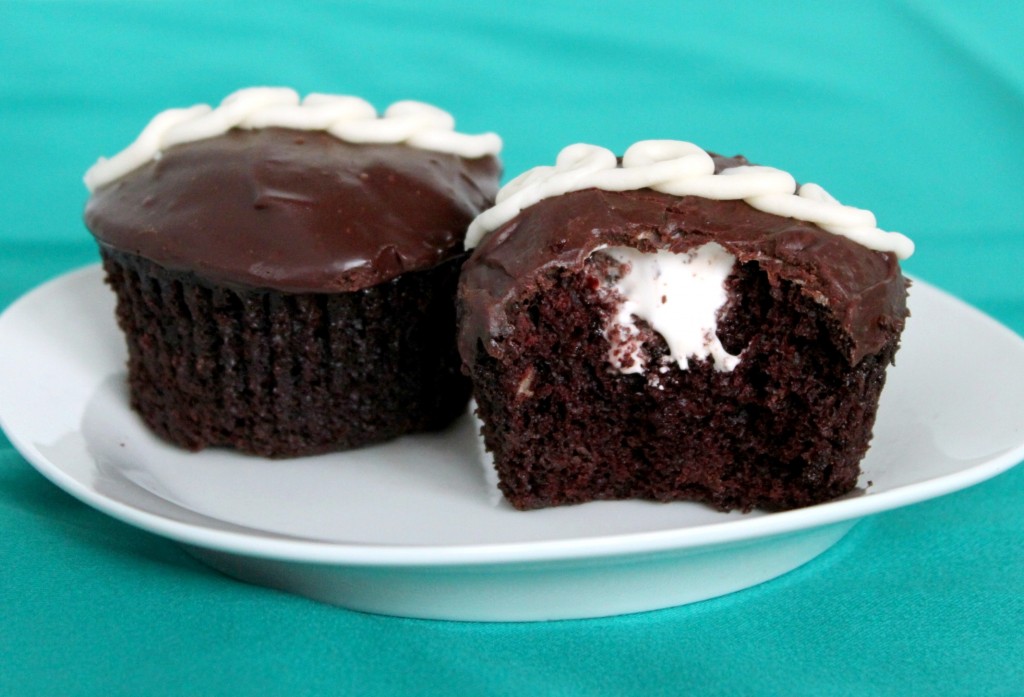 I also found that cutting out a hole in the middle of the cupcake with a paring knife (like I did with the limoncello and meyer lemon cupcakes – I used those pictures here because I didn't take step by step pictures with the homemade Hostess cupcakes) and spooning some filling inside was a much better method than using a piping bag to fill them. Plus, you won't have to dirty a piping back and tip. Additionally, I added a little sugar to the ganache, although instead you could use a slightly sweeter chocolate.
Recipe:
Homemade Hostess Cupcakes
Adapted from Food Network Magazine
Makes around 20 cupcakes
For the cupcakes:
1 1/4 C sugar
4 oz unsweetened chocolate, roughly chopped
1 stick unsalted butter, sliced
2 t vanilla extract
2 large eggs
1 1/4 C unbleached all-purpose flour
2 t baking soda
2 t baking powder
1/4 t salt
For the filling:
2 T unsalted butter, at room temperature
1/2 C powdered sugar
1 t pure vanilla exrtact
1-2 T heavy cream
2 C marshmallow creme
For the ganache:
6 oz bittersweet chocolate, chopped
1/2 C heavy cream
1 T unsalted butter
1 oz sugar
2 t vanilla extract
For the icing:
1/2 stick unsalted butter
1-2 T milk
1 C powdered sugar
1/8 t vanilla
To make the cupcakes:
Preheat oven to  350° F. Line muffin tin with paper liners. In a small saucepan, bring sugar and 1 cup of water to a boil, stirring until sugar dissolves. Pour into a large bow and add chocolate and butter. Let sit, stirring occasionally, until chocolate is melted and the mixture has cooled a bit. Using an electric mixer, beat in the vanilla and eggs.
In a medium bowl, sift together the flour, baking soda, baking powder and salt. Add to chocolate mixture and mix to combine.
Place 1/4 cup of batter in each cupcake liner. Bake 20-25 minutes, until a toothpick inserted in the center comes out clean.
To make the filling:
Cream butter with a mixer until light and fluffy. Beat in powdered sugar, then add vanilla and 1 tablespoon of heavy cream. Beat until smooth. Mix in the marshmallow creme. Add more cream, powdered sugar or marshmallow creme until you reach your desired consistency and flavor. Set aside (or refrigerate if you are making this ahead).
To make the ganache:
Place the chocolate in a glass or stainless steel bowl. In a small saucepan, heat the cream and butter until just boiling, then pour over the chocolate. Let stand for 5 minutes, then whisk until smooth. Add vanilla and let stand until cool but still glossy and liquid.
To assemble:
Using a small paring knife, a large pastry tip or a small melon baller, cut out a small hole in the middle of the cupcake. Spoon some filling inside. If desired, place some cake back on top (I tried with and without adding a little cake to seal the hole, and it was fine both ways.) Spoon a little ganache on top and spread with a knife or offset spatula. Chill in refrigerator for 15 mintues or until ganache is set.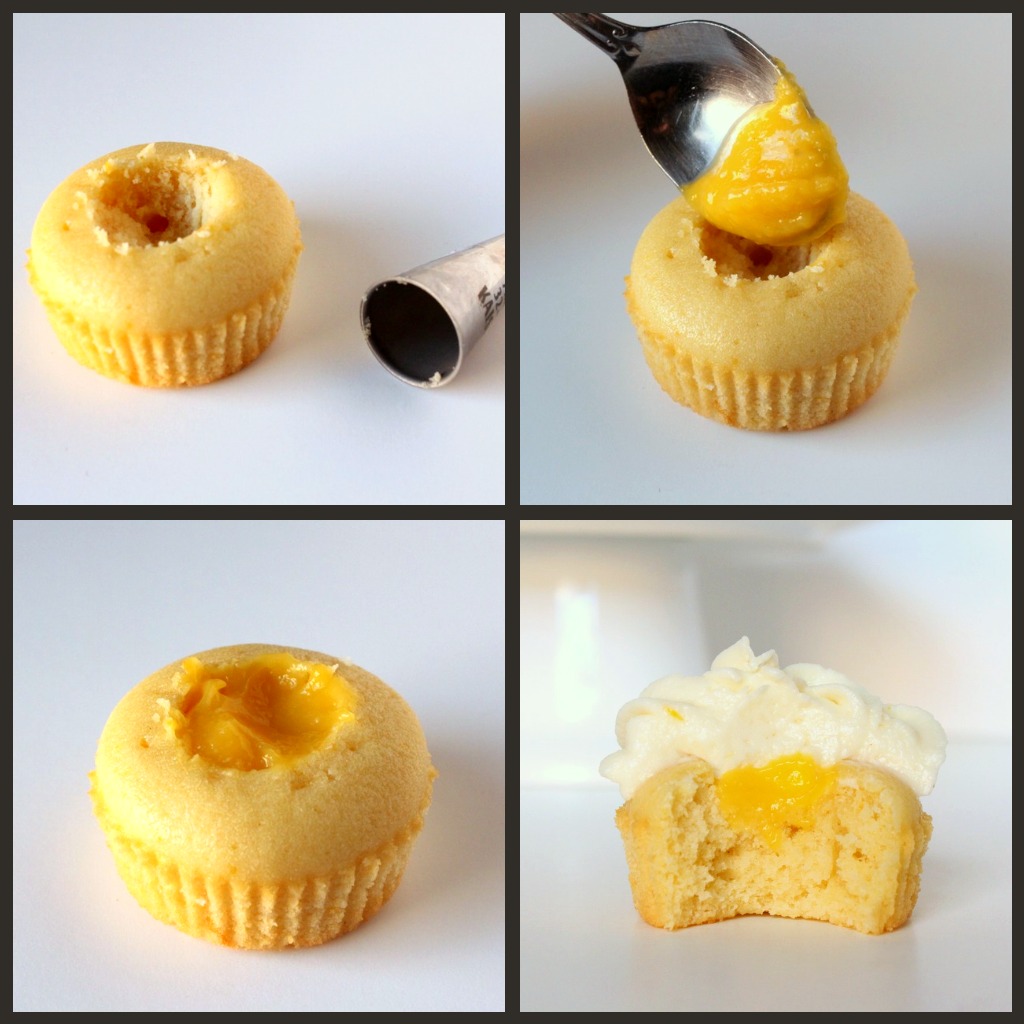 In the meantime, prepare the icing:
Beat the butter for a minute. Add vanilla, milk and powdered sugar and beat utnil smooth. Add more milk if needed. Place in a pastry bag with a small round tip and pipe onto cupcakes.
Store finished cupcakes in the refrigerator.