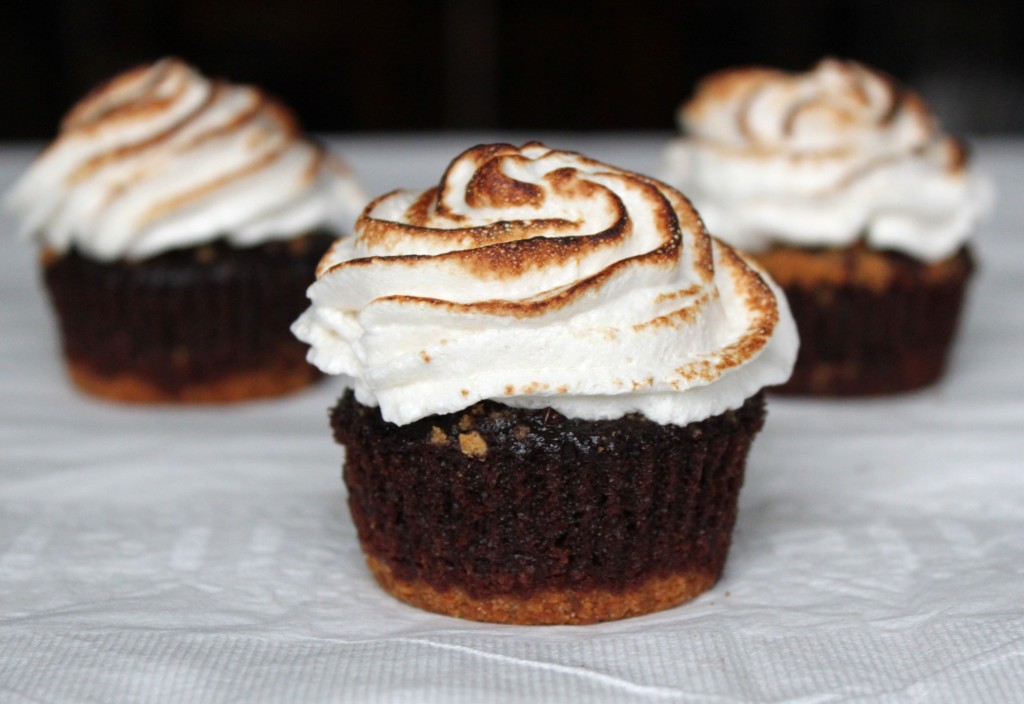 I just realized that I sort of have a thing for s'mores. What's not to love? Chocolate + marshamallow heated up till it's gooey and melty, on top of a crunchy cracker…yum. In the past, I've made a s'mores pie (with a Guiness-chocolate filling, which makes it very appropriate for today – Happy St. Patrick's Day!), gourmet s'mores and homemade graham crackers for s'mores kits.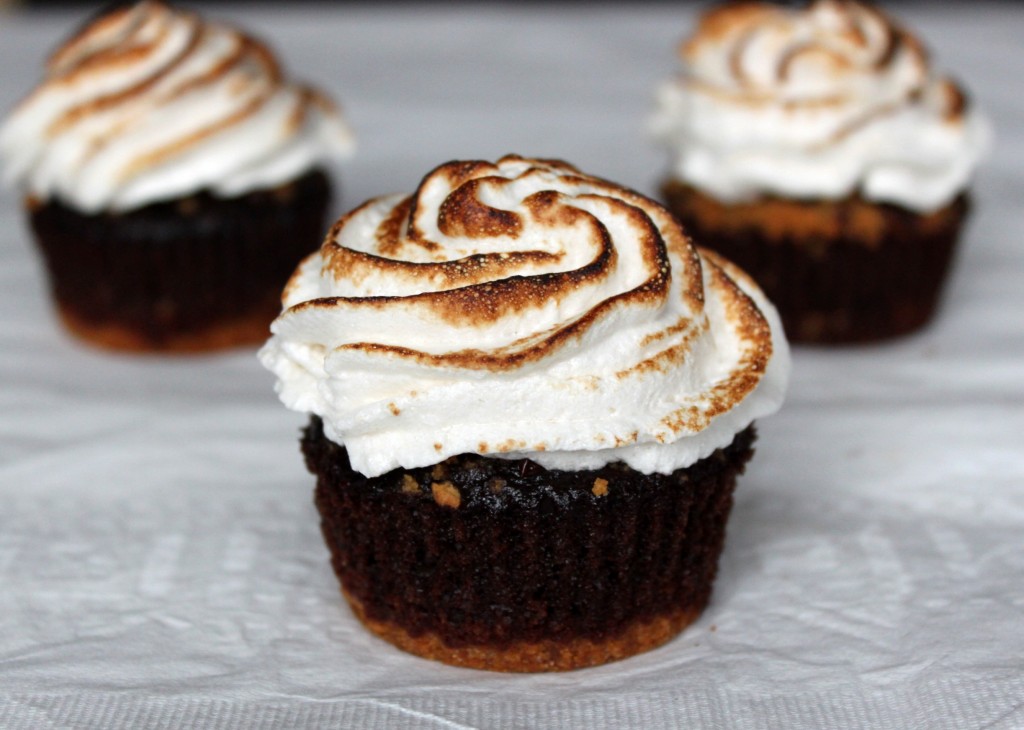 Today, I bring you a combination of 2 awesome desserts: s'mores + cupcakes. They have a mini graham cracker crust, toped with small chunks of bittersweet chocolate, chocolate cupcake sprinkled with more graham cracker crumbs and chocolate chunks, and are finally finished with a marshmallow frosting. Toast the frosting with a mini torch or under the broiler and it gets a perfect toasted marshmallow taste and texture.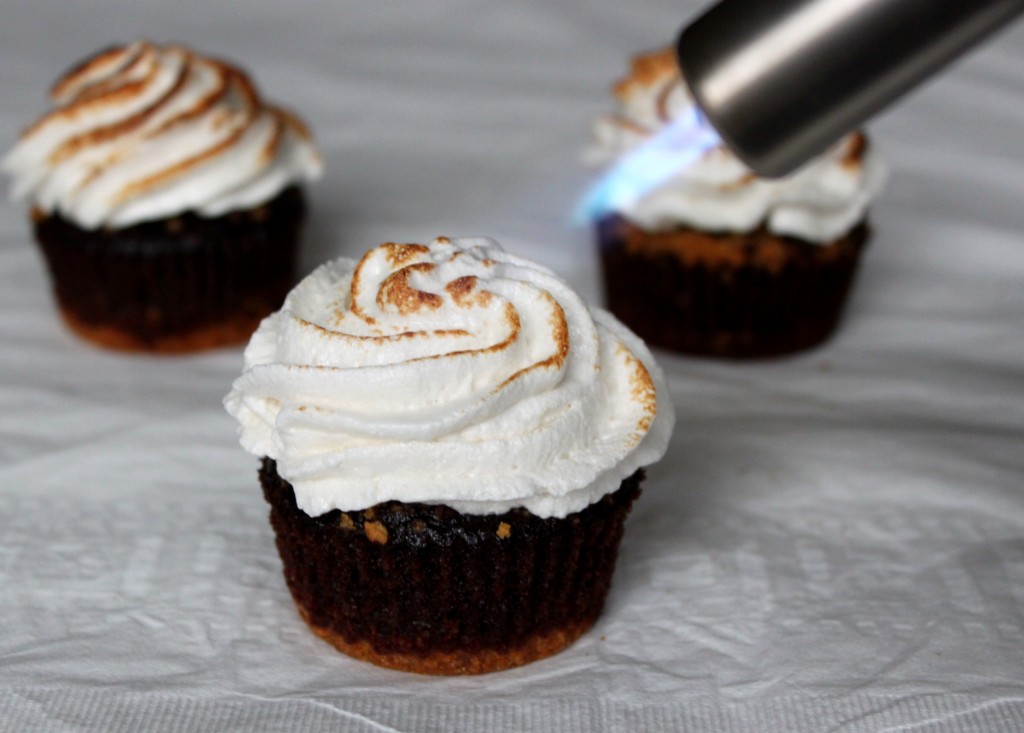 I brought these in for a staff lunch and let everyone take a turn with the mini torch. It was lots of fun – I recommend buying a torch if you don't already have one!
What's your favorite kitchen tool?
Recipe:
S'mores Cupcakes
Adapted from  Martha Stewart
Makes 14 cupcakes

For the graham cracker crust:
1 C graham cracker crumbs
1/8 C sugar
4 T unsalted butter, melted
Pinch of salt
4 oz. bittersweet chocolate, finely chopped
For the chocolate cupcakes:
1 C + 1 T sugar
14 T unbleached all-purpose flour*
7  T unsweetened cocoa powder*
3/4 t baking powder
3/4 t baking soda
1/2 t salt
1 large egg
1/2 C milk (the original recipe called for whole but I used 2%)
1/4 C vegetable oil
1 t vanilla extract
1/2 C boiling water
For the frosting:
Adapted from Food & Wine
3/4 C sugar
1/3 C water
3 large egg whites, at room temperature
1/4 t cream of tartar
1 t vanilla extract
Preheat the oven to 350° F.  Line cupcake pan(s) with foil liners and move rack to center of oven.
To make the crust: In a small bowl, mix together graham cracker crumbs, sugar, melted butter and salt with a fork. Drop about 1 tablespoon + 1 teaspoon of the mixture into each cupcake liner and press down firmly. Reserve remaining mixture for topping cupcakes. Sprinkle 2 teaspoons of chopped chocolate on top of each crust and bake for about 5 minutes (until edges of crust are golden). Remove from oven but leave on at 350° F.
To make the cupcakes: Sift together sugar, flour, cocoa powder, baking powder, baking soda and salt. Stir lightly with a fork to combine. In a mixing bowl, combine egg, milk, vegetable oil and vanilla extract. Combine dry and wet ingredients and mix on low speed for a minute, then medium speed for 1-2 more minutes, scraping the sides of the bowl in between if needed. Add boiling water and mix just until combined. (Note: The batter will be very thin at this point.)
Pour 1/4 cup of batter on top of each crust (mine were a little over 3/4 full). Sprinkle each with remaining graham cracker mixture and chopped chocolate.  Bake for 15-18 minutes, or until tops are firm and toothpick inserted in the centers comes out clean. Let cool completely.
To make the frosting:
In a small saucepan, combine the sugar and water over high heat. Once it starts boiling, place the egg whites in a mixer bowl with a whisk attachment and begin mixing at medium-high speed. Once they become foamy, add the cream of tartar. Continue to beat at medium speed until stiff peaks form.
Once the sugar mixture reaches 242°F, remove from heat and slowly pour into the egg whites with the mixer on low speed. Increase speed to high and beat for 5 minutes, scraping the sides of the bowl as needed. Add vanilla extract and mix to combine.
*These are measured in tablespoons because I halved the original recipe and it was the easiest way to reduce the measurements (half of 1 3/4 and 3/4 cup)
More recipes you'll love: