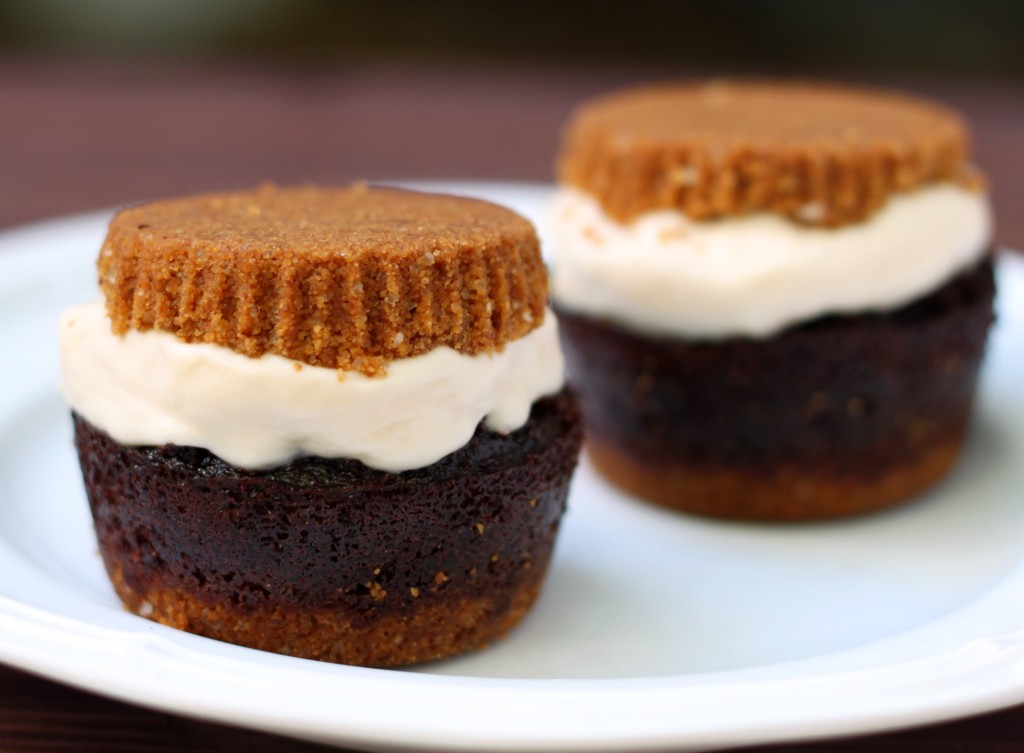 S'mores + cupcake + ice cream sandwich = the perfect summer dessert!
When I made marshmallow ice cream, I polled you and my Facebook fans to decide whether I should put it into a s'mores cupcake or a homemade Hostess cupcake for the Ice Cream Cupcake Contest hosted by Cupcake Project and Scoopalicious. The overwhelming majority declared s'mores as the winner.
I didn't want to just make my original s'mores cupcake and plop some ice cream in place of frosting; how boring is that? I brainstormed for a while and realized that there's something missing with s'mores cupcakes – they're more cupcake and less s'mores, since they're don't have a second layer of graham cracker that makes the whole thing a sandwich.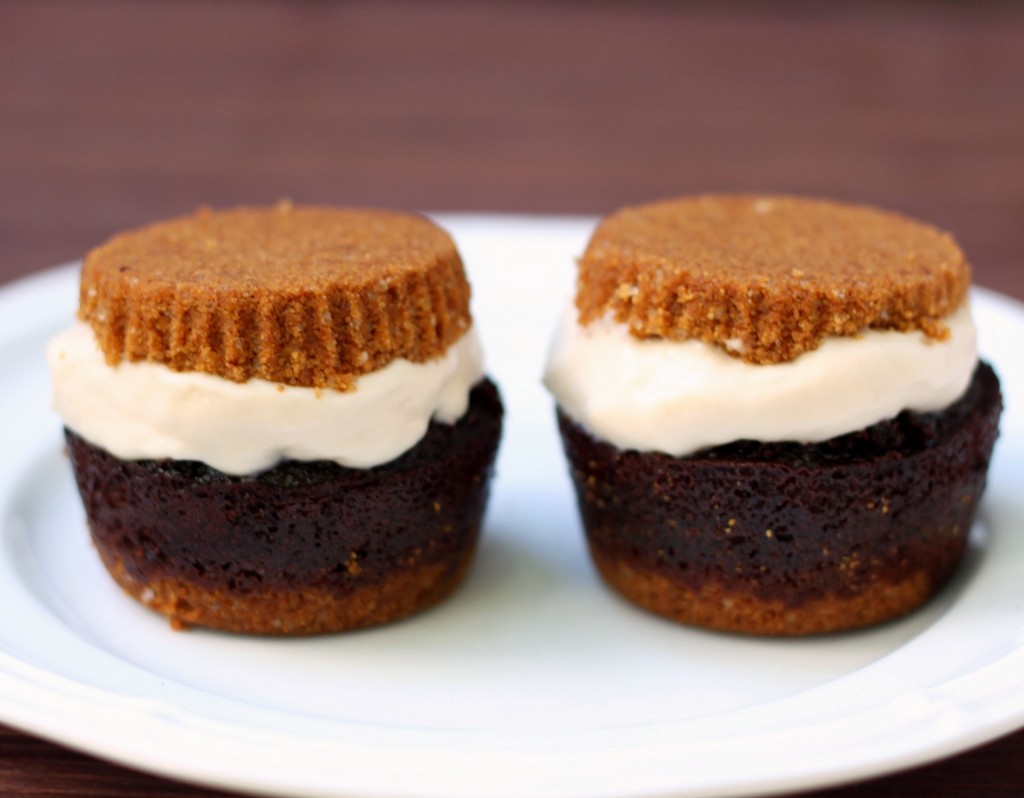 I love that when the ice cream began to melt, it looked a little like an actual melted marshmallow
I tried making a cupcake and sandwiching it between two graham crackers with ice cream, but that didn't look or feel right. Instead, I created some extra graham cracker crusts and save them to use as toppings. A quick slice of the cupcake made it a flat layer, perfect for a flattened scoop of ice cream and graham cracker crust to go on top. Plus, this way you still get a toasted flavor from the crusts, since toasting marshmallow ice cream doesn't quite work.
Keep these in the freezer until you're ready to eat them. You can also assemble as you're ready to eat them, but I recommend making them ahead of time and freezing. That way it's like eating a really fancy ice cream sandwich!
What's your favorite frozen treat in the summer?
Recipe:
S'mores Cupcake Ice Cream Sandwiches

Makes around 1 dozen cupcakes
Marshmallow Ice Cream
2 C half and half
1 10-oz. bag of large marshmallows
2 C heavy cream
2 T vanilla extract
In a large pot, combine half and half with marshmallows. Cook over medium heat, stirring frequently until marshmallows have completely melted. Remove from heat and let cool briefly. Then place in fridge to cool for 20-30 more minutes, until chilled and slightly thickened.
In the meantime, whip heavy cream until you have soft peaks. Fold into cooled marshmallow mixture and add vanilla extract. Stir until everything is combined. Place in ice cream maker and follow manufacturer's directions for making ice cream.
Graham Cracker Crust
2 C graham cracker crumbs
1/4 C sugar
8 T unsalted butter, melted
Pinch of salt
Line 2 cupcake pans with paper liners (you'll need around 24 crusts total if you want to make a bottom and top for each cupcake). Preheat oven to 350° F.
In a small bowl, mix together graham cracker crumbs, sugar, melted butter and salt with a fork. Drop around 1 1/2 tablespoons of the mixture into each cupcake liner and press down firmly. Bake for about 5-10 minutes (until edges of crust are golden). Remove from oven and set half aside. Leave oven set at 350° F and prepare cupcake batter.
Chocolate Cupcakes
1 C + 1 T sugar
14 T unbleached all-purpose flour*
7  T unsweetened cocoa powder*
3/4 t baking powder
3/4 t baking soda
1/2 t salt
1 large egg
1/2 C milk
1/4 C vegetable oil
1 t vanilla extract
1/2 C boiling water
Sift together sugar, flour, cocoa powder, baking powder, baking soda and salt. Stir lightly with a fork to combine. In a mixing bowl, combine egg, milk, vegetable oil and vanilla extract. Combine dry and wet ingredients and mix on low speed for a minute, then medium speed for 1-2 more minutes, scraping the sides of the bowl in between if needed. Add boiling water and mix just until combined. (Note: The batter will be very thin at this point.)
Pour 1/4 cup of batter on top of half of the crusts (mine were a little over 3/4 full). Bake for 15-18 minutes, or until tops are firm and toothpick inserted in the centers comes out clean. Let cool completely.
To assemble:
Slice the rounded top off of the cupcakes to level them. Place a small scoop of ice cream on top and flatten with the back of a spoon. On top of the ice cream, place one of the baked graham cracker crusts. Enjoy quickly or place in the freezer until you do!

More recipes you'll love: