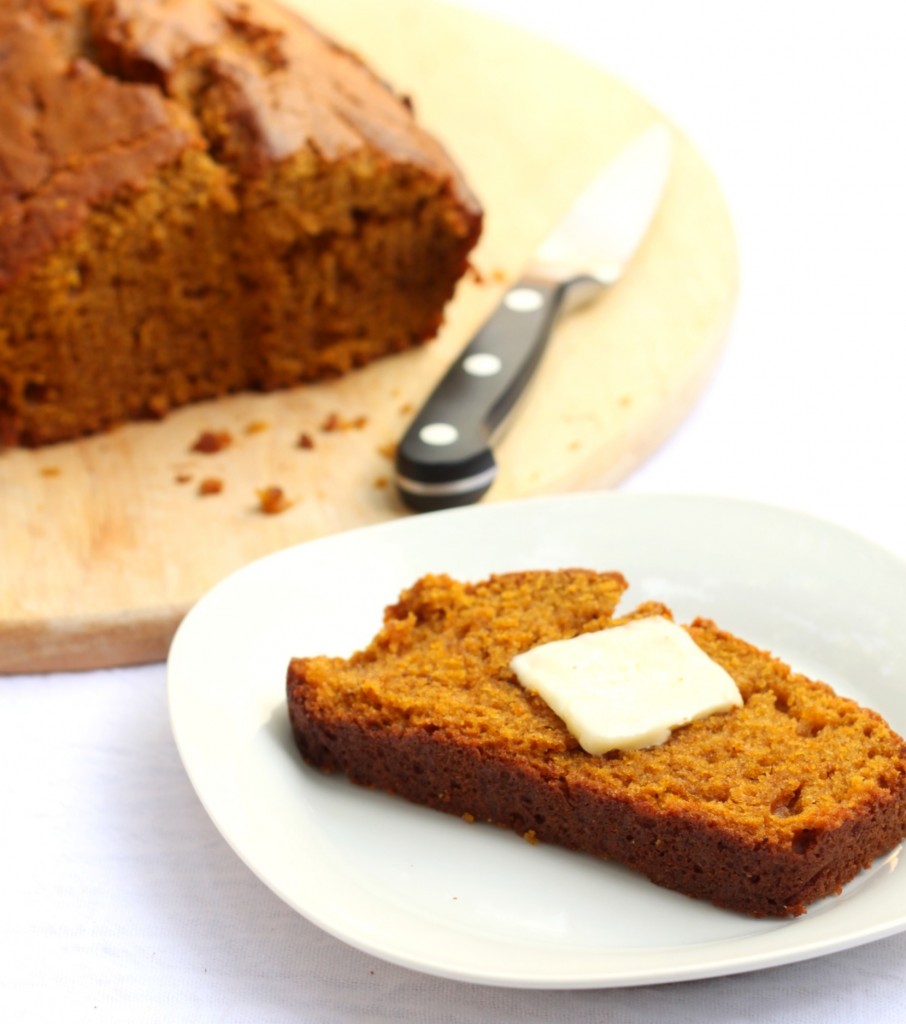 I've always been curious about making desserts in my slow cooker. I've seen some recipes for things like pudding and slow cooked fruit (I've tried maple apple compote and spiced & stuffed pears) but I was more interested in actually baking in a Crock Pot. I came across an article with simple directions for baking in a slow cooker:
Make sure your pan fits in your slow cooker.
Place a rolled up ball or two of aluminum foil at the bottom of the slow cooker to hold up the pan.
Prepare your recipe, pour it into your pan and place that on top of the aluminum foil ball(s) in the slow cooker.
Turn it to high cook until done (amount of time will depend on how hot your slow cooker gets).
I tried it with a pumpkin bread recipe that makes enough batter for 2 loaves. I put one loaf in the oven and one in the slow cooker to compare them. The difference was huge; the slow cooker bread came out very moist, while the oven loaf was more fluffy and cake like. It was kind of like the difference between brownies with a fudgy texture versus a cake texture.
I'm definitely going to try baking in my slow cooker again. Now I know I can pop a loaf in the slow cooker and leave the house all day, use the oven for dinner, or just avoid heating up the the house when I want to bake in the summer.
Have you ever tried baking in your slow cooker? I wonder how cookies would come out!
Recipe:
Slow Cooker Pumpkin Bread
Makes 2 loaves
3 cups sugar
1 cup vegetable oil
3 large eggs
1 16-ounce can solid pack pumpkin
3 cups all purpose flour
1 teaspoon ground cloves
1 teaspoon ground cinnamon
1 teaspoon ground nutmeg
1 teaspoon baking soda
1/2 teaspoon salt
1/2 teaspoon baking powder
In slow cooker:
In a slow cooker large enough to fit a 9x5x3-inch loaf pan (I used a 6 quart), place a ball of aluminum foil to hold up the pan. Coat two 9x5x3-inch loaf pans with nonstick spray. (Options: you can bake one in the oven, cut the recipe in half, or store half the batter in the fridge until your first batch is done in the slow cooker).
Combine sugar and oil in a large bowl, beating to blend. Mix in eggs and pumpkin.
In a separate large bowl, combine flour, cloves, cinnamon, nutmeg, baking soda, salt and baking powder. Add to the wet ingredients in 2 batches.
Pour half of batter into each loaf pan. Set slow cooker to high and cook for 2-8 hours (until toothpick inserted into center comes out clean).
In oven:
Pour half of batter into a 2 greased 9x5x3-inch loaf pans. Bake at 350°F for around 1 hour (until toothpick inserted into center comes out clean).