To my regular readers, these might look a little familiar since they look almost identical to the peppermint chocolate cake pops that I posted on Monday. But as the saying goes, don't judge a book by it's cover because…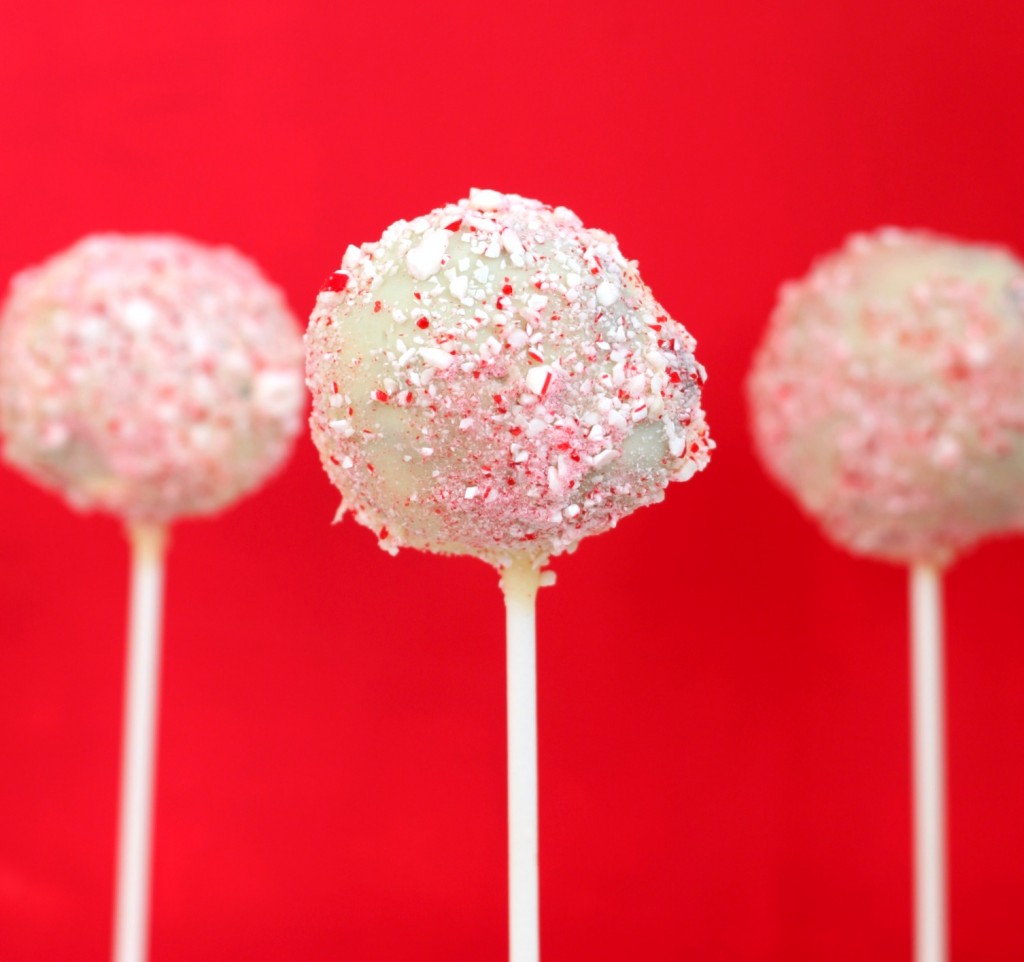 …inside the white chocolate/crushed candy cane shell of these pops isn't cake – it's whoopie pies!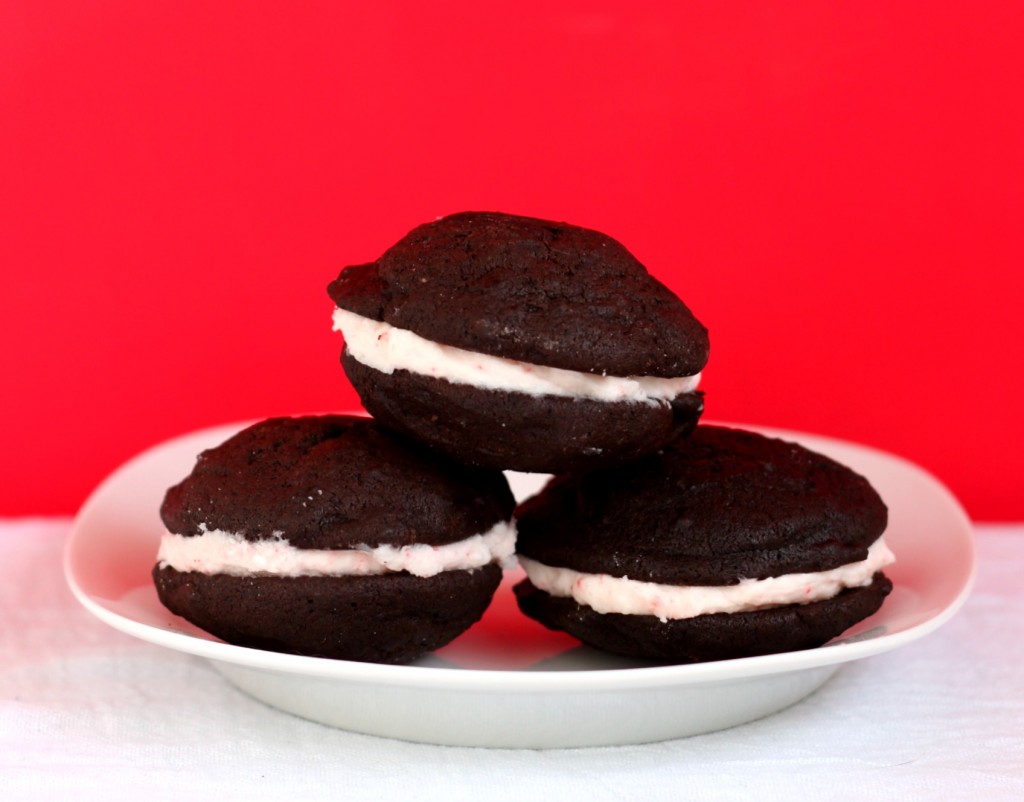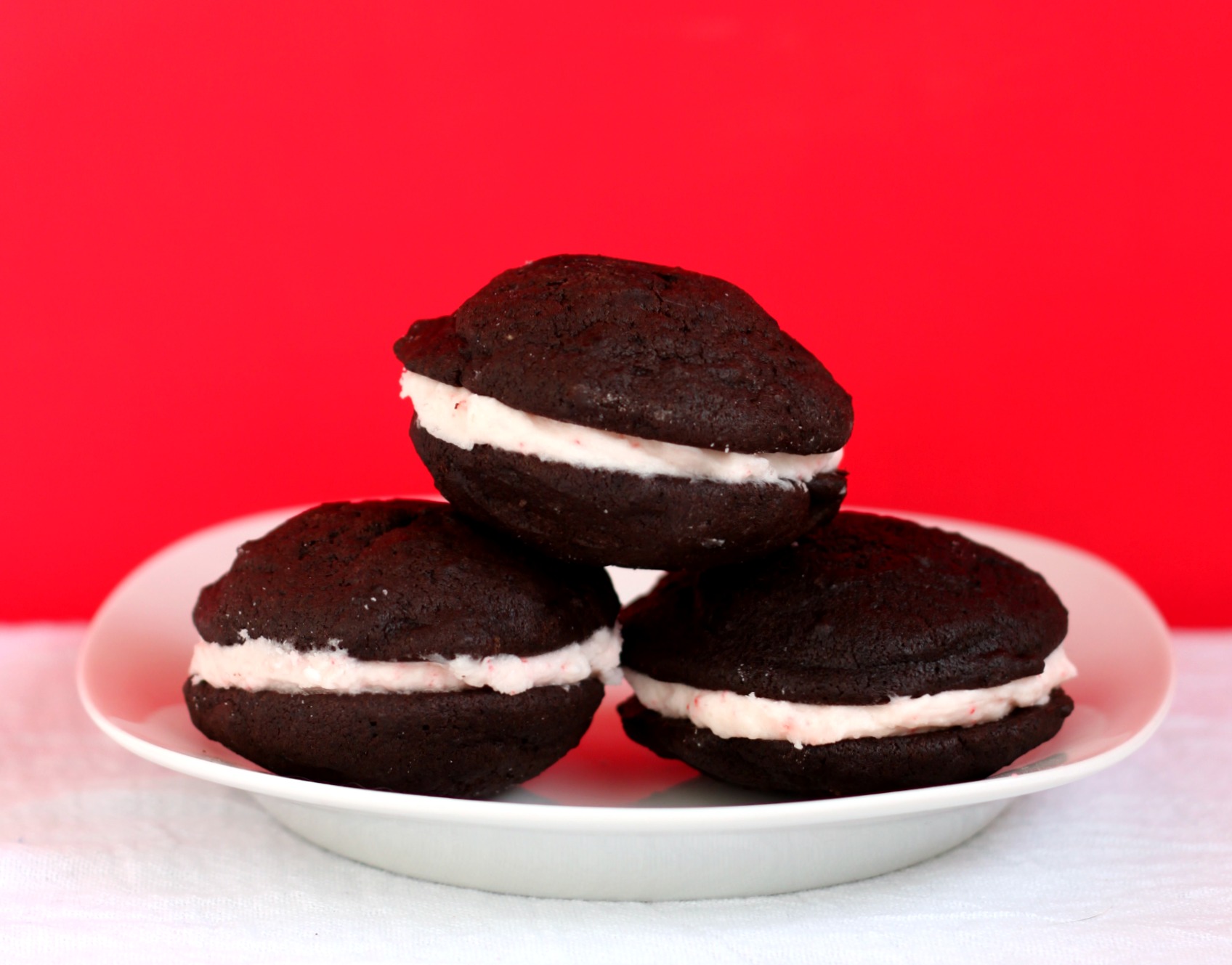 Chocolate and peppermint whoopie pies to be exact. And I could have stopped right there, but I wanted to see if whoopie pie pops could be done. I couldn't find anyone who has ever made them before and I love a fun baking challenge. However, if you're not crazy like me, feel free to follow the recipe up to this point. The whoopie pies really are quite good if you leave them alone.
If you are a crazy dessert enthusiast like me, you can keep going through the recipe directions. I briefly froze them, melted some white chocolate, crushed some candy canes and put it all together.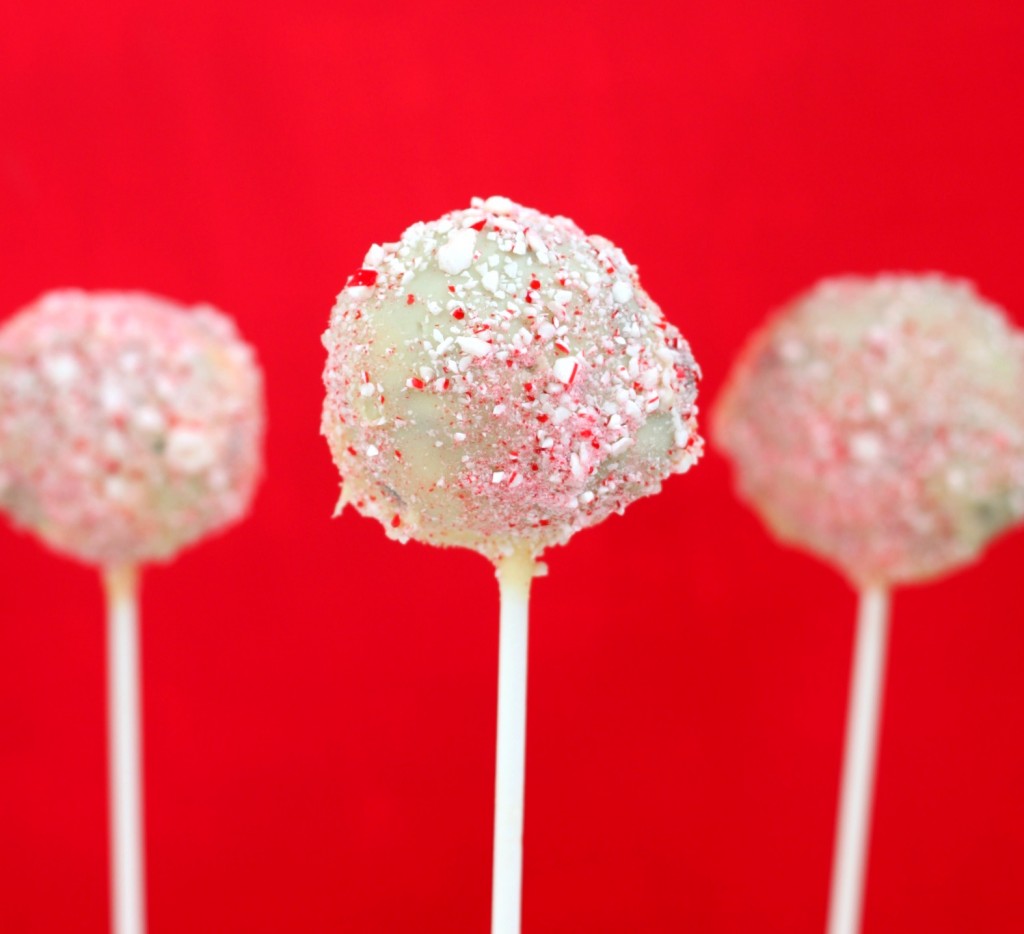 And if you think I just took the cake pops and photographed them with a red background, I have proof for you…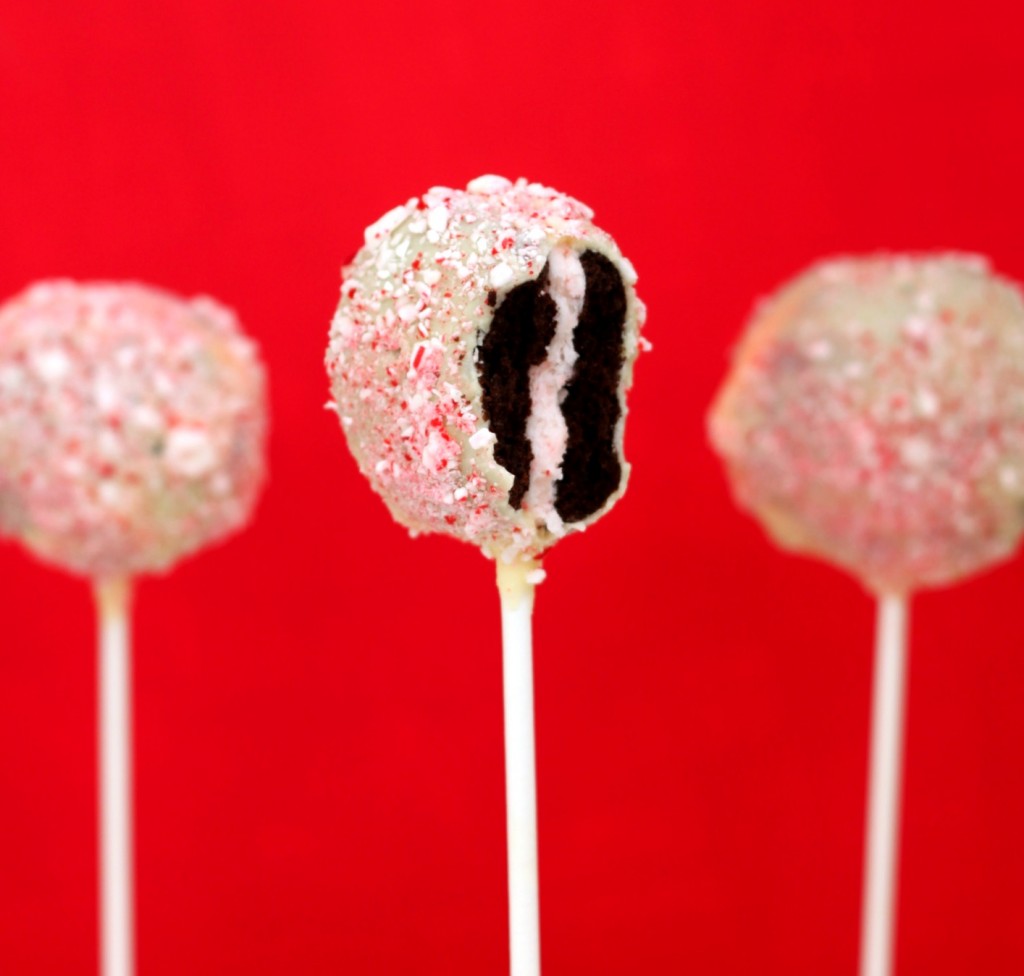 Voila! Inside all that chocolate and peppermint goodness is, well, more chocolate and peppermint goodness! Soft chocolate cookies with a soft, fluffy peppermint buttercream filling. The white chocolate and candy cane coating adds a little bit of crunch and texture to them. Plus, who can resist something on a lollipop stick? They just make everything cuter and more fun to eat. And easier to eat too – I can picture these being a bit hit at a party.
There are cake pops, cheesecake pops, marshmallow pops, pie pops, and now whoopie pie pops. What else should be put on a lollipop stick?


Peppermint Chocolate Whoopie Pie Pops
(try saying that five times fast!)
Chocolate Whoopie Pies
Adapted from Joy of Baking
Makes 15 large or 25 small whoopie pies (I recommend making them small if you want to make pops)
1 3/4 cup all purpose flour
3/4 cup Dutch-processed cocoa powder
1 teaspoon baking powder
1/4 teaspoon baking soda
1/4 teaspoon salt
3/4 cup unsalted butter, at room temperature
3/4 cup sugar
1 large egg, at room temperature
1 teaspoon vanilla extract
1/4 cup buttermilk (or 1/4 cup milk mixed with 1 teaspoon of vinegar or lemon juice)
1/2 cup lukewarm water
 Preheat oven to 375°F. Line baking sheets with parchment paper or a silicone baking mat.
In a large bowl, combine flour, cocoa powder, baking powder, baking soda and salt.
In a separate large bowl, beat butter and sugar until light and fluffy, then mix in vanilla and egg.
In a small bowl, combine buttermilk and water.
With the mixer on low speed, add flour mixture and buttermilk mixture alternately in 3 additions, beginning and ending with flour.
For large whoopie pies, drop heaping tablespoons of batter onto the prepared baking sheets about 2 inches apart. For small whoopie pies, drop 2 teaspoons of batter onto the prepared about 2 inches apart. Bake for 7-10 minutes or until the tops of the cookies, when lightly pressed, spring back.
Peppermint Buttercream
1/2 cup unsalted butter, at room temperature
2 1/2 cups powdered sugar, sifted
1-2 tablespoons of milk
2 candy canes, crushed to powder in a food processor or blender (around 1/4 cup of powder)
In a large bowl, cream butter until light and fluffy.
Adding 1 cup of sugar at a time and mix into butter until thoroughly combined and frosting is light and fluffy.
Mix in milk until you reach the desired consistency.
Add crushed candy canes and stir until combined.
Assembling the whoopie pie pops:
18 oz. white chocolate
3 tablespoons oil (you can use less for a thicker coating)
6 candy canes, crushed (around 3/4 cup)
Styrofoam block
When cookies are completely cooled, match up similarly shaped cookies in pairs.
Add a tablespoon of frosting to one cookie and put the other cookie on top, pressing down lightly until frosting is spread to edges. (Stop here if you just want whoopie pies, not pops. Store in the fridge.)
Put cookies in refrigerator for a few hours or freezer for 10 minutes. (You can refrigerate until you're ready to dip in chocolate, then place them in the freezer while the chocolate melts.)
In the meantime, melt the chocolate and oil over a double boiler or in the microwave. Heat and stir until all lumps are gone, then remove from heat.
Place melted chocolate into a wide and deep cup or bowl and let cool for a few minutes. Place crushed candy canes in a shallow bowl or plate.
Remove some whoopie pies from the freezer. One at a time, dip the tip of a lollipop stick in the melted chocolate, then insert the stick straight into the frosting of the whoopie pie, pushing almost all the way through.
Holding the lollipop stick, dip the entire whoopie into the melted chocolate until it is completely covered and quickly remove.
Hold cookie over cup while excess chocolate drips off (if needed, tap your wrist with the opposite hand to help the process).
Once the excess has dripped off, let chocolate set for a few moments and then roll in crushed candy cane.
Push stick into styrofoam and let chocolate harden.
Once all whoopie pies are completed and cooled, cover and store in refrigerator.
More recipes you'll love: