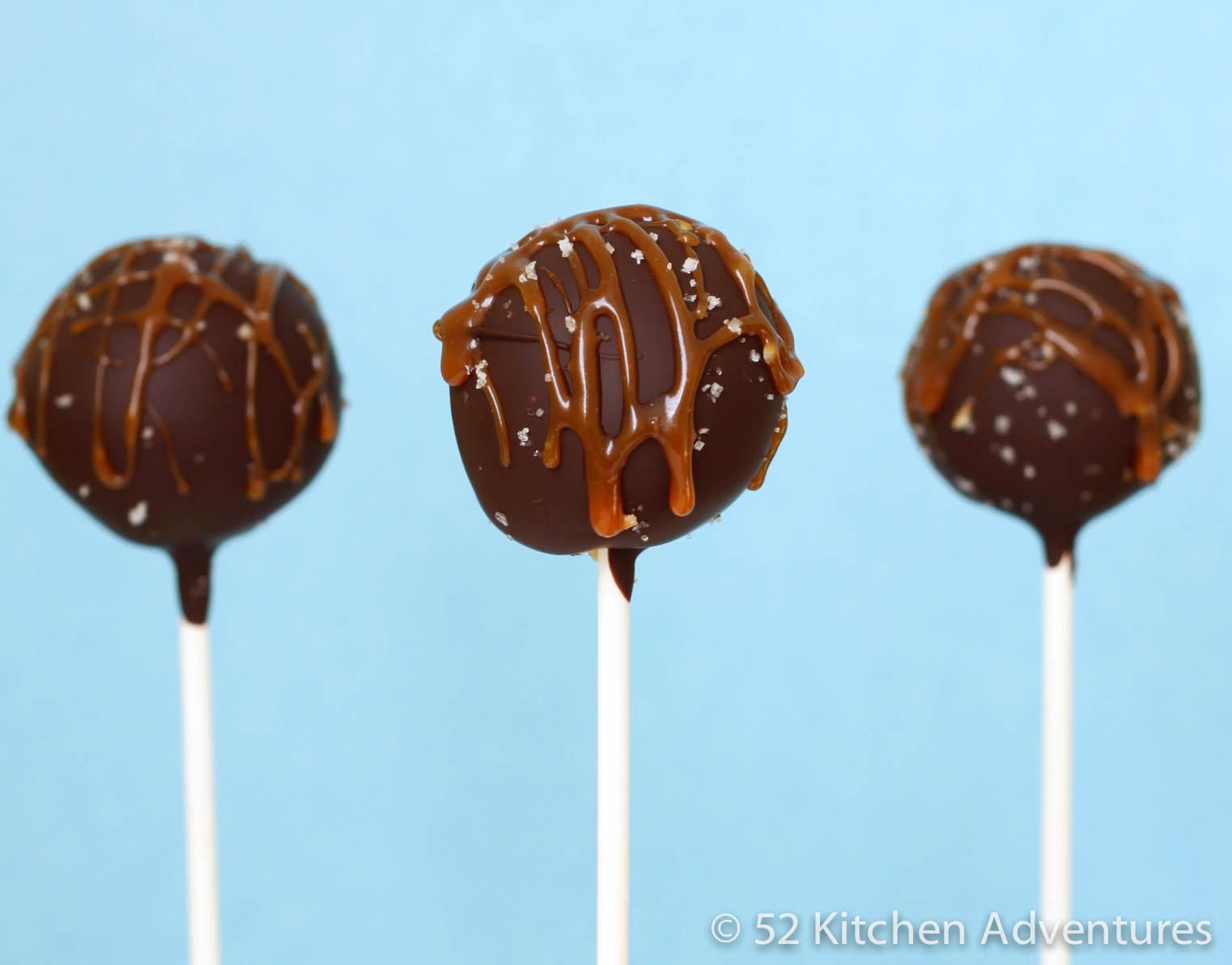 "Those cake pops were seriously the best cake pops I've ever had! Even better than Freeport Bakery."
This high praise comes from a former co-worker, Mariel. For her last day in our office, I wanted to bake something special as a surprise. I knew she liked cake pops and salted caramel (she requested that I make salted caramel macarons a few months ago, which I will post soon). The idea of a salted caramel cake pop was born.
I was shocked that I couldn't find any recipes for salted caramel cake pops online. I ended up adapting my salted caramel cupcakes (one of my all-time favorite cupcake recipes). However, once I covered them in chocolate, the delicate salted caramel flavor of the cake and frosting was overwhelmed by the chocolate. I made a salted caramel sauce to drizzle on top (along with a sprinkle of fleur de sel, a French sea salt). I think you could probably use an easier vanilla frosting recipe and simply make some salted caramel sauce to pour over them.
Stay tuned for Valentine's Day recipes coming next week, including some heart shaped cake pops. I realize I'm a bit behind as far as food blog schedules go, but I couldn't bring myself to bake Valentine's desserts in early January.
RECIPE:
Salted Caramel Cake Pops
Adapted from Salted Caramel Cupcakes
Makes around 35-40 cake pops
Brown Sugar Cake
Makes 2 8″ cakes
1 1/2 cups flour
1 teaspoon baking powder
1/4 teaspoon sea salt
1 stick of unsalted butter, at room temperature
1 cup plus 2 tablespoons packed light brown sugar
2 large eggs, at room temperature
1 teaspoon vanilla
1/2 cup plus 2 tablespoons buttermilk (or add a tablespoon of lemon juice or vinegar to regular milk and let sit for 5 mins)
Preheat oven to 350°F. Grease two 8″ cake pans or line them with parchment paper.
In a medium bowl, combine flour, baking powder and salt.
In a large bowl, cream butter and brown sugar until pale and fluffy. Add eggs one at a time, beating after each until fully incorporated. Mix in vanilla extract. Add flour mixture to wet ingredients in 3 batches, alternating with 1/2 of the buttermilk, stirring after each until everything is combined.
Pour half of the batter into each prepared cake pan. Bake for around 18-20 minutes or until a toothpick inserted in the center of the cakes comes out clean.
Salted Caramel Buttercream Frosting
1/4 cup granulated sugar
2 tablespoons water
1/4 cup heavy cream
1 teaspoon vanilla extract
1 stick salted butter
1 stick unsalted butter
1/2 teaspoon sea salt
2 cups powdered sugar, sifted
Make caramel: In a medium saucepan, combine sugar and water and cook over medium-high heat. Boil without stirring until it turns a deep amber color. Remove from heat and slowly pour in cream and vanilla, whisking until it is very smooth. Let cool for around 20 minutes, until it's just barely warm and still pourable.
Meanwhile, beat butter and salt together in a large bowl until light and fluffy. Add powdered sugar and beat until thoroughly combined. Pour in the cooled caramel and beat on medium-high speed until light and airy (around 2 minutes). If frosting is too runny, the caramel was too warm when added – refrigerate for around 15-20 minutes until frosting is stiffer.
Salted Caramel Sauce
Adapted from Smitten Kitchen
The sauce is extra work, but I found that the salted caramel flavor of the cake was overwhelmed by the chocolate coating. If you want to cut down on the work, you could do a simple vanilla cake/frosting inside the pop instead of the cake and frosting recipe above. Use my snowmen vanilla cake pops recipe and cover them in chocolate, a tiny sprinkle of salt, and this salted caramel sauce.
Makes about 1 1/3 cups – use the extra to pour over ice cream, fruit, desserts, or anything!
1 cup sugar
3 ounces (6 tablespoons) salted butter (I recommend using 1/2 salted and 1/2 unsalted, then add additional salt to taste if needed)
1/2 cup plus two tablespoons heavy cream, at room temperature
In a large saucepan, heat the sugar over medium-high heat. Once it begins melting, stir occasionally with a spatula to ensure it heats evenly. Cook the liquified sugar until it reaches a deep copper color, then add the butter. Stir until it has completely melted and combined, then remove from heat. Add heavy cream (be careful – it will foam) and whisk until you have a smooth sauce.
Use immediately or refrigerate for up to 2 weeks. Microwave for a minute to bring it back to pouring consistency.
Assemble the Cake Pops
Semisweet chocolate (I used around 16 oz.)
Canola oil (optional)
35-40 6″ lollipop sticks
Styrofoam block
Fleur de sel or flaky sea salt
Once the cakes are completely cooled, cut each into 3 pieces. Using your hands, crumble each piece into a large bowl (or use a food processor).
Add frosting to bowl and mix with the back of a spoon or your clean, dry hands until thoroughly combined.
Roll into 1 1/2-inch balls.
Place cake balls on a baking sheet covered in wax paper and chill for several hours in the refrigerator or for 15 minutes in the freezer. (If you put them in the fridge, I recommend freezing them for 10 minutes while you melt the chocolate.)
In a double boiler or in a microwave, melt the chocolate, stirring until all lumps are gone. Stir in a 1-2 tablespoons of oil to thin the chocolate if desired (the more you add, the thinner the coating will be).
Once chocolate is melted, remove from heat and pour into a cup. Let cool for a few minutes.
Remove cake balls from freezer. Dip the tip of a lollipop into the melted chocolate, then stick it straight down into the ball.
Holding the lollipop stick, dip cake ball into the melted chocolate until it's completely covered and quickly remove.
Hold pop over cup while excess chocolate drips off (if needed, tap your wrist with the opposite hand to help the process).
Place pops into styrofoam block. Sprinkle with a little salt and let dry. Once chocolate is dry, drizzle with salted caramel sauce. Store covered in fridge until ready to serve.