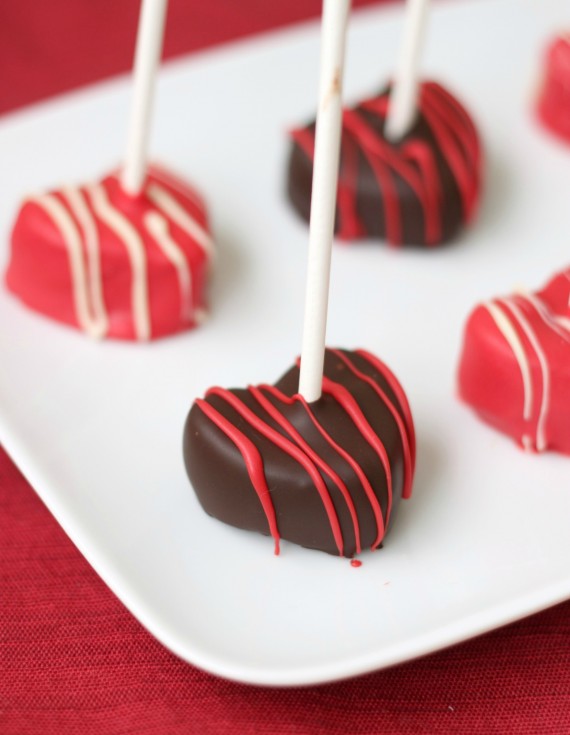 It's almost Valentine's Day and I spent last weekend baking up a storm. These cake pops, plus heart shaped sugar cookies and some special flourless cupcakes with pink frosting are all coming your way.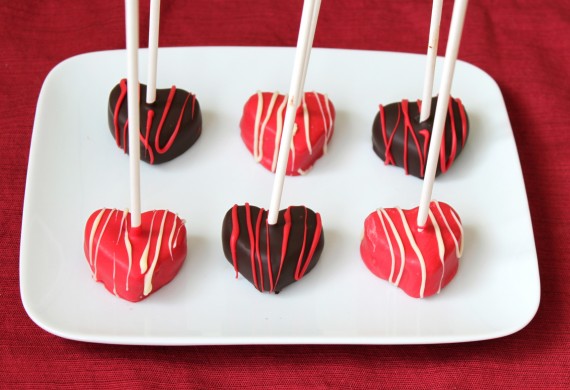 Each time I make cake pops, I find more ways to make them more easily and quickly (I'll have to compile all my tips into a post soon). These heart shape cake pops are even easier to make than they seem. After I combined the cake and frosting together, I pushed it flat into the bottom of a casserole dish. Then I just used cookie cutter to cut the cake pops into hearts (see photo in the recipe below).
So easy and much faster than shaping each heart by hand!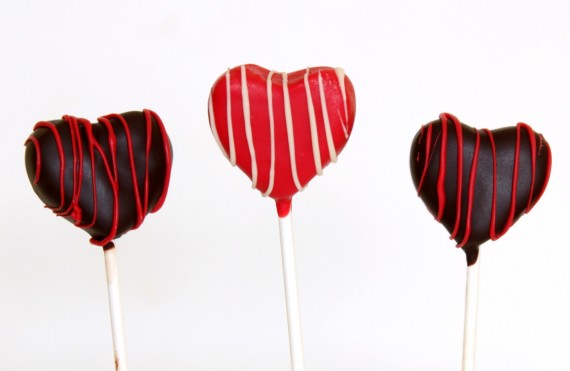 Then you can either push the lollipop sticks in to make them standing up (above) or flat on a dish (below). I like making them like the ones below because you don't need anything to hold them up.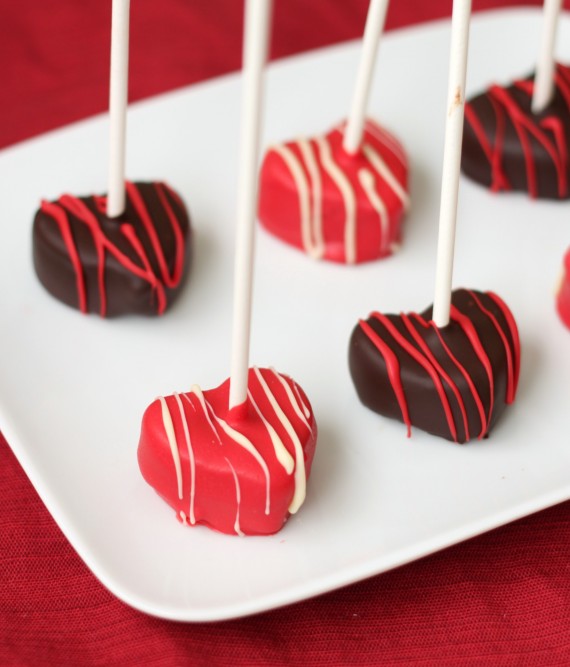 Are you making anything special for Valentine's Day?
Recipe:
Heart Cake Pops
Makes around 40 cake pops
Vanilla Cake
Adapted from King Arthur's Flour
Makes 1 9″x13″ cake
2 cups sugar
3 1/4 cups flour
2 1/2 teaspoons baking powder
1 teaspoon salt
3/4 cup unsalted butter, soft
1 1/4 cups milk, at room temperature
2 teaspoons vanilla extract
4 eggs
Preheat the oven to 350°F and lightly grease a 9″ x 13″ pan.
In a large mixing bowl, combine sugar, flour, baking powder, and salt.
Add butter to the dry ingredients and mix at low speed until the mixture looks sandy.
In a small bowl or measuring cup, combine milk and vanilla. Add to sand-like mixture and mix for a couple of minutes at low speed.
Turn mixer to low speed and add 1 egg while it's running. Increase speed to medium and beat for 30 seconds. Repeat method 3 more times with each egg.
If needed, scrape the sides of the bowl and mix for at medium-high speed for 30 more seconds.
Pour batter into prepared pan and bake for around 27 minutes. Cake will be golden brown and just beginning to pull away from edges of pan when done. You can also test it by inserting a toothpick, which should come out clean.
Vanilla Frosting
3/4 cup unsalted butter, at room temperature
1 teaspoon vanilla extract
3 cups powdered sugar
1-2 tablespoons of milk
In a large bowl, cream butter and vanilla until combined.
Adding 1 cup of sugar at a time, mix into butter until thoroughly combined.
Mix in milk until you reach the desired consistency.
Assembling the cake pops:
Chocolate or red or pink candy melts for coating
6″ lollipop sticks
Heart shaped cookie cutter
Optional: white chocolate or red candy melts to drizzle on top
Once cake is completely cooled, cut into 6 pieces. Using your hands, crumble each piece into a large bowl (or you could use a food processor instead).
Add frosting to bowl and mix with the back of a spoon or your clean, dry hands until thoroughly combined. Press into a large dish so it's about 1″ thick. Use a small heart shaped cookie cutter to cut cake pops out and place on a baking sheet covered in wax paper.
Chill for several hours in the refrigerator or for 15 minutes in the freezer. (If you chill them in the fridge, put them in the freezer for 10 minutes right before you coat them.)
In a double boiler or in a microwave, melt the chocolate or candy melts, stirring until all lumps are gone. Once melted, remove from heat and pour into a cup. Let cool for a few minutes.
Remove cake pops from freezer. Dip the tip of a lollipop stick in melted coating and push straight into the cake pop.
Holding the lollipop stick, dip the cake pop in to the coating until it's completely covered, then quickly remove. Hold over cup while excess drips off (if needed, tap your wrist with the opposite hand to help the process).
Place on wax paper or into a syrofoam block to dry.
Optional: melt white chocolate or red candy melts. Using a piping bag or a plastic bag with the corner cut off, drizzle over cake pops.
Store covered in fridge until ready to serve.