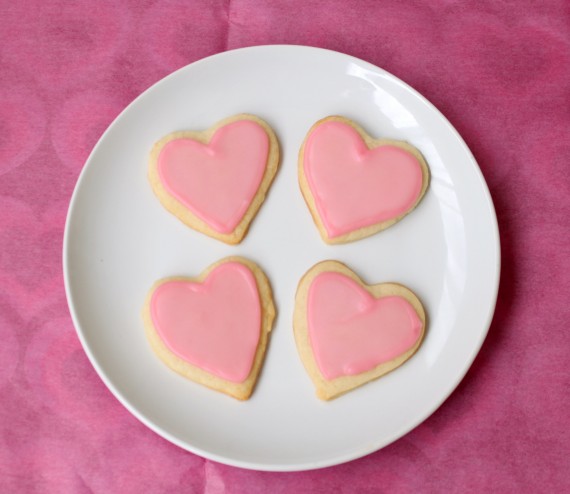 I keep seeing red and pink hearts everywhere – in store displays, on Pinterest, and all over the blogosphere. That can only mean one thing: it's almost Valentine's Day. I know that some people hate this holiday but I figure at the least it's an excuse to eat something sweet. At it's best, it's a time to celebrate love and show your loved ones how much you care and appreciate them. Either way you look at Valentine's, this recipe will work for you. You can bake some cookies for yourself to enjoy and/or share them with your friends and family. It's a win-win.
Plus, there are infinite ways to decorate the cookies. First, you can make the icing any color and then you can leave it plain (like the ones above). Or you can…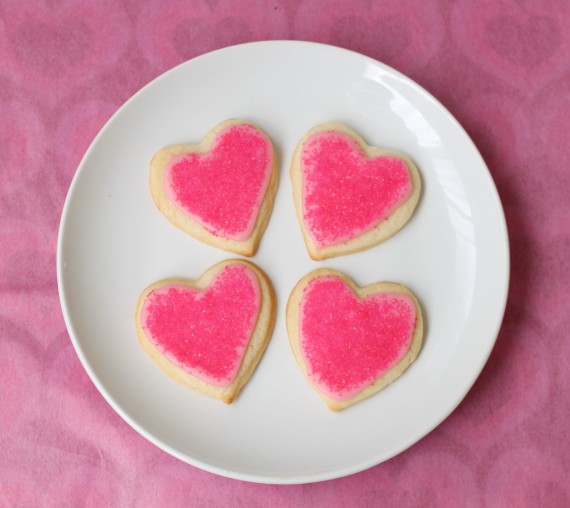 add some colored sprinkles or…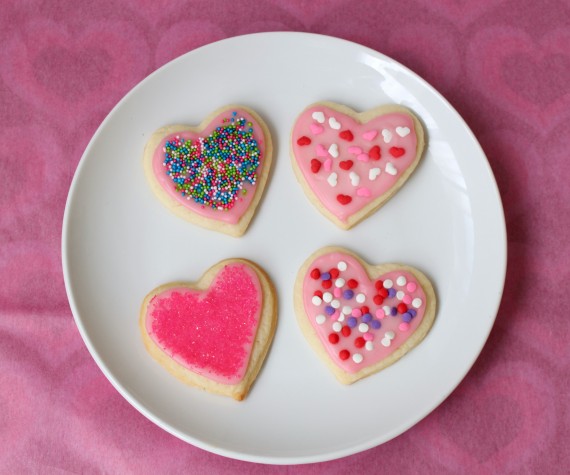 a variety of sprinkles!
This is where my hoarding of sprinkles comes in handy. I don't know how I came to own so many different types of sprinkles but I finally found a way to use them. Plus, I got this adjustable rolling pin with removable discs for Christmas and now making dough is so easy! I used to have such a hard time rolling it out evenly and to the right thickness. I have a feeling I'll be making a lot more sugar cookies in the near future.
I love love love this sugar cookie recipe. To me it's perfect; the cookies are soft and buttery. However, I'm still looking for the perfect royal icing recipe. With my first batch of cookies (seen here), I used a simple powdered sugar glaze, but the pink icing turned white a few days later. On my second batch, I used Bake at 350's trusted royal icing recipe, but it finished dull and the outline was a little brittle. Do you have a royal icing recipe that you love? Please share it with me!
So, what's the verdict on Valentine's Day? Are you boycotting it this year or celebrating it big? And, more importantly, are you going to be baking anything special?
P.S. If you're looking for other things to bake, try my heart cake pops, flourless chocolate cupcakes, or really any dessert in my recipe box. Plus, here's a roundup of 21 delicious desserts for your Valentine.
RECIPE:
Perfect Sugar Cookies
Adapted from Alton Brown
Makes around 3 1/2 dozen cookies
3 cups all-purpose flour
3/4 teaspoon baking powder
1/4 teaspoon salt
1 cup unsalted butter, softened
1 cup sugar
1 egg, beaten
1 tablespoon milk
Powdered sugar, for rolling out dough
Cookie cutters
Combine flour, baking powder and salt together in a large bowl. In a separate bowl, beat butter and sugar together until light and fluffy. Mix in egg and milk. With mixer on low speed, gradually add dry ingredients and mix until dough pulls away from the side of the bowl. Divide dough in half, roll into 2 balls and wrap in saran wrap or wax paper. Refrigerate for at least 2 hours or overnight.
Preheat oven to 375°F and remove one of the dough balls from the refrigerator. Sprinkle powdered sugar onto a rolling pin and a clean, flat surface. Place dough on top of powdered sugar and roll out to 1/4″ thickness, moving dough around frequently to ensure it's not sticking.
Cut dough into desired shapes with cookie cutters. Place on a baking sheet lined with parchment paper or a silicone mat. Bake for 7 to 9 minutes, until cookies just begin to brown around the edges. Let cool before icing. (I used the royal icing recipe from Bake at 350 – check out her fantastic photo tutorial on making it.)