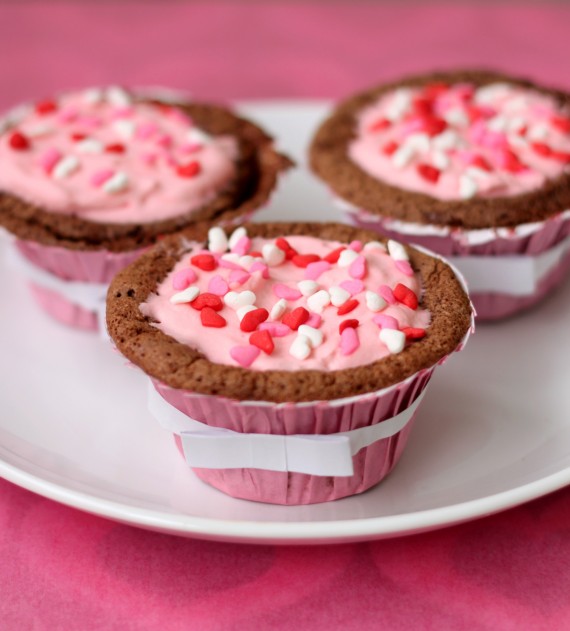 Did you watch the Superbowl yesterday? I didn't – instead I worked on some Valentine's Day sugar cookies. I have a sugar cookie recipe that I love, but I'm still trying to find the perfect royal icing recipe. Do you have a favorite? Please share it in the comments section!
For now, we have some Valentine's cupcakes (and don't forget about the heart shaped cake pops if you want lots of small treats for your  many Valentines). This cupcake is brought to you by my awesome friend Annie who had the good idea to take this: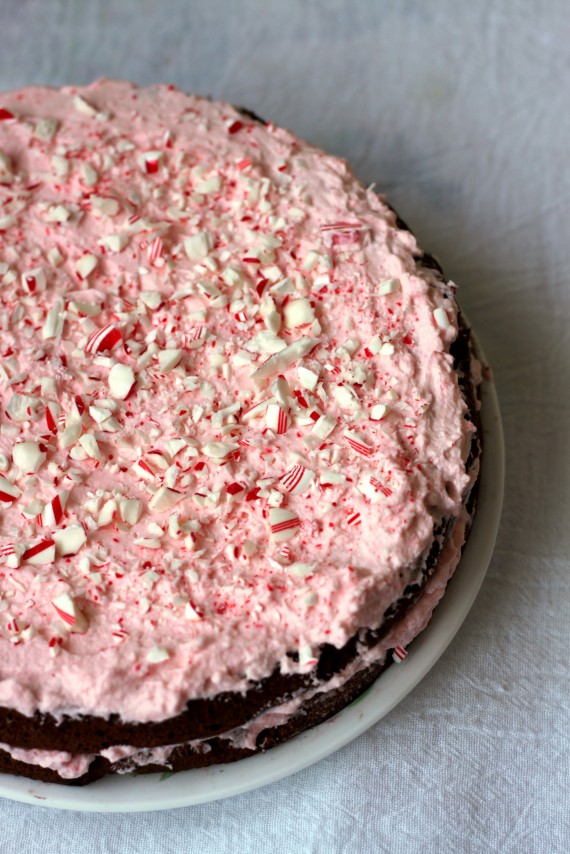 Flourless Chocolate Peppermint Cake
and turn it into cupcakes. I wasn't sure how the cupcakes would turn out, since the cake does sink a little in the middle. She told me that her cupcakes sank but that they were the best chocolate cupcakes she'd ever had – even better than "Better Than Sex" Chocolate Cupcakes. I thought that was something worth pursuing!
My cupcakes did sink quite a bit in the middle and they also behaved differently in different kinds of cupcakes wrappers. See below: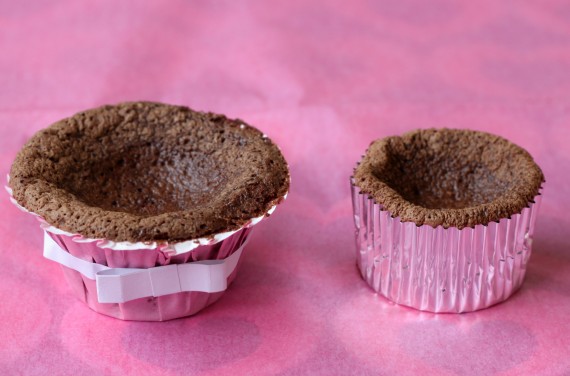 The cupcake on the left sunk but it didn't shrink. The one on the right both sunk and also shrunk in on itself. So for these cupcakes, I recommend getting sturdy paper liners like the ones pictured below. When I used foil and thin paper liners from the grocery store, the cupcakes shrank quite a bit after baking.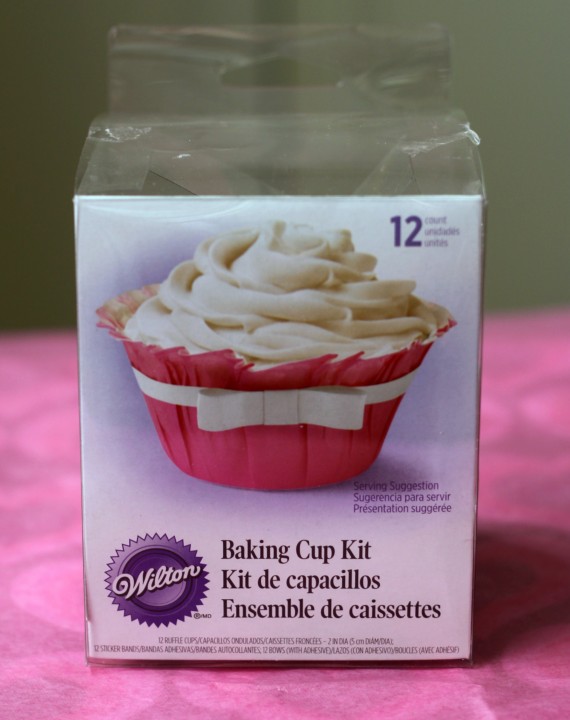 Use liners like these, found at Walmart, Target, Michael's, or other craft stores
Besides the weird sinking/shrinking, these cupcakes are wonderful. Each bite is rich, decadent, spongy and almost fluffy chocolate cake. I made lightly sweetened whipped cream to go on top, as these rich cupcakes don't need a heavy frosting. A chocolate lover would be content to eat these plain, but the whipped cream does make them look a lot prettier – I think of the sinking as the perfect bowl for a little frosting.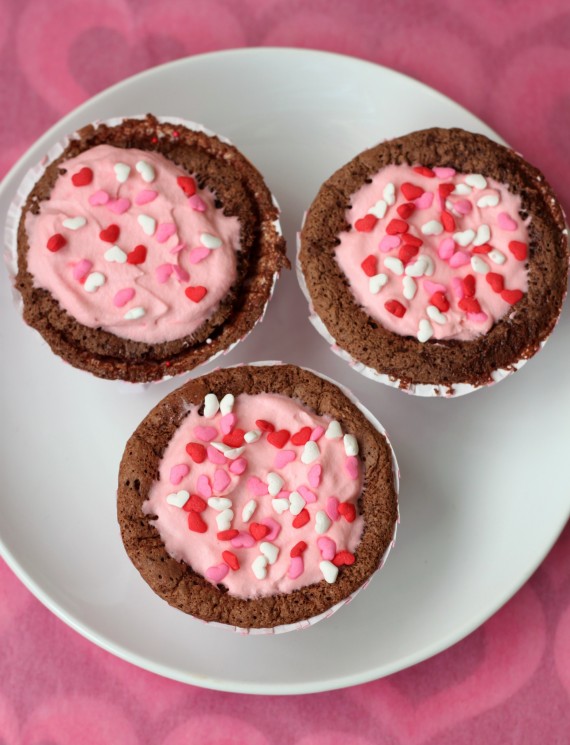 As an added bonus, these cupcakes are gluten-free and under 200 calories! I'm not one to count calories, but I started thinking about the fact that there wasn't any butter or oil in the recipe. I put the ingredients into this recipe calculator and found that they're 185 calories each, even with the whipped cream topping. They still have a decent amount of fat and sugar, but if you're counting calories, this is a better alternative to some other cupcakes.
RECIPE:
"Lighter than Air" Flourless Chocolate Cake
Adapted from Gourmet
6 ounces of your favorite chocolate, roughly chopped
3 tablespoons water
6 large eggs, at room temperature, separated
2/3 cup sugar
1/4 teaspoon table salt
Preheat oven to 350°F. Line a cupcake tins with stiff paper liners.
Over low heat, melt chocolate and water together in a small saucepan or double boiler. Stir until mixture is smooth, remove from heat and let cool.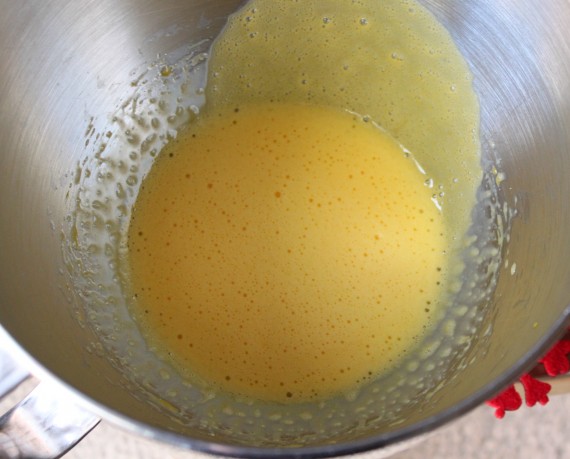 In a medium or large bowl, beat egg yolks with an electric mixer until pale and creamy.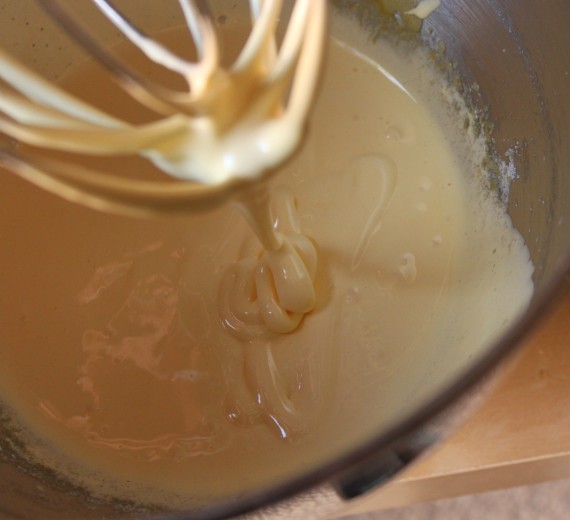 Gradually add sugar and continue to beat until yolks are pale and ribbony.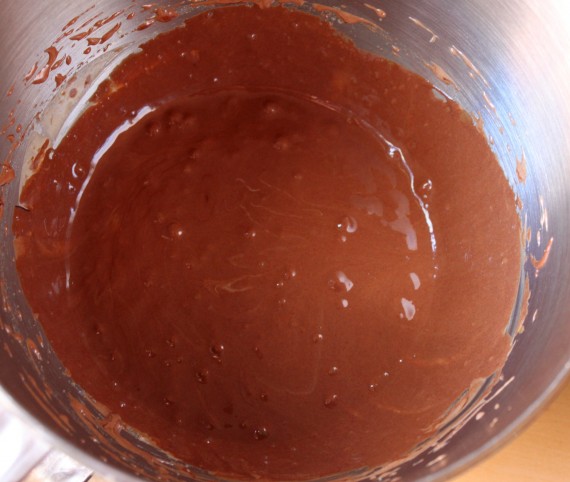 Gently mix in the cooled chocolate.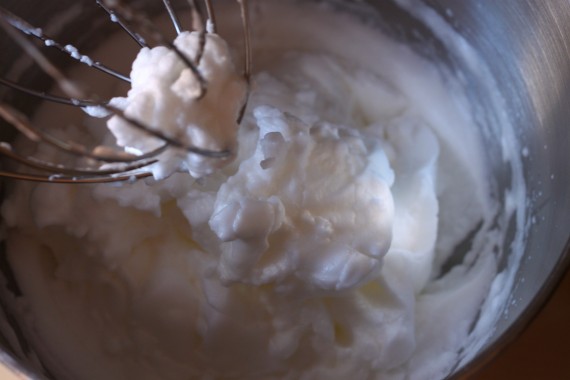 In a separate large, clean bowl with clean beaters, beat egg whites and salt until the mixture holds stiff peaks.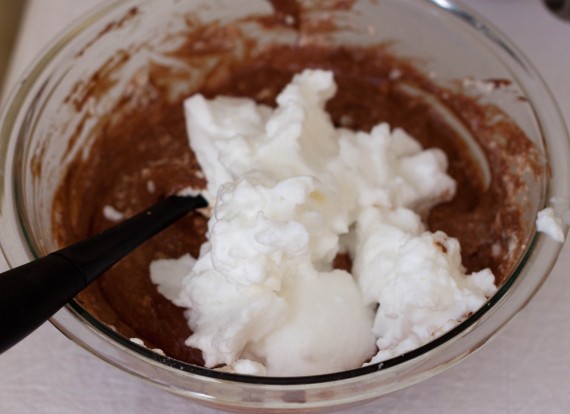 Stir 1/4 of stiff egg whites into the chocolate/yolk mixture to lighten it.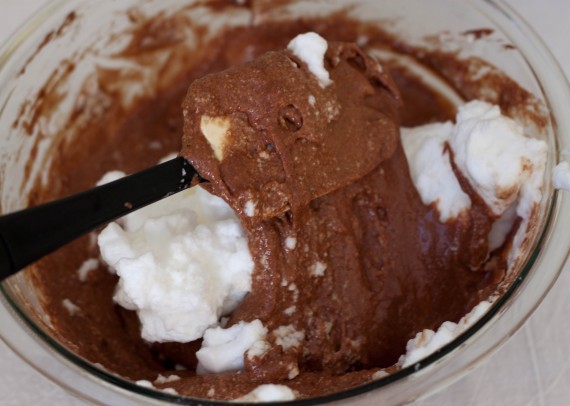 In 3 additions, gently but thoroughly fold the remaining whites into the batter.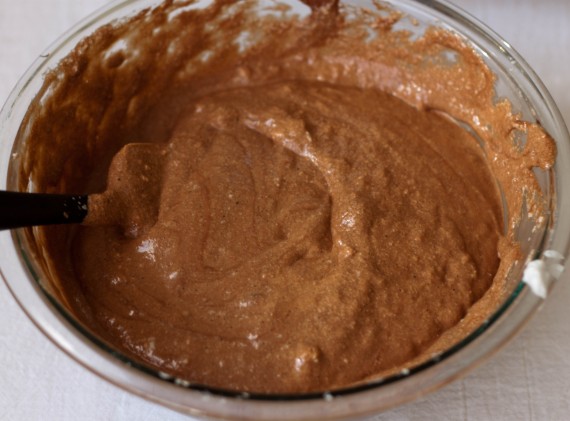 Pour batter into liners until each is at least 3/4 full (they will puff up quite a bit but then deflate and sink in the middle). Bake for 15-18 minutes, until cake is puffed and dry to the touch.
Whipped Cream
1/2 cup heavy or whipping cream
1/2 teaspoon vanilla extract
2 teaspoons powdered sugar, sifted
Food coloring (optional)
In a large non-reactive bowl (such as stainless steel or glass), beat the cream, vanilla and sugar together with a whisk or electric mixer. Once the mixture holds a soft peak, taste and mix in additional sugar if needed. Add in food dye if using and stir to combine. Spoon over cooled cupcakes just before serving (or refrigerate covered, for up to 4 hours).
More recipes you'll love: