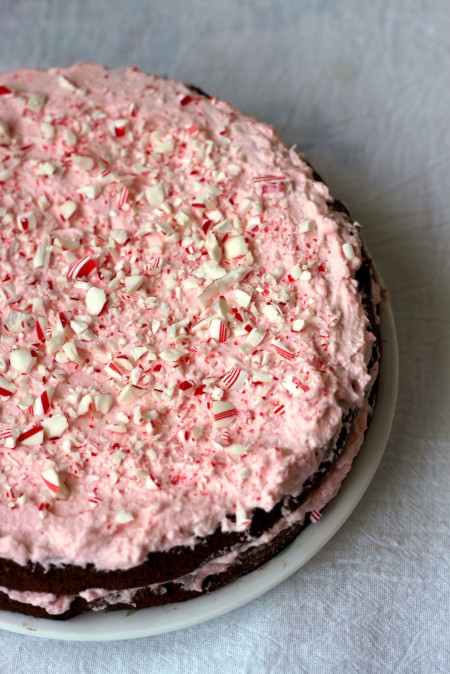 A couple of days ago I shared these snowmen cake pops that I made for a holiday party. For my family's Christmas party, I wanted to do something a bit bigger. I often make individual desserts like cake pops, whoopie pie pops, and cupcakes, but there's something about a cake that's just so festive.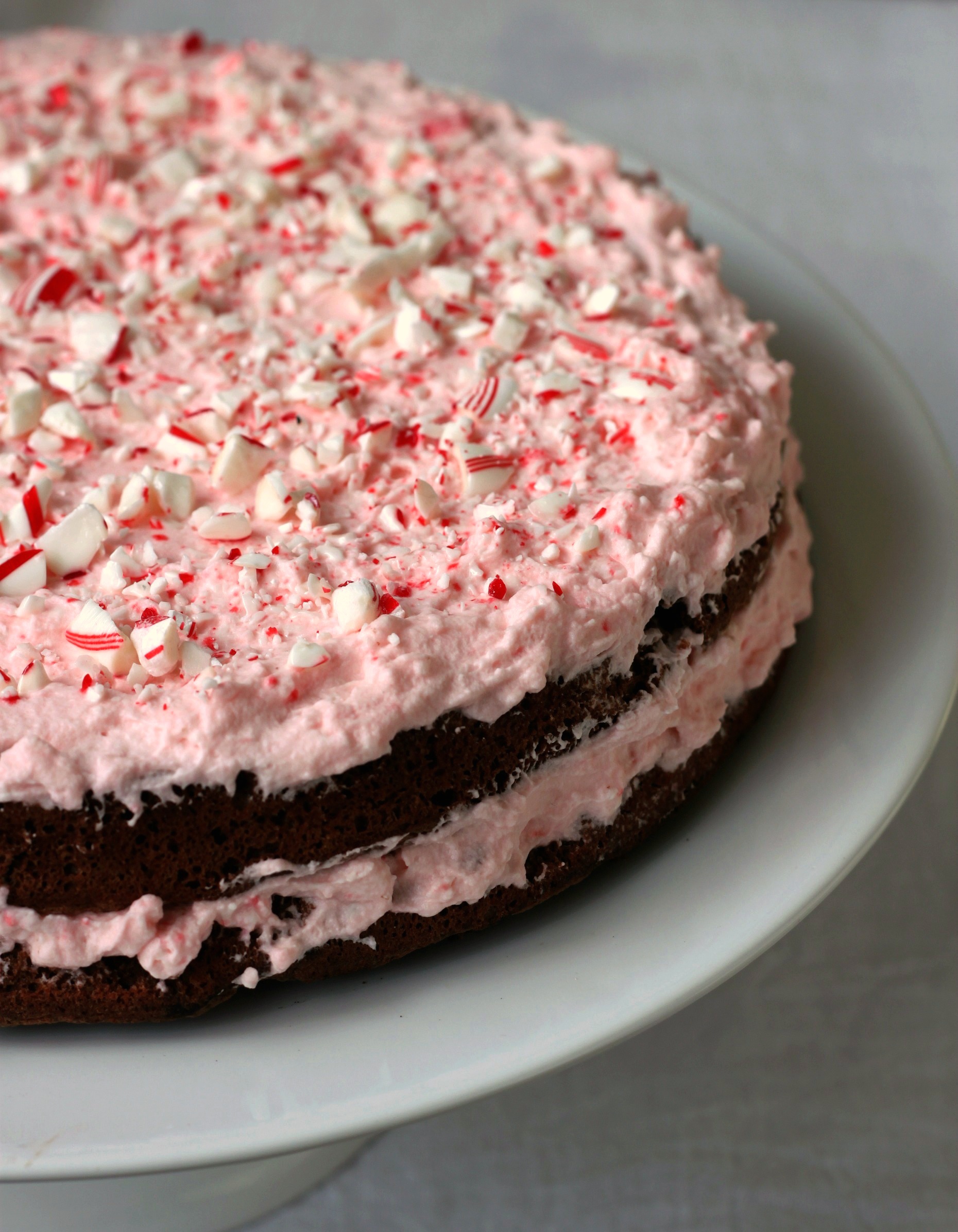 The only issue with making a cake is that my sister and her wife and gluten-free. I'm not a big fan of gluten-free flours (I don't have a lot of experience with them but it hasn't been very positive) so I'd rather make something without flour instead. Last Christmas I made these wonderful chocolate souffle cupcakes that were flourless but also extremely rich. When I stumbled upon a "lighter than air" flourless chocolate cake at Smitten Kitchen, I thought it might be a nice medium of both flourless but not too heavy.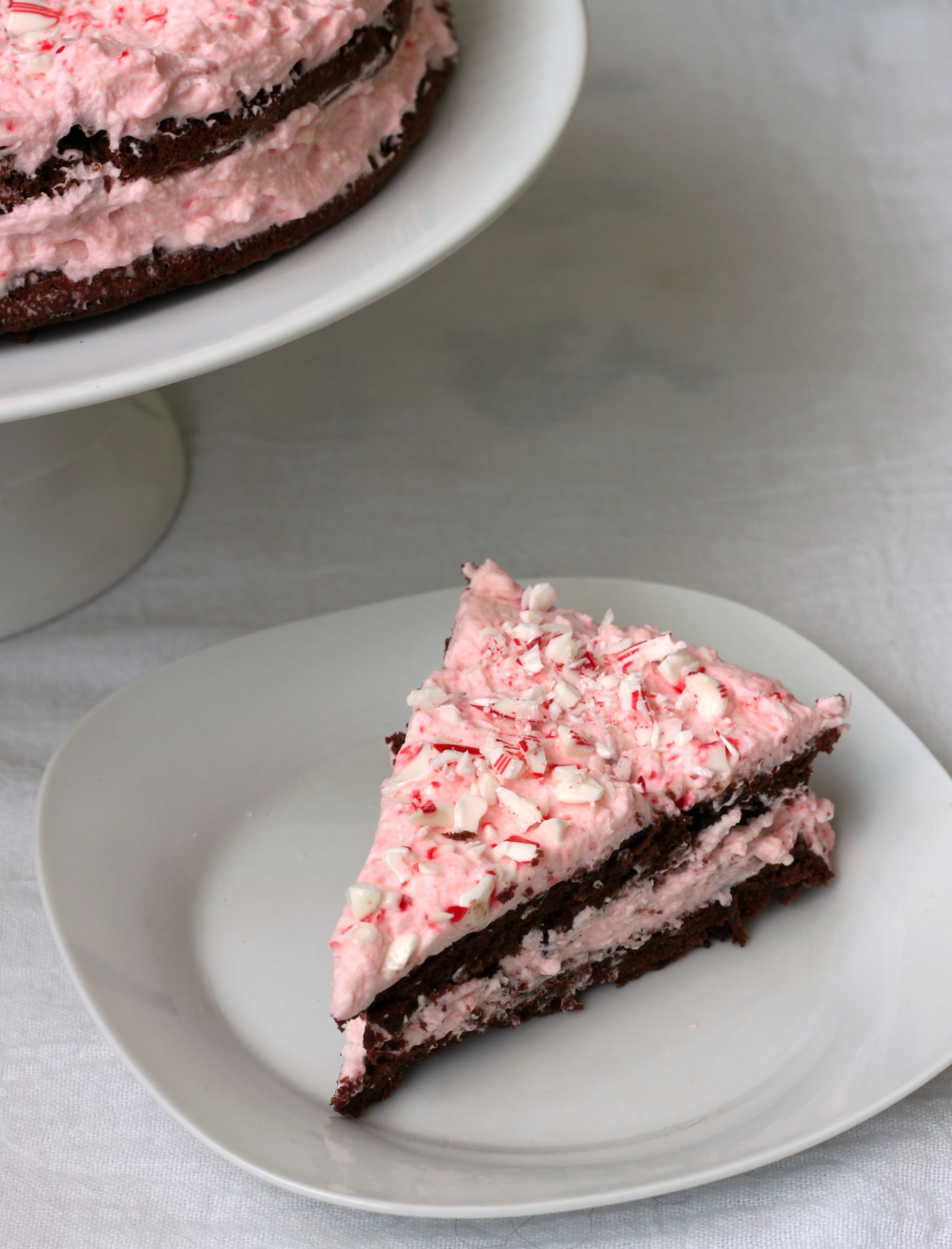 Smitten Kitchen had doubled the original Gourmet rolled cake recipe and made a 4 layer cake, so I went back and used the original proportions to make a 2 layer cake. It made 9 good-sized slices (see above) and was, as promised, quite light for a flourless cake. Paired with fluffy whipped cream (sweetened with crushed candy canes for extra festiveness), this cake didn't make our stomachs feel heavy or overly full. After a big holiday meal, you know how important that can be!
Do you do have to accomodate for any food allergies? How you do deal with them?
Recipe:
"Lighter than Air" Flourless Chocolate Cake
Adapted from Gourmet
6 ounces semisweet chocolate, roughly chopped
3 tablespoons water
6 large eggs, at room temperature, separated
2/3 cup sugar
1/4 teaspoon table salt
2 tablespoons unsweetened cocoa powder, divided
Preheat oven to 350°F. Line 2 8-inch round cake pans with parchment paper and coat with non-stick spray.
Over low heat, melt chocolate and water together in a small saucepan or double boiler. Stir until mixture is smooth, remove from heat and let cool.
In a medium or large bowl, beat egg yolks with an electric mixer until pale and creamy. Gradually add sugar and continue to beat until yolks are pale and ribbony. Gently mix in the cooled chocolate.
In a separate large, clean bowl with clean beaters, beat egg whites and salt until the mixture holds stiff peaks. Stir 1/4 of stiff egg whites into the chocolate/yolk mixture to lighten it. In 3 additions, gently but thoroughly fold the remaining whites into the batter.
Pour half of batter into each prepared cake pan. Bake for 15-18 minutes, until cake is puffed and dry to the touch. Transfer pans to cooling racks. Once cooled, sprinkle cocoa powder over the cakes. Place a piece of wax paper over the tops of the pans and top with a plate or baking sheet, then invert. An hour before frosting, place cakes into freezer until they are firm enough to be carefully lifted without breaking.
*Note: cakes will slightly sink in the middle.
Peppermint Whipped Cream
1 cup heavy whipping cream
1/4-1/2 cup of finely crushed candy canes (use a food processor until they are a fine powder), to taste
Handful of lightly crushed candy canes for garnish
Beat heavy cream until it holds stiff peaks. Mix in 1/4 cup of candy cane powder and add more to taste.
Remove cake layers from freezer. Spread half of whipped cream onto the first layer. Place second cake layer on top, then spread remaining whipped cream onto it. Sprinkle crushed candy canes onto the top of the cake. Serve immediately or store in refrigerator until ready to serve.