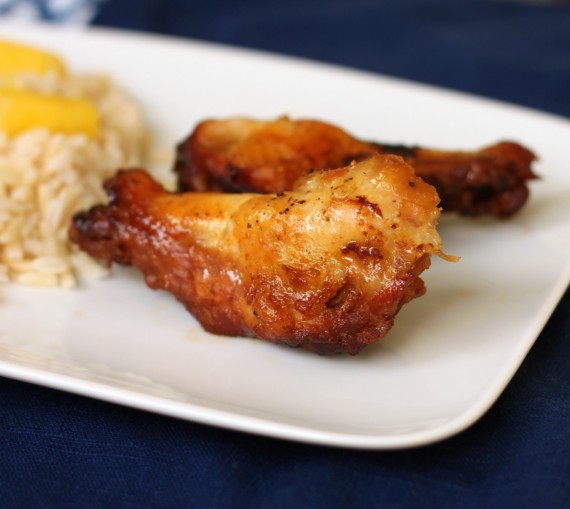 A couple of weekends ago I found myself making heart shaped cake pops, flourless chocolate cupcakes and heart shaped sugar cookies. All in 2 days. And you know I have to sample everything I bake, because otherwise how could I tell you what it tastes like? I do it all for you guys. I don't enjoy one minute of sampling a new cake pop flavor or licking the bowl — not that I lick the bowl. Um, so anyways…
So this will be a sugar-free week at 52 Kitchen Adventures, but don't worry – I always have more desserts up my sleeve. In fact, I made salted caramel macarons and whoopie pies 2 months ago that I still haven't posted. Next week might be the perfect time to share them with you finally. And if you need your dessert fill, check out my brand-new Recipe Index. There's an entire page just for dessert recipes.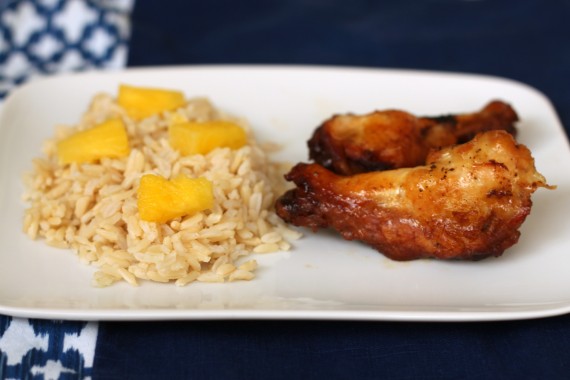 Enough about past desserts. This CrockPot chicken recipe is incredibly easy. There's practically no prep, just mix together the sauce and pour it over drumettes in the slow cooker. They came out really moist, with the tangy and slightly sweet meat falling off the bones. The only thing I didn't like about the recipe is that the pineapple pieces just absorbed the sauce and turned black and terribly salty. Next time I'm going to try omitting them.
I've been using my slow cooker a lot recently to make easy dinners. Do you have a favorite slow cooker meal?
RECIPE:
Slow Cooker Honey-Soy Drumettes
Adapted from Recipe 4 Living
3 lbs. chicken drumettes
1 garlic clove, minced (or a few dashes of garlic powder)
1 cup fresh or canned pineapple, cut into 1 inch cubes
1/2 tsp. ground black pepper
1 cup honey
1/2 cup soy sauce
2 Tbsp. vegetable oil
Rinse and drain chicken. Combine garlic, pineapple, pepper, honey, soy sauce, and vegetable oil in a bowl and mix well. Place chicken in slow cooker and pour sauce over it. Cook on low for 6 to 7 hours.