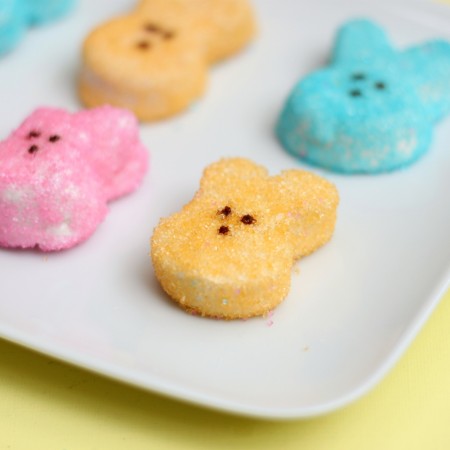 I always visit the seasonal section at Target to see what kind of baking supplies they have. It's usually a lot of sprinkles and baking mixes I don't need, but there's always some special pan I end up coveting. At Valentine's Day, it was a heart shaped doughnut pan that I got for 50% the day after the holiday. This time, I found an adorable silicone bunny mold that I couldn't wait until after Easter to buy: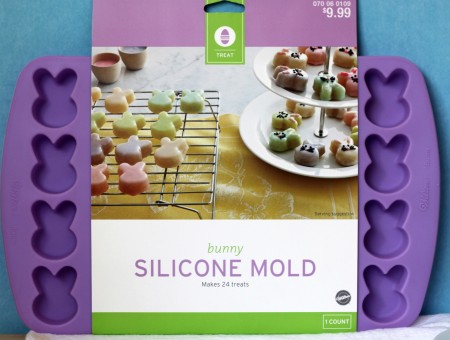 After my bunny cupcake disaster, I still wanted to make something bunny shaped. When I saw this mold, I thought of a bunch of things I could make – cake pops, candy, marshmallows. I made homemade Peeps 2 years ago when I first started blogging but I haven't made them since. This time, I used a recipe that didn't require corn syrup and sets up immediately, so you don't have to let them sit for several hours or overnight. I like a little instant gratification, don't you?
The homemade Peeps turned out great – imagine biting into a fluffy cloud of marshmallow, with a little crunch from the sprinkles. Store bought Peeps don't even compare!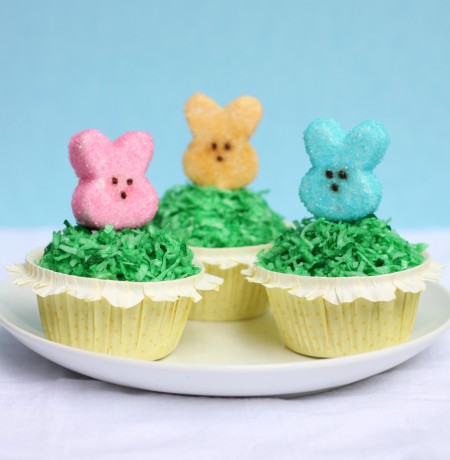 Plus, I incorporated them into a special cupcake – see the Peepcakes here!
What other candy should I try making from scratch?
Here's how you make homemade marshmallow Peeps:
Cook water and sugar to 235-238°F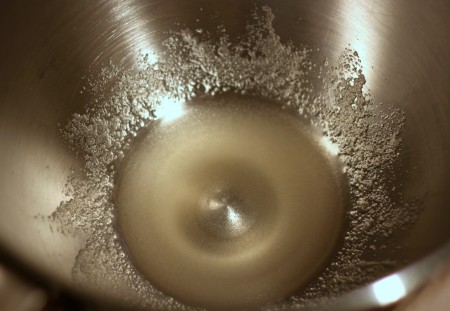 Combine gelatin and water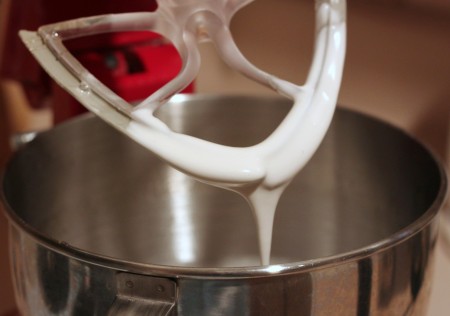 Add sugar syrup to gelatin and mix on medium-high speed for 8-10 mins until it becomes thick and white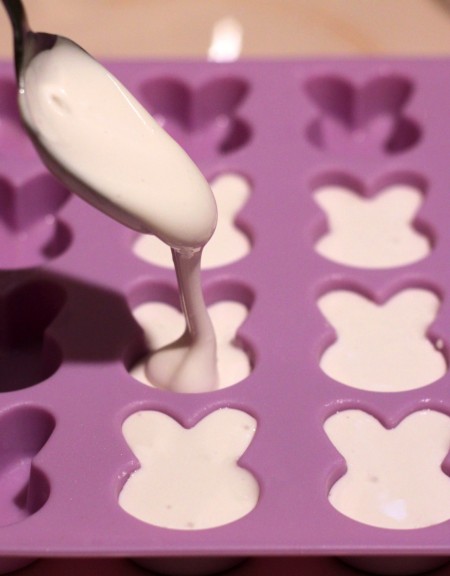 Pour marshmallow into a lightly greased silicone mold (or a small baking dish)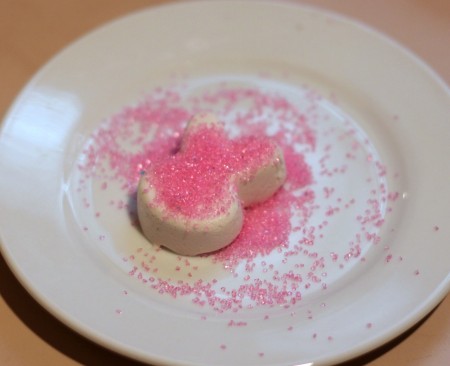 Coat marshmallows with colored sugar

Mix cocoa powder and water together to make a paste. Use a toothpick and make the eyes and nose.

Recipe:
Homemade Marshmallow Peeps
Adapted from Martha Stewart
Makes around 1 1/2 cups
1 packet unflavored gelatin (2 1/2 teaspoons)
1/3 cup cold water, plus 1/4 cup
1 cup sugar
Colored sugar (or make your own with food coloring and sugar)
Cocoa powder and water (optional; for eyes and nose)
Lightly coat a silicone mold or small pan with non-stick spray.
In a small saucepan, combine 1/3 cup cold water and sugar. Whisk together over medium heat. Once sugar is dissolved, stop stirring and cook until mixture reaches softball stage (between 235-240°F).
While sugar mixture is boiling, sprinkle gelatin over 1/4 C cold water in a large, deep heatproof bowl (a stand mixer bowl is perfect for this). Let stand for about 1 minute, until it softens.
Once the syrup reaches softball stage, remove from heat. Turn mixer on low and carefully pour hot syrup into into gelatin, avoiding the beaters and sides of the bowl. Increase to medium-high speed and beat for 8-10 minutes, until mixture thickens, turns white and can hold soft peaks. Immediately and quickly spoon into prepared mold or pan (the mixture will set quickly so don't wait long).
If you used a pan, cut desired shapes out of marshmallow with lightly greased cookie cutters. If you used a mold, wait a few minutes and then pop them out of the mold.
Drop marshmallows onto a plate covered with colored sugar and move them around to coat each side.
To make eyes and nose, sprinkle some cocoa powder on a clean plate. Dip a toothpick in water and then dip wet tip into cocoa. Dab dots onto sugar covered marshmallow.
Interested in more recipes like this? Check out all my "homemade junk food" recipes
More recipes you'll love: