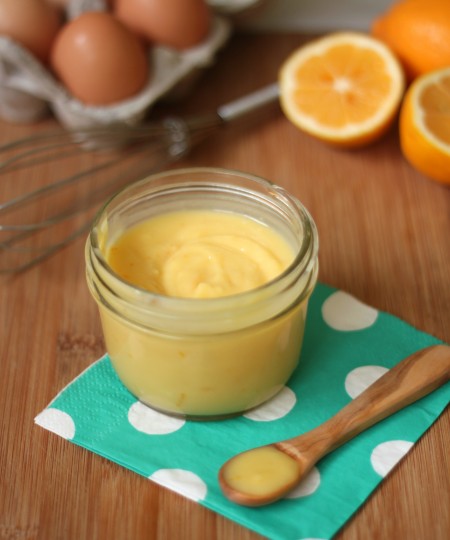 Have you ever tasted sunshine? No? Then you have to try making lemon curd! I'm lucky enough to have a Meyer lemon tree in my family. My brother and sister-in-law are eager to give away bagfuls of these lemon-orange hybrids, which are sweeter than regular lemons. I've used them in vegan lemon cupcakes, candied their peels, and used them with limoncello to make cupcakes.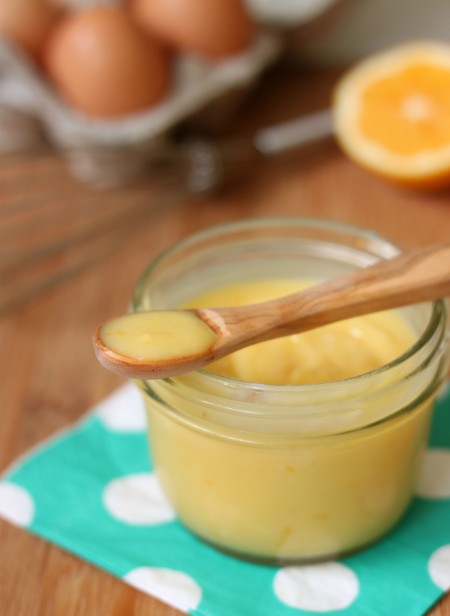 I was under the impression that making curd was a time consuming pain, but when they passed on a half dozen ripe Meyers to me last week, I looked it up. I ran across a really simple recipe on Leite's Culinaria. All you have to do is combine Meyer lemon juice with eggs and sugar and whisk it over a double boiler for a while. This may sound boring, but it's actually pretty magical. Seriously – you start with liquid and around 15 minutes later it turns into a thick, creamy yellow sauce. Just like that! I was totally entertained and delighted, but I'm easy to please.
I hope you find as much joy in making curd as I did, but even if you find it boring, the end result will definitely make up for your time and effort. The citrus flavor is incredibly bright, and it makes anything taste like sweet sunshine. That up there? Healthy, boring whole wheat bread. Spread some sunshine –I mean, Meyer lemon curd– on it and you suddenly have a healthy, delightful snack. And don't worry about those 6 leftover egg whites; I have the perfect recipe to use them up. Put them in the fridge to age and stay tuned…
Edited to add: my recipe for Meyer lemon macarons is now up – the perfect way to use up egg whites and enjoy the curd!
How to make Meyer lemon curd: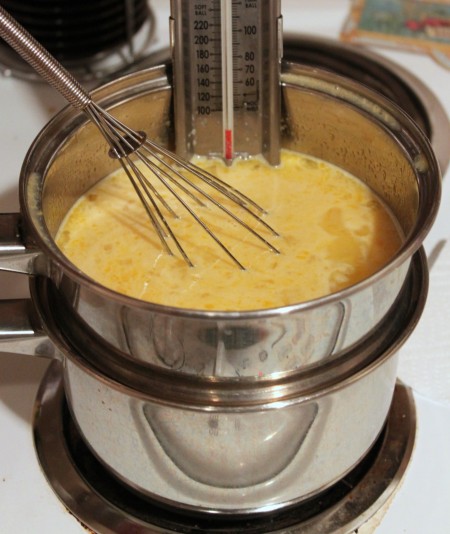 Combine eggs, sugar and Meyer lemon juice in a double boiler over barely simmering water. Insert candy thermometer and start whiskin'.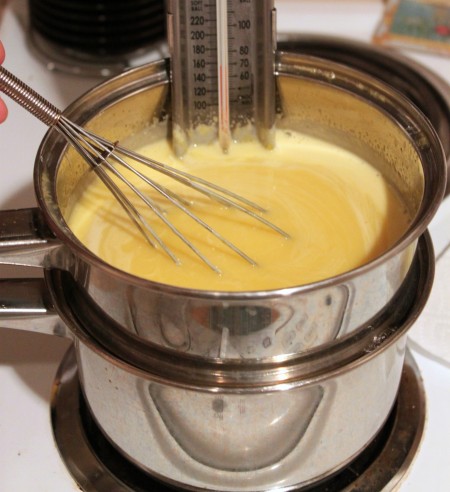 Just keep whisking, just keep whisking, just keep whisking (to the tune of "just keep swimming" from Finding Nemo). Keep going until the curd thickens and reaches 170°F.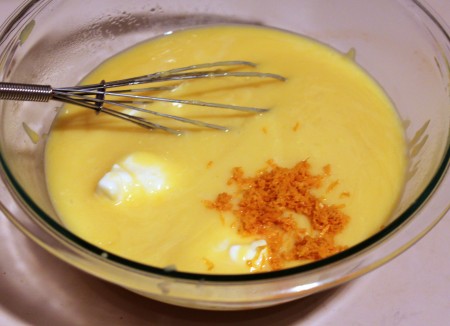 Strain the curd into a large bowl. Add butter and Meyer lemon zest and whisk until butter is melted and ingredients are fully incorporated.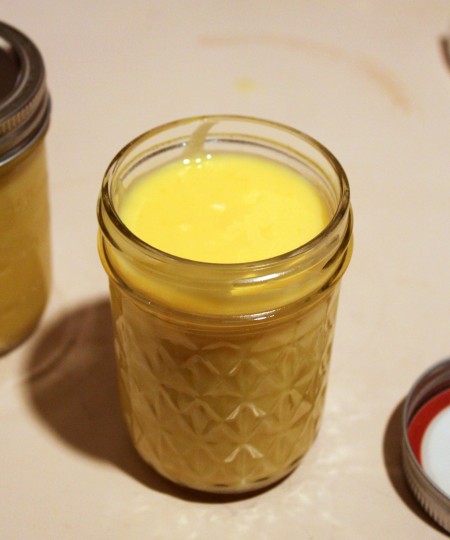 Pour into jars, leaving 1/2″ headspace. Seal with lids and you're all done!
Enjoy straight out of the jar, or on toast, scones, muffins, or in yogurt, macarons, mousse…more recipes to come soon! What's your favorite way to eat lemon curd?
Recipe:
Meyer Lemon Curd
Adapted from Leite's Culinaria
Makes 2 pints
6 large egg yolks, at room temperature
6 large eggs, at room temperature
1 1/2 cups granulated sugar
1 cup freshly squeezed Meyer lemon juice (from about 6 lemons)*
1 1/2 tablespoons grated Meyer lemon zest*
6 tablespoons unsalted butter, cut into pieces
Wash and dry 4 half-pint jars.
In the top of a double boiler, whisk together the egg yolks, eggs, and sugar. Add in lemon juice. Place over barely simmering water and cook, whisking constantly, until it thickens and reaches 170°F (76°C) on a candy thermometer.
Remove from heat. Using a fine mesh strainer, strain the curd into a large bowl. Immediately add the lemon zest and butter and whisk until they are fully incorporated and the mixture is smooth.
Ladle the curd into the prepared jars, leaving 1/2″ headspace. Wipe the rims clean, seal the jars and place in refrigerator. Let curd thicken for at least 4 hours before using. Enjoy within a week or so.**
*If you only have regular lemons, you can still use this recipe, adding some additional sugar
**You can process jars in a hot water bath to perserve for longer.