"You can't even tell these are gluten free!"
Baking without gluten is notoriously difficult, so this statement made me smile. My sister and her partner are gluten-free so I'm always trying to find something to bake for our family get-togethers. In the past, I've avoided gluten altogether by making flourless desserts, such as flourless chocolate peppermint cake.
At our last family party, I was determined to make something with gluten free flour. I picked up a package of Bob's Red Mill Gluten Free All Purpose Baking Flour and some xanthan gum (I got it in the bulk section of my local food co-op, which is more affordable than getting a whole bag of it). I used a one-bowl chocolate cupcake recipe and replaced the all-purpose flour with gluten free, along with a little xanthan gum.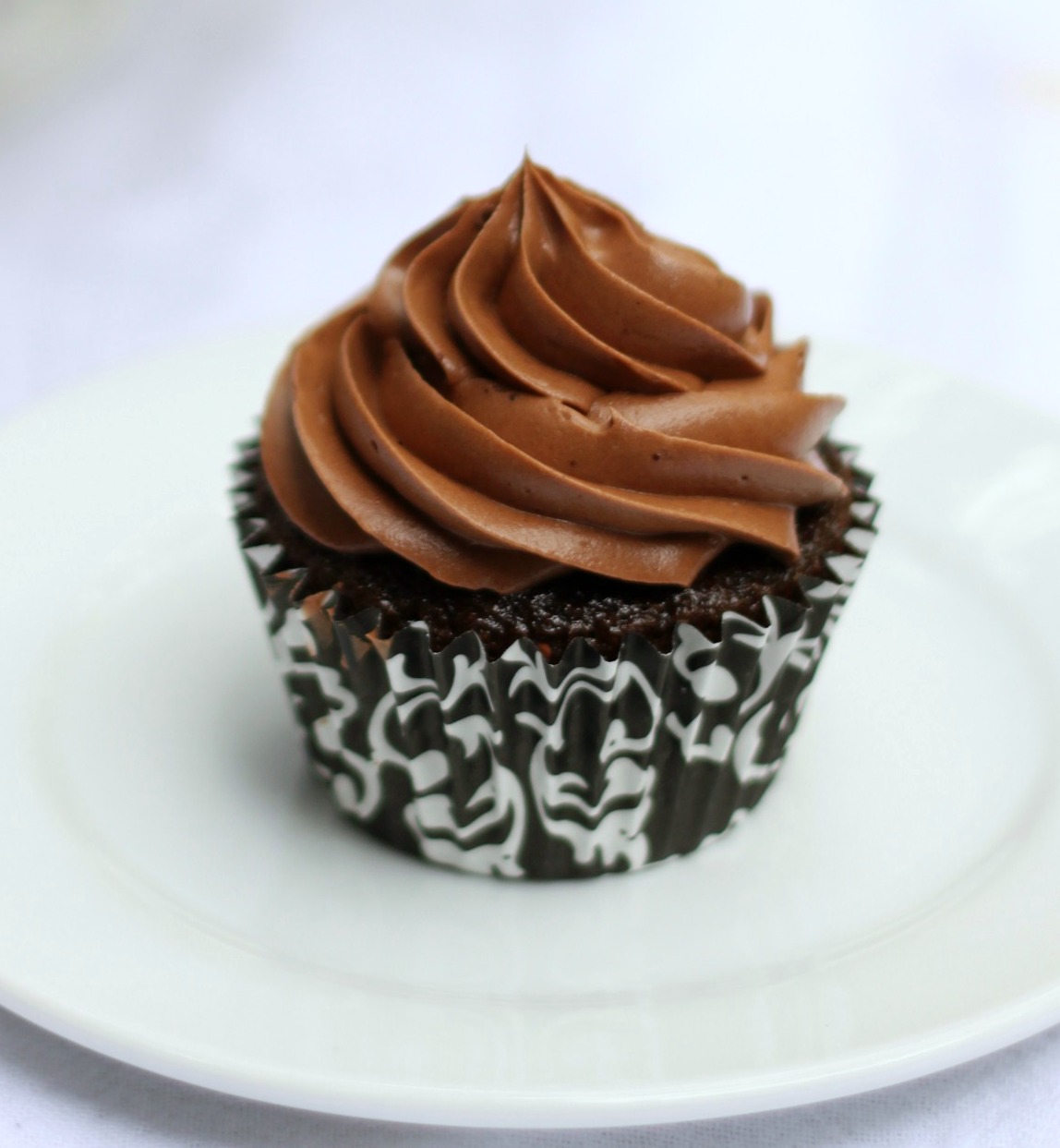 The result? Perfectly fluffy, chocolatey cupcakes that you can't even tell are gluten free! And I haven't even mentioned the frosting yet – it's like biting into a cloud of Nutella (hence the name). I've made my own Nutella buttercream lots of times, which is my most popular frosting to date. I came across Sweetapolita's Nutella cloud frosting on Pinterest and knew I had to try it and compare the two. I still love my rich Nutella buttercream, but Sweetapolita's recipe has a nice lightness to it, while mine is a bit heavier. Either way, you can't beat Nutella frosting!
Recipe:
One-Bowl Chocolate Gluten Free Cupcakes
Adapted from Martha Stewart
Makes 20-24 cupcakes
1/4 cup unsweetened cocoa powder
1 1/2 cups all-purpose gluten free flour mix (I used Bob's Red Mill All Purpose Gluten-Free Baking Flour)
1/2 tsp xanthan gum
1 1/2 cups sugar
1 1/2 teaspoons baking soda
3/4 teaspoon baking powder
3/4 teaspoon salt
2 large eggs
3/4 cup warm water
3/4 cup buttermilk
3 tablespoons canola oil
1 teaspoon pure vanilla extract
Preheat oven to 350°F. Line a muffin tin with paper liners.
In a large bowl, combine cocoa powder, flour, xanthan gum, sugar, baking soda, baking powder, and salt. Add eggs, warm water, buttermilk, oil, and vanilla to dry ingredients. Mix until batter is smooth and fill prepared baking cups 2/3 full. Bake around 20 minutes, until tops spring back when touched.
Nutella Cloud Frosting
Adapted from Sweetapolita
Makes enough to frost 12-15 cupcakes
1 cup unsalted butter, at room temperature
1 1/2 cups powdered sugar
2 teaspoons vanilla extract
4 ounces bittersweet chocolate, melted and cooled slightly
1/3 cup Nutella
1 tablespoon milk
In a large bowl, beat butter and powdered sugar for a minute until well combined. Add vanilla and mix until combined. Add the melted (and cooled) chocolate and beat on medium speed until frosting smooth. Finally, add Nutella and beat until well combined. Pipe onto cooled cupcakes and enjoy!