How to Frost an Ombre Rose Cake
Thursday, 30 August 2012
Welcome to 52 Kitchen Adventures, your source for creative & delicious desserts! See my Recipe Index for more. Don't want to miss another recipe? Subscribe via RSS or email.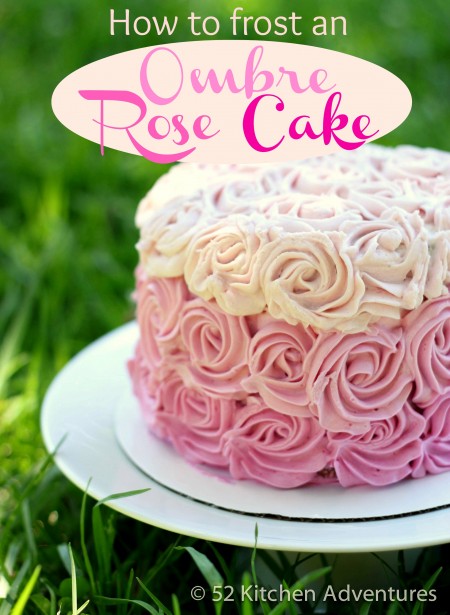 I'm so excited to share my first video with you! I've been thinking about making videos for a while, and this cake provided the perfect opportunity. My #1 question since posting about the all natural ombre frosting (click here to see how I dyed it without artificial coloring) was "HOW did you do that?!"
I made another whole cake just so I could show you. (I know, the sacrifices we food bloggers make.) I used Sweetapolita's fluffy vanilla cake, which made 3 6-inch layers and used about 3 batches of my vanilla buttercream frosting (the recipe is also posted below the video).
It's really not that hard to do – once you get the swirl technique down you can make frosting roses on anything. All you'll need is disposable piping bags or reusable piping bags
, Wilton 1M tips (or another open star tip), and, of course, a cake and some frosting. I go over this in the video, but the technique is really easy to fix – if you mess up a rose, you just wipe it off and frost it again.
So, without further ado, here it is. If you've ever wondered what I really look/sound like, here's your chance to see me live!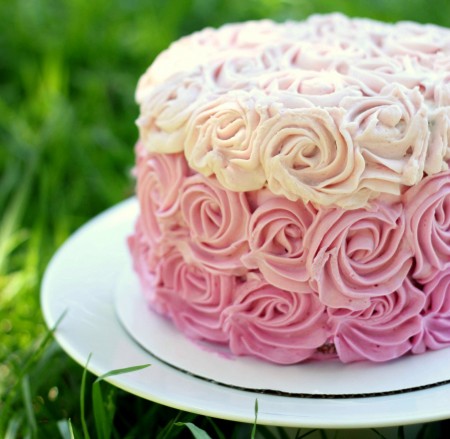 I've been told this frosting tastes like marshmallows and vanilla ice cream. It's my go-to vanilla frosting recipe. I usually use vanilla bean paste in place of vanilla extract, but that puts black flecks in the frosting, which I didn't want for this cake.
You'll need 3-4 batches to frost a 3 layer 6-inch cake with roses.
Ingredients
1 stick (1/2 cup) unsalted butter, at room temperature
1.5 cups powdered sugar, sifted
2 teaspoons vanilla extract (I use Nielsen-Massey Vanilla Extract )
Beet juice for coloring (optional)
Instructions
Beat the butter for a few minutes. Add the powdered sugar and beat on medium speed for several minutes, until the frosting becomes smooth and creamy. Add vanilla extract and beat until fully incorporated.
If using, add beet juice and mix until you reach your desired pink color.
Notes
http://www.52kitchenadventures.com/2012/08/30/how-to-frost-an-ombre-rose-cake/
Note: I Am Baker created the original Rose Cake. See her video tutorial here.